Everyone, repeat after me: AHA + SPF = BFFs. If you're an AHA newbie or someone who's on heavy rotation on AHA products, make sure you never leave out sunscreen in your daily skincare routine. Better yet, make sunscreen your new bestie, especially for those with sensitive skin, because sunscreen and AHA go hand in hand in the world of skincare. Lucky for you, make p:rem has four NEW sunscreen besties joining your spring/summer beauty roster so you can get all-day sun protection any way you want. Read on below to find out how to be sun-safe 24-7-365 with make p:rem's new SPF members!
---
Why should you ALWAYS wear SPF with AHAs?
The most common types of AHAs come in the forms of glycolic acid, lactic acid, and citric acid. In case you're not familiar with their work, AHAs are serious exfoliators that thin out the top layer of our skin to promote skin cell regeneration and treat skin conditions like hyperpigmentation. So when you're using AHA products, your skin is more susceptible to sun damage as the natural sun protection layer is diminished. This means you have to get round-the-clock sun protection and wear sunscreens every day to avoid sun-damaged skin.
make p:rem's NEW Sunscreen Line
Courtesy of Korean Skincare Brand - make p:rem
Our cult-favorite Korean skincare brand make p:rem has just released a team of NEW sun-safe heroes that offer four different sunscreen options to top off your AHA treatment and upgrade your day-time Korean skincare routine, from sun protection for your body to SPF-infused tone-up cream. Scroll down to see the FOUR ways make p:rem is protecting you from harmful UV rays all day every day!
---
1. Shield your body from harmful UV rays
FYI, the skin on your body needs just as much sun protection and TLC as the skin on your face. So remember to slather your body - from neck to toe - with sunscreen that makes sun protection a well-rounded business for your daily routine. Our team's favorite go-to this season is the make p:rem UV Defense Me. Daily Sun Fluid.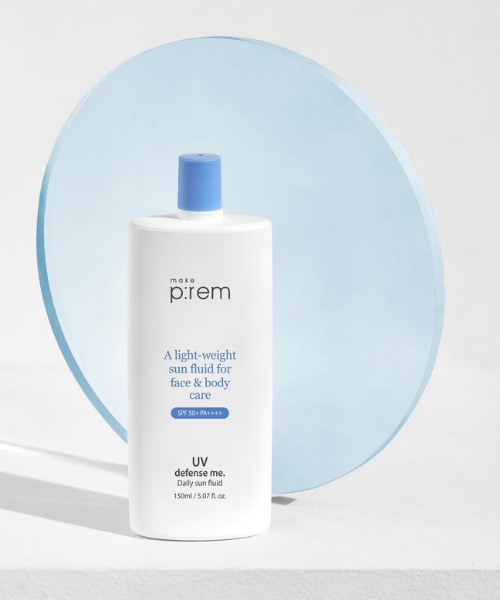 Courtesy of Korean Skincare Brand - make p:rem
The major reason we love this lightweight sun fluid is its clever blend of both chemical and mineral-based UV-blocking formulas. This upgraded version gives you the best of both worlds without compromising its lightweight, milky texture. The dual sun protection, coupled with a strong SPF50+ spectrum, shields every inch of your face and body on all fronts so you can get through a sunny day without worry. Along with trusty ingredients and the brand's very own formula, including the aptly named "City-Proof Complex" and the "Pollustop Complex," this sun fluid will easily top your try-list!
---
2. SPF, but make it TONE UP
The key to perfecting a round-the-clock sun-safe routine lies in 4 words: tinted moisturizer with sunscreen. When make p:rem introduces the NEW UV Defense Me. Calming Tone Up Sun Cream to our K-Beauty radar, we are already obsessed with its innovative formula containing something called "pink calamine" - an ingredient that is known to treat irritation. But once you've tried this tone-up sun cream, you'll know it does WAY more.
Courtesy of Korean Skincare Brand - make p:rem
Designed for dull, lackluster skin, this make p:rem UV Defense Me. Calming Tone Up Sun Cream is an effective sun-blocking tone-up cream with calamine to not only soothe but also naturally tone up and brighten with subtle pink color and block UVA and UVB. Wrap up your morning skincare with a thin layer of this sun cream which will help to improve your skin tone and overall complexion. For sensitive skin, this sunscreen also contains bamboo water + the brand's very own City Proof Complex to protect your skin from external environmental stressor. Make it your new primer to start your makeup routine this season!
---
3. Protect your sensitive skin
If you're using AHAs on your sensitive skin, make sure to provide it extra care with a low-irritant physical sunscreen so your sensitivity does not act up during the blazing hot season. We highly recommend the NEW make p:rem UV Defense Me. Calming Sun Cream for the perfect soothing care.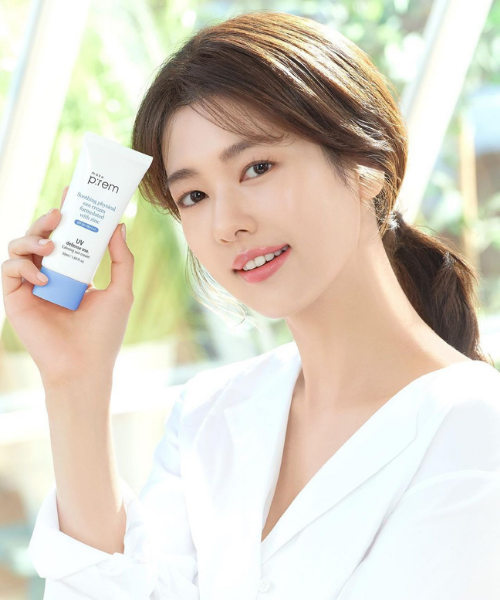 Courtesy of Korean Skincare Brand - make p:rem
Searching for a non-irritating, non-comedogenic sunscreen for easily irritated skin is extra difficult, but the nightmare ends here - thanks to this very skin-loving physical sunscreen. Featuring a soothing combo of bamboo water + madecassoside, this 100% zinc-oxide (also, wow) sunscreen aces the skin-soothing department so you can protect your inflamed, sensitive skin on the hotter days without worries.
---
4. Sun protection comes in HANDY
Courtesy of Korean Skincare Brand - make p:rem
Nothing says "round-the-clock sun protection" better than an on-the-go sunscreen that can be applied anytime, anywhere. That's why the NEW make p:rem UV Defense Me. Calming Sun Stick is the perfect addition for beauties who are always on the move. AND no longer will you need to lug around heavy bottles of sunscreen on outdoor excursions because handy physical sunscreen provides a hefty dose of SPF50+ sun protection + an airy matte-like, silky finish that will actually make you look forward to reapplying it throughout the day.
---
On top of wearing sunscreen every day, make sure you know how to pick the right sunscreen best for your skin type! Follow us on Instagram and Facebook to get more instant product updates and skincare tips!