Sensitive skin, maskne, dry winter... If the mere thoughts of these three words make you shiver, that means it's time you introduce centella asiatica (or cica) to your life. Meet the cica heroes we need and ALSO deserve, aka VT's Cica line. We've stumbled upon this fan-favorite skincare collection from Korean brand VT Cosmetics, one that has been hailed for treating atopic skin conditions (for all the right reasons) like dry skin patches, sensitivity and irritation with the almight Cica. Here's a guide to a VT Cica inspired 5-step Korean skincare routine to trouble-proof your skin starting 2021!
---
Step 1 - Cleanser
While the double-cleansing step is the backbone of a Korean skincare routine (something you already know if you're a proud K-Beauty patron), it can still be too "stripping" a step to some of us with over-sensitive skin. So to ease this concern, it's better to swap in a mild and comforting water-based cleanser like VT's Cica Mild Foam Cleanser that gets the job done without "over-doing" it after using the oil cleanser.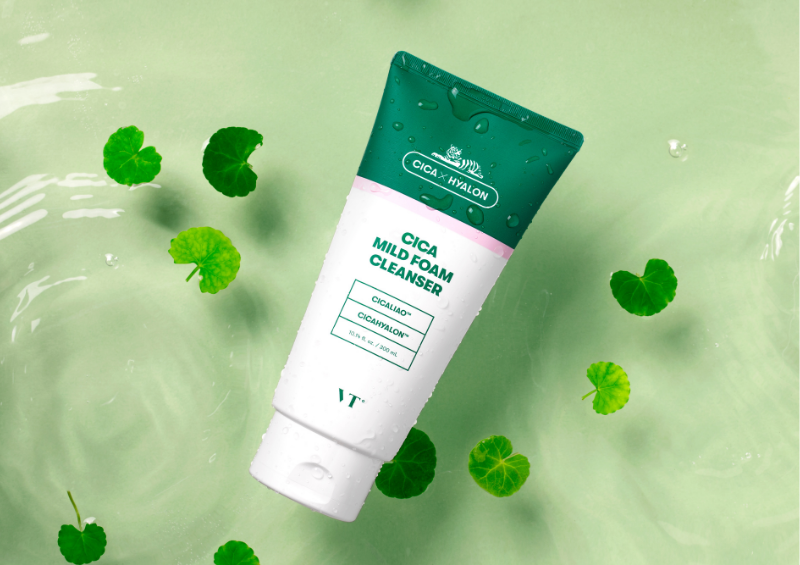 Courtesy of Korean Brand - VT Cosmetics
The potent cica extract + hyaluronic acid in VT's Cica Mild Foam Cleanser is the reason to thank for its highly soothing skin-feel - something we all look for in a foam cleanser. It has a mild, gentle texture that foams easily to keep your face clean, refreshed, and properly hydrated. Better yet, it also helps strengthen your skin's barrier, which is a huge plus for sensitive skin and easily irritated skin. I consider it a basic staple in my skincare routine, whether AM or PM.
---
Step 2 – Toner
Courtesy of Korean Brand - VT Cosmetics
Formulated with VT's exclusive ingredients CICALIAO™, VT's Cica Skin helps soothe and strengthen your skin's protective barrier like a pro. Designed to awaken tired skin, this cica-rich Korean toner also serves as a booster to refine your skin texture and comfort frustrated dry skin. It features a water-capsule system that will help your skin retain moisture to achieve all-day hydration.
You'll love how this VT toner resets your skin for the better after the cleansing step, making it more cool, calm, and collected (literally). This Korean toner would make the perfect alternative to your regular heavy-lifting toner for your everyday skincare routine.
---
Step 3 – Moisturizer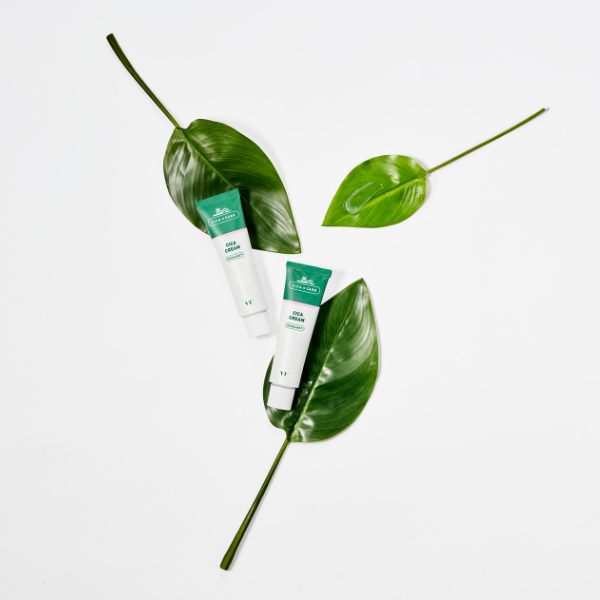 Courtesy of Korean Brand - VT Cosmetics
If you're looking for an all-star team of ingredients to support your vulnerable skin, VT's Cica Cream is all the back-up you need. Packed with Panthenol, β-glucan, Ceramide NP + centella asiatica, this moisturizer helps calm, mositurize, and strengthen your skin's barrier, making it a can't-miss winter skincare product in this 5-step Korean skincare routine.
It's no surprise that we're all eyeing for VT's Cica Cream as a winter skincare remedy. It is carefully formulated to offer the right amount of moisture without leaving behind a greasy feeling. Not to mention the super-comfy gel-like cream texture that will leave your skin properly soothed and hydrated.
---
Step 4 – Mask
In the AM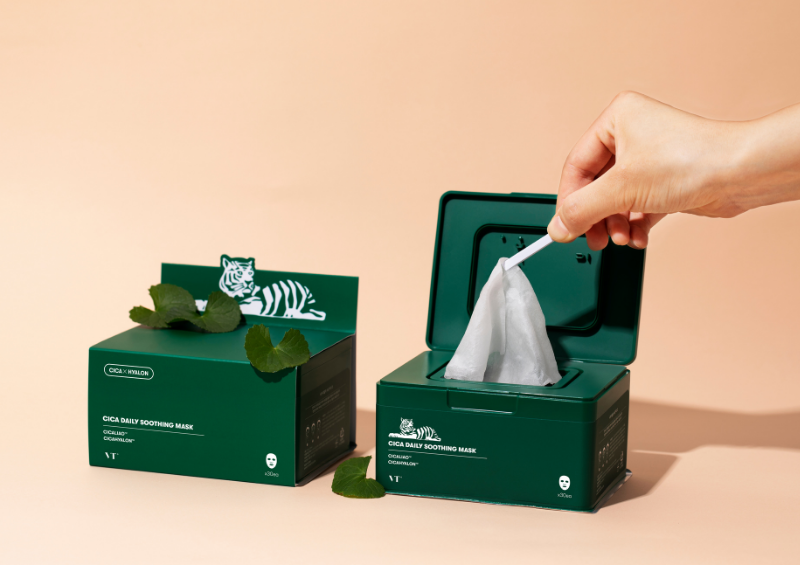 Courtesy of Korean Brand - VT Cosmetics
If you go by the one-mask-per-day agenda like me, the VT Cica Daily Soothing Mask is the perfect skincare staple for a little quick pick-me-up in the morning. Designed with VT's exclusive blend of CICALIAO™ + CICAHYALON™, the VT Cica Daily Soothing Mask provides ample hydration and soothing effect to your moody skin, achieving a radiant glow that lasts all day. Think layering hydration for the winter to replenish and bring your skin to life at the start of each day with this daily sheet mask pick!
In the PM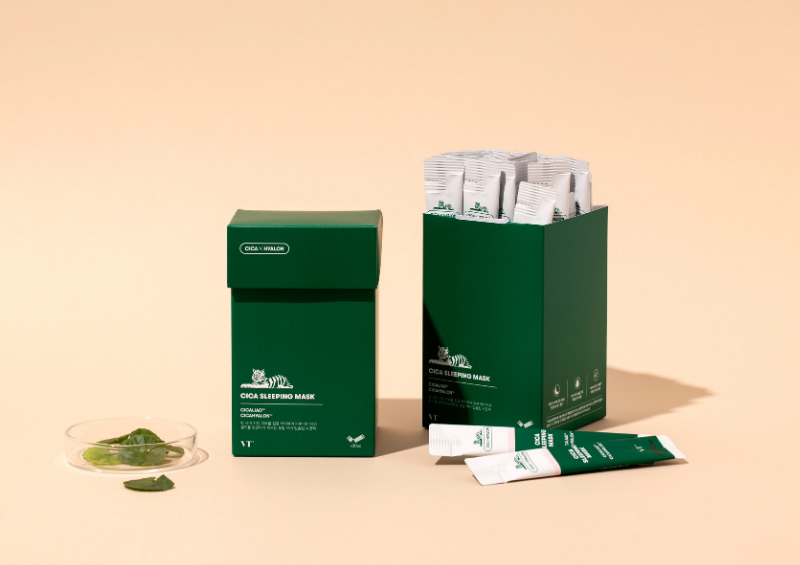 Courtesy of Korean Brand - VT Cosmetics
For your night-time skincare routine, swap in a powerful skin-quencher like VT's Cica Sleeping Mask to really amp up the hydration boost your dry skin so desperately needs. This Korean sleeping mask pack features skin-balancing cica extract which helps revitalize your tired, lack-lustre complexion overnight.
The VT's Cica line also offers 3 extra types of sleeping masks that cater to specific skin conditions:
In case you feel like treating yourself to an extra step of self-care, You can also alternate this sleeping mask with the green tea infused VT's Cica Capsule Mask, which is a wash-off cream mask that helps clear dead skin and sebum.
Explore VT Cica Sleeping Mask Collection
---
Step 5 - Spot Treatment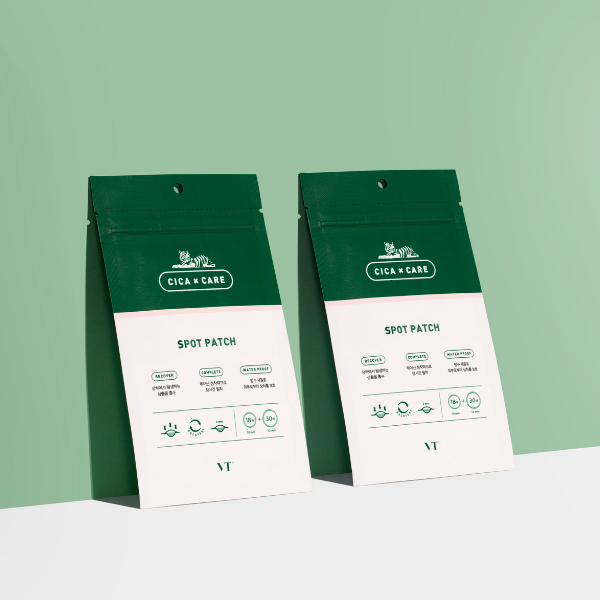 Courtesy of Korean Brand - VT Cosmetics
The VT Spot Patch is more than just a concealing solution to hide your pimples and acne spots. Formulated with anti-inflammatory centella asiatica extract, it also helps speed up the recovery and avoid wound affection, which is the last thing we want for our acne-prone skin. You'll love how adhesive and skin-fitting the patch works on your face, not to mention the sweat-proof, water-proof texture.
---
Dealing with irritated skin is a hard-fought battle, but with VT Cosmetics Cica Line as your skinmate during the harsh-skin season, your sensitive skin will thank you for it. If you are considering trying out some new skincare products for your new-year skincare routine, explore VT Cosmetics's skincare range and stock up your favorite VT Cica essentials now!