Who doesn't love being indulged in a super-luxe 10-step Korean skincare routine just for the sake of it, especially the lavishingly scented mask and eye cream? But if you have easily irritated, sensitive skin, then you might need to rethink your skincare lineup. Scented skincare products are not necessarily the "bad guys" but fragrances are usually made up of other harmful chemicals that can potentially trigger allergic reaction and redness if you have sensitive skin. So, if you're planning to do a complete one-eighty for your Korean skincare routine with something more mild but equally refreshing and nourishing, here are our top scentless, fragrance-free Korean skincare products for those with sensitive skin!
---
Step 1: Oil-Based Cleanser
Ask any K-Beauty lover and they'll tell you that they only swear by the Korean double cleansing method - oil-based cleanser first, water-based cleanser second. Our favorite K-Beauty expert Hyram is no exception, that's why he named iUNIK's Calendula Complete Cleansing Oil as one of his daily staples.
ALSO READ: How to Master the Korean Double Cleansing Method
iUNIK - Calendula Complete Cleansing Oil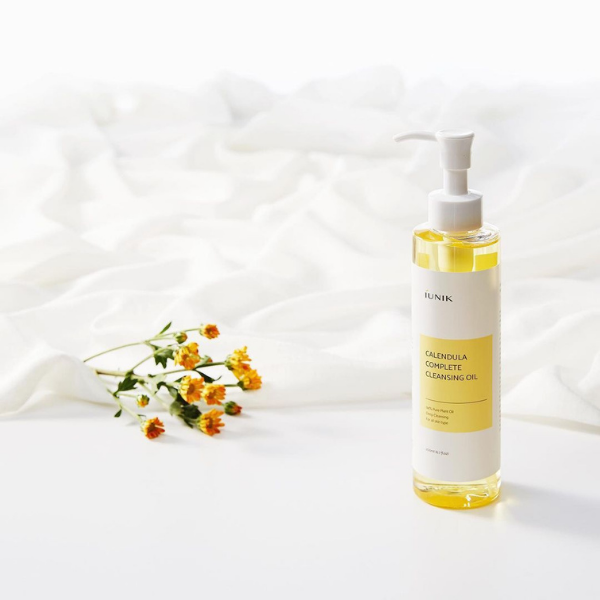 Courtesy of Korean Skincare Brand - iUNIK
Cleansing oil helps break up all the makeup and dirt on your skin, and the cleanser afterwards will help remove everything completely. With sunflower seed oil being the primary ingredient, this Hyram approved iUNIK cleansing oil is super hydrating and effective when it comes to removing the impurities on your skin. Its fragrance free formula also ensures that your sensitive skin gets the best comforting cleanse as the first step of your Korean skincare routine.
---
Step 2: Water-Based Cleanser
COSRX - Low pH Good Morning Gel Cleanser
Courtesy of Korean Skincare Brand - COSRX
Don't forget to wrap up your double cleansing with a water-based cleanser to help wash off all the residue makeup, dirt and impurities from your skin. We highly recommend one of our fan-favorite bestsellers, the COSRX Low pH Good Morning Gel Cleanser. This COSRX cleanser checks all the boxes as the best cleanser for dry skin and sensitive skin as its fragrance-free, gel-like formula doesn't strip your skin's natural oil. Its mildly acidic formula has the ideal balanced pH level of 5-6 which feels gentle and soothing on the skin, leaving it supple and hydrated all day - thanks to the botanical ingredients that keep your skin supple.
---
Step 3: Exfoliator
Good skin comes to those who exfoliate. Ask any skin care experts, they will tell you that a good exfoliator is an essential part of any skincare routine, especially if you're a K-Beauty junkie like us. If you have oily but over-sensitive skin, you should definitely use the innisfree Super Volcanic Pore Clay Mask 2X on weekly rotation.
innisfree - Super Volcanic Pore Clay Mask 2X
Courtesy of Korean Skincare Brand - innisfree
This fragrance-free clay mask is formulated with Jeju Volcanic Clusters & Spheres™ which helps cool your skin as you apply it onto your sensitive skin. The highly nutritious volcanoic clay will absorb excess oil for visibly smaller pores, all while helping to improve the overall look and texture of the skin.
---
Step 4: Toner
It's very common to see toners infused with alcohol and fragrance to provide the astringent, scented feel as you'd expect from most toners. But Korean toners are just a different breed, especially for a vegan fan-favorite skincare brand like Dear, Klairs.
Dear, Klairs - Supple Preparation Unscented Toner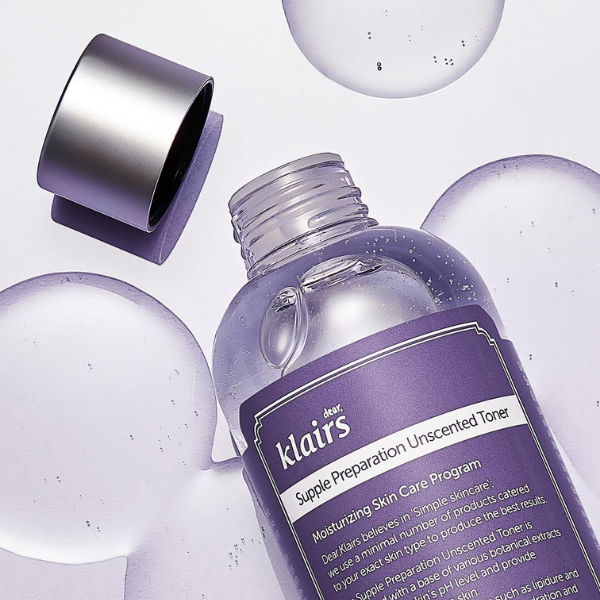 Courtesy of Korean Skincare Brand - Dear, Klairs
With a heart set to care for people with highly sensitive skin type, this Korean skincare brand launches a fragrance free Supple Preparation Unscented Toner that excludes all essential oils from the orginial formula to ensure that this toner is irritation-free. This cult-favorite Korean toner helps reset your skin's pH level and brings balance to your skin with ample hydration and comfort.
---
Step 5: Essence
COSRX - Advanced Snail 96 Mucin Power Essence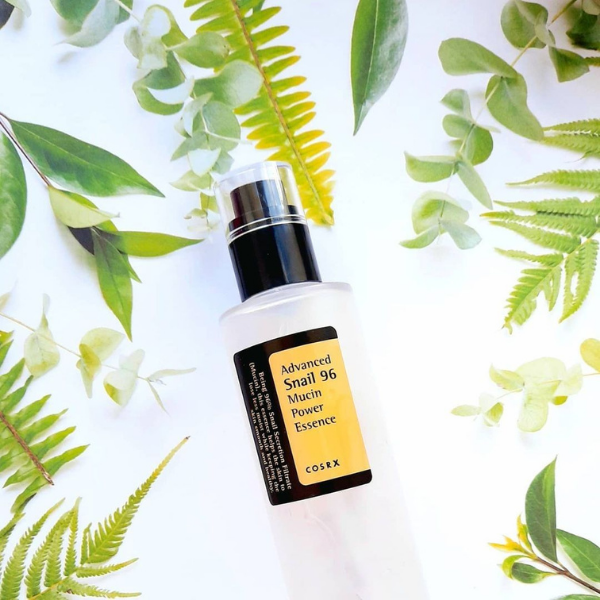 Courtesy of Korean Skincare Brand - COSRX
It's important to incorporate a fragrance free essence to nourish your sensitive skin after toning. Hailed for its skin-enriching snail mucin ingredient, this COSRX Advanced Snail 96 Mucin Power Essence packs a whopping 96% snail secretion filtrate to treat your skin to a nice, intense repair and hydration. Think of it as the perfect rejuvenation to restore a lasting radiant glow to your complexion.
---
Step 6: Serum
If you ever need a hefty dose of calming treatment for your sensitive skin, make sure to add a fragrance free (but otherwise powerful) serum to your 10-step Korean skincare routine, like this BEAUTY OF JOSEON Calming Serum with Green tea + Panthenol.
BEAUTY OF JOSEON - Calming Serum (Green tea + Panthenol)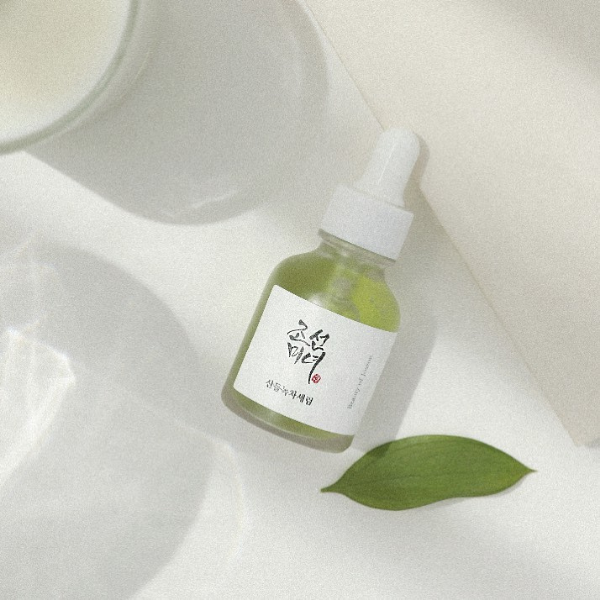 Courtesy of Korean Skincare Brand - BEAUTY OF JOSEON
Enriched with naturally-derived calming and moisturizing ingredients, this nourishing serum contains 76.49% green tea leaf water and 2% Panthenol to help with skin calming, soothing, moisturizing and brightening. The lightweight serum is enriched with traditional Korean herbal medicine ingredients ('hanbang') targets redness and sensitivity.
---
Step 7: Face Mask Sheet
Dr. Jart+ - Dermask Water Jet Vital Hydra Solution
Courtesy of Korean Skincare Brand - Dr. Jart+
Need a little skincare pick-me-up at the end of your long day? Treat your sensitive skin to a fragrance free face mask sheet with the Dr. Jart+ Dermask Water Jet Vital Hydra Solution. This Dr Jart mask is made with fine cellulose fiber to help active ingredients penetrate deeply for ultimate hydration. It also contains aquaxyl and xylitol to enhance moisture retention and strengthen the skin's barrier by preventing water loss.
---
Step 8: Eye Cream
Benton - Fermentation Eye Cream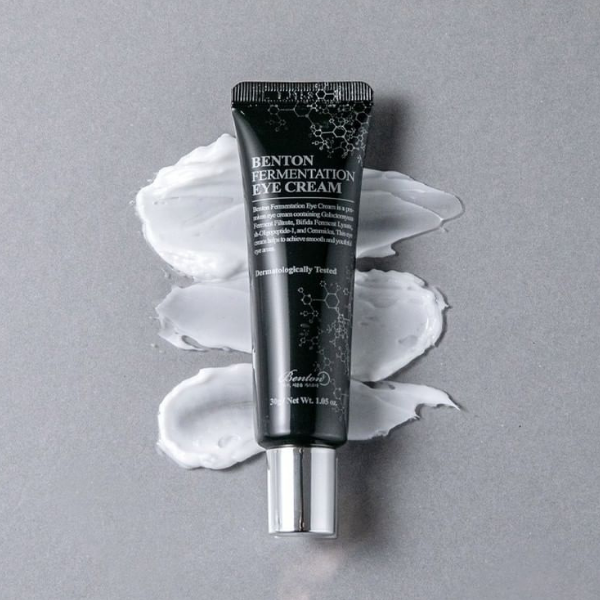 Courtesy of Korean Skincare Brand - Benton
Sometimes an effective eye cream like Benton's Fermentation Eye Cream is all you need to f̶a̶k̶e̶ achieve the well-rested look. This fragrance free eye cream unites all superstar ingredients together to keep your eye area hydrated and soft, with fermented ingredients like Bifida ferment lysate and galactomyces ferment filtrate to repair skin damage, along with ceramides, hyaluronic acid, aloe, and panthenol for deep and lasting hydration.
---
Step 9: Moisturizer
Korean skincare brand ROVECTIN is a brand that keeps its pantheon of sensitivity-targeting skincare products in line with minimal, yet wonder-working ingredients, and this ROVECTIN Clean Lotus Water Cream is no exception. Free from alcohol, parabens, and allergens, this cruelty-free, vegan friendly, this fragrance free moisturizer contains 75% lotus extract which helps achieve clear and healthy skin to make you look rejuvenated throughout any seasons.
ROVECTIN - Clean Lotus Water Cream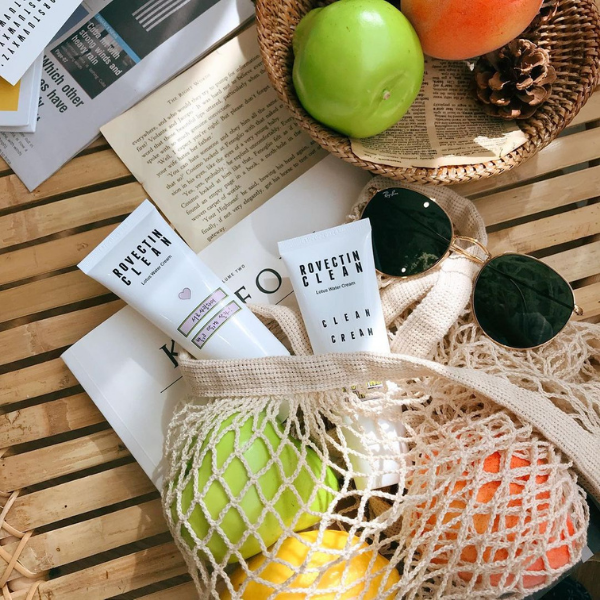 Courtesy of Korean Skincare Brand - ROVECTIN
This ROVECTIN face cream is also hailed as one of the best face creams to use during the day as it gives your skin a much needed boost and protection without too much burden for your daytime skincare routine. As the best Korean moisturizer in our book, loyal fans like you should definitely ring this in for your spring beauty haul.
---
Step 10: Sunscreen
NEOGEN Dermalogy - Day-Light Protection Sunscreen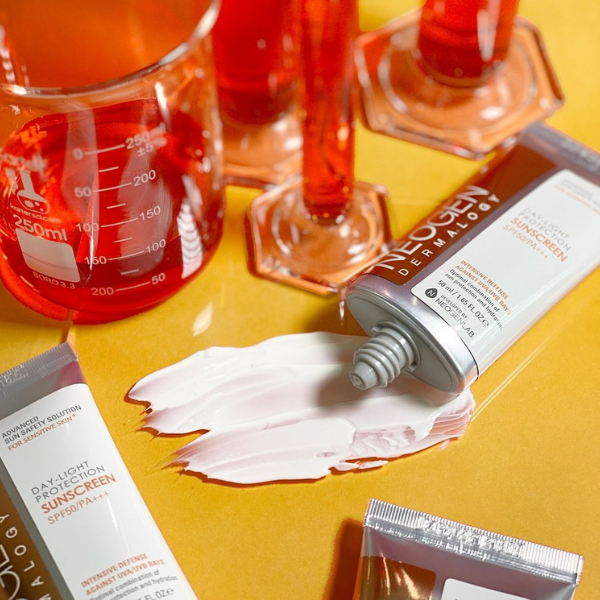 Courtesy of Korean Skincare Brand – NEOGEN Dermalogy
Sunscreen should be the final step of your Korean skincare routine as it provides your skin with all-day protection on top of your other skincare steps. But the fact is, a lot SPF products are formulated with fragrance to sugar-coat the "sunscreen" scent, except for NEOGEN Dermalogy's Day-Light Protection Sunscreen. This fragrance free sunscreen is formulated with rose extract to help keep your skin hydrated while protecting it from harmful UV rays throughout the day. You may detect a slight citrus scent as you apply it, thanks to the naturally-derived fruit extract in its formula.
ALSO READ: What Are the Best Sunscreens for Your Face Based on Your Skin Type?
---
Want to copy/paste every single step of this 10-step Korean skincare routine? Go ahead and explore more fragrance free skincare products for your sensitive skin so you can go worry-free every day!