Cult-favorites, for all the right reasons. If you're a fervent skincare junkie like James Welsh, one of our favorite Youtube influencers, you might want to start sorting out your shelf because here are six Korean skincare brands that will help you take your skincare game to the next level. Whether it's a vegan brand or an up-and-coming brand that deserves a spot on your radar, let James be your guidepost and pick your next love-at-firt-try brand!
---
Korean brand COSRX is a trusted favorite to a lot of K-Beauty junkies, especially to a seasoned skincare expert like James, who ranked this skincare brand as one of his top favorites. James revealed in one of his Youtube videos that a majority of his skincare routine is COSRX, which is known for its clean and effective skincare range with fragrance-free products.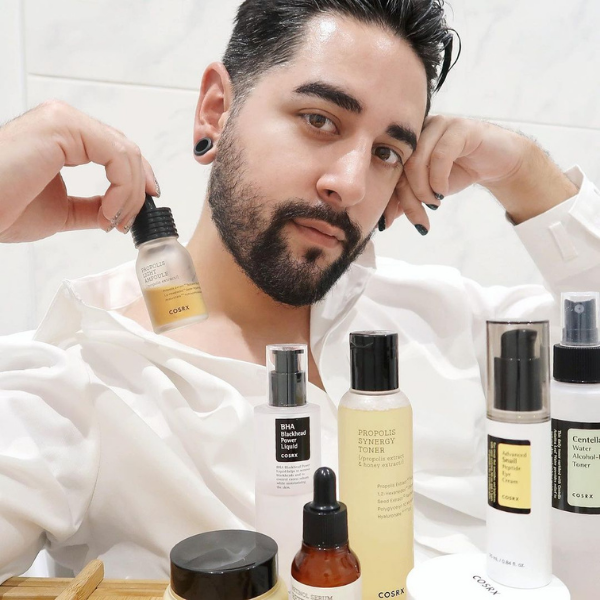 Courtesy of James Welsh (@james_s_welsh)
"When I know I've destroyed my skin, I will use COSRX because I know it's going to put my skin back to that safe, normal level."
In his newly released nighttime skincare routine with Harper's BAZAAR, James proves himself to be a huge COSRX lover by including not just one but FOUR COSRX products. After cleansing, James goes in with COSRX's Advanced Snail Radiance Dual Essence on damp skin for a dewy, plump boost. He loves how this essence has a dual side that stores snail mucin (for hydration) and niacinamide (an multi-functional active ingredient that helps James control his oily skin) on each side. He also likes to re-dampen his skin after each step with COSRX's Centella Water Alcohol-Free Toner for that soothing dose of treatment in between. To calm down his redness, irritation and inflammation, James adds in a few drops of COSRX's Pure Fit Cica Serum which is a super lightweight serum to give the skin all the treatment it needs. For moisturizer, James' favorite is COSRX's Hydrium Moisture Power Enriched Cream which provides a rich, hydrating layer to help lock everything in for your skin.
---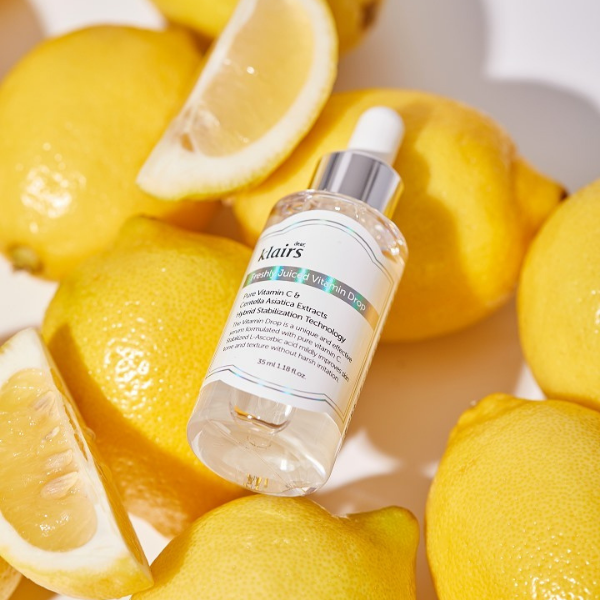 Courtesy of Korean Brand - Dear, Klairs
"I absolutely love Dear, Klairs. They're amazing at listening to their customers' feedback."
Dear, Klairs is another James' hearty favorite (and we all agree). Apart from being 100% vegan and cruelty-free, this fan-favorite Korean brand takes their customers' feedback to heart, which is why they have been launching more and more essential oil free skincare products to cater to highly sensitive skin types.
James mentioned that Dear, Klairs' Supple Preparation Unscented Toner is one of his all-time favorite Korean skincare products. He also revealed that Dear, Klairs's Freshly Juiced Vitamin Drop was the very first vitamin C serums he's ever tried and he absolutely loved it. He also recommends Dear, Klairs's Midnight Blue Calming Cream as a great summer skincare product, especially for people with rosacea, when the skin gets easily red and inflammed from the sun exposure. This moistuizer can calm that right down and take away the redness.
---
If you're bothered by acne, dark spots and hyperpigmentation, James has some 5-star recommendations for you. One of James' trusty favorites from SOME BY MI is the sold-every-3-second AHA-BHA-PHA 30 Days Miracle Toner which is highly recommended for both sensitive skin and acne-prone skin.
"SOME BY MI has got a good range of introductory exfoliating acids"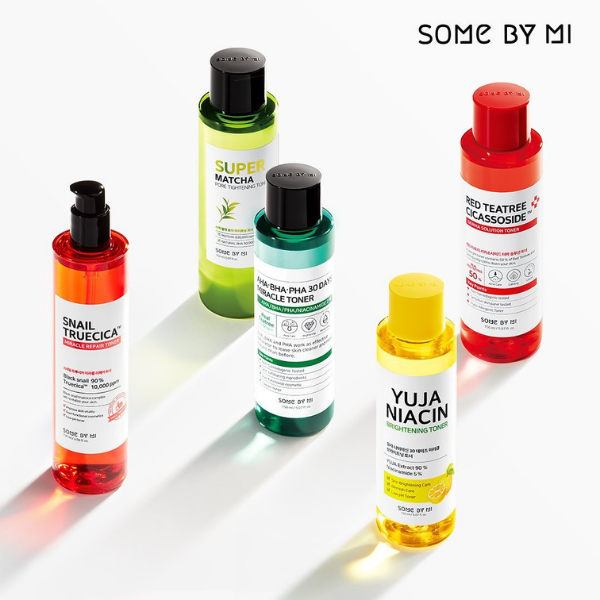 Courtesy of Korean Brand - SOME BY MI
James is also a big fan of the brand's Yuja Niacin line which is powered by yuja extract and niacinamide for brightening and moisturizing effect to lighten dark spots and hyperpigmentation. He loves to use SOME BY MI's Yuja Niacin Brightening Moisture Gel Cream in the summer, which is an amazing lightweight gel-moisturizer to give you a brighter, more even-toned complexion.
---
Defined by its future-oriented and neo-nature philosophy, NEOGEN strives to deliver promising and lasting skin benefits through carefully selected ingredients from nature. James mentioned in his video that he enjoys using NEOGEN Dermalogy's Bio-Peel Gauze Peeling Pads and the Green Tea Real Fresh Foam, which are more like the basic must-haves if you're looking for a minimalist skincare routine to stick to.
"You can either start with the NEOGEN basics or get a bit more experimental with the innovative products that they have."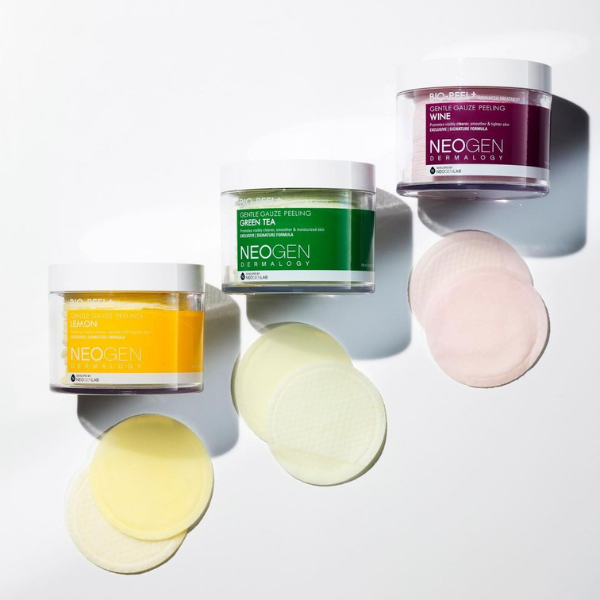 Courtesy of Korean Brand - NEOGEN
The brand's bestselling Dermalogy Real Ferment Micro Essence is one of James' favorite products of all time, which is essentially a non-sticky, fast-absorbing essence to achieve a healthy, glowing complexion.
---
If you crave for all things natural, Sioris is a Korean skincare brand that you definitely don't want to miss. They only pick their natural ingredients at a certain time of year from a particular place and a particular harvest to ensure the best concentration for their skincare formula.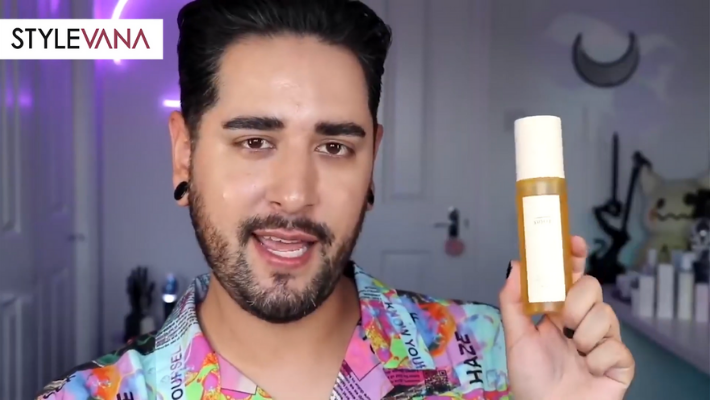 Courtesy of Korean Brand - Sioris
"Sioris is one of my favorite brands when it comes to natural skincare science."
Sioris' Time Is Running Out Mist has earned a place on James' shelf. It's a hydrating mist that also comes in a mini travel size, which James uses to spritz all over his face every morning. It is extremely refreshing with its lightweight formula that offers a nice layer of protection featuring 70% Yuzu content. It's great for soothing irritated skin, and packed with antioxidants and fatty acids, which can definitely give you a more radiant, fresher looking complexion.
---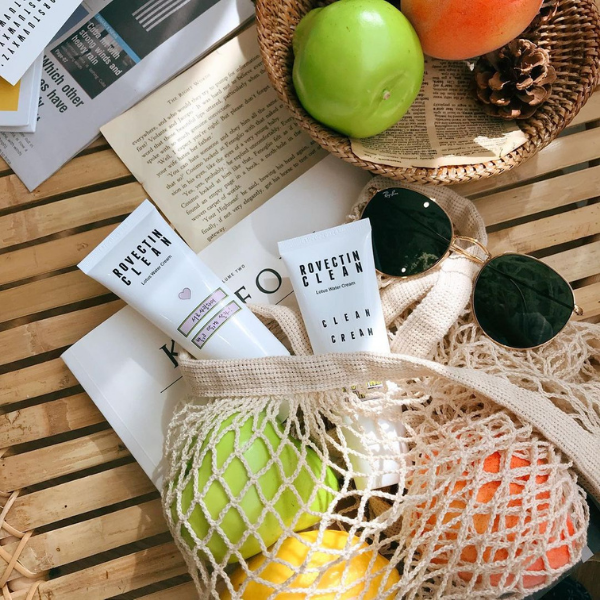 Courtesy of Korean Brand - ROVECTIN
"If your skin is completely destroyed, ROVECTIN is one of those brands that can save it."
ROVECTIN has become the most trusted skincare brand from patients as well as medical institutions and dermatologists across Korea. James uses ROVECTIN's Clean Lotus Water Cream on rotation as it is one of the nicest moisturizers he's ever tried. It has the perfect balance of both lightweight and moisturizing on the skin with lasting hydration. ROVECTIN's Skin Essentials Conditioning Cleanser is also on James' list of favorites, thanks to its pH-balancing formula which offers the skin the gentle comfort that it needs.
---
You don't have to be a K-Beauty expert to have natural, glowing skin, just the right skincare products and the right skincare routine (with the right guide, of course) will do. Follow James' skincare tips and stay tuned for more K-Beauty reviews from your favorite influencers!