ISNTREE is one of those skincare brands that'll make any skinimalist (skincare minimalist) go heart-eyes, or even turn YOU into one just because it has the natural appeal of a "less is more" skincare ethic. So before you decide to ditch your current heavy-lifting routine for a stripped-down, simplistic regime (because you might want to after getting to know ISNTREE's amazing philosophy and skincare ethic), we've chatted with Mr. Kim Jinwoo, the CEO and founder of ISNTREE, who has so kindly shared with us everything we didn't know but need to know about this beloved Korean skincare brand.
Guest of the Day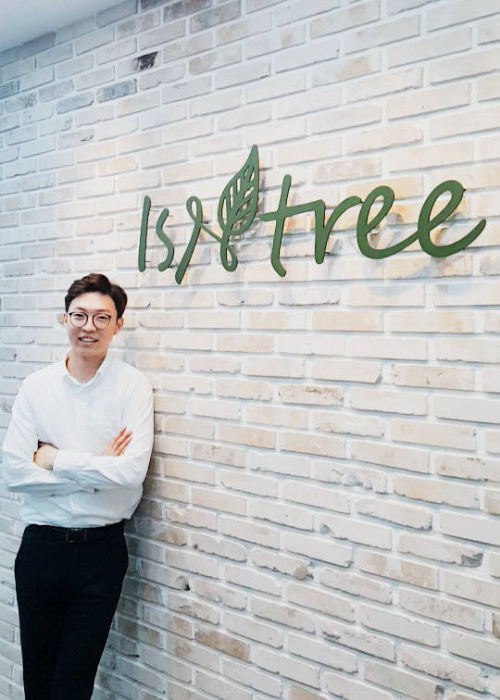 Mr. Kim Jinwoo, CEO and Founder of ISNTREE
---
ISNTREE's History & Philosophy
Jobie: Hi Mr. Kim, thanks for taking the time to join our VANA Chatroom. First of all, what's your story of creating ISNTREE?
Mr. Kim: I have suffered from acne since my adolescence, so that got me interested in skin care products. I became suspicious of the ingredients in the cosmetics when there was still no improvement even if I tried tons of products from luxury cosmetics brands. As the first person to run a cosmetics ingredient blog in Korean since the labeling system of all ingredients in cosmetics was implemented in October 2008, I knew what ingredients are harmful to the skin and what customers are looking for.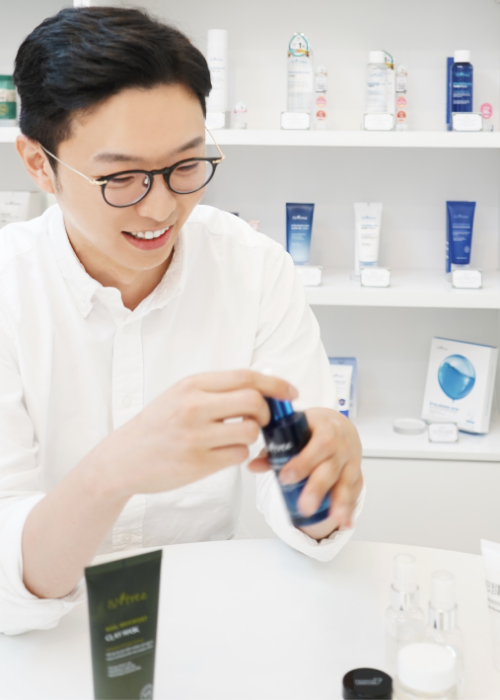 Mr. Kim Jinwoo, CEO and Founder of ISNTREE
Jobie: How did that experience shape your philosophy when creating ISNTREE?
Mr. Kim: After visiting a lot of domestic cosmetics research institutes, I realized that even though Korea already retains the world-class technology that can make cosmetics without harmful ingredients, many companies prioritize marketing over the ingredients due to profits. I strongly believed that if we focus more on the quality of cosmetics, which is the ingredient, we would be able to compete with those luxury cosmetics brands.
Jobie: So, how did the name ISNTREE come about?
Mr. Kim: ISNTREE is a compound word of IS(Island) + N(Nature) + TREE. IS is a clean and pure island, which means that we will value the environment. N means to protect the skin's natural beauty based on natural ingredients without animal testing. Finally, TREE contains ISNTREE's philosophy of growing into a strong tree that bears good fruit and grows with our customers. It's a name that I named myself, but it's even more special because it reflects the history of ISNTREE that is grown with customers.
Isntree - Hyaluronic Acid Water Essence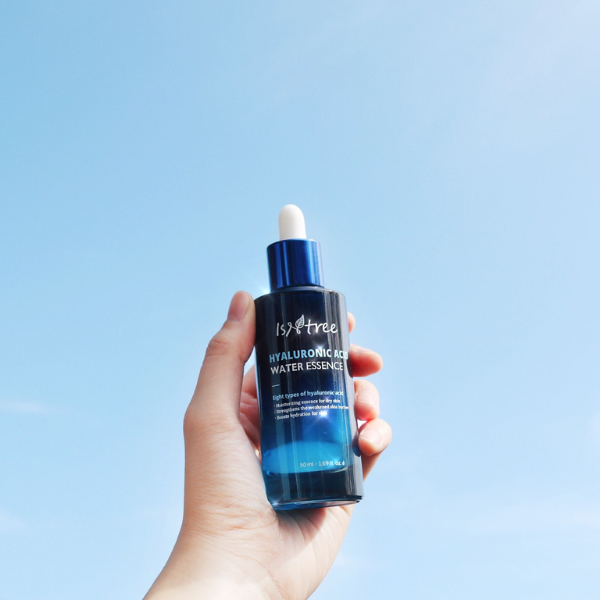 Courtesy of Korean Brand - ISNTREE
Jobie: What's the first thing you want your customers to think of when they see ISNTREE?
Mr. Kim: ISNTREE wants to be remembered as a reliable brand like a close friend who cares about customers and tries to make sincere cosmetics.
Jobie: So what do you think are the major differences between ISNTREE – as a Korean skincare brand – and western skincare?
Mr. Kim: In Korea, most skincare brands focus more on moisturizing/calming whereas western skincare brands are more likely to focus on anti-aging products. However, as cosmetics technology has developed over the years and Korean skincare brands have entered overseas markets, the boundaries are becoming blurred as products are being developed with a wide spectrum.
---
The Mission Behind ISNTREE Products
Jobie: How do ISNTREE products help address and tackle different skin concerns?
Mr. Kim: ISNTREE is developing all lines with the aim of strengthening skin's natural self-sustainability and maintaining young and healthy skin in the mid- to long-term. However, products such as the Clear Skin 8% AHA Essence made with a high concentration of active ingredients for problematic skin care are also recommended if necessary. We are currently reinforcing our skincare lines with various new product developments, so we will introduce the main function and routine of each skincare line as soon as possible.
The main function behind each skincare line is as below:
1) Clear skin line – They gently exfoliate flaky dead skin cells to reveal smoother, brighter, and more even-toned skin. There are 2 types of exfoliators for both dry and oily/combination skin types.
2) TW-Real Bifida line – Containing 88% high concentration of bifida ferment lysate and triple peptide, they help strengthen damaged skin barrier and hydrate dry skin while softening the appearance of wrinkles and visibly increasing firmer-looking skin.
3) Hyaluronic Acid – From 3 to 8 different types of Hyaluronic Acid build moisture layer by layer and maintain a healthy skin barrier.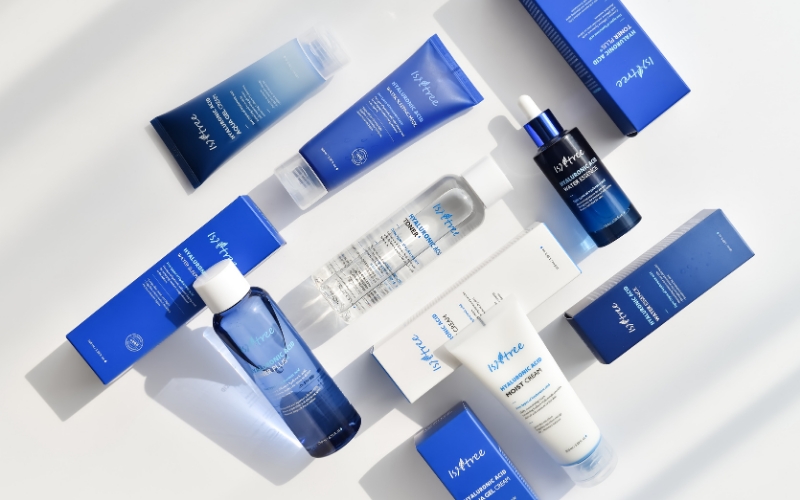 Courtesy of Korean Brand - ISNTREE
4) C-Niacin toning line – Containing hippophae rhamnoides fruit extract, they help improve skin tone.
5) Cica relief line – Containing centella asiatica extract, they help calm sensitive skin and improve skin elasticity.
6) Green tea fresh line – Containing Jeju green tea extract and Anti-Sebum P(HD), they control excessive sebum and help calm skin.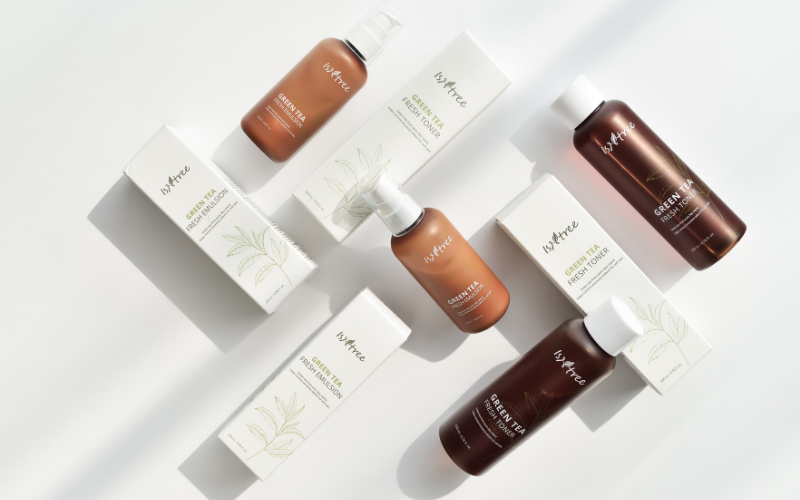 Courtesy of Korean Brand - ISNTREE
7) Aloe soothing line – They soothe irritated skin fast by calming down heated skin with a cooling effect and moisturize at the same time.
8) Rose line – Containing real rose ingredients, they calm your irritated skin and nourish the skin with rich nutrition.
9) Mugwort line – Containing mugwort extract, they help calm skin and balance oil and water levels.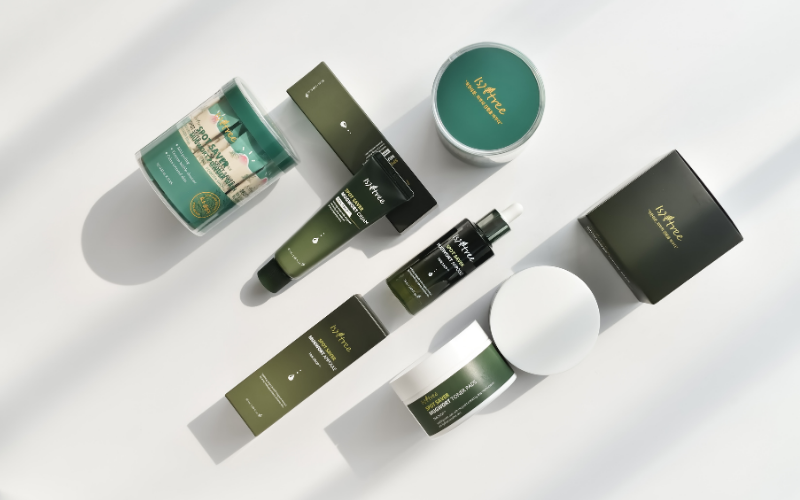 Courtesy of Korean Brand - ISNTREE
Jobie: So what's your take on skin care products that have fast-acting effects on the skin?
Mr. Kim: Products that give effect within a short period of time can be accompanied by irritation of the skin, causing an inflammatory reaction of the skin that is not visible in the mid to long term and can accelerate the aging process of skin.
Jobie: How does ISNTREE nail down the right ingredients for each skincare line and product?
Mr. Kim: The most important thing is fulfilling customers' skincare needs. Customers identify what skin concerns they have and what ingredients they want. In ISNTREE, if we also feel the necessity for product development, we check the efficacy and effectiveness through manufacturers, raw material manufacturers and research papers, and find the most suitable ingredients of the skincare line for each skin concern and proceed with the development.
Isntree - Green Tea Fresh Toner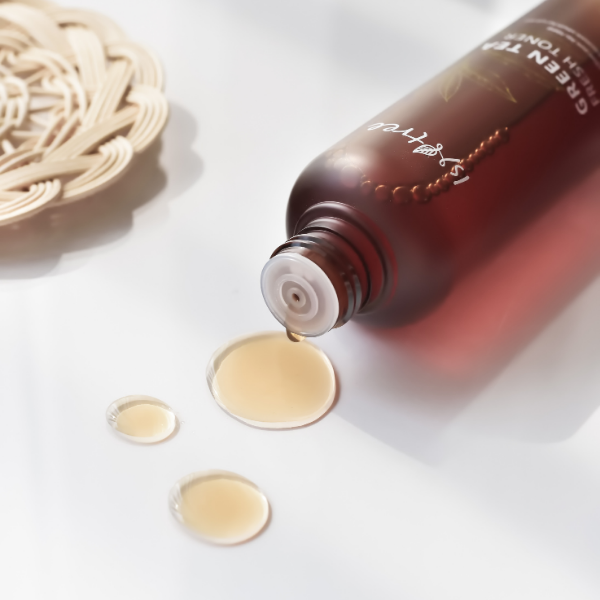 Courtesy of Korean Brand - ISNTREE
Jobie: Does Isntree update their formula of the same product from time to time to keep up with customers' need and feedback?
Mr. Kim: We constantly look for customer reviews after our products are released. If we continuously receive customer complaints on a product, we proceed with renewal for better quality. Also, we often conduct a survey through SNS and listen to customer feedback and reflect on them. We are planning to develop products that our customers want and need by continuously conducting surveys.
Jobie: What is the idea behind formulating a skincare product that combines multiple skincare steps into one, for example, the ISNTREE Hyaluronic Acid Toner Plus (toner + ampoule)?
Mr. Kim: It's very simple. First, when customers want, second, when we feel the necessity. Hyaluronic Acid Toner Plus is a total care product combining toner and ampoule, which is what our customers have been wanting and what we also feel the necessity for. While Hyaluronic Acid Toner absorbs quickly and leaves skin feeling moisturized without any stickiness, Hyaluronic Acid Toner Plus is an ampoule like texture that deeply moisturizes the dry skin.
Isntree - Hyaluronic Acid Toner Plus
Courtesy of Korean Brand - ISNTREE
Jobie: ISNTREE has been named one of the "Key Players" operating in the business of Acid Toners in the global market among the ranks of Garnier (L'Oréal), Neutrogena and Mario Badescu. Is this one of the objectives when Isntree first started?
Mr. Kim: I am very honored and grateful that ISNTREE is mentioned with those well-known global brands. We will try our best to establish our position as a representative K-beauty brand in Korea and even as a TOP 10 global brand, so please look forward to it!
---
The Future of iUNIK
Jobie: ISNTREE has been getting more and more recognition. What direction do you see ISNTREE heading towards? Any short-term or long-term goals?
Mr. Kim: Our first goal is to become No.1 skincare brand representing Korea & Top 10 global skincare brands. Our mid to long term is to first become a company that everyone desires to work for. I believe that we can provide good quality of products and services to our customers only when we work sincerely. We also want to impress customers by providing higher value than the cost they pay. It's essential to provide customers with good quality products at good prices, and I think this is our competitiveness.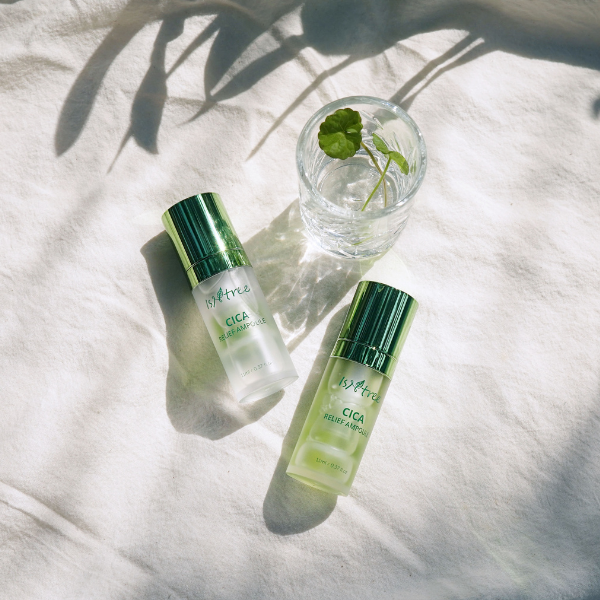 Courtesy of Korean Brand - ISNTREE
Jobie: Good to know! So any new products we can expect from ISNTREE in 2021?
Mr. Kim: We plan to launch an overseas-only product that contains more than 2% of BHA ingredients. Besides BHA, we are also trying to develop products of various clear skin lines to meet customer needs, such as AHA, BHA, PHA and LHA, so please look forward to it.
Jobie: Some loyal fans of ISNTREE want to know if you will extend the Green Tea Fresh Line, any thoughts?
Mr. Kim: We are developing a green tea fresh ampoule that can give an extra boost when pairing with our Green Tea Fresh Toner. By combining high-purity ingredients called EGCG obtained from green tea, it is expected to help not only soothe the skin, but also protect the skin from harmful oxygen and make your skin younger. We're most likely to launch a cleanser too but please understand that it is difficult to tell you the exact product in the development stage.
Isntree - Spot Saver Mugwort Line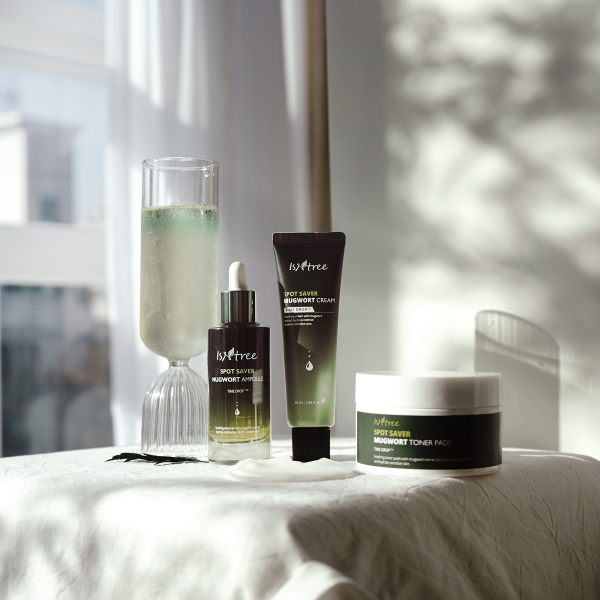 Courtesy of Korean Brand - ISNTREE
Jobie: For the fans who are struggling with oily, acne-prone skin, what are the best recommended products or routine from ISNTREE?
Mr. Kim: Here's my recommendation that works well for my oily and acne prone skin. My morning skincare routine goes like this: Hyaluronic Acid Low-pH Cleansing Foam, Clear Skin BHA Toner, Spot Saver Mugwort Ampoule and Hyaluronic Acid Aqua Gel Cream. And at night, I switch to Spot Saver Mugwort Powder Wash, Clear Skin BHA Toner, Hyaluronic Acid Water Essence and Hyaluronic Acid Aqua Gel Cream. If you have sensitive skin, I suggest replacing the Clear Skin BHA Toner with Green Tea Fresh Toner for a more soothing treatment.
Jobie: Okay, last question. Will ISNTREE come up with pimple patches or spot treatment products for acne prone skin soon?
Mr. Kim: We are currently developing a product for acne prone skin and we are planning to launch a product line for troubled skin in near future. We also open the possibility to develop pimple patches or spot treatment products for acne prone skin. What's certain is that we're trying to make a good acne product.
Jobie: Thank you for your time, Mr. Kim! We look forward to more new and exciting skincare moments with ISNTREE and wish you all the success!