Remember that time you were scrolling through Instagram and stopping at a beauty guru's photo because it just screamed #VanityGoals? Same. And truth be told, my Instagram bookmark collection is filled with vanity shots because 1) they are my number one source of inspiration for everything K Beauty, and 2) they just look so alluring and irresistible.
Besides, what's the point of building a skin care and makeup collection if you're not showing it off with an Instagram post? So today I'm going to share with you some tips and Insta-worthy inspo on how to make your summer vanity the best-looking one on the feed!
---
Summer Vanity Inspiration #1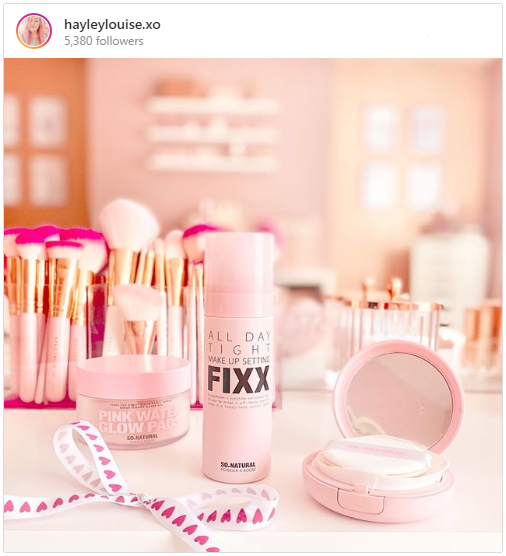 "I've always wanted to try Korean beauty and when it's also pink it's even better!"

— Credit to @hayleylouise.xo from Yorkshire, UK
Imagine posting this vanity shot on a Wednesday with the iconic Mean Girl-inspired caption "On Wednesday, we wear pink." Your followers would LOVE it. The Insta-worthy way of achieving the perfect monochrome set-up is to choose your theme color. A pink summer vanity featuring So Natural's iconic Pink beauty collection is definitely a good (and subtle) way to start if you want to show off your girly-chic style.
Sidenote: Another summer vanity trick is to sort out your skin care products by ingredients, which are usually dictated and represented by a certain color theme, like blue for Hyaluronic Acid , green for Green Tea or Centella Asiatica, or orange for Vitamin C etc.
Have you tried So Natural's Pink collection?
---
Summer Vanity Inspiration #2
"I've been testing these PURITO goodies for a couple weeks now and I am more than impressed. I have used PURITO products before and loved them, so I'm not surprised that these were a hit too."

— Credit to @hareynoldsbeauty from Toronto, CA
Want to get your followers to jump on the bandwagon for your favorite beauty brand too? Easy, just post a "brand-wagon" vanity shot! We love seeing people show off their loyalty to a brand. And the Insta-worthy way to do it? A proud collection of skin care products all from the same Korean beauty brand. You can even go for a specific line-up to make your vanity look more organised and composed, like PURITO's entire Centella Green collection for that gorgeous navy-green aesthetic if you're an organic skin care lover.
Are you on the PURITO bandwagon yet?
---
Summer Vanity Inspiration #3
"So much beautiful packaging is making this #TowerThursday look like a spring / summer feature."

— Credit to @rachelxnix from Northern Ireland
A #TowerThursday vanity shot has been getting all the hype on Instagram because it's one of the very few beauty challenges that are here to stay. We have to admit it's quite a fun and creative way to show off your skin care products. And we recommend you only stack with tub products so the tower will look more sturdy. If you own a few tub products, like heimish's All Clean Balm, the Bulgarian Rose Eye Patches, LANEIGE's Lip Sleeping Mask, or other moisturizers and masks, give #TowerThursday a try!
Stack on your K Beauty favorites for #TowerThursday
---
Summer Vanity Inspiration #4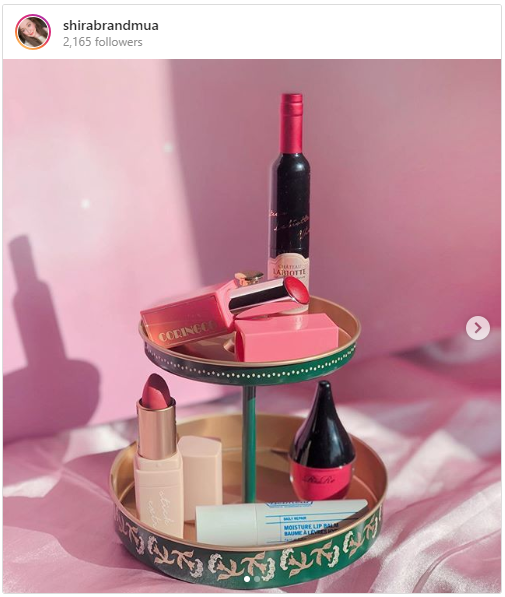 "@stylevana_sv kindly gifted me these lipsticks to review and I was absolutely hyped because my favourite makeup product is lipstick! I feel like I can never have enough."

— Credit to @shirabrandmua
"I have too many lipsticks," says no one ever. If you happen to be a lipstick addict like me, your summer vanity should be a regal representation of your entire lipstick collection. The Insta-worthy trick is to get all your favorite lipsticks on a tier tray and serve your follower a slice of your lipstick paradise.
Spot any of your favorite lipsticks?
---
Summer Vanity Inspiration #5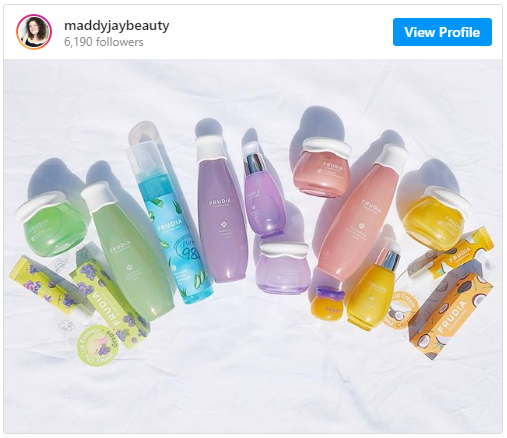 "The babes at @Stylevana_sv let me pick out a few things to try, so of course I had to add to my #Frudia collection since I love the brand so much."

— Credit to @maddyjaybeauty
You've probably heard of a rainbow "shelfie" ( a selfie of your beauty shelf), but have you heard of the rainbow spread? Imagine having a colorful collection of skin care products arranged in classic rainbow fashion like this. The Insta-worthy trick is to have a curation of skin care products that feature color-rich packaging. That's why we're all so obsessed with the K Beauty brand FRUDIA and their K Beauty skin care products all rendered in vibrant (and equally yummy) colors. FRUDIA's wide selection of fruity skin care products, with different colors representing different fruits, is definitely a must-have for your Insta-worthy rainbow summer vanity.
Which FRUDIA color are you eyeing for?
---
Summer Vanity Inspiration #6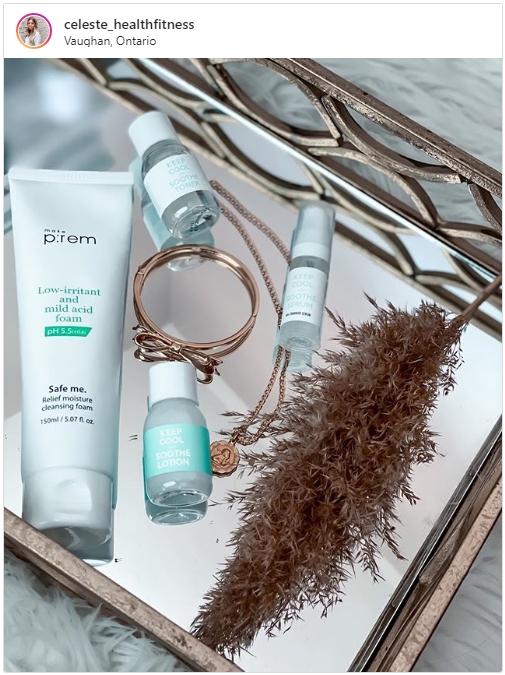 "I am obsessed with this combo! This is my current morning routine followed by sunscreen! Cleanser from make p:rem and this little trio from Keep Cool."

— Credit to @celeste_healthfitness from Ontario, CA
You can tell if a person is a "skinamalist" (aka a minimalist who's also a skin care lover) just by looking at their vanity—clean, simple, and minimal. So all you have to do is just to keep your skin care routine to the minimum with only the basics—cleanser, toner, serum, and lotion. Adding mini sets, like Keep Cool's Soothe Bamboo Mini Kit, in the mix is also a nice touch to perfecting the "skinamalist" aesthetic, along with a simple cleanser like make p:rem's Safe me. Relief moisture cleansing foam.
Your "Skinamalist" Skin Care Starter Pack
---
Which summer vanity inspo caught your eye? Start by getting yourself the perfect skin care products and makeup favorites on Stylevana from a wide variety of K Beauty, J Beauty, and Taiwan Beauty brands. Did we mention there's a FREE gift from FRUDIA on order over $30? For more summer vanity inspo, go follow our Stylevana Instagram homepage and stay tuned for more beauty updates! Don't forget to tag us in your summer vanity shot! Till next time, lovelies!