To my fellow lovestruck It's Okay Not to Be OKay K-Drama fanatics, how are you coping with your post-drama blues? I, too, can't stop gushing over Seo Ye-ji's beauty looks on screen so this time we'll be unpacking the FIVE major beauty tips, from skincare, makeup to hair care tips, spotted on Seo Ye-ji from the K-Drama, along with all the simple K-Beauty tricks and essentials you'll need for a complete Ko Moon-young makeover. So, even if you're a skincare or makeup rookie, don't worry, these hacks are super easy to master!
---
1. Clear Glass Skin
What You Need: Micellar Cleansing Water
Seo Ye-ji's clear glass skin in K-Drama It's Okay to Not Be Okay (Source: Hancinema)
For Seo Ye-ji's luminous glass skin, she swears by this rule for her cleansing skincare routine: use micellar cleansing water (or micellar cleansing oil for the Korean Double Cleansing method). What is micellar water, you ask? It's a multipurpose skincare product most loved by K-Beauty gurus (like Seo Ye-ji herself) and dermatologists because of its super effective cleansing formula to leave your skin squeaky clean and ready to glow. It's made using purified water, glycerin, and other mild surfactants, which are powerhouse ingredients used for cleansing. innisfree's My Makeup Cleanser Micellar Oil Water is a highly-recommended Korean makeup cleanser for those who need a strong formula to remove their all-day makeup, even the waterproof eyeliner and mascara!
---
2. Dewy, Luminous Complexion
What You Need: Face Essence or Serum
Seo Ye-ji's luminous complexion in K-Drama It's Okay to Not Be Okay (Source: Hancinema)
Rumor has it that Seo Ye-ji uses the hyaluronic acid-infused KLAVUU Blue Pearlsation Marine Drop Serum to maintain her flawlessly-toned, luminous glass skin as seen in every close-up scene in the K-Drama It's Okay Not to Be Okay. As much as this K-Beauty inside scoop is all we ever need, we're not surprised that Korean Beauty like Seo Ye-ji has a favorite serum or face essence as her daily booster. And her KLAVUU serum pick is packed with 2000 marine hyaluronic capsules and Korean pearl extract, giving an instant boost of moisture and radiance to the skin. Looking for a dupe that's less pricey? You might like iUNIK's Beta Glucan Power Moisture Serum, which is equally hyper-moisturizing as it is nourishing and skin-soothing.
---
3. Shiny, Luxurious Hair
What You Need: Weekly Hair Mask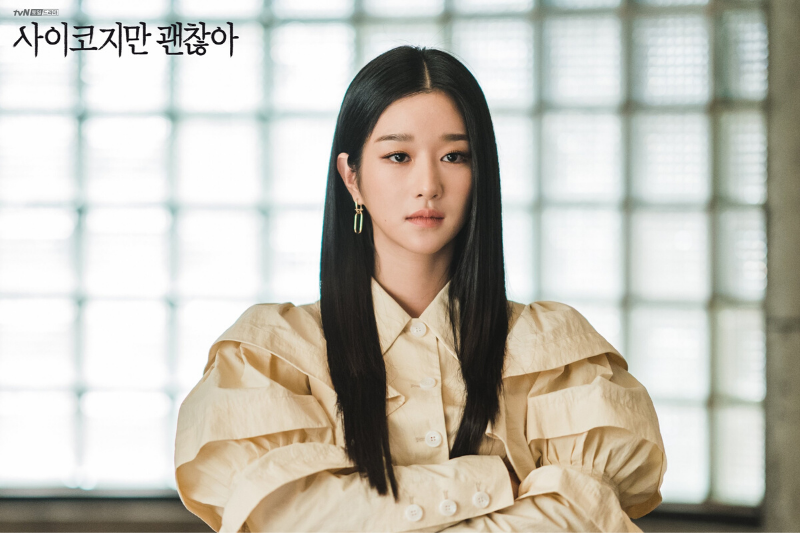 Seo Ye-ji's black-haired goddess look in K-Drama It's Okay to Not Be Okay (Source: Hancinema)
Before we talk about her luminous glass skin, the Internet (aka all of us who have just finished binging It's Okay Not to Be Okay) is currently obsessed with Seo Ye-ji's hair style —specifically her long, shiny black hair. It's fair when all the K-Drama fans are crowning the black-haired goddess as the new "Mane Muse" because her luxurious long hair is JUST. THAT. ICONIC. From an elegant up-do to a feminine curly hair style, Seo Ye-ji's long shiny hair never fails to catch my attention. The beauty secret? Two words: hair care . If you want your hair to look silky smooth and shiny while managing these done-up hairstyles like Seo Ye-ji, you can't miss the daily or weekly hair care treatment . Throw on a hair mask like NATUREREPUBLIC's Argan Essential Deep Care Hair Pack to make sure your hair is well replenished before styling it with heat or other chemical hair products.
---
4. Bold Red Lip is a Power Move
What You Need: Scarlet Red Lipstick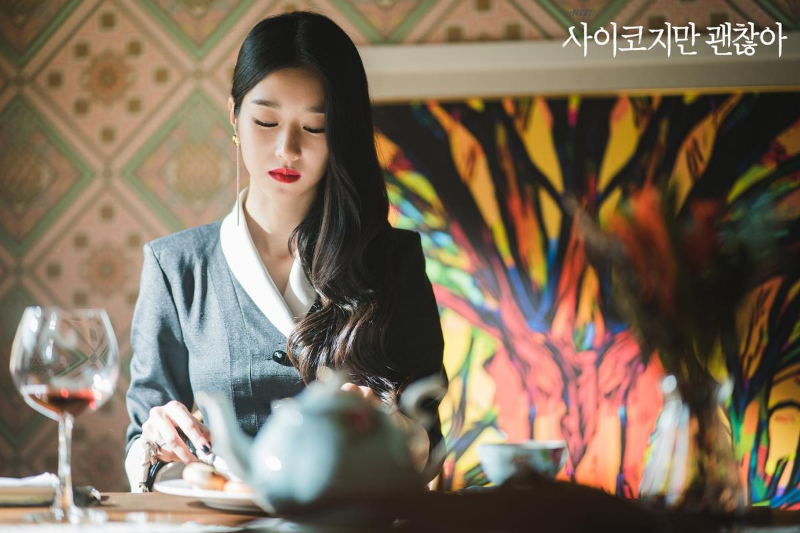 Seo Ye-ji's iconic bold red lips in K-Drama It's Okay to Not Be Okay (Source: Hancinema)
The key player to Seo Ye-ji's stunning regal look in K-Drama It's Okay to Not Be Okay is her matte bold lips. To pull it off like Seo Ye-ji, you need to learn how to strike a high-low balance with what you're wearing. Rocking a bold red lip is a power move but you don't want to over-do it. You can wear the iconic 3CE Velvet Lip Tint (Best Ever) shade with a more casual, everyday style to achieve a more balanced look so your bold red lip can stand out. If you feel like looking extra glamorous, pair the classic bold red lip to amp up your feminine charm like Seo Ye-ji with her pant suit.
---
5. Under-eye Shimmer
What You Need: Champagne Shimmer Eyeshadow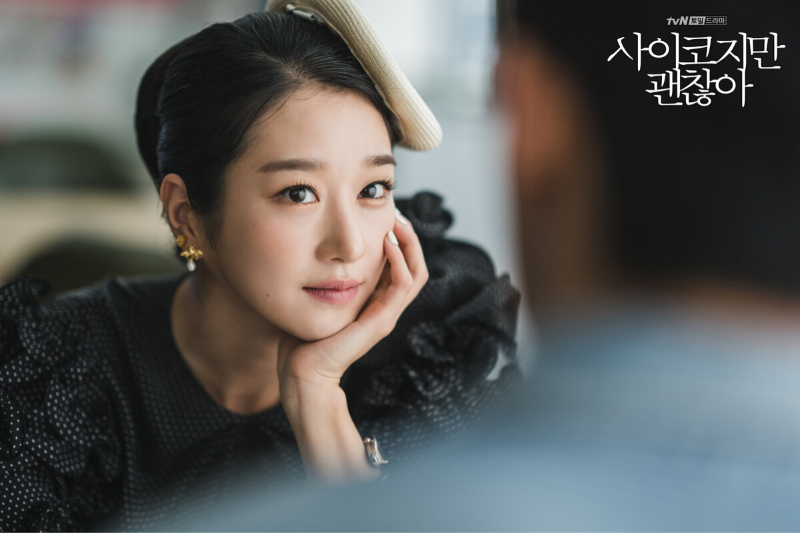 Seo Ye-ji's sparkly under-eye makeup look in K-Drama It's Okay to Not Be Okay (Source: Hancinema)
One simple makeup trick we can spot from Seo Ye-ji's eye makeup throughout It's Okay Not to Be Okay is her subtle under-eye shimmer. I know we've been talking about shimmery and glittery eye makeup for a long time because it's the best way to make your eye pop, but it's important to not overdo it. Get the sparkly champagne gold with Etude House's Bling Bling Eye Stick to add a subtle dimension to your entire eye makeup look. How to master this glitter look like Seo Ye-ji did in K-Drama It's Okay to Not Be Okay for the perfect pop? Instead of wearing it all over the upper eyelids, Seo Ye-ji wears her eyeshadow glitter under her eyes to go for that mesmerizing look. You can go for a bronze shade, paired with some smokey eye effect with CHICA Y CHICO's One Shot Eye Palette , to give a charming shimmer finish to enliven your regal look for the perfect evening glam.
---
Not burying your love for this K-Drama any time soon? Yep, me too. But the good news is I've decided to cheer myself up with a beauty haul because why not? You can find me at the 3CE and Romand aisle – both are up to 25% OFF now – if you need me. Did we mention all Eye Shadow Palettes are up to 40% OFF now? Now go make yourself a wish list and add your favorite K-Beauty picks to cart! Don't forget to stock up on hair care products, too!