Who hasn't heard of the double cleansing method? Loved by many, this technique makes sure that all the dirty residue of the day, pollution particles, and makeup come off at the end of your daily adventures. It is a great way to prep the skin to receive the following treatment and to make sure that it is kept clean and ready. So how do you do it? First off, you will need two types of cleansers. The first one to use is oil-based and the second is water-based.
---
Step 1

Koreans start their double-cleansing method with an oil-based cleanser, which is like an emulsifier. It will melt away all the makeup, SPF, and sebum on the surface level. Pick a good oil-based cleansing solution like innisfree's Apple Seed Cleansing Oil. Formulated with fresh apple extract, this oil-based solution keeps your skin smooth and moisturized without drying up your face. Use it to remove your SPF properly at the end of the day to prep the skin for your nighttime routine.
Apply a generous amount of the oil-based solution to your palm and massage your face in a circular motion.
Don't worry if your skin is oily or sensitive. Innisfree's Apple Seed Cleansing Oil is rich in unsaturated fatty acids which will leave your delicate skin firm and perfectly hydrated after cleansing.
Now that your makeup and SPF are completely gone, wipe the excess cleanser off your face with a warm damp cloth and get ready for the second step of cleansing.
Other skin-loving oil-based cleansers you shouldn't miss:
---
Step 2
Koreans use a water-based cleanser as the second step to remove insoluble grime like sweat, dirt, and pollutants on a deeper level. A powerful water-based solution will penetrate deep into your skin and breaks down your toxins and buildup with a thorough cleanse.
LANEIGE's Perfect Make Up Cleansing Water is a lot of people's go-to water-based cleanser. Its peppermint extract helps smoothens and refreshes your pores. Enriched with triple micellar technology, this water-based solution can effectively remove any waterproof makeup too!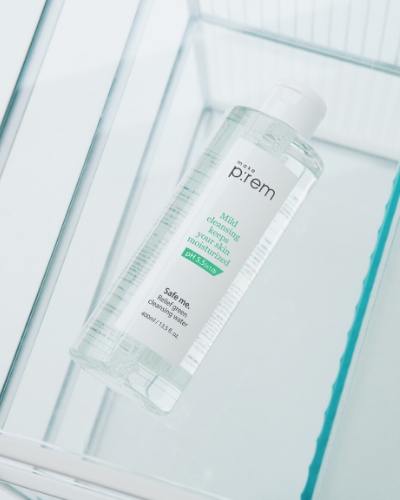 For those who have sensitive skin, another water-based cleansing solution is make p:rem's Safe me. Relief green cleansing water.
Its neem tree plant-infused formula will comfort and calm your skin with a gentle cleanse to leave your face as fresh as new.
This hypoallergenic cleanser dissolves all the impurities from deep within your skin without causing any irritation, which is good for sensitive skin.
Complete your double-cleanse with these water-based solutions:
---
Is double-cleansing is right for you?
Anyone can benefit from a double cleansing routine. That said, not everyone needs it. If your makeup is quite light and you tend to prefer a chemical SPF to a mineral one, then you might be just fine with one cleanser. However, double cleansing is gentler than using a water-based cleanser twice, as this could strip your skin of the natural oils that make it soft and keep the moisture barrier intact.
Remember to follow your double-cleanse with a rejuvenating toner to tighten your pore:
---
What do you think? Ready to upgrade your cleansing routine? Pick your favorite oil-based and water-based combo now and master the Korean Double Cleansing Method like a pro. Check out the cleanser collection from Etude House for up to 15% OFF now! Don't forget to stop by TONYMOLY for some cleansing edits and get a FREE sample! Learn how to choose the best cleanser for your skin type and start from there!