How do we get into the holiday spirit here at Stylevana? Some say watching the classic movies (any Love Actually fans?) and some prefer buying holiday gifts for their loved ones. The holidays may look different this year, but that does not mean we cannot celebrate the holidays all month long by going all out on holiday makeup ideas for virtual celebration. So, what makeup looks to try for this holiday season? Here are 5 best makeup tips inspired by your favorite celebs to help you look insta-ready for the 'gram!
---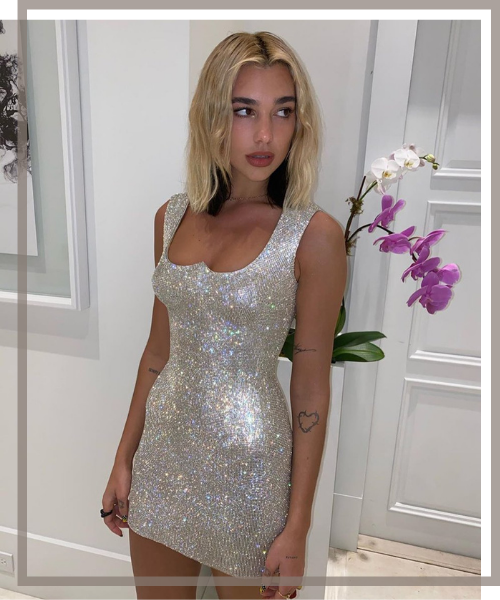 Holiday Makeup Look Inspo: Dua Lipa as a stunning icy queen
The cold never bothered me anyway! What can be more festive than wearing a Frozen-inspired, frosty holiday makeup look? Different from the vibrant eye shadow and lip colors that usually pop up in our minds when we think of holiday makeup ideas, the winter icy queen look is all about the dewy foundation and base makeup — aka the Korean chok chok makeup look and also glass skin complexion. As Dua Lipa proves, a flawless foundation paired with a natural lip tint can make a perfect holiday makeup look; the sparkly party dress and blonde hair are optional.
Best Base Makeup Combo for the Holiday Season
---
How to shine bright in virtual celebration this holiday season? Glitter eye makeup and dramatic eye shadow might be the best fit to get you in the holiday spirit. For a low-key impact, you can dab a soft wash of gold glitter onto your lids, while leaving the rest of your face pretty much untouched. Or go big on the Korean holiday eye makeup game with bold-colored eyeshadow, and of course do not miss out the sparkly fascination.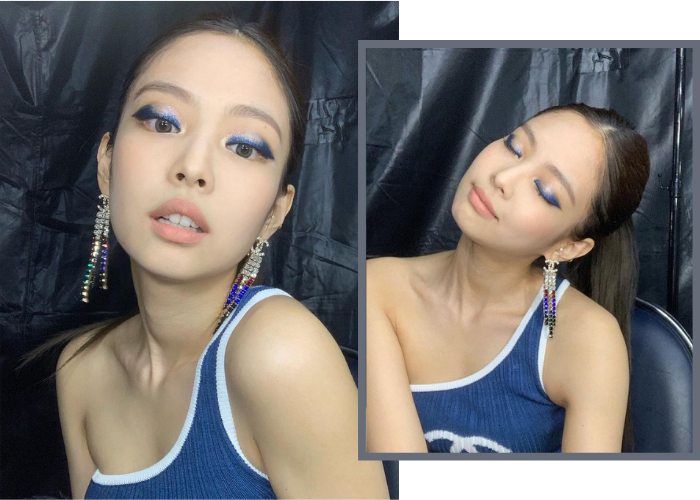 Holiday Makeup Look Inspo: BLACKPINK Jennie
Take it from BLACKPINK's Jennie who proudly wears the trending Korean eye makeup color — Classic Blue — and coats her lids with specks of shimmer for a dramatic, holiday vibe. Try MACQUEEN's Jewel-Poten Eye Glitter to bring extra sparkles for the holiday season!
Create the Best Holiday Eye Makeup Look
---
Faux eyelashes are also a must to give your holiday eye makeup look a doll-eye allure. Our favorite MISSHA Secret Lash collection has different lengths and curls to add both volume and definition to take your eye makeup look to the next level.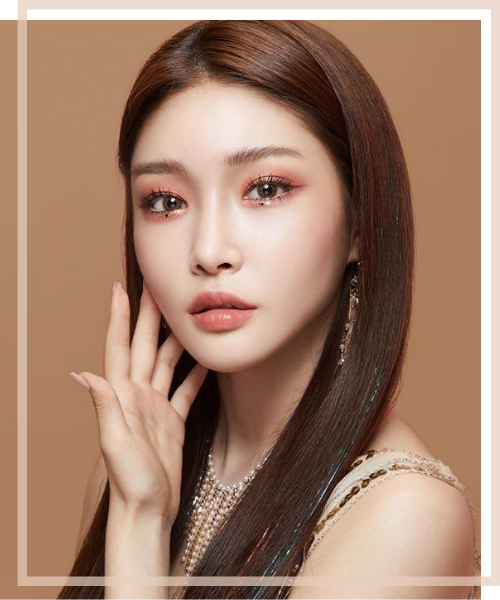 Holiday Makeup Look Inspo: Chungha's Lash Affair
Feeling glitter eye makeup is not enough for the holidays? Go all out with festive eye makeup ideas by decking your lashes. Take note from sweet Chungha and her Korean makeup look; wear faux eyelashes that are wispy, long and full to turn up your look. The holiday party makeup look does not end there. Our final festive touch to make sure our holiday eye makeup looks to flicker all season long is to — top your double-decked or triple-decked lashes with sparkly sprinkles.
How to Get Perfect Lashes for the Holiday Season
---
One of the major makeup tricks we should learn for a perfect holiday makeup look is a statement-making red lip. So for a festive holiday lip makeup, we're going with Romand's Juicy Lasting Tint for a pigmented, lust-worthy shine in just one swipe.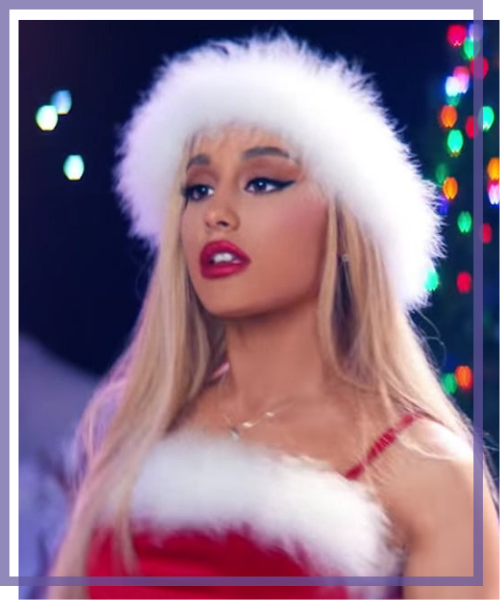 Holiday Makeup Look Inspo: Ariana Grande's Lip Makeup in "Thank U, Next" MV
Ariana Grande's red lip makeup look says it all to put us in the holiday spirit. With not much but still many to celebrate this 2020 (like Ariana's recent engagement!), put on the rouge lip in the last month of the year for a rare holiday red lip moment. Nothing complicated about this holiday makeup look, just pick a red lip tint or lip gloss that complements your skin color, and keep the holiday spirit up with a flicked eyeliner.
ALSO READ: How to Hydrate, Smooth & Plump Your Dry Lips this Winter
Best Holiday Lip Makeup Essentials
---
Holiday Makeup Look Inspo: Selena Gomez gradient smokey eyes
To make the usual cat eye makeup look even more holiday party appropriate, smudge the smoky eyeshadow around the eyes for a mysterious festive vibe. Draw your holiday eye makeup look just like Selena Gomez. A simple holiday eye makeup tutorial: color your eyelids with a dark eyeshadow, line your eyes with a feathered effect and thickened corners, and paint your lips with the perfect natural shade to keep the spotlight on the windows to your soul.
Get Your Smokey Eyes Holiday Ready
---
Here are all the most spirited holiday makeup looks we've planned… so far? Bold eye makeup looks, statement lip makeup and flawless icy looks — all festive enough to RSVP yes to any virtual holiday celebration invites this year. Take note and plan your holiday makeup looks throughout all your festivities. Happy Holidays!