If you're a foodie AND also a K-Beauty addict, just the name FRUDIA will probably you an appetite. This Korean skincare brand believes in fruit science (sounds like a yummy concept to me) and builds its beauty philosophy around eco-friendly, nature-to-skin solutions. So sit back, relax, and let FRUDIA be your next delicious obsession! We've spoken with Mr. Kim Young-don, the CEO of FRUDIA, who has given us a glimpse into the brand's "juicy" story!
---
What's FRUDIA Story?
Jobie: Hi Mr. Kim, thanks for taking the time to join our VANA Chatroom. How was FRUDIA created?
Kim: Among Welcos brands, FRUDIA was born from a natural Korean skincare brand called KWAILNARA in 1993. We have concentrated on how fruit is effective in keeping the skin healthy with stable, naturally sourced materials, skin-safe prescription, and packaging design for women in their 20s and 30s.
Jobie: Any inspiring story behind the history of FRUDIA?
Kim: FRUDIA is inspired by a French lady we met during our trip to Colmar, Alsace region of France. She was a master artisan in a fruit jam workshop that had been handed down to her after 150 years and 4 generations. She had impeccable skin for her around 60 years of age all while tasting and crushing different fruits to create a fruit jam every day. That's when we started to draw the connection between fruit and good skin.
Courtesy of Korean Skincare Brand - FRUDIA
Jobie: So how did the name FRUDIA come about?
Kim: FRUDIA is a word that combines 'Fruits' which symbolize nature and its benevolence, and 'dia,' meaning from or through. It means that our priority and eco-friendly values are to embrace all the benefits that fruits give us and convey healthy beauty, and promote cohabitation with nature. The brand features clean beauty products with fruit juices.
Jobie: What's the first thing you want your customers to think of when they see FRUDIA? Is it the cute and yummy-looking packaging?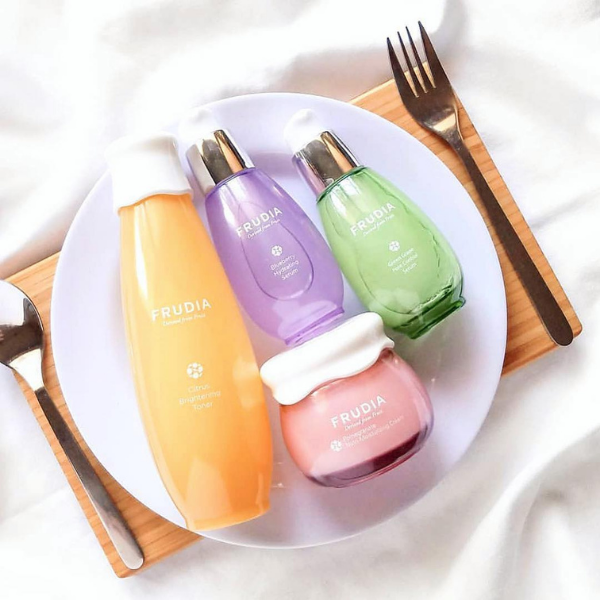 Courtesy of Korean Skincare Brand - FRUDIA
Kim: With FRUDIA, we wanted to give you the feel of loving happiness through our skincare products and the packaging even before you apply it. That's why FRUDIA takes the motif of fruits and employs it to express the colorfulness, freshness, and feel of a smooth contour of a fruit. For example, the caps are covered with a cloth that looks like craft jams.
---
Fruit Science Behind FRUDIA Products
Jobie: How is the concept of "fruit science" involved in the creation of a FRUDIA product?
Kim: We understand the properties of each of our fruit ingredients and how they can help with your skin, that's why FRUDIA is a beauty solution created to take care of your different skin concerns.
FRUDIA - Ultra UV Shield Sun Essence SPF50+ PA++++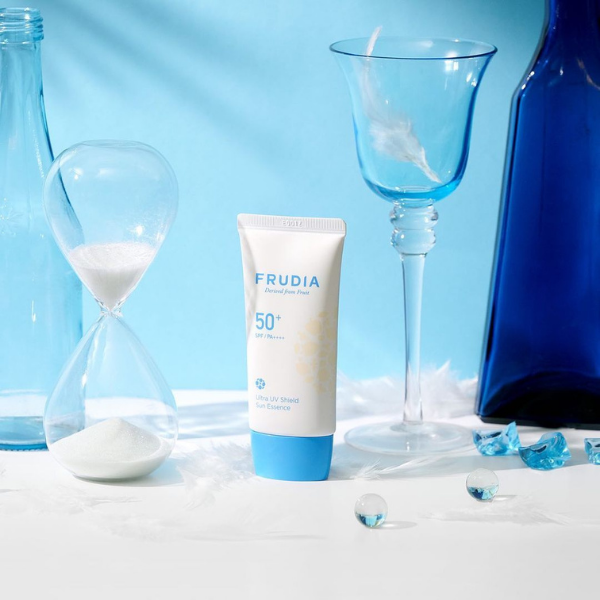 Courtesy of Korean Skincare Brand - FRUDIA
Kim: FRUDIA has its own skin science procedures to improve each skincare formula. For example, the R-VITA-W procedure uses 48-hour low-temperature extraction to prevent nutrients from fruits like vitamins, minerals, and proteins from being destroyed or altered. It makes liposomes out of juice extracts that are 20 times more concentrated for 30 hours in low temperature, and allow deeper penetration of effective nutrients into the skin.
Jobie: Any fun facts about fruit that FRUDIA knows about while everyone else doesn't?
Kim: Among all the signature skincare lines from FRUDIA, the Blueberry Hydrating line and Avocado sensitive line contain ample nutritional values. Blueberry, on one hand, was picked as one of the top 10 superfoods in the world by Times, while avocado holds a Guinness world record for being the most nutritious fruit in the world.
FRUDIA - Blueberry Hydrating Intensive Cream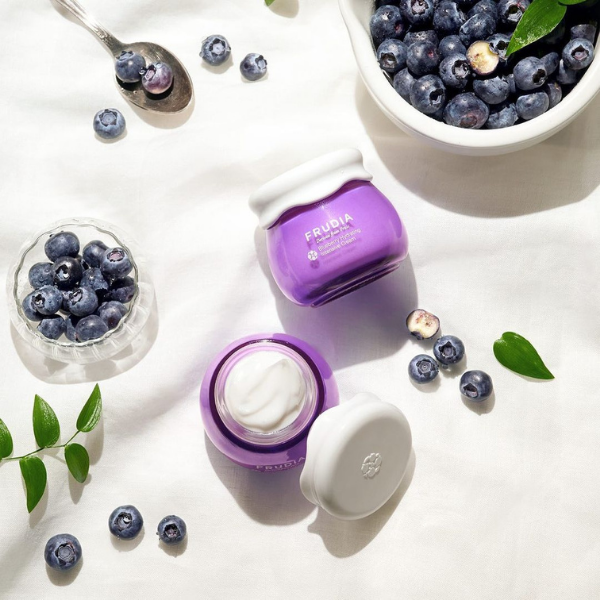 Courtesy of Korean Skincare Brand - FRUDIA
Kim: Also, the Tangerines brightening line is cultivated from Jeju, one of the most gifted natural environments same as UNESCO's Biosphere Reserve, Natural Heritage, and Global Geopark. Reports on Jeju tangerine's efficacy keep coming in as an antioxidant by containing flavonoid, as well as for preventing circulatory diseases, anti-inflammation, anti-allergy, anti-virus, and improving immune systems.
FRUDIA - Citrus Brightening Cream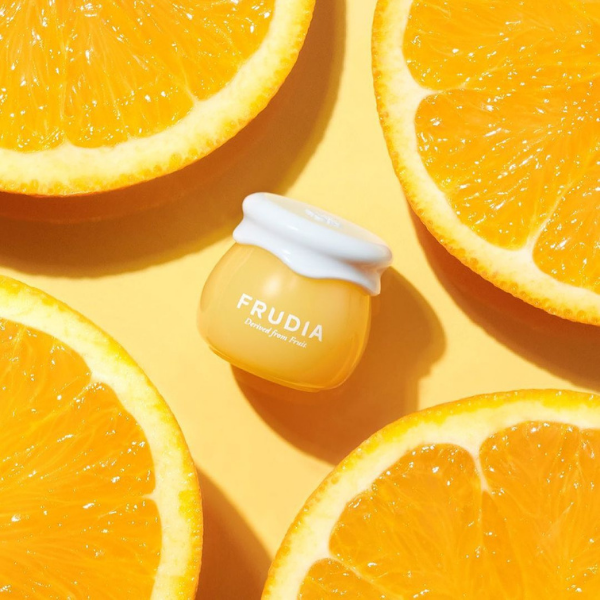 Courtesy of Korean Skincare Brand - FRUDIA
Jobie: What is the most important feature and signature ingredient people should know from FRUDIA products?
Kim: All FRUDIA products are approved by the Ministry of Food and Drug Safety, combining not only fruits but other effective ingredients and fruit seeds to target different skin concerns.
FRUDIA - Tone-Up Base Sun Cream SPF50+ PA+++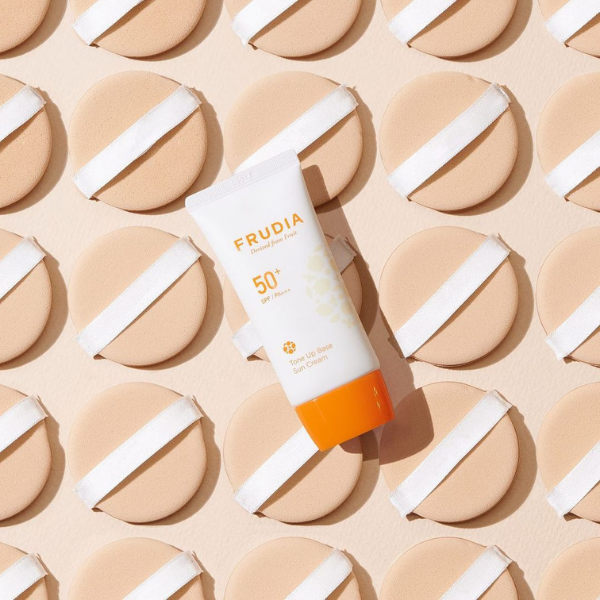 Courtesy of Korean Skincare Brand - FRUDIA
Kim: Also, the FRUDIA lab is formulating our own patented functional ingredients like alleviating stimulation to hypersensitive skin or anti-odor functions, to enhance effectiveness and marketable characteristics based on different skin types and TPO (Time, Place, Occasion).
Jobie: How do FRUDIA products help solve different skin concerns?
Kim: Broken down by each line, the Green Grape line is recommended for oily skin types with uneven skin surface and dehydration. After two weeks of use, it minimizes and improves pores by balancing moisture and excessive secretion of sebum to reveal a better skin tone, thanks to tannic acid and panthenol.
FRUDIA - Green Grape Pore Control Cream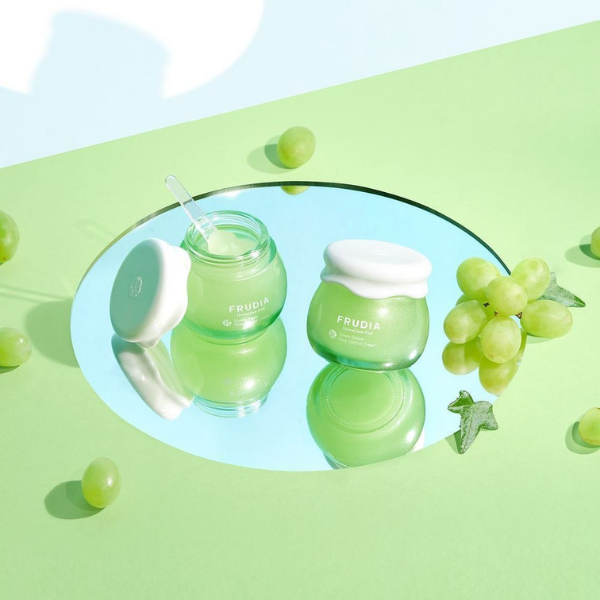 Courtesy of Korean Skincare Brand - FRUDIA
Kim: The Pomegranate line is for people who struggle with premature skin aging. This skincare line features a 3-stage tension solution involving inner-lifting, outer-lifting, and resilience, as well as improving derma density and hydration for firmer and tighter skin.
FRUDIA - Pomegranate Nutri-Moisturizing Cream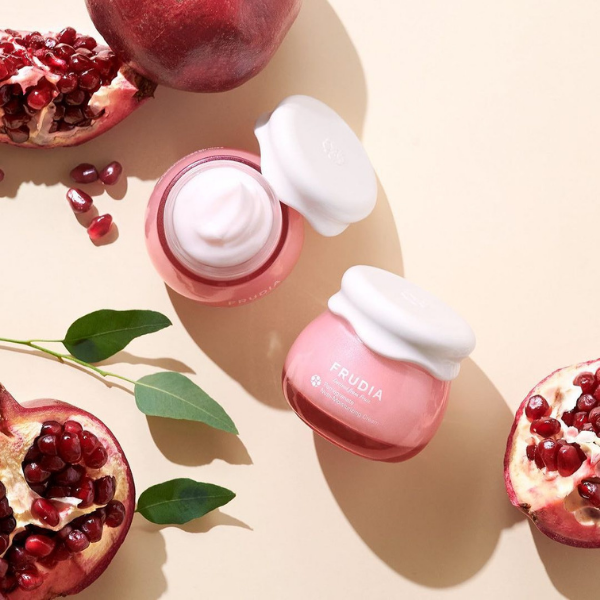 Courtesy of Korean Skincare Brand - FRUDIA
Kim: The Avocado line comes with our mix of amino acid and Madecassoside that addresses skin concerns like sensitivity, acne, and reddish sensitive tone. It cares for irritated skin with soothing moisturization and improves damaged skin barriers, skin tightness, and itchiness due to dry skin.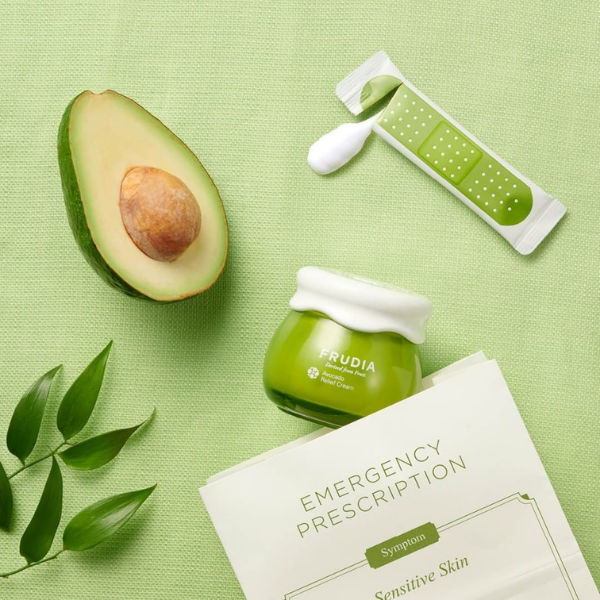 Courtesy of Korean Skincare Brand - FRUDIA
Kim: The Blueberry line helps maintain all-day hydration with blueberry's minerals and betaine for skin concerns like excessively dry skin. The Tangerine line is effective for darker freckles and blemishes thanks to the powerful blend of Vitamin C + Niacinamide.
---
FRUDIA's Loyal Fans Want to Know...
Q: Should we expect any exciting new products from FRUDIA this year?
Kim: Yes. We plan to release some low-irritation gommage-type peeling gels for the Avocado line to treat dead skin cells in dry, sensitive skin. Also, we're currently developing 3 types of 100% essential vegan lip balms in tube forms, as well as soothing face mists to relieve "maskne" problems.
FRUDIA - Blueberry Honey Overnight Mask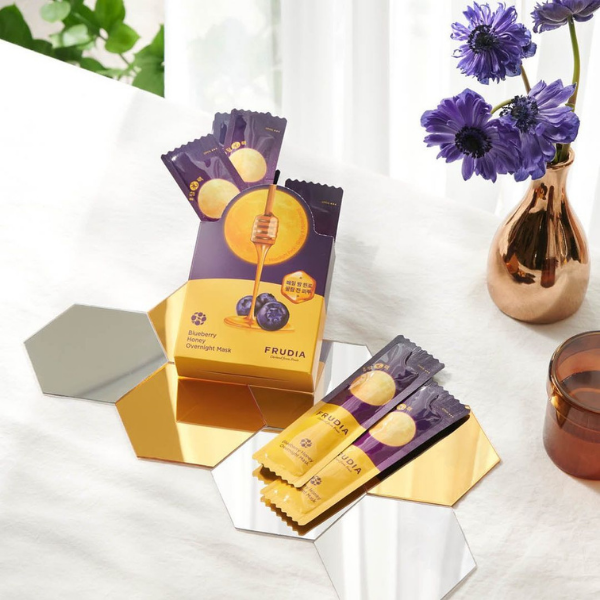 Courtesy of Korean Skincare Brand - FRUDIA
Q: Is FRUDIA cruelty-free?
Kim: FRUDIA products are developed in facilities certified as Eve Vegan label. All processes are managed through the standard and under the review of Eve Vegan in France.
Q: What is/are the best FRUDIA products for sensitive / acne-prone skin?
Kim: The FRUDIA Avocado line is best for strengthening the skin's moisture barrier and repairing damaged skin, thanks to the rich amino acid and madecassoside from Avocado. We highly recommend the Avocado Relief Essence Toner but with a light application to smooth acne-prone, oily skin.
FRUDIA - Avocado Relief Essence Toner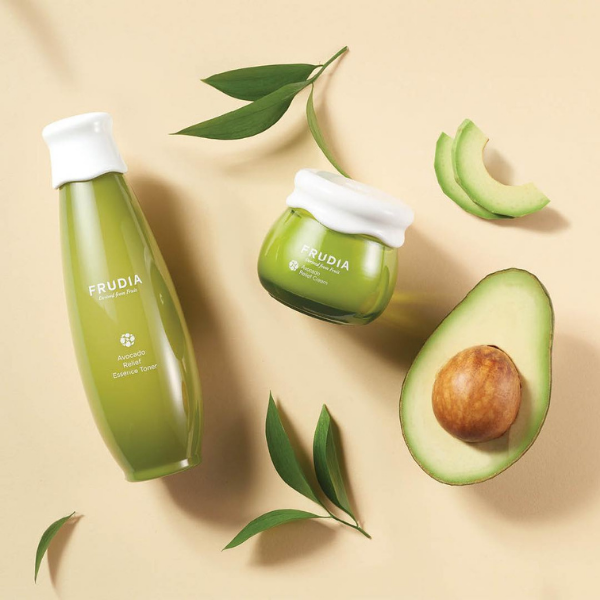 Courtesy of Korean Skincare Brand - FRUDIA
Q: What is FRUDIA's most popular and best-selling line?
Kim: Our best-selling item is the Blueberry Hydrating Honey Lip Balm which came in first place in the GLOWPIC award. For skincare lines, the Green Grape Pore Control range is one of the most favorite selections - from pore care to moisturizing wrinkle care, whitening, sensitive skin, and trouble care. Try the bestselling Green Grape Pore Peeling Pad to achieve a clearer, more radiant complexion.
Jobie: Thank you for your time, Mr. Kim! We look forward to more new and exciting skincare moments with FRUDIA and wish you all the success!
Explore more summer-time favorites from FRUDIA's wide range of skincare products to upgrade your skincare routine! Follow us on Instagram and Facebook to get more instant product updates and skincare tips!