It's been a while since I last had a K-drama marathon (remember Itaewon Class?) but thanks to Netflix, I'm back on the K-drama run again. This time on my radar is the hit drama What's Wrong with Secretary Kim, starring the beautiful Park Min-Young who everyone calls the "dewy skin goddess." Her glass-skin glow in every scene is 100% skincare goals. That's why for this round of K-drama inspo, we're looking into the 4 easy steps on how to recreate Park Min-Young's dewy skin look inspired by What's Wrong with Secretary Kim.
Follow these steps and find out what essentials you'll need!
---
Despite being a busy actress, Park Min-Young has a good skin-prep routine when it comes to her dewy skin. Her beauty secret? Just be a hard-core masker. When filming What's Wrong with Secretary Kim, Park Min-Young has to wear makeup for 20 to 24 hours, which makes her face dry up easily. That's why she reveals that she puts on 2 to 3 masks a day just to make sure her dewy skin is well-rested and replenished BEFORE having her makeup done.
Stylevana's Pick
Mediheal - N.M.F Aquaring Ampoule Mask
Prep your skin with this bestselling mask from Mediheal before your base makeup for a dewy and radiant glow. This K-Beauty essential contains ultra-moisturizing ingredients, like amino acids and hyaluronic acid, that help replenish high moisture energy to rough and dry skin. Remember, hydrated skin is the best foundation.
---
Flawless base makeup is practically the basic requirement for dewy skin look. Start setting your face with a good primer to conceal your pores and smooth out your skin. This is why, when you watch What's Wrong with Secretary Kim, Park Min-Young's luminous complexion always looks on-point even in the close-up scenes. Simply choose a primer that moisturizes your skin with a refreshing texture that doesn't mattify your face.
Stylevana's Pick
Prime your face with this MISSHA Glow Skin Balm to create a flawless canvas for your dewy skin look. It's a 4-in-1 morning balm that combines moisturizer + morning mask + makeup primer + glow balm into one. The formula delivers up to 30 hours of hydration with a hefty dose of rose damask extract, shea butter, niacinamide, and jojoba seed oil, etc. If you want the dewy skin of your dream, give this a try and GLOW ON!
SKIN-LOVING PRIMERS FOR DEWY SKIN
---
The secret to Park Min-Young's dewy skin look in What's Wrong with Secretary is the effortless, natural coverage that brings a luminous glow under the light. That's why BB cushion is a must-have for this step. It is more buildable than a foundation while keeping your makeup light and sheer.
Stylevana's Pick
heimish - Artless Perfect Cushion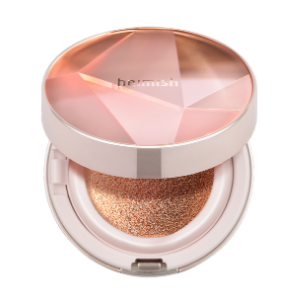 This cushion compact from heimish is the perfect mix of skincare, sun care and weightless coverage with effortless application. You'll love how easy it blends on the face while keeping the coverage naturally radiant and long-lasting. Never messy or cakey, this cushion compact also delivers a light finish to your dewy skin look with hydrating botanicals that will brighten your complexion.
PERFECT ON-THE-GO CUSHION COMPACTS
---
Park Min-Young's gorgeous makeup look isn't complete without a touch of dewy-ness on the lips. In What's Wrong with Secretary Kim, Park Min-Young wears a lip glow tint to make her pout look luminous with a gradient, soft shine finish. Go for a coral or sheer pink shade, and apply only on the middle part of the lips so you can blend out the rest with your fingers.
Stylevana's Pick
LANEIGE - Stained Glow Lip Balm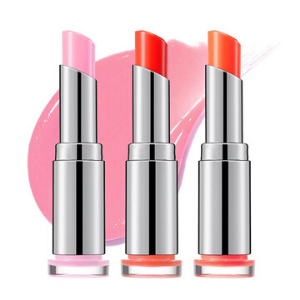 These lip candies from LANEIGE are perfect for recreating the lovely lips like Park Min-Young. Enriched with naturally-derived shea butter and murumuru butter, this lip treat works to hydrate your lips while leaving a refreshing fruity tint, lending a juicy touch to your dewy skin look.
---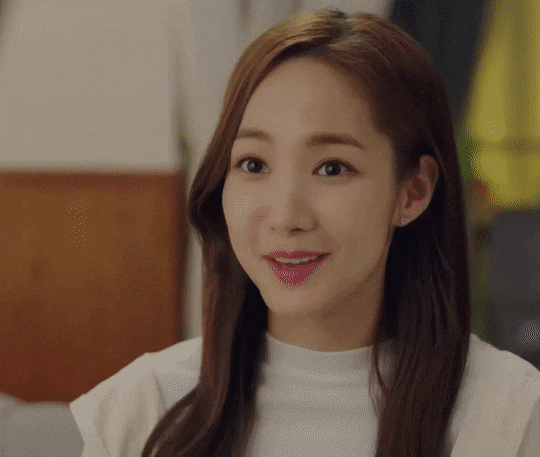 Bonus Skincare Tip for Dewy Skin:
Apart from adopting the 3-masks-a-day skincare ritual like Park Min-Young, you can always count on a good sleeping mask for an overnight treatment. So, to all the lazy-heads out there who don't have time for a mask prep (see Step 1), apply these sleeping masks the night before to give the replenishment your skin needs.
OVERNIGHT HYDRATION FOR DEWY SKIN
---
And voila, that's how you create a K-drama worthy look! Spot any item you like? Stylevana is having an AMAZING K-Beauty Brand Deal on innisfree, Sulwhasoo, TONYMOLY, heimish and MORE! Check out your favorite brands and shop with 10% OFF now. For more K-celeb beauty inspo, don't miss our APINK makeup guide for spring and summer! Till next time, lovelies!