Many people have been asking me for skincare advice lately on whether they should wear sunscreen if they're just staying home all day. The answer is a big resounding YES. Why? Daily sun protection is an essential step in your skincare routine to prevent skin cancer or premature aging skin. And the truth is you're still going to be exposed to harmful UV rays indoors because windows do not stop UV rays.
So, first things first, do you know how to pick the best sunscreen for your skin type? Here are some tips you need to know when you shop for the best sunscreen that compliments your skin. Keep scrolling and see what's on our list!
---
Find out your skin type:
Oily Skin Type
Spring and summertime are tricky seasons for oily skin as the humidity and temperature can spike up oil production from sebaceous glands.
So, to keep the greasy shine at bay, sunscreens that are formulated with a lightweight texture, meaning a water-based or gel-based formula with a matte finish, work best for oily skin type.
What We Recommend:
Try Etude House's UV Double Cut Fresh Sun Gel for a 3-in-1 high-functioning sun protection that your oily skin needs. From wrinkle-care, whitening to UV protection, this refreshing sun gel works wonder on oily skin. It boasts a sheer, water-splash texture that provides the perfect oil-free look with a smooth, non-sticky formula. Infused with chamomile, aloe vera, and bamboo extracts, this sunscreen keeps your oily skin well-hydrated throughout the day.
Treat your oily skin with these lightweight sunscreens:
---
Dry Skin Type
Dry skin type is often associated with eczema and acne-prone breakouts so moisturizing sunscreen with an irritant, chemical-free formula in the form of a cream is highly recommended.
It's quite common for people with dry skin type to choose an everyday moisturizer or essence that contains SPF protection with soothing emollients like ceramides, Centella Asiatica, glycerin, and hyaluronic acid.
What We Recommend:
Your dry skin needs an enriched hydrating formula like THANK YOU FARMER's Sun Project Water Sun Cream Known for its botanical sun care power, this sun protection is coated with moisture particles from Phyto-Oligo oil and Centella Asiatic extracts, delivering a smooth-rolling sensation on the skin with its Sliding Texture Technique. It doesn't suffocate your skin or overdue your makeup with a heavy layer, but instead offers a soft skin texture that feels and looks perfectly natural.
Keep your dry skin hydrated with these sun-care beauties:
---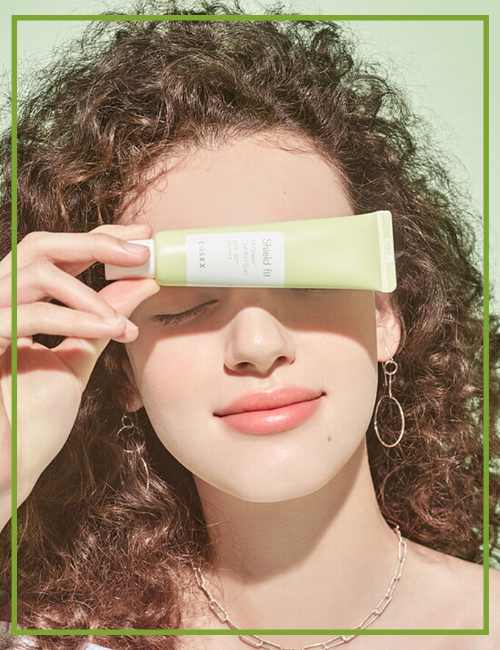 Combination Skin Type
When it comes to combination skin type, oily T-zone and dry cheeks seem to be the biggest concerns which makes it extra difficult to find the perfect sunscreen that can address and balance the unevenness with such specificity.
Go for a lightweight formula that provides just as much moisture as the heavy ones. It's also ideal for you to stay away from irritating ingredients like fragrance, alcohol or paraben so it doesn't drive your oily part crazy.
What We Recommend:
Try COSRX's Shield Fit All Green Comfort Sun to bring balanced sun protection to your combination skin. Formulated with all green ingredients like Centella Asiatica extract, this comforting sunscreen protects your combination skin from external stressors while keeping your oily T-zone in check with a soft matte coverage. No greasy residue and cakey base – a true hero product for on-the-go beauties like you!
Best sunscreens for your combination skin:
---
Sensitive Skin Type
Don't let sensitive skin get in the way of your sunny day routine. There are, however, several ingredients you should avoid when shopping for sunscreen, which are: alcohol, fragrances, oxybenzone, and salicylates.
So that leaves you with ONE solution: aim for a gentle, organic sunscreen with chemical-free formula.
What We Recommend:
Give your sensitive skin some T.L.C. under the sun with make p:rem's UV Defense Me. Moisture Sun Cream. Free from irritating chemicals like paraben, sulfate, and alcohol, this gentle sunscreen is packed with soothing ingredients like panthenol and Vitamin E which helps with healing and skin-conditioning. With EWG approved ingredients, this sunscreen offers the safest sun-care protection for your sensitive skin so you can enjoy a sunny day out with no worries.
Start your day with these gentle sunscreens:
---
Normal Skin Type
If you're blessed with normal skin, you can pretty much choose with no worries. Any type of sunscreens that are labeled "broad-spectrum" will do, no matter it's gel or cream.
Most people, however, tend to gravitate towards sunscreen that has brightening effect as a pre-makeup base.
What We Recommend:
Give A'PIEU's Pure Block Natural Daily Sun Cream a go if you prefer a lightweight, breathable layer of sun protection to start your day. This daily sun cream features aloe, red fruits, and flower extracts to boost skin's vitality when your tired skin needs most. You'll love how refreshing it feels while it brightens up your complexion upon application and see the instant glow on your morning face.
Other skin-loving sunscreens you will also like:
---
Found your ideal match yet? Explore Stylevana's sunscreen collection and enjoy the SPECIAL BRAND DEALS on THANK YOU FARMER, A'PIEU and SOME BY MI (and MORE!) with UP TO 40% OFF now! Remember, picking the right sunscreen is the first step of a long-term investment to having healthy-looking skin. Want to find out more skincare essentials that are best suited for your skin type? Check out our K-Beauty face masks guide if you haven't already!