When we talk about skincare, we're not just talking about face care; your body needs a little love and attention too! One of our most frequently asked topics is Keratosis Pilaris. Those miscellaneous bumps on your upper arms that you can't quite place? It's most likely KP.
---
What is Keratosis Pilaris?
Nicknamed 'chicken skin' for its similar appearance, Keratosis Pilaris (KP) is a dry skin condition in which hair follicles on the body are clogged with excess keratin. Yes, the stuff hair is made of! As a result, tiny bumps that can look like acne or pimples appear on the skin. They commonly appear on the upper arms and thighs, and for children on the cheeks.
Is Keratosis Pilaris harmful?
We come bearing good news: no, KP is not a harmful condition. However, it can spur further dryness or itching, which is annoying nonetheless. It's not something that can be cured of completely, but there are still ways to treat it. Managing KP requires an individualized balance between exfoliation and hydration to minimize the bumps. With a gentle and consistent routine, you can alleviate dryness and texture to achieve smooth, soft skin.
We've rounded up the best products you can use at home to take care of your KP and make you feel more confident in your skin. Keep scrolling to learn more!
---
Keratosis Pilaris Treatment
No. 1
COSRX - AC Calming Solution Body Cleanser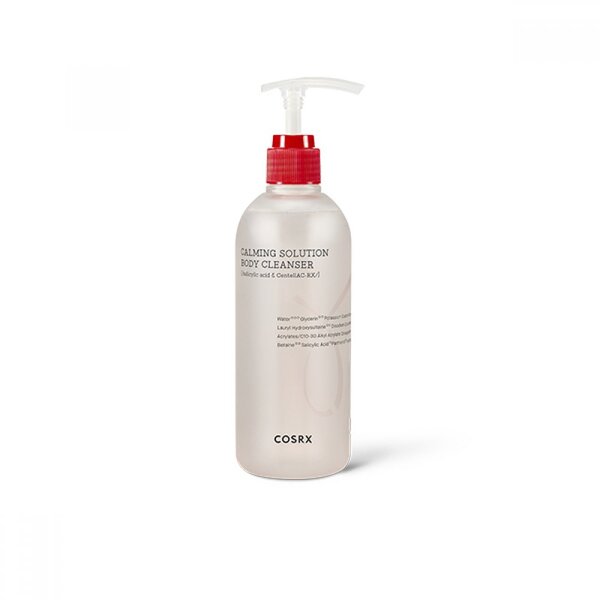 Courtesy of Korean Skincare Brand - COSRX
The solution to eradicating those bumps? Unclogging the hair follicles with an exfoliator. For a mild way to ease into body exfoliation, try out the COSRX AC Calming Solution Body Cleanser. It contains Salicylic Acid to exfoliate the excess keratin away, but also other impurities and dead skin cells for a silky skin texture.
Bonus tip: steaming hot water while bathing is heavenly, especially in the colder months, but it can further dry out and irritate your skin. Use lukewarm water instead for a less drying but still comforting shower.
---
No. 2
ILLIYOON - Ceramide Ato 6.0 Top To Toe Wash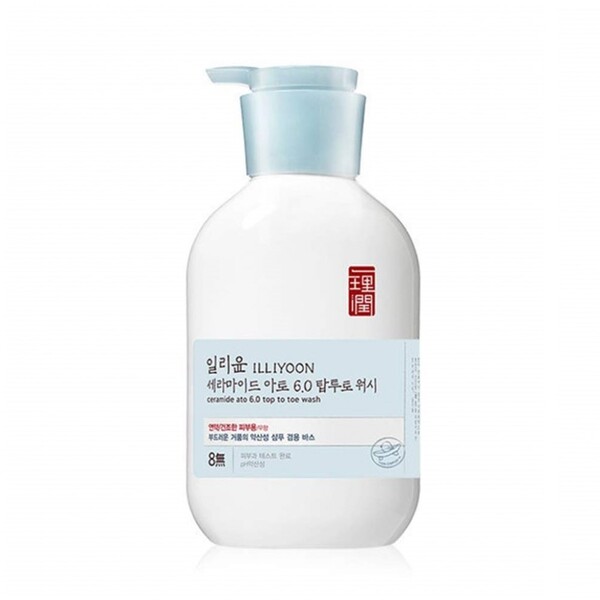 Courtesy of Korean Skincare Brand - ILLIYOON
Because KP is largely due to dry skin, maintaining hydrated skin is a must. That's why the ILLIYOON Ceramide Ato 6.0 Top To Toe Washis perfect: it features Ceramide as its leading ingredient that fortifies your skin barrier to prevent moisture loss. It's gentle enough for even children to use, so you know it's suited for all skin types including sensitive skin. Not to mention, it bagged a spot in our 2022 Mid-Year VANA Awards for the Best Body Wash!
Bonus tip: as much as we all love a long shower, they can be really drying for the skin. In order to avoid drying out your skin, keep your shower length to a minimum.
---
No. 3
Elizavecca - Milky Piggy Greentea Salt Body Scrub
Courtesy of Korean Skincare Brand - Elizavecca
Now we're bringing out the big(ger) exfoliating guns. The Elizavecca Milky Piggy Greentea Salt Body Scrub boosts a 70% Sea Salt and Cacao Seed scrub within a Green Tea and Glycerin base to effectively exfoliate and hydrate all at once. Considering KP is a dry skin condition revolving around clogged follicles, this scrub checks all the right boxes.
---
No. 4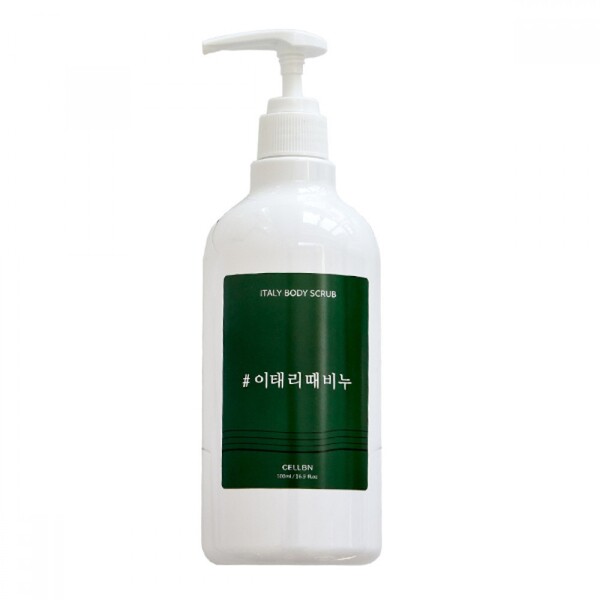 Courtesy of Korean Skincare Brand - CELLBN
If you find that a granulated scrub is not your thing, you'll want to check out the CELLBN Italy Body Scrub. A peeling gel for the body, it utilizes a blend of Tree Leaf Soap Berry and Walnut Shell powder to carry out its main function. Aloe and Honey join the mix to amp up the nourishing and hydrating factors. Users have given their 5-star approval rating for its gentle exfoliation, refreshing formula, and the ability to use it several times a week without inducing irritation.
---
No. 5
ILLIYOON - Ceramide Ato Lotion
Courtesy of Korean Skincare Brand - ILLIYOON
ILLIYOON's Ato collection is a longstanding fan-favorite and bestseller; we couldn't help but to feature it twice. The Ceramide Ato Lotionis a lightweight but nutrient-rich body lotion ideal for anyone who's not a fan of heavier textures, but still wants lasting moisture. The Ceramides in its formula not only ward off dry skin, but also pollution and environmental aggressors. It's so gentle that the brand even encourages this lotion to be used on the face. Take that, full body KP!
---
No. 6
Derma:B - Fresh Moisture Body Lotion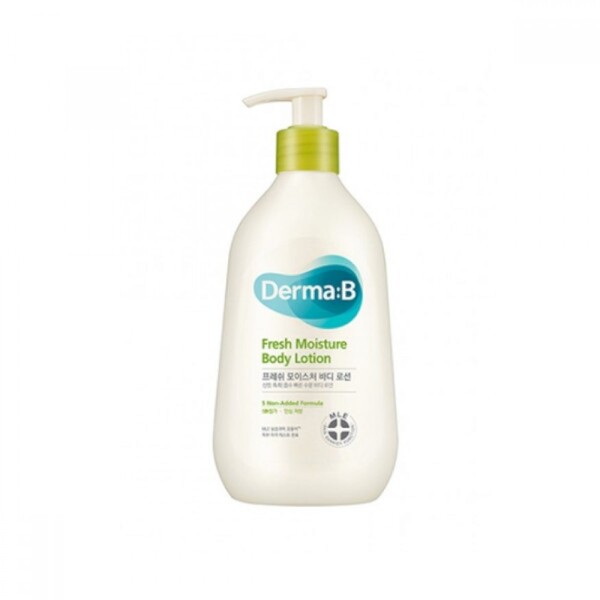 Courtesy of Korean Skincare Brand - Derma:B
Keeping things fun and fresh is the Derma:B Fresh Moisture Body Lotion.Its ingredients lineup touts an impressive array that forms a multi-layer structure to maximize benefits: Hyaluronic Acid to attract moisture to the skin, Glacier Water and Broccoli extract to hydrate, as well as Shea Butter and Grape Seed Oil for even more nourishment. A lotion that absorbs into the skin right away, you won't be left with a sticky or greasy finish. It's just what you need to seal in moisture post-exfoliation.
---
No. 7
MissLady - Body Scrub Bath Mitt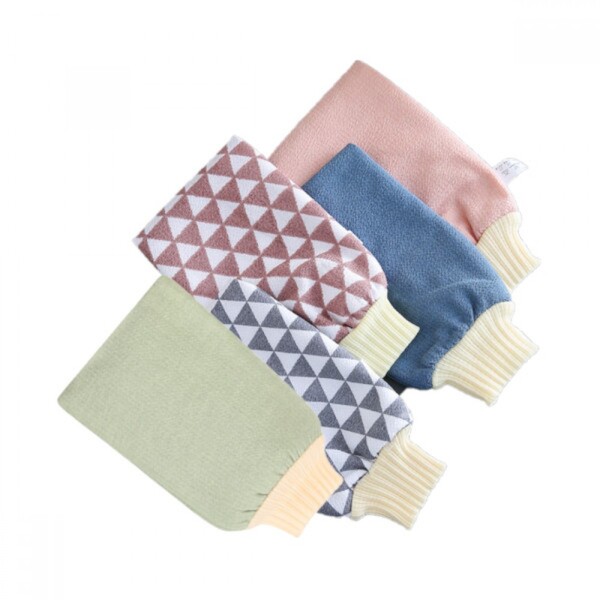 Courtesy of Chinese Tools Brand - MissLady
A simple and humble tool, the bath mitt is often overlooked. The MissLady Body Scrub Bath Mitt can be used with a body cleanser, scrub, or even just water to exfoliate. It scrubs the outer layer of skin to reveal rejuvenated, bright skin underneath, in addition to taking care of those pesky keratin clogs. A bath mitt also encourages blood circulation for an even skin tone and softened skin.
---
Take these tips and products to build a Keratosis Pilaris care routine that works for you, and your "chicken skin" will be no more. Ready to take your KP head-on? Follow our Instagram and Facebook to receive instant product updates, and skincare and beauty tips!