Romance is in the air. When you're deciding on what to wear for your romantic date on Valentine's Day, don't forget that you're amazing just the way you are. Let us tell you, Valentine's Day outfits need not be complicated. This year we're stealing the looks from the K-pop idol couple — Hyuna and Dawn (formerly known as E'Dawn) — for the perfect Valentine's Day outfits. Whether you're a fan of a more relaxed daytime look or a feminine style, we've got you covered.
Keep scrolling to see how Hyuna dresses like the perfect girlfriend for Dawn.
Cute and Comfy
Style Essentials: Knitwear + Stockings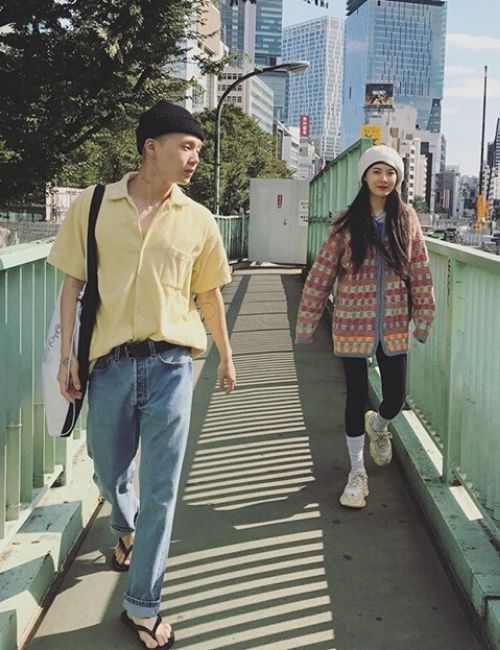 The comfy combo of knitwear and stockings may not pop into your head when you're thinking of Valentine's Day dressings, but do you know Korean cardigans and Korean oversized sweaters are having a moment right now? You have to admit that nothing can compare to warm knitwear during the 'sweater' season.
How Hyuna styles it:
She wears a patterned cardigan that just hit below the hips with stockings to champion her signature cute and sexy style.
Steal Hyuna's look with these knitwear and stockings:
---
Subtle Ruffles
Style Essentials: Blouses + Sweaters
Of course, we cannot miss romantic ruffles in the Valentine's Day lookbook. A blouse alone can feel a little bit breezy for the late winter or early spring, but you can balance it out by layering a warm sweater on top. It's a romantic yet modest way to wear a Valentine's outfit.
How Hyuna styles it:
She wears the exaggerated frills with chunky mix knit, alongside her rolled cuff jeans and a pair of boots, tiptoeing the line between romantic and chic.
Shop these blouses and sweaters for the perfect girlfriend look:
---
Girly Girl
Style Essentials: Ditzy Patterns + Dresses
We think we don't need to convince you that patterns are a good idea for Valentine's Day styling; from stripes to checks and ditzy prints, they serve as a perfect centerpiece alone and as well as a counterpart to any ensemble. If you are still new to the pattern-clashing game, you can simply layer a blazer or jacket on top; or you can also wear a hoodie and pair it with a patterned skirt to strike the balance.
How Hyuna styles it:
She wears the ditzy floral prints in full length with a fuchsia pink cardigan. The dress flutters with her steps to bring an extra sweet touch to her look.
Show your girly side with these ditzy patterns and flowy midi dresses:
---
Downtown Casual-chic
Style Essentials: T-shirts + Long Coats
What if dresses and frills are really not your thing? Don't worry, we've got you. Even your most casual wardrobe staples can be perfect to be put together for that romantic date. We're talking about the basic, easy-to-style T-shirts. We know tees can feel a little bit slouchy, but you can cloak it with a long coat to balance your casual chic style with a hint of finesses.
How Hyuna styles it:
She wears a plain T-shirt with a Korean oversized coat and wide leg jeans. Don't miss out on her pointy flats; those are the keys to ground the style with femininity.
Pair these T-shirts and long coats together for a romantic date downtown:
---
So, dressing like a perfect girlfriend is not that complicated after all; just be yourself and stick to what makes you most comfortable. You may or may not have any plans for Valentine's Day yet, but it shouldn't stop you from doing a little shopping. You can now save up to 50% on Icecream12's selected styles and learn more beauty and fashion tips to achieve the perfect Valentine's Day look!