Yes, the Itaewon Class hype is real. Dubbed from the popular webtoon, the highly-anticipated K-drama Itaewon Class has become the talk of the town this season so I thought to myself, why not join in the fun? From the meet-cute love story between Sae-ro-yi (played by Park Seo-joon) and Soo-ah (played by Kwon Nara) to the impactful and jaw-clenching storyline, and the perfect style cues for the Korean night-life and bar scenes, Itaewon Class is checking all the boxes for me as a K-drama junkie (and also a self-proclaimed part-time fashionista). So, without further ado, let's review some of the hottest Korean fashion trends and style tips that our Itaewon Class characters have championed on the show.
---
Itaewon Class Fashion Trend #1
Kim Da-mi's Black Leather Affair
Raise your hand if you want to channel Kim Da-mi's punk-rock style for a Friday night drink. Her love for black leather, especially the black leather jacket, is what made her character so memorable. And even if she isn't your girl crush now, she will be after you're done with the series. One of Kim Da-mi's strongest looks has to be her dark and edgy ensemble – aka the all-black get-up – and the rich black leather jacket really elevates her punk-rock princess look.
STYLEVANA's Spring Fashion Tip:
Black leather is one of the most versatile styling essentials anyone can have in their wardrobe, be it streetwear or semi-formal dressing. Try on a floral-patterned top or dress to clash with the black leather veneer like Kim Da-mi to lend a pop of spring aesthetic to your edge-filled ensemble.
Shop the Trend: Black Leather Collectives
---
Itaewon Class Fashion Trend #2
Classic Checks & Preppy Plaids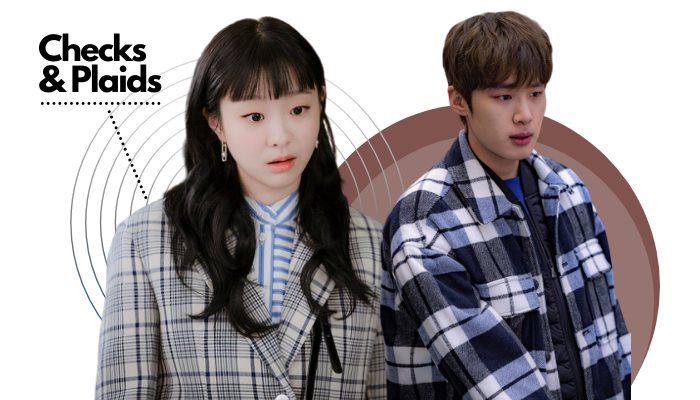 Sticking with classic prints like checks and plaids doesn't always have to be plain and boring. Learn from Kim Da-mi and Kim Dong-hee's blazer look in Itaewon Class. The rich textures and preppy aesthetics from a simple check print blazer can turn a normal everyday attire into a signature outfit. It's especially ideal when you're going for a layered look during the colder seasons.
STYLEVANA's Spring Fashion Tip:
With warmer spring around the corner, wear a classic check print shirt as a jacket with a white tee underneath. You can also try to pattern-clash the check print with stripes like Kim Da-mi did with her stripe shirt and check print blazer.
Shop the Trend: Checks & Plaids
---
Itaewon Class Fashion Trend #3
Fleece collar jacket is taking the outerwear fashion trend by storm this season. Itaewon Class's Ahn Bo-hyun and our fashion queen Kim Da-mi are ACE-ing the fleece collar game like a pro. See how they both style their plush jacket looks with turtlenecks of the same color tone? Being a huge fan of this casual-luxe style, I'm definitely stealing this fashion trend for my outerwear collection.
STYLEVANA's Spring Fashion Tip:
Fleece collar + denim = my go-to spring transition style. Why? The fleece collar keeps everything cozy and the denim just makes it feel more lightweight. Perfect for the picnic season, right? Wear a short sleeve top underneath and you're good to go!
Shop the Trend: Fleece Collar Jacket
---
Itaewon Class Fashion Trend #4
Yes, I'm officially enlisting to join the army green club because of Kim Da-mi. From her sleek army green leather raincoat look to her slouchy, layered fit, this crush-worthy color trend spotted in Itaewon Class is definitely one of a fan-favorites. Army green color gives off an androgynous, boyish charm that is unmatched with other colors. Besides, this olive-inspired color is easy to pull off and can easily be your new street-style obsession.
STYLEVANA's Spring Fashion Tip:
If you want to amp up the army green look, go for statement-making camo pants and combat boots to transform into the coolest tough girl in town. And don't forget, accessories always help!
Shop the Trend: Army Green Collectives
---
Itaewon Class Fashion Trend #5
Behind every successful woman is herself… and a belted blazer. Thanks to Kwon Nara's bossy-chic style in Itaewon Class, I've finally learned the trick to look like a girl boss (or pretend to look like one). All you need is a belt to cinch your waist and sculpt your figure for a more sharpened, sophisticated look. This tie-waist fashion trend is not exclusive for blazers. People are wearing this trend with their trench coat and kimono, too.
STYLEVANA's Spring Fashion Tip:
It's important to know how to execute the perfect suiting blazer look in spring. Roll up the sleeves in two folds to refresh the blazer look with a casual touch.
Shop the Trend: Belted Trench Coat and Blazers
---
So, there you go! Which Itaewon Class outfit is your favorite? I think it's safe to say that Kim Da-mi is now my fashion icon. Remember to take these style cues from Itaewon Class as inspiration to revamp your spring wardrobe. I'm super happy that STYLEVANA is having an End of Season Fashion SALE so I can save up to 70% on my fashion picks! For more K-drama inspo, learn how to get Son Ye-jin's beauty looks in Crash Landing on You and master the Yoon Se-ri iconic styles in the drama if you haven't already!