What do BLACKPINK's four members — Jennie, Lisa, Rosé, and Jisoo — have in common? Their perfect skin? Yes. Their perfect body? Sure. What's more? They've all been fashion trendsetters, making their outfits an indication for their K-pop fans. While the global BLINKs (the official fandom name of BLACKPINK) are waiting for the quartet to make a comeback since the Kill This Love EP, Lisa may have put her outstanding fashion sense into a secret fashion project, with the proof of YG Entertainment filing a new trademark using Lisa's birth names — Monobal Lalisa and Manobal.
So in celebration of Lisa launching her new fashion line and her birthday in 2 days (March 27 – woohoo!), let's check out some of the it-girl fashion items Lisa has been spotted with on and off stage.
---
Blackpink Lisa's It-Girl Staple #1
When we talk about Lisa's fashion styles, it's not hard for us to notice that her ensembles are always swinging back and forth on a pendulum — from casual to feminine or the other way around. T-shirts, for one, may not sound very new but this versatile item is frequently spotted on Lisa's rotation with different counterparts. It could be a slogan print or graphic print T-shirt matching with baggy pants today or a plain, oversized tee with denim overalls the other day. The point here is T-shirts could be that one and only style to make a perfect match with everything in your wardrobe.
Steal Lisa's casual-chic style with these casual t-shirts:
---
Blackpink Lisa's It-Girl Staple #2
Swinging the pendulum to the opposite of casual, Lisa has also been a staunch supporter of midriff blouses; be it with puffed sleeves, smocked details, carefree ties or off-shoulder necklines. Whether you are yearning for pussy-bow detailing, Victorian high necks or romantic ruffles, you can pair them with everything from pleated midi skirts to skinny jeans and high waisted pants, just like how Lisa pulled it off. Blouses are not only suitable for work or school, but they also look good for happy hours.
Bestselling midriff blouses for your spring/summer wardrobe:
---
Blackpink Lisa's It-Girl Staple #3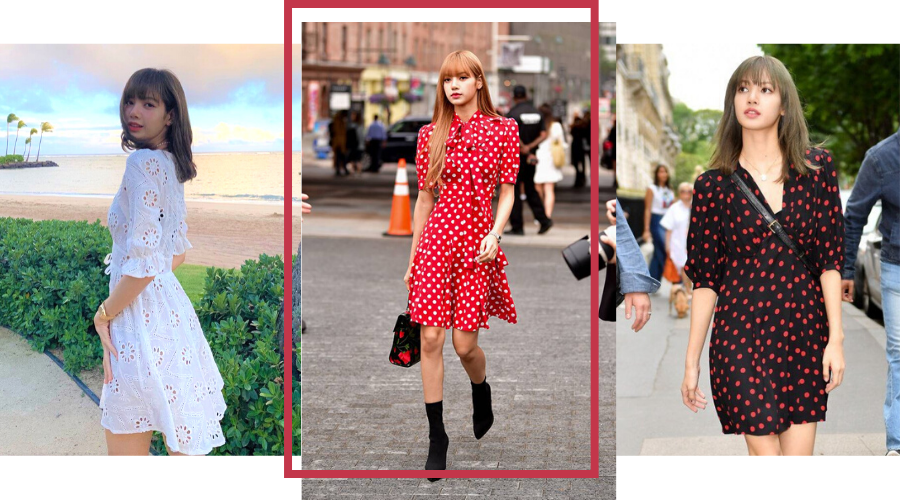 How do you find that dress that will not only get you out the door in a rush morning but will also see you through a long day? We've looked into Lisa's rotation for the answer and we found that she's a huge fan of daytime dresses. From light knit (a huge trend prevailing from Fall/Winter to Spring/Summer) to feminine details (to take you from day to night), there is definitely one that you're looking for. Wear a girly daytime dress with a wide belt for definition, match the edit with knee-high boots to take on the trend or follow Lisa to wear yours with white sneakers and a crossbody bag.
Shop these swoon-worthy daytime dresses for an It-girl makeover:
---
Blackpink Lisa's It-Girl Staple #4
If you're fashion-savvy enough (like us), you may have noticed that midi skirts are one of the major trending items this season. As seen from Lisa's street and formal edits, his calf-skimming style flatters any body types and heights to make a perfect match for any occasions and any seasons. During Fall/Winter, we love pairing the midi skirts with cozy knits, but during Spring/Summer, they go perfect with blouses or T-shirts and a pair of loafers. To take a further step, you can also follow Lisa to incorporate a pleated midi skirt into your rotation.
Steal Lisa's girly style with these elongating midi skirts :
---
Ready for a fashion haul? Shop all the It-girl fashion items your wardrobe is missing with Stylevana's Fashion Season End Sale! Don't miss your chance to get all the styles that are currently embraced by Lisa! Looking for more fashion inspo from other K-pop fashion icons? Check out our Spring Transition Fashion Guide here and some street style inspo from NYFW 2020!
To find out your personal style, take the Stylevana FASHION QUIZ now! Have fun! :)