Here comes June — the Pride Month — in 2020, which means it's the time for us to celebrate LGBTQ+ communities. But this year's Pride Month will look much different. Although there won't be any large parades, concerts, or dance parties, that doesn't mean you can't dust out your rainbow flags and look your best. And, like we always say, the shows must go on (we're talking about having the massive Pride event held exclusively online). With the exciting lineups of singers, DJs, performers and drag artists announced on different platforms, of course we won't attend the festival online in our PJs with a dull, oily face. It's time to show off your Pride with your glowing skin and rainbow makeup. Here are 4 ways you can achieve that!
---
K-Beauty Tip #1
A rainbow flag is seen as a way of proclamation and telling the world, 'This is who I am!'. That's why rainbow colors are definitely the symbol for the celebration of LGBTQ+ communities. To celebrate the Pride Month, of course we need to seize the chance to take on the seasonal trend and try some vibrant and colorful eye makeup.
Wear a rainbow of vibrant, lively colors on your lids to show your Pride — hot pink for a sensual touch, red for a lively attitude, orange for a moment of healing, yellow for everyday's sunshine, green for mother nature, turquoise for your artistic side, indigo for harmonic peace and violet for spirit.
STYLEVANA's Makeup Tips for Pride Month 2020:
Apart from having a wash of rainbow colors, you can also choose an eye shadow color tone that speaks to your character, and amplify it with a mix of matte, shimmery, and glittery texture. Pick Etude House's Play Color Eye Palette (Rose Bomb) that features 15 eyeshadow shades reminiscent of rose petals in every hue and stunning finish, and learn from the video how to experiment with different combinations for the perfect Pride look that makes you loud and proud. In other words, just let your creativity flow and have fun!
WEAR YOUR TRUE COLOR PROUD AND LOUD
---
K-Beauty Tip #2
"Glittering gold ✨ Thanks to @stylevana_sv who showed me the most amazing products from MACQUEEN."

— Credit to @hayleynoellexo from British Columbia, Canada (Featured product: MACQUEEN's Jewel-Poten Eye Glitter Liner)
What can make you bright and bold than actual shimmers? If you have followed our updates on some of the makeup trends in 2020, then shimmers and glitters are definitely on your radar. Nothing can complete the Pride festival than bold, swatched gazes that beg for a selfie.
Wear the sparkles alone to steal the scene from a mile away or tap them on top of a vibrant eye shadow for an even more kaleidoscopic-like statement. Learn from our Vana girl Haley from British Columbia, Canada and her scene-stealing eye look, using MACQUEEN's Jewel-Poten Eye Glitter Liner to create that extra drama with bold shimmers.
STYLEVANA's Makeup Tip for Pride Month 2020:
Take the chance to try some liquid eye shadow if you haven't already. The way liquid eye shadow works is that it feels wet when you first apply it on your lids, but once they dry down, you will get the long-lasting shine that will glimmer all day into all night.
---
K-Beauty Tip #3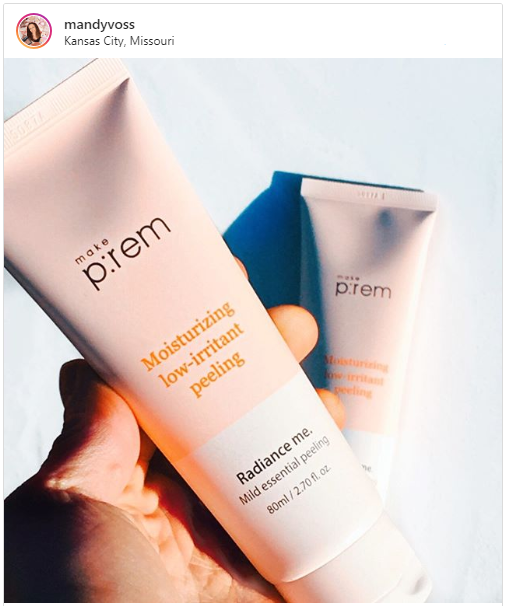 "It's a super moisturizing exfoliation that helps treat clogged pores, dull complexion and even breakouts."

— Credit to @mandyvoss from Kansas City, Missouri (Featured product: make p:rem's Radiance Me. Mild Essential Peeling)
For glowing skin, the first step to all skincare regimen must be cleansing; be it Korean double cleansing or not. The next step that follows suit will be exfoliation. You can choose between physical exfoliation and chemical exfoliation. Physical exfoliation often comes in the form of scrubs to physically remove dead skin cells. Chemical exfoliation is often formulated with AHAs, BHAs and PHAs to break down dead skin cells.
Choose the exfoliation products containing the ingredients that target your skin concerns. Vitamin C will give your skin an extra boost of glow and hyaluronic acid will replenish moisture deep to the skin for a plumped result.
STYLEVANA's Skincare Tip for Pride Month 2020:
Pick Secret Key's Lemon Sparkling Peeling Gel to give your skin a double booster - combining brightening and exfoliating - with Vitamin C and gentle peeling formula for that pride month glow. You can feel the slightly tingling sensation as you massage your face with the lightweight gel texture. If you prefer a more gentle or mild formula for your sensitive skin, give make p:rem's Radiance Me. Mild Essential Peeling a shot. It keeps your skin moisturized during the exfoliation and frees your clogged pores from all dirt and impurities.
KEEP YOUR SKIN SILKY SMOOTH ALL DAY
---
K-Beauty Tip #4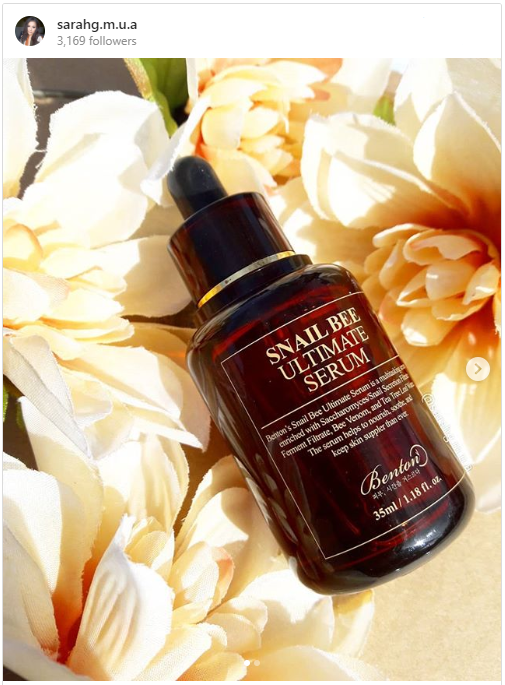 " The base of this serum is the snail mucin which works to repair skin, clear acne scars, and treat hyperpigmentation, while the bee venom calms and targets breakouts."

— Credit to @sarahg.m.u.a (Featured product: make p:rem's Radiance Me. Mild Essential Peeling)
Nourishment is the essential step to keep skin dewy, healthy and help fight against concerns like aging, dehydration and hyperpigmentation. Of course, moisturizer is the last step to seal in all the deals you've applied to your face, but let's not forget its powerful companion — serum and essence.
Serum and essence are concentrated activities without the fillers. Snail Mucin is another magic ingredient that hydrates and brightens skin for a dewy finish. That's why it should be your superhero ingredient to pamper your skin during Pride Month.
STYLEVANA's Skincare Tip for Pride Month 2020:
Who doesn't love a supercharged serum that revitalizes your complexion with lasting results. Many people love Benton's Snail Bee Ultimate Serum for this exact reason. This skin-loving serum boasts a highly functional formula that marries two powerful ingredients together - snail mucin and bee venom. It works to repair damaged skin and treats hyperpigmentation, as well as targeting breakouts. A must-try essential to achieve the dewy skin that will make you proud? Yes, I think this is the one.
---
30 days are definitely too less to celebrate #Pride2020 so look no further! Now is the perfect time to stock up on your skincare and makeup essentials to Stand Out, Stand Proud in June and beyond. Join Stylevana to celebrate Pride Month with our Pride Month Flash Sale to look your best and brightest every moment! But our celebration doesn't stop there, tune in to our Fresh & Glowy Skincare Sale and shop all your K-beauty faves with 10% OFF brandwide
Looking for more makeup inspo for the best Pride Month makeover? Check out TWICE's 'More & More' makeup lookbook and pick your best looks from the TWICE members!