If you happen to be a skincare junkie who also loves Korean dramas, chances are you've probably had a lot of K-Drama worthy skincare tips in your pockets. But this time we're taking your K-Drama obsession (and knowledge) to a whole new level: choose your skincare combo based on your favorite on-screen TV duo, and learn how to incorporate it in your skincare routine. From Crash Landing On You, Descendants of the Sun to the latest hit drama Record of Youth, we're diving deep into all kinds of skincare products for your skin conditions. Scroll down to see if you can spot your fave K-Drama duo!
---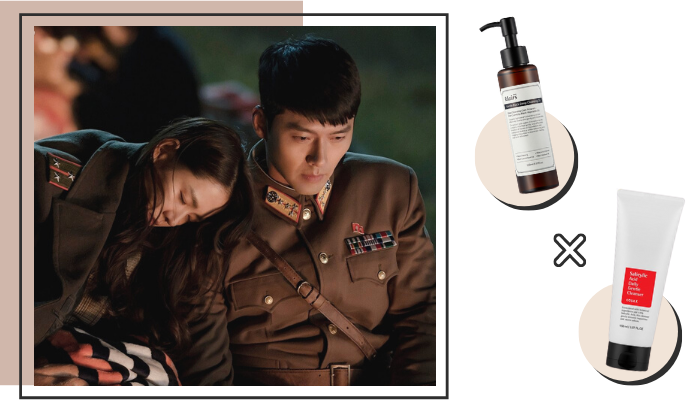 Dear, Klairs - Gentle Black Deep Cleansing Oil
+
COSRX - Salicylic Acid Daily Gentle Cleanser
Captain Ri (played by Hyun Bin) and Yoon Se-ri (played by Son Ye-jin) are two star crossed lovers who couldn't help but stay separated by destiny. Much like any oil-based skincare products that can't be mixed with a water-based skincare product because it simply does not work that way, except for one condition: Double Cleansing. This skincare step is the only way for two "star crossed lovers" like an oil based cleanser + water based cleanser to work their magic together for the perfect cleanse.
How to Double Cleanse: First, go in with Dear, Klairs' Gentle Black Deep Cleansing Oil to emulsify your day makeup and lift off the dirt on the surface of your face. To complete the Double Cleansing skincare step, follow the cleansing oil with COSRX's Salicylic Acid Daily Gentle Cleanser to give your pores a deeper cleanse so all residue impurities will be washed off.
---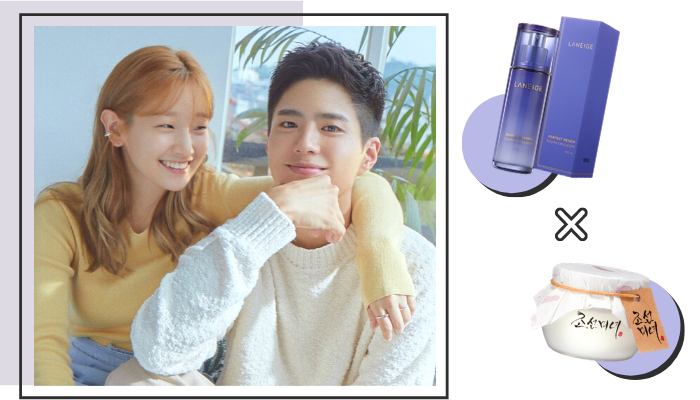 LANEIGE - Perfect Renew Youth Emulsion
+
BEAUTY OF JOSEON - Revitalize Sleeping Mask
LANEIGE's Perfect Renew Youth Emulsion and BEAUTY OF JOSEON's Revitalize Sleeping Mask is the youthful duo that breathes new life into your skin - just like Park Bo-gum and Park So-dam's youthful, full-of-purpose presence in the new Netflix K-drama Record of Youth who never let age define who they are. The K-drama duo, like the skincare combo, will come together to lift you up and bring you a renewed outlook on everything. So if you need an extra dose of youthful energy, look no further!
---
Moon Gang-tae and Ko Mun-yeong
COSRX - Centella Water Alcohol-Free Toner
+
medicube - Super Cica Ampoule
The supportive, reliable duo who has the purest of heart to heal and soothe your troubled skin away, just like the therapeutic chemistry between Moon Gang-tae (played by Kim Soo-hyun) and Ko Mun-yeong (played by Seo Ye-ji). Featuring Centella and Cica as the prime soothing ingredient, the alcohol-free COSRX toner + medicube's Super Cica Ampoule provides a healing and hydrating solution that will make your tired, dry skin feel recharged and nourished, even on the hardest days of your life.
---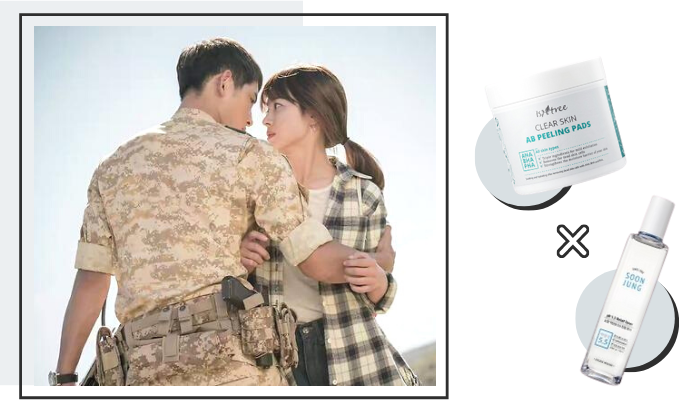 Isntree - Clear Skin AB Peeling Pads
+
Etude House - Soon Jung PH 5.5 Relief Toner
Yoo Si-jin (played by Song Joong-ki) and Kang Mo-yeon (played by Song Hye-kyo) might seem like polar opposites at the beginning but the real ones know they're soulmates destined for the greatest love story together. Same goes for the skincare combo: Isntree's Clear Skin AB Peeling Pads (the one who does the "heavy-lifting" with exfoliating ingredients AHA/BHA/PHA) + Etude House's Soon Jung PH 5.5 Relief Toner (the one who provides comforts and relief).
---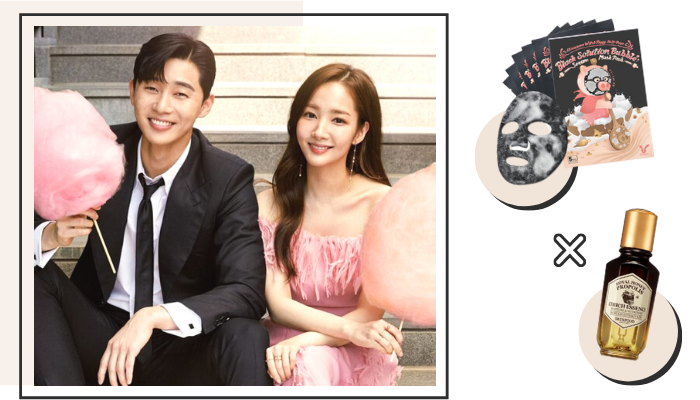 Elizavecca - Witch Piggy Hell Pore Black Solution Bubble Serum Mask Pack
+
SKINFOOD - Royal Honey Propolis Enrich Essence
Nothing but a sweet, bubbly life when this duo is around, like the fun-loving couple Secretary Kim (played by Park Min-young) and Lee Young-joon (played by Park Seo-joon) in Korean drama What's Wrong with Secretary Kim. Whenever you're down for a good time or something fun for your everyday routine, treat yourself to a fun, bubbly mask from Elizavecca + SKINFOOD's Royal Honey Propolis Enrich Essence as your skincare combo to add that extra dose of sweetness to your skincare routine.
---
So which iconic duo are you? Whether it's K-Drama or skincare, we're happy to share more fun K-Beauty tips with you! Not to mention all the can't-miss beauty steals! Enjoy 2 FREE GIFTS if you shop over $15 on Elizavecca and 10% OFF on SKINFOOD ! Ready to Netflix and SPLURGE? I know I am.