To my fellow lovestruck Crash Landing on You fanatics, how are you coping with your post-drama blue? I, too, can't stop gushing over Son Ye-jin's K-Beauty looks on-screen so consider this your "crash" course on how to recreate Son Ye-jin's crush-worthy makeup looks from the show, and maybe you'll finally win over your own Mr. Ri in real life someday!
This time we'll be unpacking the THREE major looks worn by Son Ye-jin in the show, along with all the simple makeup tricks and K-Beauty essentials you'll need for a complete Yoon Se-ri makeover. So, even if you're a busybody or a makeup rookie, don't worry, these K-Beauty looks are super easy to master!
---
K-Beauty Look #1
The Regal "Heiress" Makeup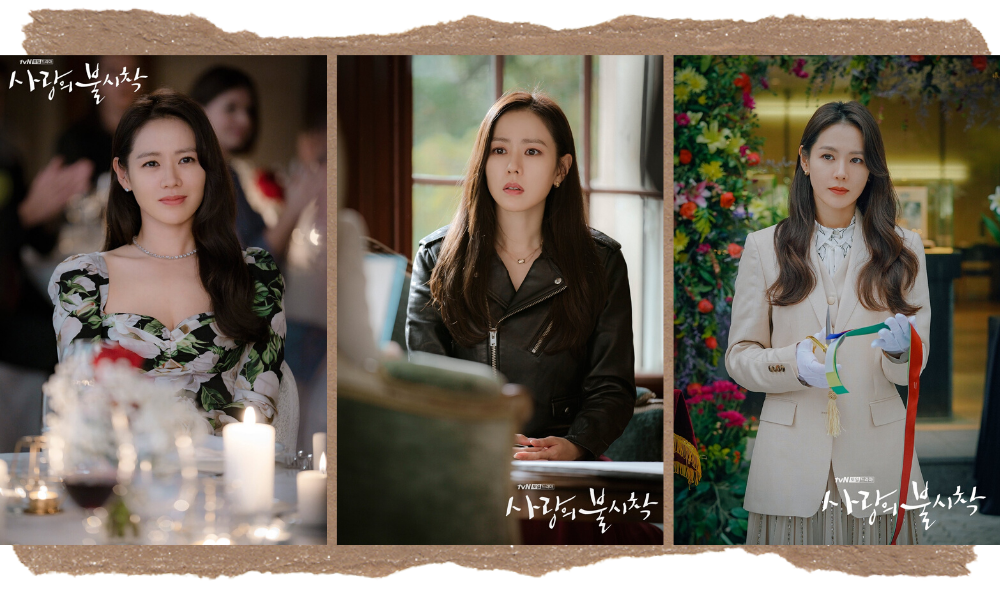 From her elegant smile to her intimidating gaze, this iconic makeup look on Son Ye-jin is a well-balanced mix between subtle and dramatic. The key to this sophisticated look is to bring dimension through warm shades and natural contouring.
For the Eyes:
Go for a black eyeliner, like MACQUEEN's Waterproof Pen Eyeliner, to bring an intense, sharp definition to the eyes. Then, dab a warm-toned eyeshadow on the lids and under the lash line for a color-rich finish.
For the Cheeks:
Learn a face-sculpting trick called two-tone natural contouring with 3CE's Mood Recipe Face Blush. Simply apply your usual blush on your cheekbones and then a slightly warmer shade on the natural contour of your face with a nice, rosy flush.
For the Lips:
Lip tints are Son Ye-jin's beauty staples when it comes to perfecting her pigmented, kissable lips. Flaunt yours with LABIOTTE's Wine Lip Tint Velvet Mini to add a regal charm to your lips like Son Ye-jin does with hers.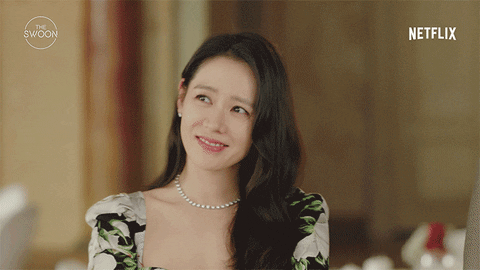 Steal this swoon-worthy look with these K-Beauty staples:
---
K-Beauty Look #2
The "Love at First Sight" Natural Makeup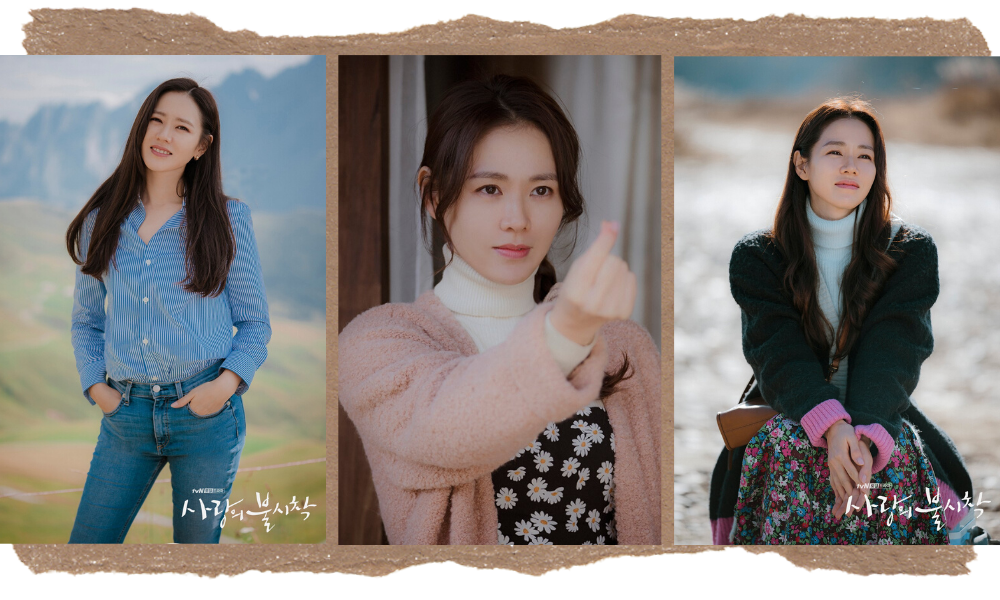 Perfect for an everyday makeup inspo, this natural makeup look still requires some makeup application and some skills, too. So how to carry this K-Beauty look as naturally and effortlessly as Son Ye-jin does? The secret is to complement your base makeup with colors close to your natural skin tone.
For the Base Makeup:
Forget about heavy foundation formulas, K-beauty freshness calls for a cushion-compact formula, like Sulwhasoo's Perfecting Cushion EX, which provides natural, dewy coverage. What's even better? It allows for a mess-free, on-the-go application, which is a must-try for busybodies.
For the Eyes:
Trade your black eyeliner for a brown gel-liner to define your lash line with a softer polish. Create a long-lasting, everyday eye makeup with MACQUEEN's Waterproof Gel Eyeliner that comes with smooth, precise application.
For the Natural Lips:
Bring a saturated finish to your natural makeup look with 3CE's Velvet Lip Tint – Near and Dear. This coral-toned lip tint boasts a warm, luscious shade that will blend with your lip's natural color with a subtle dewy shine.
Achieve Son Ye-jin's natural makeup with this K-Beauty recipe:
---
K-Beauty Look #3
The "No Makeup" Makeup
Son Ye-jin's light, nude-toned makeup look is what makes her innocent-looking face so in tune with her character. To achieve this effortless "no makeup" look, base makeup is the key. Skip the eyeliner, mascara, or blush, just focus on layering the base and making your face look flawless.
For the Base Makeup:
Use a lightweight, moisturizing BB cream like MISSHA's M Perfect Cover BB Cream for the perfect natural coverage. Unlike a foundation, BB cream offers a softer veil of sheer complexion that is lighter and more breathable on the skin. Learning from Son Ye-jin's perfect base makeup, the natural conditioning of a BB cream brings a more realistic finish. If you want to fine-tune any dark spots or dark circles, try The Saem's Cover Perfection Tip Concealer for a more natural cover.
For the Nude Lips:
It may appear that Son Ye-jin barely wears anything on her lips for her "no makeup" look, but the truth is, a natural lip makeup still requires some efforts. Moisturize your lips with your go-to lip balm, and partner it with nude lipstick with a matte finish like 3CE's Mood Recipe 2 Matte Lip Color. This will give your "no makeup" look a lasting natural impression.
Try these base essentials and lip treats:
Bonus Skincare Tips:
Ever wondered how Son Ye-jin gets her wrinkle-free, glass skin glow during scenes where she looks bare-faced? That's right, it all comes down to skincare. Prep your skin well with sleeping masks and moisturizers the night before and let your dewy, moisturized skin shine. Trust me, no amount of base makeup will look as good as your natural, radiant skin.
Pamper your yourself with these skin-loving K-Beauty goodies:
---
Not burying your love for this drama any time soon? Yep, me too. But the good news is I've decided to cheer myself up with a K-Beauty haul because why not? You can find me at the MACQUEEN and MEMEBOX aisle – both are 30% OFF now – if you need me. Missed our previous Crash Landing on You fashion guide? Hop over there and check it out now!