Cardigans have long been a layering staple for the fall wardrobe. The knit pattern, cutting, and texture easily get associated with one of two things: preppy, old-school charm or a sweet old man. After a handful of 'grandma' trends rising up in spring and summer, we saw the granny heat continues to strive through the Fall Winter season (but this time, we are reviving the grandpa style — cardigans.)
For the past few months, we've noticed that K-pop idols have been taking on the trend and giving the cardigan a feminine, sexy-veering spin. But how? Trendsetters like model Lee Sung-kyung, TWICE's Jeongyeon and Nayeon, and BLACKPINK's Jisoo and Lisa have given it a try; buttoned or unbuttoned; styled with dresses or jeans. And of course, we cannot miss out Jennie from BLACKPINK — one of the major stylish contenders in the Korean Showbiz.
---
Worn alone; without a top
Jennie's cardigan of choice was a rib-knitted style, worn without a top underneath, as seen on many of her candid shots on and off press. She had left the top and last few buttons undone to show a sliver of skin through the plunging dip and the slightly flared upturn. She then styled the cardigan with a pair of light-washed jeans, and finished off the look with sleek hoop earrings and a scrunchie. We can now officially declare that the cardigan is going to be one of most versatile tops for everyday styling in the Fall Winter season.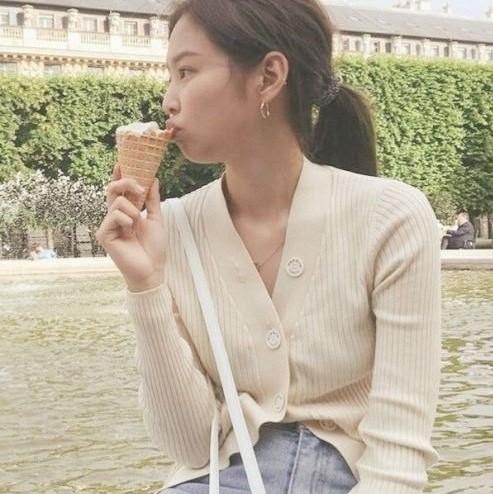 ---
Patterned; layer over a bralette
With bralettes continuing to steal the daylight, Jennie also shows today's bralette can make a perfect companion to the cardigan (watch this combo gets the attention it deserves.) Styled over T-shirts or underneath a sheer top, this time the bralette was seen on Jennie under a matching cardigan. Patterned or plain; matching or clashing; buttoned or unbuttoned, this combination focuses on how the cardigan balances the exposure from the bralette and creates an alluring but better look. Those who are a little nervous about trying this trend can opt to keep the cardigan partially buttoned up to show just a flash of skin.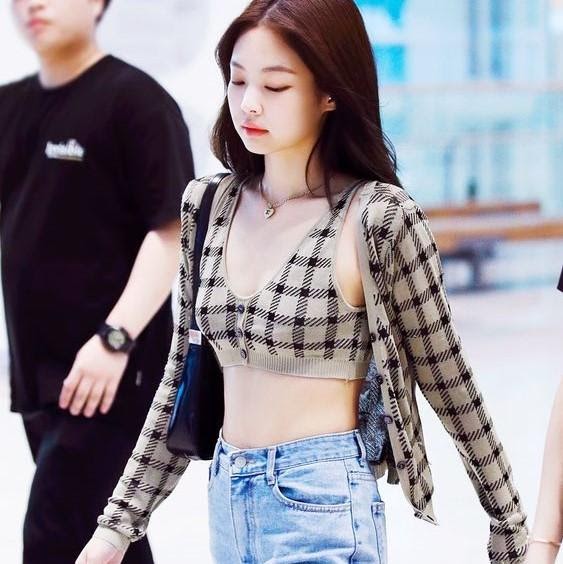 ---
Sweeten up; with frilly details
Just when you found you are still stuck at thinking of cardigans as a granny's staple, here comes Jennie showing a rib-knitted iteration with romantic frills rippling along the edges. It may seem improbable that the two — ruffles and cardigans — can get along well but the result is groundbreaking (we know). Be it accented with lace, ruffles, puffed sleeves, or ties, the romanticized iteration of cardigans channels passionate charm to sweeten up your cold-weather wardrobe.
---
Cropped or tucked in
When we are experiencing a decent temperature drop, it's enough for us to layer up with knitwear but not quite to the point that it necessitates a full-on layering game. Our suggestion, or Jennie's solution to be exact, would be: cropped cardigans. Before you roll your eyes at the shrunken knitwear that may seem redundant, hear us out; we promise you can't go wrong with this style. A shorter hemline doesn't only make a perfect combo with high-rise pants but also avoids an awkward, bulky sweater tuck. Convinced yet?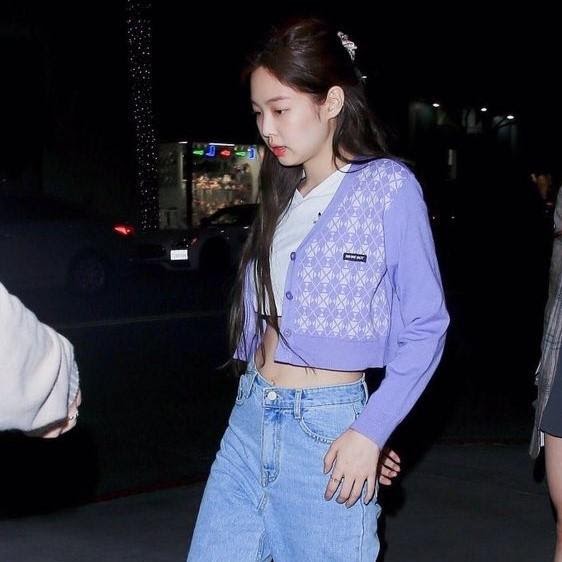 We are expecting a lot of knitwear layering in nearing future.
Next, see what lip colors TWICE members worn in the 'Feel Special' MV to complete your Fall Winter look.