It's one thing to (finally) make peace with wearing a face mask 24/7, but it's another to deal with mask-induced acne (or "maskne) which, unfortunately, seems like an inevitable, never-ending nightmare, especially during the sweaty summer. From tiny red spots on your chin to serious irritation on your sensitive skin, treating maskne on your face in summer takes more than a simple spot treatment. But don't worry, even though going mask-free might not be an option for now, we have the perfect skincare tips and maskne treatments that will save your day!
---
What should I do to prevent maskne?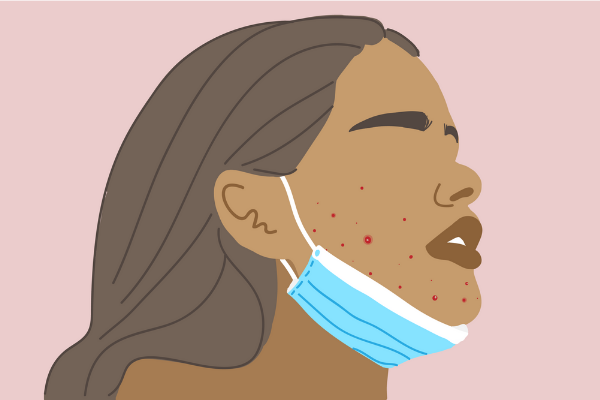 Illustration by Livia Kirasic
1. Wash your face thoroughly to prevent clogged pores. Cleansing your skin before you put on your mask and right after you remove it as soon as you get home. Choose a hydrating, non-comedogenic facial cleanser that is also gentle enough to handle at least two cleanses a day without stripping your skin's moisture.
2. Simplify your skincare routine. Using too many skincare products can actually - surprise, surprise - stress out your sensitive skin even more with a face mask on. Get into the "skinimalist" mindset and stick to the most basic skincare routine without the heavy-lifters so your maskne doesn't have an excuse.
3. Skip (or at least tone down) your makeup. Wearing a full face of heavy makeup underneath a face mask all day will increase the chance of clogged pores and breakouts, which will turn into nightmarish maskne. If you must apply makeup, keep it light and simple. For a casual daily look, a tinted moisturizer + sunscreen will do the perfect job.
4. Wear a face mask made of lightweight material. Dermatologists suggest that, when it comes to picking the best face mask to wear in public, 100% cotton face mask would be the perfect compromise as the material is relatively more breathable and does not cause extra burden on the skin to cause maskne. But of course, you should balance the face mask material with the level of protection that it comes with.
---
How to treat maskne for my skin type?
Dealing with maskne is not a one-and-done thing. Regardless of your skin type and skin condition, the first step is to identify which ingredients are best for acne. Consider AHA, BHA, PHA, centella asiatica, green tea and hyaluronic acid your BFFs when you shop for your skincare products. Read on for more targeted solutions to treat maskne based on your skin type.
Maskne on Sensitive Skin
Summer is not a friendly season for sensitive skin types and tends to drive up inflammation and irritation. So to avoid triggering your sensitive skin, opt for skincare products with a mild formula that treats irritation without making it worse. Centella asiatica is highly recommended for sensitive skin, rosacea, eczema, atopic dermatitis, and psoriasis when it comes to treating maskne or just calming sensitive skin underneath the mask in general.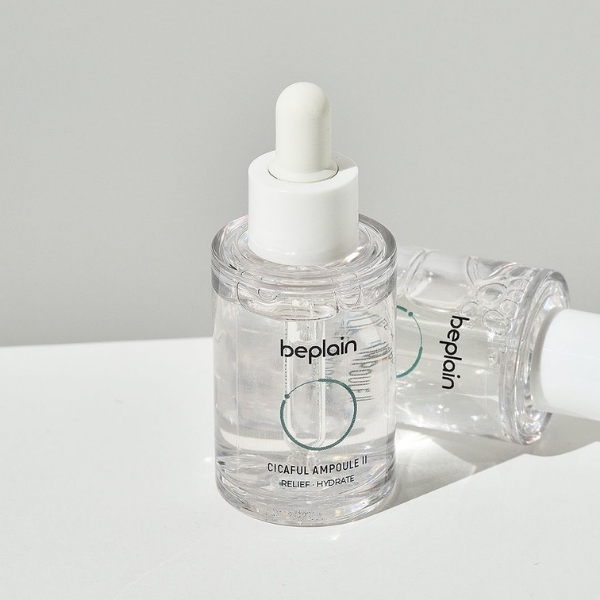 Courtesy of Korean Skincare Brand - beplain
Korean brand beplain has an award-winning Cicaful Ampoule which got all the buzz on the internet when it was first released. Now the brand has revamped and upgraded the formula to create Cicaful Ampoule II, which truly works wonders to soothe and calm sensitive skin without any added fragrance, essential oils or alcohol.
Courtesy of Korean Skincare Brand - beplain
ALSO READ: BE PLAIN - What is the Best Korean Ampoule for Your Skin Condition
For better results, follow the ampoule with the beplain Cicaful Calming Gel and Cicaful Calming Mask to treat your sensitive skin to a complete soothing remedy. If you have underlying rosacea symptoms or redness on your skin, this 3-step routine will definitely help you relieve your maskne and improve your overall skin's health in weeks' time.
---
Maskne on Oily Skin
The summer heat and humidity (on top of the mask-wearing) can drive your oil glands and sebum production crazy, and lead to clogged pores. So on the days when your mask acne is feeling extra bumpy, switch to lightweight skincare products (think gel moisturizer) and exfoliation to keep the maskne on your oily skin in check.
ALSO READ: #ASKVANA: What is Exfoliation & How to Exfoliate Face?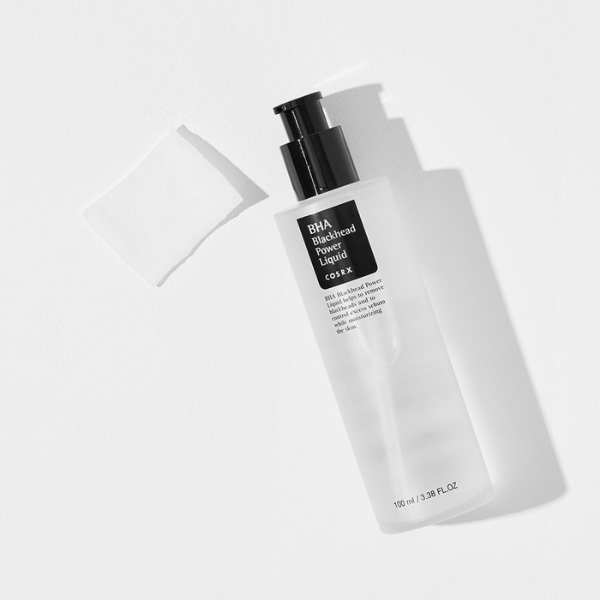 Courtesy of Korean Skincare Brand - COSRX
Clogged pores on oily skin are your mask acne's biggest enemies, that's why you need a heavy-hitting physical exfoliator or any AHA, BHA, PHA-infused skincare products, like the COSRX BHA Blackhead Power Liquid. It has become our bestseller as pore treatment, especially for oily skin. This BHA exfoliant features active ingredients to help exfoliate and clean your pores for healthier, clearer skin.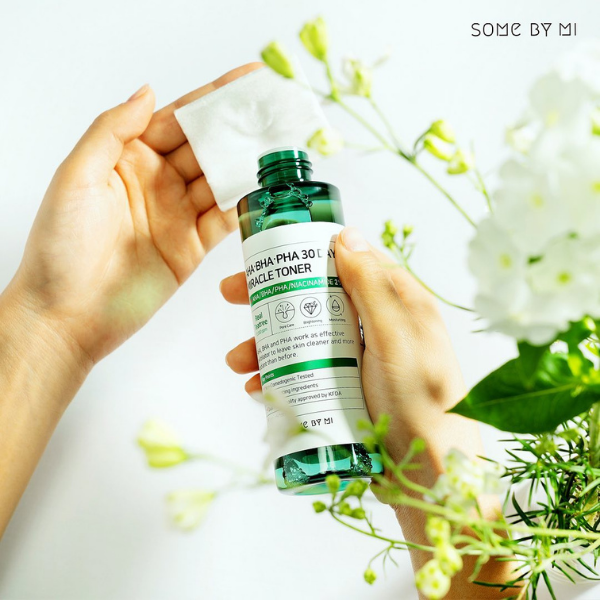 Courtesy of Korean Brand - SOME BY MI
Another holy grail to treat maskne is the SOME BY MI AHA-BHA-PHA 30 Days Miracle Toner. This sold-every-3-second Korean toner is a popular skincare product when it comes to acne treatment and chemical exfoliation, thanks to the potent AHA-BHA-PHA solution. Get your hands on the SOME BY MI AHA-BHA-PHA 30 Days Miracle Acne SOS Kit in case you need a stronger, more fast-acting backup to treat your maskne.
---
Maskne on Dry Skin
Maskne is in a more complicated relationship with dry skin than with oily skin. Why? When your skin lacks moisture, it gets dry and scaly. The glands beneath your skin will then produce more sebum to counteract the dryness, which may lead to breakouts and typical maskne.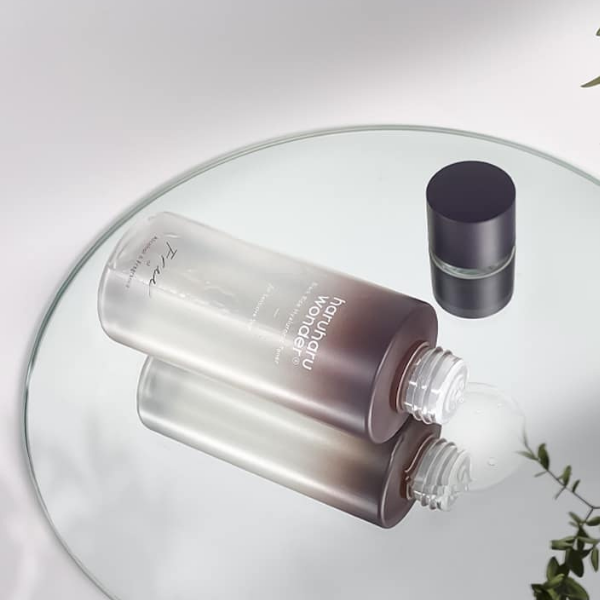 Courtesy of Korean Skincare Brand - Haruharu WONDER
Avoid over-drying cleansers or harsh ingredients like alcohol, mint, menthol, eucalyptus, and lemon; and go for a hydrating toner with hyaluronic acid. Case in point: Haruharu WONDER Black Rice Hyaluronic Toner (Fragrance Free) . This alcohol-free toner is an unscented version of the original Haruharu WONDER Black Rice Hyaluronic Toner that excluded all essential oil but with equally hydrating and gentle ingredients, including skin-comforting Black Rice extracts and hyaluronic acid to keep your dry skin hydrated.
---
Maskne on Combination Skin
Keeping your combination skin happy and maskne-free might seem like a chore because you need to care for both the dry and oily parts of your skin. But the truth is, simplifying your skincare routine and using a balancing toner will do just enough.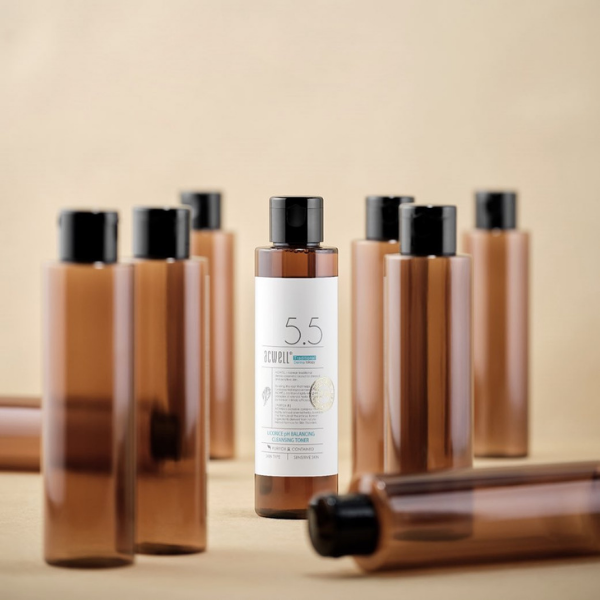 Courtesy of Korean Skincare Brand - ACWELL
Many people underestimate this step's importance, but the right toner will balance a skin's pH without overdrying non-oily areas. The ACWELL No5.5 Licorice pH Balancing Toner pH5.5 is a do-it-all Korean toner that features green tea extract which, on one hand, works great to calm irritated skin while addressing hyperpigmentation skin conditions on the other, including post-inflammatory acne scars, dark spots, or sunspots. On top of being a potent antioxidant and antibacterial solution, this gentle skin-balancing toner has a pH5.5 and is infused with licorice water to nourish, hydrate, and brighten your skin.
---
Most importantly, spot treatment!
Courtesy of Korean Skincare Brand - COSRX
No matter what skin type you have, spot treatment is a must-have skin-mate for your maskne breakout Pop a pimple patch from COSRX AC Collection Acne Patch Pack to conceal and heal your troubled spots. Infused with Centella for an extra dose of soothing care, these oval-shaped, transparent COSRX pimple patch is perfect for all skin types.⠀
---
Maskne is the new normal? Sorry, this skincare guide says otherwise. Stock up on the best acne products and refine your skincare routine based on your skin type starting today! Follow us on Instagram and Facebook to get more instant product updates and skincare tips!