Seasonal makeup trends might come and go, but an iconic summer look stays forever—especially the perfect eye makeup look that will go into your everyday simple makeup lookbook. Based on all the best trending eye shadow palettes we're seeing in summer 2020, it's not hard to guess what summer looks to expect. From neutral basics to shimmer and liner-eyeshadow, your eye makeup game is about to level up this season. Now read this beauty guide to see which iconic eye makeup summer looks to try, ranking from casual daytime-friendly ones to festival-ready, party look!
---
1. Neutral Basics "5-Minute" Eye Makeup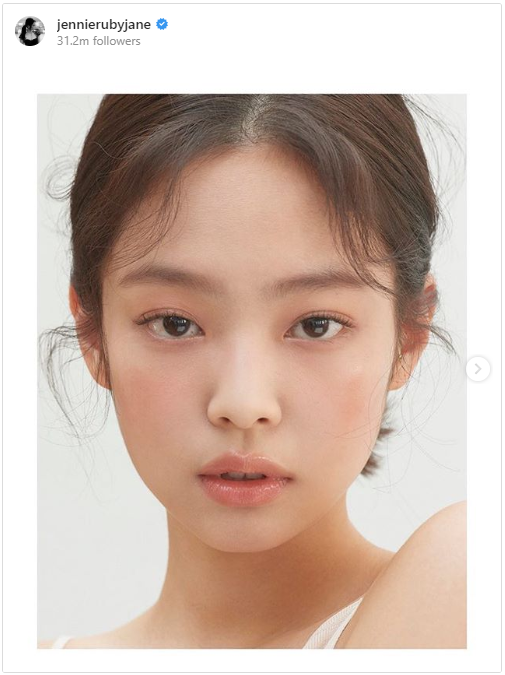 Best Trending Eye Makeup Look 2020: Neutral Basics by Blackpink Jennie
This trending "5-minute" eye makeup look speaks for itself: minimal, subtle, and casual. It's true that we might not be going out for the majority of summer 2020 but that doesn't mean we can't look cute (or somewhat put together) for Zoom meetings, right? This simple makeup trend is all about the neutral basics. Take it from BLACKPINK Jennie who kept it to the minimum for this eye makeup trend—stick to the a beige-nude shade on a nude-toned eye shadow palettes, like 3CE's Mood Recipe Multi Eye Color Palette , plus a thin coat of innisfree's Skinny Microcara Zero .
K-Beauty Trending Combo:
---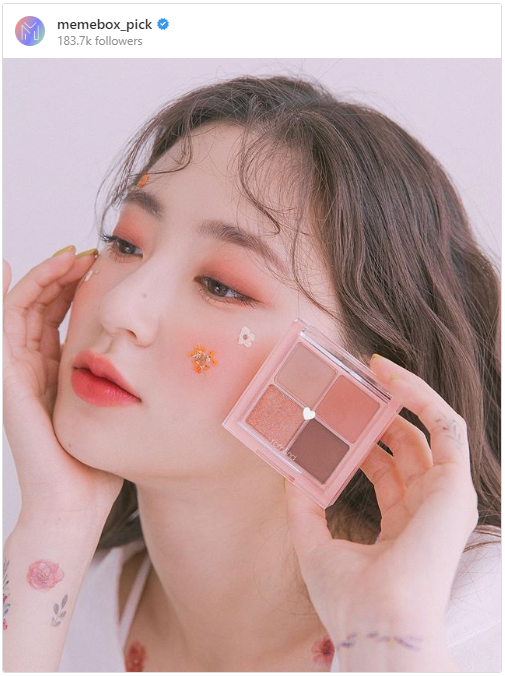 Best Trending Eye Makeup Look 2020: Bright Coral with Romand
One of the top beauty trends of the summer season, coral eye makeup, allows you to switch up the bold hues with something just as eye-catching. A bright coral makeup look gives you the best of both worlds. Neutral hues to keep it refreshing? Check. Bold pops of color? Also check. If you're feeling extra adventurous, just incorporate coral into your smoky eye. Or if you prefer natural makeup looks, go for a soft-glam look with a simple wash of light coral eye shadow across your eyelids. Whichever option you choose, the Romand Better Than Eyes eye shadow palette will stock you with the shades you'll need to create the perfect makeup look.
K-Beauty Trending Combo:
---
3. Summer Rose-Gold Eye Shadow
Best Trending Eye Makeup Look 2020: Rose Gold by Blackpink Jisoo
We're seeing a lot of gorgeous rose-gold eye makeup looks on our K Beauty radar lately, and BLACKPINK Jisoo totally wins the game with this trendy hue. The simple makeup trick? Rich rosy shade over the eye lids with a sheer hint of champagne gold both ON the lids and around the undereyes, which can be easily recreated by heimish's Dailism Eye Palette . What makes Jisoo's rose-gold makeup look extra ethereal is her brown-gold eyes, adding a doll-like allure to the perfect summer look.
K-Beauty Trending Combo:
---
4. Peachy Glitter Lids Eye Makeup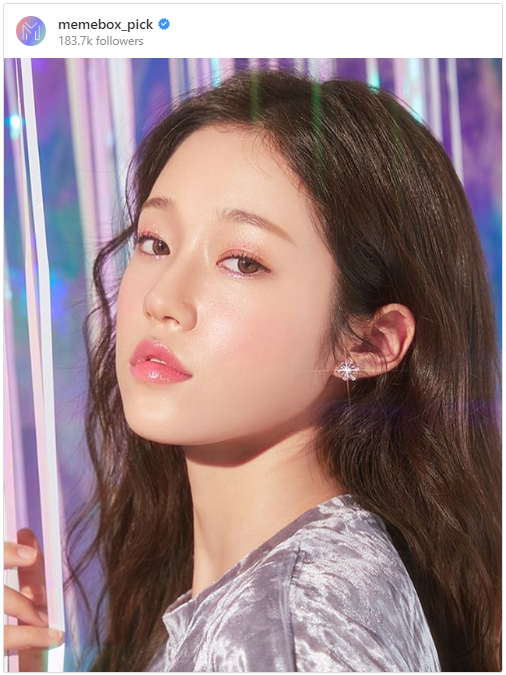 Best Trending Eye Makeup Look 2020: Peachy Glitter with Peach C
You can't master a peachy eye makeup look without introducing eye shadow brand Peach C to your makeup game. This Korean beauty makeup brand has a line of swoon-worthy eye shadow palettes that work for many monochrome makeup looks. So if coral or rosy monochrome makeup isn't your thing, give this peach eye shadow a try instead, like the Soft Mood Eyeshadow Palette from Peach C . It's a bit lighter and more summery than your classic brown eye shadow, and it's super fun to coordinate with your lip and highlight like so.
K-Beauty Trending Combo:
---
5. Natural Gradient Doe-Eye Makeup Look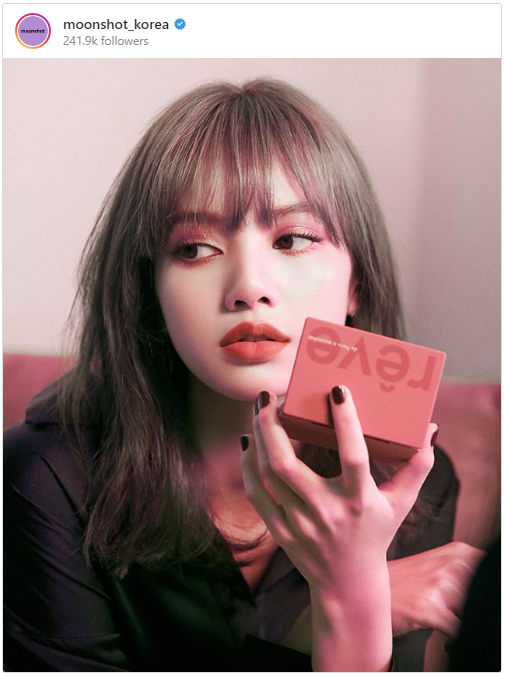 Best Trending Eye Makeup Look 2020: Gradient Doe-Eye by Blackpink Lisa
Another summer makeup trend you should try out is the natural gradient doe-eye makeup look. This simple makeup has a subtle smokey-eye effect that doesn't look too dramatic. Learn from BLACKPINK Lisa, spotted wearing a romantic burgundy-hued eye shadow from her favorite moonshot Rêve de Paris Eye Shadow Palette . The trick to achieve the natural gradient effect is to go light around the inner corner of the eyes and slightly heavier around the outer corner. Volumize your eyelashes with a smudge-proof mascara like heimish's Dailism Smudge Stop Mascara to finish off the doe-eye makeup and viola, you're all set for a romantic night out!
K-Beauty Trending Combo:
---
Best Trending Eye Makeup Look 2020: Shimmering Eye Shadow by @deardomika
Shimmering, bright lids has been a long-standing eye makeup look that trends all year around, and this summer season is no exception. One great way to create this head-turning summer look is to do a wash of eye shadow (think trending summer colors like coral, peach, and rosy) with a champagne-shimmer undertone on your eyelid from 3CE's trending Mini Multi Eye Colour Palette , and you're good to go. Or, if you want to accentuate the full, bright-eyed look, pile on some eye glitter over the lids and the inner corner for the amped-up charm.
K-Beauty Trending Combo:
---
7. Jewel Tone Cut-Crease Eye Makeup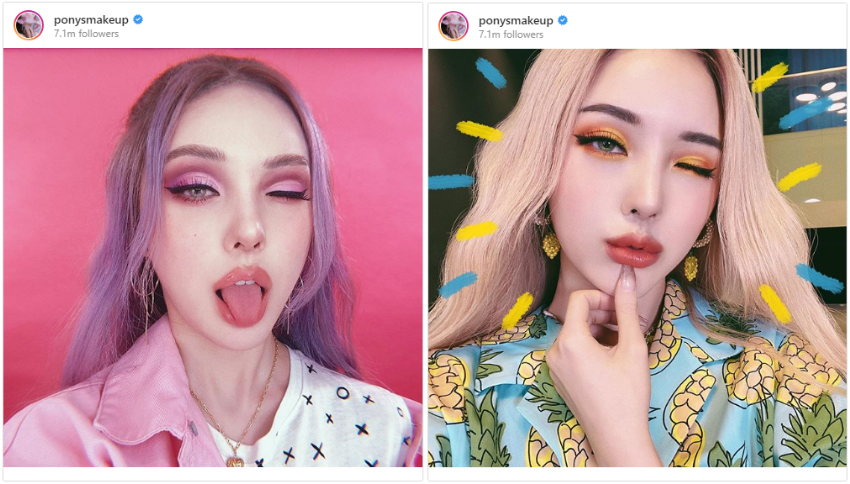 Best Trending Eye Makeup Look 2020: Jewel Tone by @ponymakeup
Jewel tone eye makeup is one of the most popular makeup trends seen on the K Beauty radar. This buzzworthy eye makeup trend is inspired by a range of different richly saturated hues gems, namely amethyst purple, citrine yellow, sapphire blue, ruby red, or emerald green. Famous Korean beauty influencer and makeup artist Pony has championed this jewel tone eye makeup look on her Instagram, featuring amethyst purple and citrine yellow with a bold cut-crease and a wash of liquid glitter eye shadow.
K-Beauty Trending Combo:
---
8. White-Liner Shadow Eye Makeup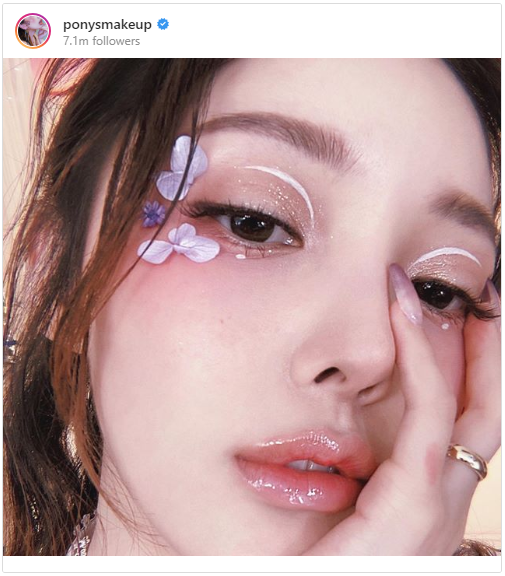 Best Trending Eye Makeup Look 2020: White Liner Shadow by @ponymakeup
The reason why everyone is obsessed with this viral summer eye makeup trend is because it's super simple and wearable, even for a makeup rookie. The novelty of this thin white-liner aesthetic boasts a futuristic allure that can be easily completed with three main eye makeup essentials : a white liner, a nude-toned eye shadow palette, and false eyelashes. Take it from Korean beauty influencer Pony who wears this white-liner eye makeup look so effortlessly. Use moonshot's Honey Coverlet Eyeshadow Palette to add a wash of warm-toned eye shadow on the lid, then draw a thin white line with Etude House's Bling Bling Eye Stick. Give this look an extra "oomph" with some flashy false eyelashes to make this the perfect makeup look to steal.
K-Beauty Trending Combo:
---
Which trending eye makeup look are you stealing this summer? Take notes from this beauty guide and ride on the hottest eye makeup trends with countless choices of eye shadow and eyeshadow palettes at Stylevana. The good news is the Eye Shadow & Palette Sale is now happening! Pick your favorite eyeshadow palettes with up to 40% OFF! You can also save up to 25% on all moonshot & MEMEBOX picks! For more Kpop makeup inspo, read the 5 iconic Kpop makeup looks inspired by BLACKPINK, Red Velvet, and MORE!