Winter is right around the corner and, although the cold and dry weather can affect your skin, you don't need to compromise for the damages. Budget friendly with exceptional results, Secret Key is here to save the day! This Korean skincare and beauty brand understands the nutrients your skin needs to stay moisturized and beautiful in the harsh winter. Combining the essence of nature, beauty, and science, Secret Key is devoted to creating products with top-notch quality that are priced at an affordable cost that won't break your bank. Therefore, Secret Key is the best compromise for its ingredient list and price point mixed together. We believe that taking care of your skin begins at a young age, and it's important to give your skin some extra love on the colder days when the weather gets rough. Let's follow this guide to discover Secret Key's beauty essentials that you'll definitely need for winter.
Signature Products: Secret Key Starting Treatment Essence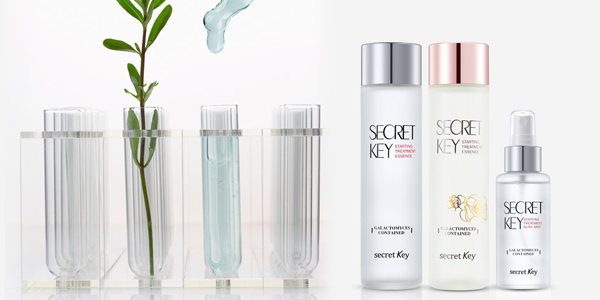 If there's anything you can't live without during the wintry season, it'll be Galactomyces which is a key ingredient for the Secret Key Starting Treatment Essence. What makes this product so special is that Galactomyces (a.k.a Pitera) was discovered by the advancement of Japanese beauty research. Any beauty products that have this ingredient have since gained a massive cult following. With only a few drops of the Secret Key Starting Treatment Essence, you will instantly notice a radiant glow on your skin, which will appear more nourished and elastic than before. Just spread the serum evenly over your face and neck and gently massage until it is fully absorbed, then you're set! This Secret Key Starting Treatment Essence is here to keep you going all winter long.
---
For the Face: Secret Key White Milky Lotion and Snow White Cream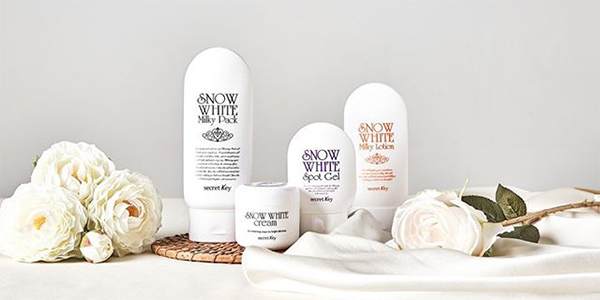 "Winter skin" is a real thing and the cold weather can make your skin appear tired and dull. Opt for a moisturizer that is hydrating and illuminating, such as the Secret Key White Milky Lotion and Snow White Cream. Both of these products will penetrate deep into your skin to restore its natural radiance and brightness from within through its whitening functional base while adding a dewy glow to your complexion throughout winter. Long lasting and water resistant, these two products help brighten up your skin with its pearlescent and vitamin formula.
---
For the Eyes: Secret Key Snail Repairing Eye Cream and Gold Premium First Eye Patch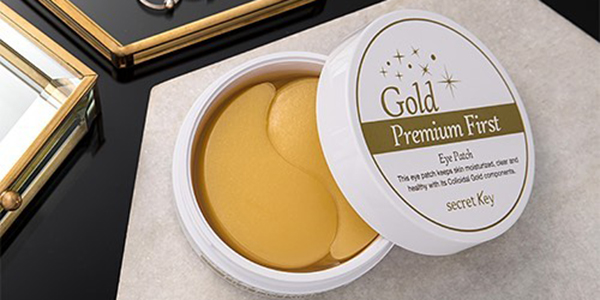 As the temperature drops, naturally you'll put the heater on full blast and this actually dehydrates the thin layer of skin under your eyes easily and make them look puffy. With the Secret Key Snail Repairing Eye Cream, the snail mucus and adenosine will firm and renew the skin around your eyes, helping you appear less fatigued and more moisturized. What makes snail mucus such an amazing ingredient for your skin is also its ability to prevent oil on your face without losing the moisture. The Secret Key Gold Premium First Eye Patch works magic as well! Its combination of 24k gold, green tea, aloe vera, chamomile, and pomegranate extract helps keep your skin moist, clear, and healthy. In fact, colloidal gold strengthens and reinforces weakened and damaged skin while supporting its natural healing abilities which is perfect during your "hibernation" in the cold weather.
---
For the Lips: Secret Key Sweet Glam Tint Glow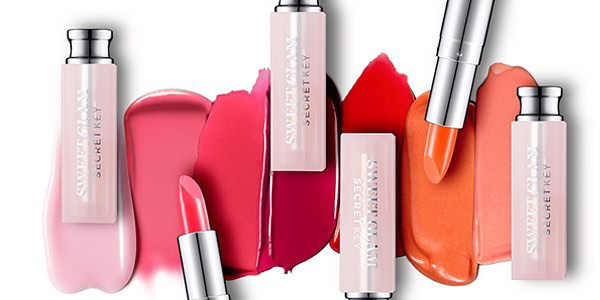 A girl's love for lipstick is all-year-round, but with the dry and cold winter air, chapped lips make applying lipstick difficult and less smooth. With the Secret Key Sweet Glam Tint Glow (in Lollipop Pink, Funky Pink, and Chic Burgundy), all your worries will go away as this product combines chapstick and lipstick in one. With the temperatures dropping, it is likely that you'll change into something more comfy and casual to stay warm, and match your ensemble with a more natural makeup look to bring everything together. What's amazing about Secret Key's Sweet Glam Tint Glow is its natural colour shades and pigmented stain that make it long-lasting throughout the day. With this product, your lips will be beautifully coloured while appearing more moisturized and plump.
---
It'll be snuggle season soon which means lots and lots of snow are coming our way! But as much as how unbearable the winter season can be at times, we should always look on the bright side. We hope these beauty secrets will cheer you up, and be sure to prepare yourself for the winter time and get your Secret Key beauty essentials now, especially with the Secret Key sale on (up to 60% off – woohoo!). Your skin and wallet will thank you. Stay warm and cozy!
Need some winter outfit ideas? Check out How To Wear A Dress In Winter