We've dropped the hints. We've launched the teasers. The highlight of your year is here: it's the Stylevana Advent Calendar 2022!
After the amazing response to last year's Calendar (our first!), there was no way we could leave you hanging. Back for 2022, the Advent Calendar is packed with $400 worth of the best of the best across Asian beauty to get you ready for the festive season. We're talking full size skincare hits, makeup chart-toppers, and hair & body superstars. It's the perfect excuse to get your Christmas spirit on and treat yourself or a loved one for a job well done this year!
We at the Stylevana HQ know you've all been clamoring to know what's in store, so without further ado, scroll to discover Days 1-12 of the Advent Calendar!
---
Stylevana Exclusive
Advent Calendar 2022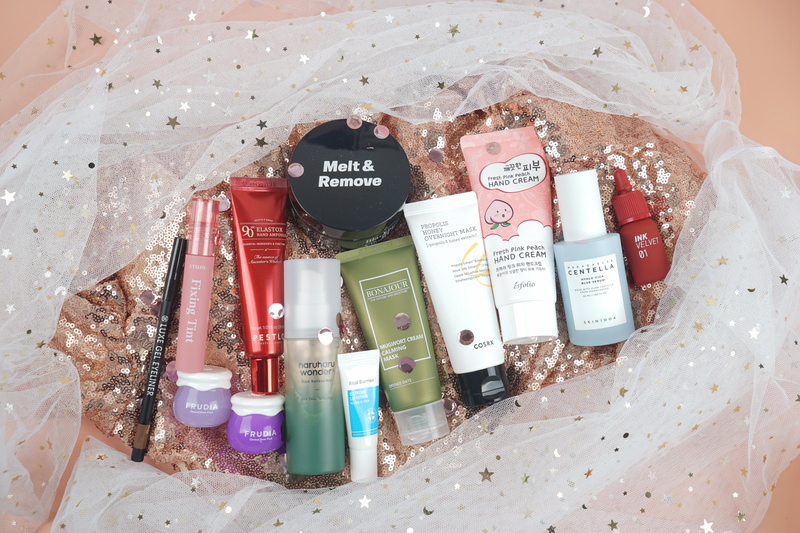 What you'll get:
Day 1: SKIN1004's Madagascar Centella Hyalu-Cica Blue Serum (50ml) kicks off the Advent Calendar with a bang, courtesy of its unique Hyalu-Cica formula that combines the soothing touch of Centella Asiatica and the majorly hydrating prowess of 3 types of Hyaluronic Acid. A lightweight and non-sticky gel serum, it also contains Ceramide to increase skin elasticity, Niacinamide to brighten, and Adenosine to repair.
Day 2: It's a double whammy - feast your eyes on the FRUDIA Blueberry Hydrating Cream (10g) and FRUDIA Blueberry Hydrating Intensive Cream (10g). Both center around a core ingredient, Blueberry, to save parched, rough and irritated skin, transforming the complexion into one of vitality and bounce. Certified vegan, the Hydrating Cream boosts an impressive 48 hours of lasting hydration, while the Hydrating Intensive Cream takes it up a notch to 72 hours.
Day 3: Make the Etude House Mask Proof Fixing Tint (4g) in 05 Midnight Mauve your go-to signature lip for your MOTD. This bestselling hydrating matte lip tint touts a weightless formula that doesn't budge once set, maintaining flawless adhesion, durability and vibrancy throughout the day. Midnight Mauve is a neutral-cool mauve tone that looks beautiful on many skin tones. Achieve a blotted gradient lip or a full saturation pout with this tint - user's choice - or add this to your speedy morning routine to get ready in a flash.
Day 4: The people have spoken and we can confirm - the COSRX Full Fit Propolis Honey Overnight Mask (60ml) is worth all the buzz. Intensely hydrating and nourishing, this sleeping mask revives the complexion overnight with a concoction of the brand's 70% Full Fit Pro-Barrier Complex containing Propolis, Honey and Royal Jelly. Aside from using it as an overnight mask, it also makes for a refreshing wash-off mask or daily moisturizer.
Day 5: Wave goodbye to blackheads and excess sebum with the TIA'M Blackhead Out Sheet (35pcs). It's a pore care sheet pack containing Soapberry extract and BHA that dissolves impurities to clean the pores without damaging skin. In just 10 minutes your pores are gently treated and unclogged, and the complexion is instantly refreshed; no painful pore strips involved!
Day 6: PESTLO's 90 Sec Elastox Hand Ampoule (30ml) is a lifting, anti-wrinkle hand ampoule that reverses the effects of harsh conditions on your hands. With Apep Complex 7B and Marine Collagen to nourish and rejuvenate, it's an absolute savior for chapped, wrinkled and dry hands, especially if you've been upping your handwashing game during the Pandemic.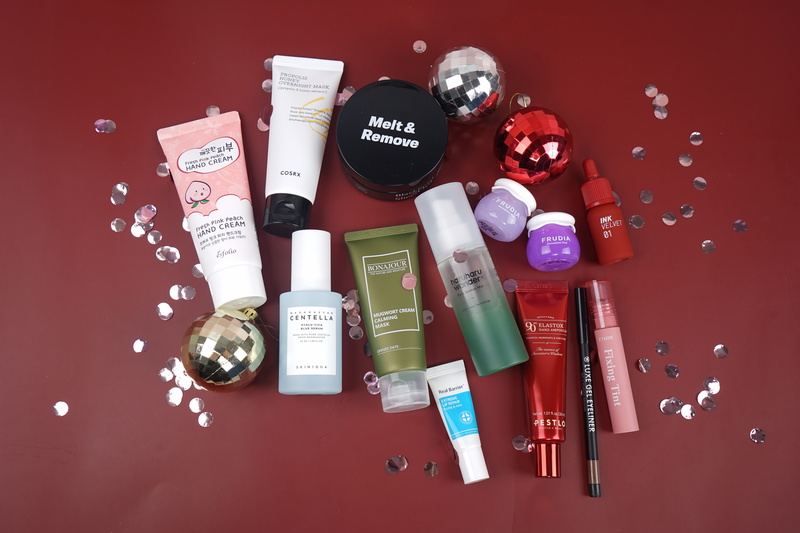 Day 7: Taking full body care hands-on is the esfolio Pure Skin Fresh Pink Peach Hand Cream (100ml). Deliciously infused with fresh Peach, Apricot, Vitamin C and Adenosine, it moisturizes and creates a protective barrier over the hands to protect against external aggressors. Slather this after hand washing or before going to bed for supple, soft skin.
Day 8: The Real Barrier Extreme Lip Repair (7g) delivers on its duty to deeply hydrate the lips, and exceeds expectations when it comes to lip barrier repair and protection against sensitivity. Laced with Castor Oil, Ceramide, Vitamin E and a handful of nourishing plant extracts, you'll see an immense improvement in flaky lips and a weak lip barrier. It's a definite cold weather must-have to keep the lips and the skin around them healthy and irritation-free.
Day 9: Haruharu WONDER's Black Bamboo Mist (80ml) drenches the complexion in ultra-light moisture and recharges the skin when it's low on energy. Perfect for all skin types, it's especially beneficial for those with dehydrated and easily sensitive skin, as it soothes irritation while supplying ample hydration. Whenever you need a refresh, spritz this mist on for a cooling and calming sensation.
Day 10: A cult classic in the beauty community, the peripera Ink The Velvet (4g) in 01 Good Brick is a lip tint with a velvety-smooth formula to die for and pigment that won't quit. As its name suggests, its ink-like staying power rivals that of actual ink and it gives the lips a beautiful soft-matte finish. The shade Good Brick is a lively brick red that is very on trend for the fall,serving you idol-worthy glam for all your cold weather activities and festivities.
Day 11: The BONAJOUR Mugwort Cream Calming Mask (55ml) imparts on the skin soothing calm and a boost of nourishment. 3 kinds of Mugwort extract and Green Tea leaves helps the skin boost resilience against pollution and aggressors, as well as clears the skin of impurities post-wash. If the winter season has your complexion riled up from irritants, this mask reduces skin temperature and calms inflammation, delivering hydration along the way.
Day 12: Regardless of if you're winging out your liner or recreating a smoky, smudged look, the RiRe Luxe Gel Eyeliner in Choco Brown gets the job done. Its creamy, jelly-like texture glides onto the eyes seamlessly, defining the eyes with practically no effort, while the chocolate hue maintains its vibrancy all day long. The liner also comes equipped with a built-in sharpener for when you desire sharp and precise lines.
---
Don't keep your eyes off this space because we'll be revealing the treats of Days 13-24 next. Snag your Advent Calendars HERE and hurry - we've only got limited quantities! Follow our Instagram and Facebook to receive instant product updates, and skincare and beauty tips!