We know a treasure trove when we see one, especially when it's from one of our all-time favorite K-Beauty brands iUNIK. Launched exclusively at STYLEVANA, the NEW iUNIK x STYLEVANA Mini Serum Kit is a dreamy addition for serum lovers and skinimalists around the world. As STYLEVANA's first collaboration with clean beauty brand iUNIK, this drool-worthy 5-piece serum kit is a capsule collection that enhances your daily skincare routine with the brand's bestselling serums, which includes the Tea Tree Relief Serum (15ml), Rose Galactomyces Synergy Serum (15ml), Propolis Vitamin Synergy Serum (15ml), Noni Light Oil Serum (15ml) and Black Snail Restore Serum (15ml). Scroll down for a closer look at what DEW-ties these iUNIK serums have!
---
Inside the Exclusive Mini Serum Set
1. iUNIK - Tea Tree Relief Serum
For Sensitive, Acne-Prone Skin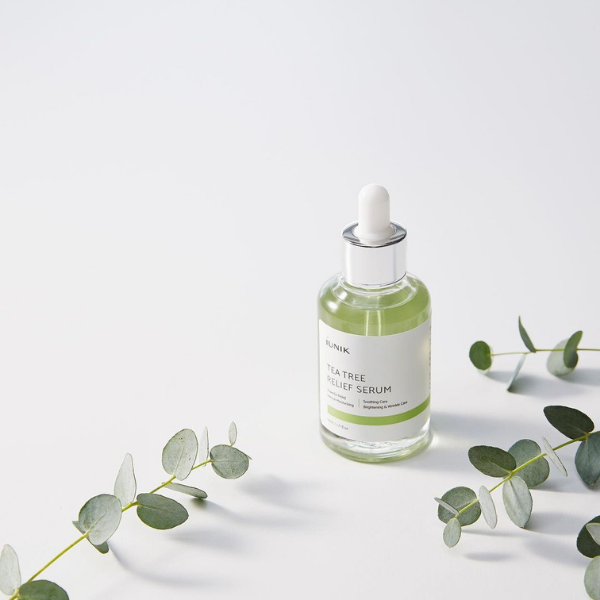 Courtesy of Korean Brand - iUNIK
Key Ingredients: Tea Tree Leaf Water, Centella Asiatica Leaf Water, Patented 6-Sprout Extract, Niacinamide and Adenosine
Stylevana Review: iUNIK's Tea Tree Relief Serum is best known for its blemish care on oily and acne-prone skin with a clean and gentle formula that works equally great for sensitive skin. If you've been a loyal fan of Hyram who shares the same love for iUNIK, this Tea Tree Relief Serum will definitely be your next add-to-cart favorite. This bestselling tea tree oil serum from iUNIK not only is a game-changer for your skincare routine but also something every natural beauty swears by for its naturally sourced formula. It's known for improving skin conditions like acne prone skin and sensitive skin with a whopping 67% tea tree oil for the best skin-soothing benefits. This 5-in-1 K-beauty skincare product helps in powerful relief, soothing, brightening, moisturizing, and wrinkle care as well!
---
2. iUNIK - Rose Galactomyces Synergy Serum
For Powerful Sebum Control on Oily Skin
Courtesy of Korean Brand - iUNIK
Key Ingredients: Rosa Centifolia Flower Water + Galactomyces Ferment Filtrate
Stylevana Review: iUNIK's Rose Galactomyces Synergy Serum has got our team's stamp of approval for good reason. Laced with 10% rose water + 50% galactomyces fermentation water, this powerful face serum is a must for anyone in need of a little (or rather, a lot of) nourishment, sebum + pore control and brightening. Minimal but mighty, the serum has a rich blend of rose water and galactomyces to help soothe the skin and reduce the appearance of any redness If you've got a complicated case of oily but dehydrated skin, this Rose Galactomyces Synergy Serum delivers just the perfect amount of moisture to combat dehydration while at the time functions as a sebum-controlling hero to keep your oily sheen at bay.
---
3. iUNIK - Propolis Vitamin Synergy Serum
For Pigmented, Sun-Damaged Skin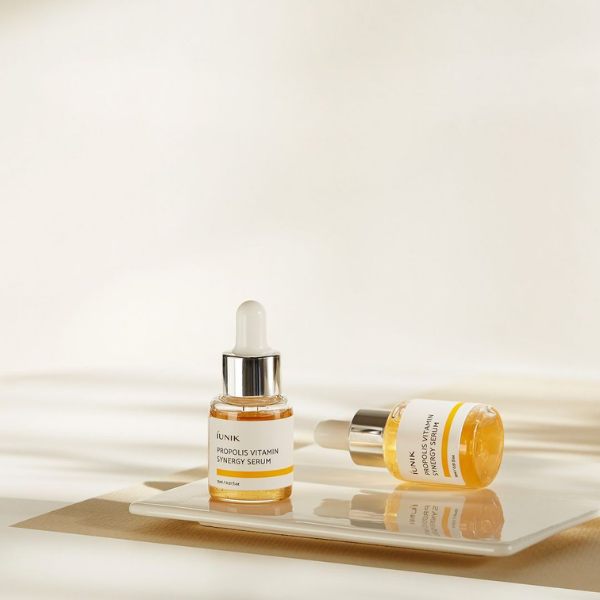 Courtesy of Korean Brand - iUNIK
Key Ingredients: Propolis Extract, Hippophae Rhamnoides Fruit Extract + Patented Oriental Beauty Fruits Newplex
Stylevana Review: Our first impression of iUNIK's Propolis Vitamin Synergy Serum? Three words: impressive ingredient list. In case you're wondering what "Newplex" means, iUNIK combines pomegranates, figs, mulberry + ginkgo to form a nutritious, skin-loving blend that will optimize your skin health. This Propolis Vitamin Synergy Serum contains rich nutrients to protect skin from external stress and also offers excellent antioxidant benefits, which is effective in reducing skin damage, pigmentation and inflammation caused by UV rays.
---
4. iUNIK - Noni Light Oil Serum
For Advanced Anti-Aging Treatment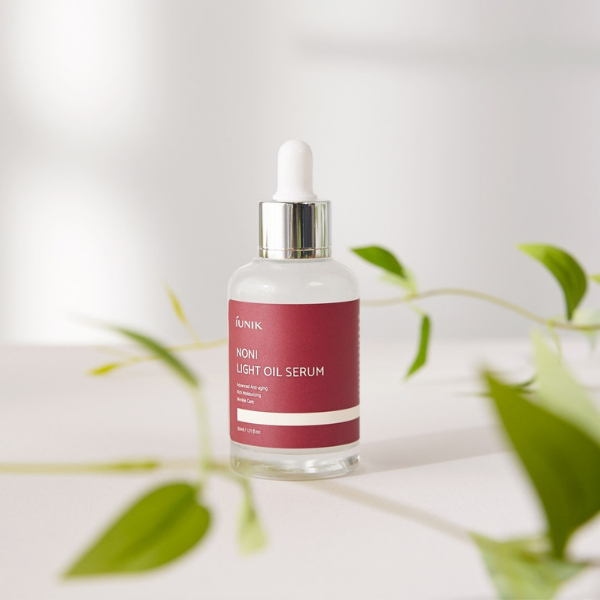 Courtesy of Korean Brand - iUNIK
Key Ingredients: Noni Fruit Extract + Natural Plant Oil (Kale, Blueberry, Olive Oil, Jojoba Seed Oil, Macadamia and Argan Oil)
Stylevana Review: iUNIK's Noni Light Oil Serum is the only oil-infused serum in the iUNIK serum lineup but with an equally mighty ingredient list. The primary ingredient Noni is actually a plant that grows in the tropical region of Southwest Asia, where it is called a divine natural remedy. Consider this iUNIK serum a hidden gem and your new 2021 discovery made for more mature skin that starts showing signs of aging, thanks to the exotic mix of Noni + a rich blend of unique plant-based ingredients derived from kale and low bush blueberry extracts to minimize the appearance of fine lines and wrinkles. Not to mention this light oil serum applies as smooth as oil while delivering lightweight, powerful moisture.
---
5. iUNIK - Black Snail Restore Serum
For Skin Elasticity and Recovery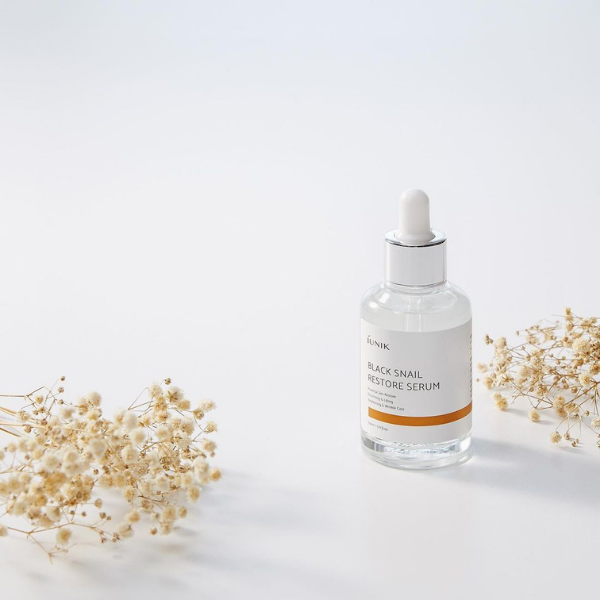 Courtesy of Korean Brand - iUNIK
Key Ingredients: Black Snail Secretion Filtrate + Centella Asiatica Leaf Water
Stylevana Review: iUNIK's Black Snail Restore Serume is a highly nutritive serum to improve skin elasticity and promote natural cell regeneration to help fight signs of aging. This highly concentrated serum is enriched with 70% black snail extract to improve skin elasticity, together with 5 black super foods (black beans, black rice, black sesame, kelp and eggplant) for anti-oxidant benefits. For a potent, multi-functional serum like this, it's only fair to also include centella extract in the skin-loving mix, which helps to heal blemished skin, smooth wrinkles and face scars; along with mistletoe and soybean ferment extracts to repair and moisturize skin, and promote cell turnover.
---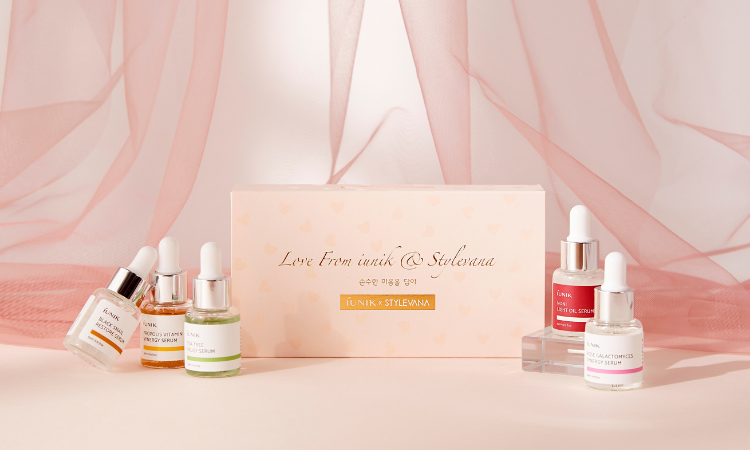 Courtesy of Korean Brand - iUNIK
Enjoy this mini but mighty Exclusive Serum Kit and test out which iUNIK serum does the job for you before you commit to one (or ALL like us)! Don't forget to stay tuned for our next blog, where our team gets up close and personal with iUNIK for everything skincare related! Inbox us which brands you'd like to see STYLEVANA collaborate with next!