Having acne on your face is tough enough as a daily struggle, but having body acne is no fun either. The question is: we do everything in our power to treat a blemish on our faces so what about our body? Over the past few months, we've received a lot of DMs asking us for ways to get rid of body acne or back acne which is a very real issue here for the summer bikini season. Lucky for you, we're diving deep to give you all the skincare tips that'll help you *officially* break up with body acne — for good. Read on to find out what causes body acne, and how to get rid of them so you can revamp your shower routine and body care routine with the best acne body wash and body acne treatment you need!
---
So... what causes body acne?
Similar to normal acne on the face, body acne is also a skin condition caused by clogged pores from excess oil and sebum production, together with dead skin cells, and bacteria. Body acne causes include factors such as sweats, hormonal fluctuations, or genetics, so you can basically consider it an inflammatory response to those triggers or factors.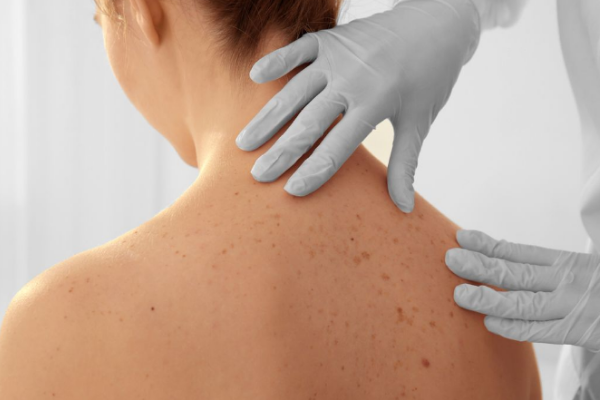 Body acne usually appears on your chest, back, or shoulders, which has a lot to do with your clothing as well. Apart from choosing clothes that are breathable and lightweight, it is also important to look for body acne treatments such as acne body wash, body scrubs and acne body lotion that will help keep your breakouts under control.
---
How to get rid of body acne?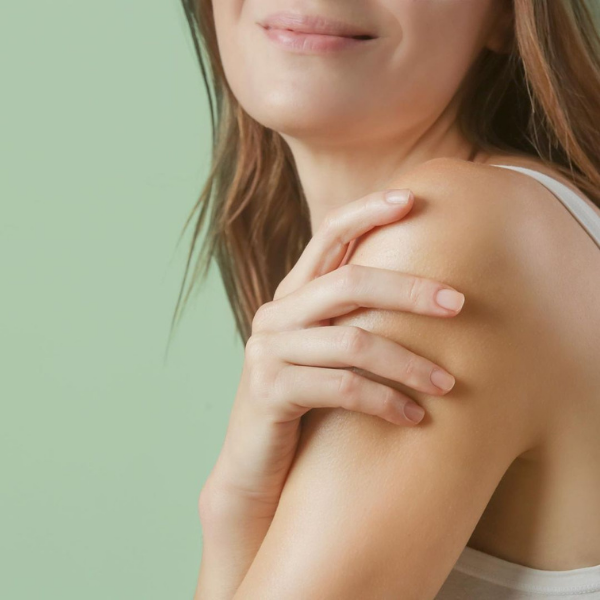 Courtesy of Korean Skincare Brand - Nard
Apart from keeping good personal hygiene and taking shower every day, use body acne products like acne body wash, body scrub for exfoliation, and acne body lotion to improve the acne skin condition on your chest and back. Here are some body care tips that will help you best body acne treatment you can use to get rid of body acne.
1. Shower with acne fighting body wash.
Look for acne body wash that has blemish-fighting ingredients such as AHA, BHA, PHA that can help you remove dead skin cells and unclog your pores to prevent acne breakouts on your body. The SOME BY MI AHA-BHA-PHA 30days Miracle Acne Clear Body Cleanser is currently hailed as the best body wash for acne with its acne-busting formula.
SOME BY MI - AHA-BHA-PHA 30days Miracle Acne Clear Body Cleanser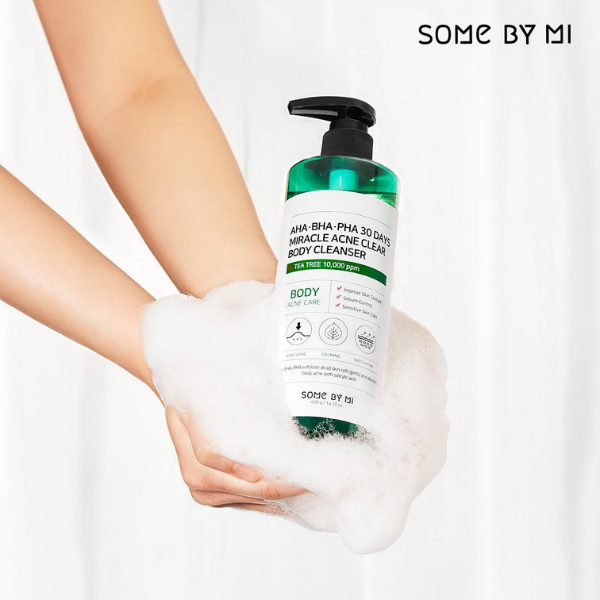 Courtesy of Korean Skincare Brand - SOME BY MI
The cult-favorite Korean skincare brand SOME BY MI extends its 30-Day Miracle Line to body care with this 30-day acne fighting body wash, which features perfectly optimized AHA, BHA, PHA to make sure your body — front and back — is getting all the care it needs to be blemish-free.
Another ingredient you should look for in your acne body wash is houttuynia cordata — aka "heartleaf" — thanks to its powerfully soothing and anti-inflammatory properties. So if you're looking for some extra soothing remedy on top of exfoliation, try the ANUA Heartleaf Acne Body Wash. This acne body wash unites a clever blend of AHA, BHA and PHA + other skin soothing ingredients like heartleaf, cica, and tea tree extracts to remove dead skin cells while keeping the irritation to a minimum.
---
2. Use gentle body scrub for weekly exfoliation.
Similar to dealing with face acne, exfoliation should be a major step in your daily routine to decongest the pores on your body. If you have severe acne breakouts, we suggest you use a gentle body scrub 2-3 times per week (or less if you have dry or sensitive skin). A great body scrub formulated for gentle exfoliation and treat body acne is plu's Rosemary Herb Body Scrub.
plu - Body Scrub (Rosemary Herb)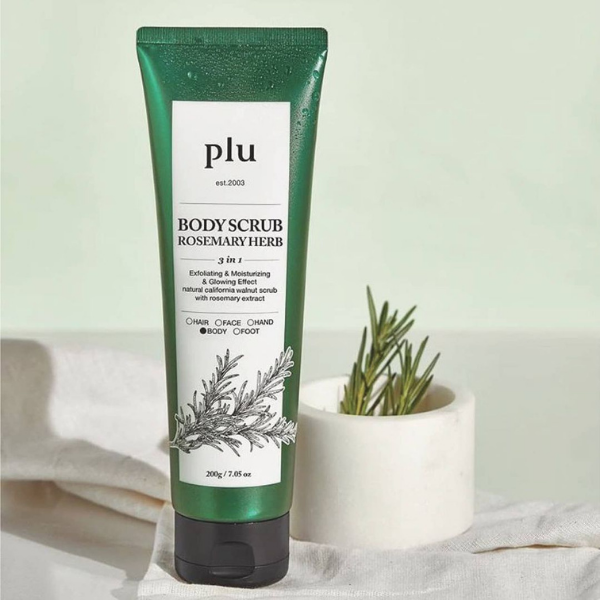 Courtesy of Korean Skincare Brand - plu
When we think about the best body scrub for acne, the plu Rosemary Herb body Scrub checks all the boxes for a powerful physical exfoliation. This 3-in-1 walnut body scrub helps gently exfoliate and remove dead skin cells without irritation, leaving your skin smooth and supple.
---
3. Moisturize, moisturize, moisturize.
For your post-shower routine, always moisturize your body with a body cream. Apart from incorporate a body acne cream that fights blemishes with AHA, BHA, or PHA, you can consider ceramide your skin-loving friend to strengthen your skin barrier to nourish your body after exfoliation. The perfect fall essential to pamper your body is the ILLIYOON Ceramide Ato Concentrate Cream.
ILLIYOON - Ceramide Ato Concentrate Cream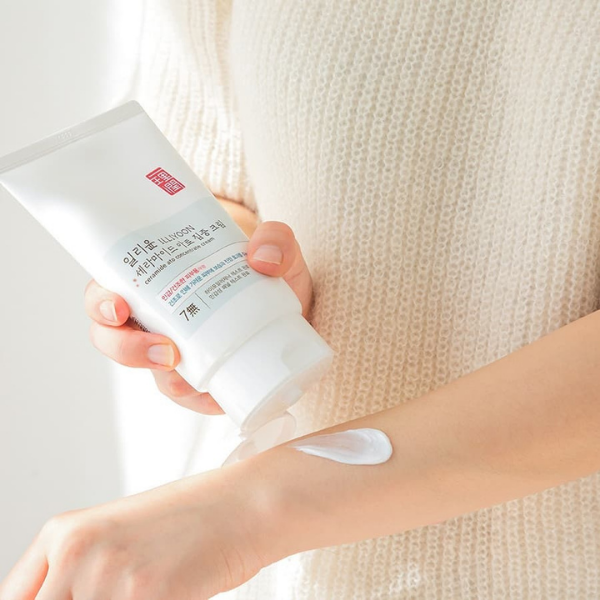 Courtesy of Korean Skincare Brand - ILLIYOON
This ILLIYOON body cream offers deep hydrating and soothing treatment to nourish your body acne with the brand's patented Ceramide Skin Complex. It feels refreshing to the skin and is free from animal-derived ingredients, mineral oils, artificial colorings, fragrances and parabens to avoid irritation and sensitivity.
BONAJOUR - Tea Tree AC Control Body Lotion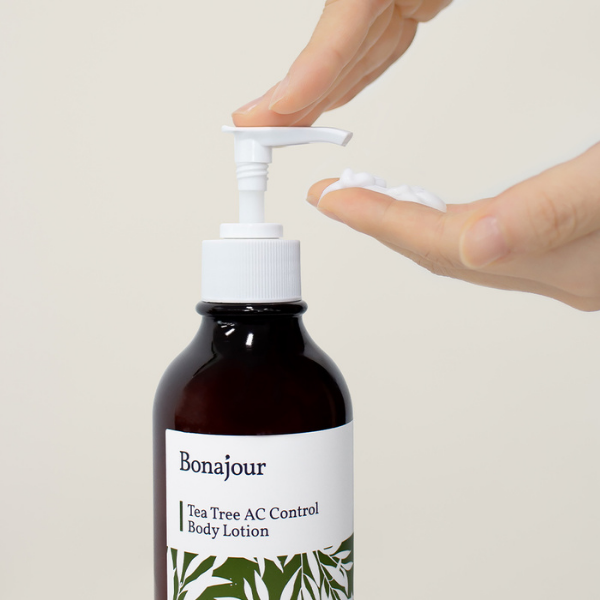 Courtesy of Korean Skincare Brand - BONAJOUR
Don't forget to incorporate an acne body lotion such as the BONAJOUR Tea Tree AC Control Body Lotion. Starring the powerful acne-soothing ingredient tea tree, this body acne treatment product helps with sebum production and skin regeneration to improve troubled skin with patented Cryptomeria Japonica Leaf Extract while removing skin impurities to prevent clogged pores.
---
Stop pricking or hiding your body acne! Find yourself the best body acne treatment to upgrade your post shower body care routine! Follow us on Instagram and Facebook to get more instant product updates and skincare tips!
Disclaimer: We strongly recommend anyone with problematic skin conditions to seek professional advice from dermatologists and sort out what ingredient works best for your skin type to get the result you want.