Fall: the time for browning leaves, sweater weather… and a new skincare lineup! The changing of the seasons calls for a routine refresh to prep your skin for colder, drier weather. We're talking moisturizer, serums, and more that will whip your skin into tip top condition. Answer your skin's needs with our tips on product swap-ins, swap-outs, and additional care, and keep scrolling to learn more!
---
1. Change up your textures
Summer's usually all about lighter, more fresh textures, but fall is when your skin will benefit from more nourishing products. Think about changing up your cleanser, toner and moisturizer to fit the bill.
If you've been using a foam cleanser during the hotter months, switching it up for a gel or milk cleanser will prevent the skin from drying out. Foam cleansers encourage cell turnover and remove excess oil. While this is appropriate for the summertime, come fall you'll be wanting to maintain your skin's oil-water levels and restore any lost moisture.
Courtesy of Korean Skincare Brand - Sioris
We recommend the Sioris Cleanse Me Softly Milk Cleanser for its comforting milky texture. This cleanser incorporates a host of ingredients to nourish and replenish the skin, including Glycerin, Macadamia Seed Oil and Aloe Leaf Extract. It doesn't foam up, but rather emulsifies to break down any dirt, debris or light makeup. As a result, the skin is smooth and soft post-wash.
From a watery toner you can consider an essence toner; the more viscous counterpart typically contains supplementary ingredients in addition to your usual hydrating elements. It hydrates and tones the skin without stickiness or heaviness, ensuring your skin is prepared for the next steps of the routine.
Courtesy of Japanese Skincare Brand - Rohto Mentholatum
The Rohto Mentholatum - Hada Labo Gokujyun Hyaluronic Acid Lotion (Moist) has been a No.1 bestseller in Japan for the past 13 consecutive years and counting, and for very good reason. Formulated with 4 types of Hyaluronic Acid, this toner pulls water from the external environment and binds it to the skin's collagen, resulting in plump, bouncy skin. Think 8-cups-a-day hydration. It's also alcohol-, fragrance- and mineral oil-free so even the most sensitive of skins can enjoy this.
The same logic goes for moisturizers. You'll find that a thicker moisturizer during this time works better to hydrate and protect against the changing weather. It's important to preserve the skin barrier so that any layers of hydration applied aren't lost easily. Moreover, a strong skin barrier reduces the risk of irritation or inflammation.
Courtesy of Korean Makeup Brand - Etude House
People with combination or oily skin may stray away from heavier moisturizers in fear of overdoing the sebum levels. May we introduce a lightweight cream that still packs a punch: the Etude House Soon Jung Hydro Barrier Cream. The gel to water cream formula quenches the skin and absorbs so easily that skincare junkies of all skin types have raised it to holy grail status. Soothing Panthenol and Madecassoside provide relief from external aggressors, a plus when dealing with drier climates and a compromised skin barrier.
---
2. Layer up
And no, we're not just talking about jackets and sweaters. As the weather gets colder, more is more when it comes to skincare. Aside from relying on the core products of your routine to maintain a healthy, hydrated complexion, adding products and layers are key. This is the time, if you weren't doing so already, to incorporate essences, ampoules and serums into your routine for an additional boost.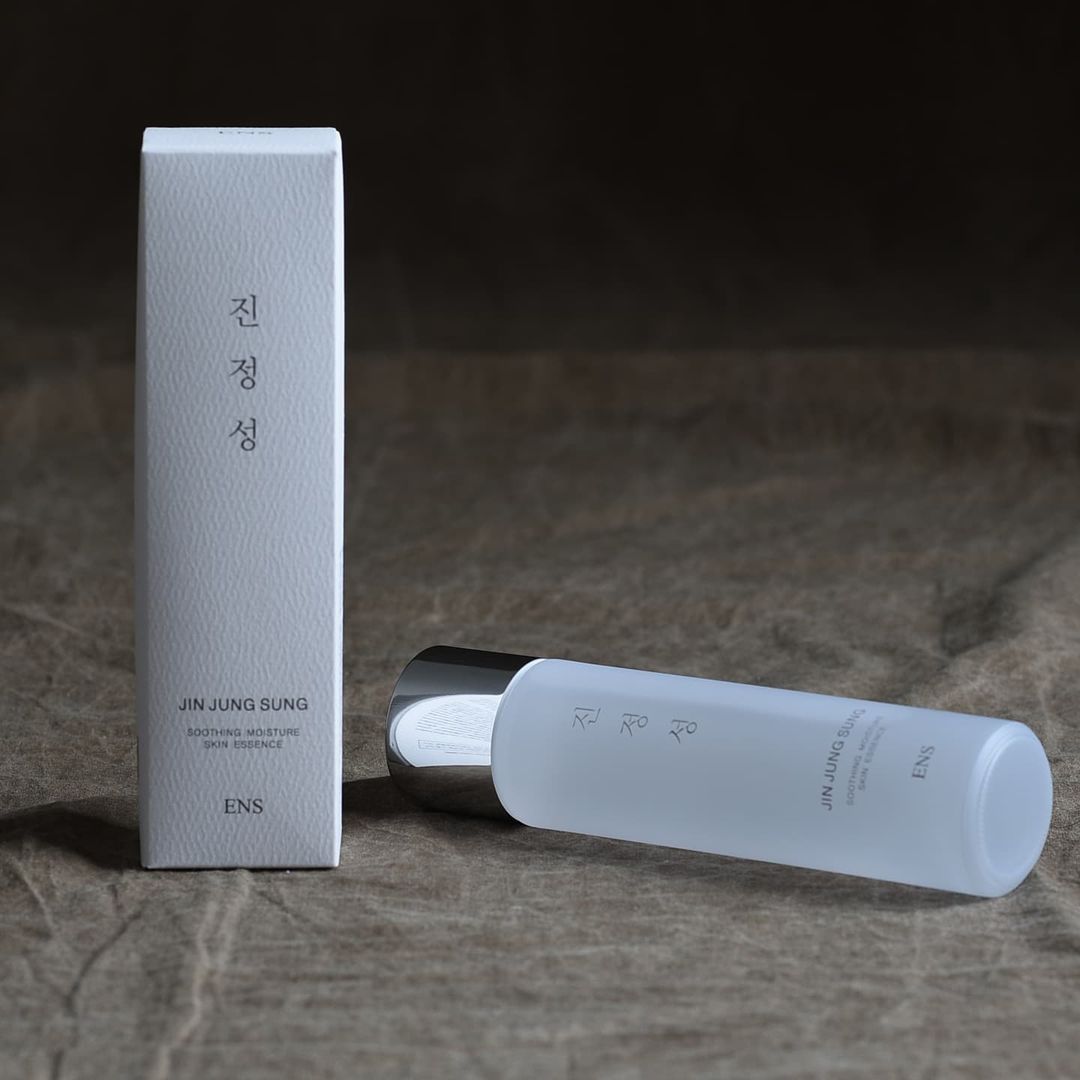 Courtesy of Korean Skincare Brand - JIN JUNG SUNG
The JIN JUNG SUNG Soothing Moisture Skin Essence is chock-full of skin goodies, such as Hyaluronic Acid, Peptides, Niacinamide, Glycerin and botanical extracts, just to name a few *catches breath*. This essence targets as many skin concerns as it includes ingredients, namely dryness, dullness and aging effects. Unlike traditional essences its formula is more viscous, but it sinks in quickly for a glowing, Jell-O skin effect. Consider this product to be one dew-ing the most.
Essence, Ampoule & Serum Recommendations
---
3. Gentle exfoliation
Though exfoliation may not seem like it should be a high priority in the fall, routinely performing this step will maintain your skin at its optimum condition. Whether you're opting for a physical or chemical exfoliator, exfoliated skin allows for products to properly absorb into the skin, allowing your skincare to do its job. Exfoliation once a week to every 2 weeks is ideal to regulate cell turnover and keep skin shining.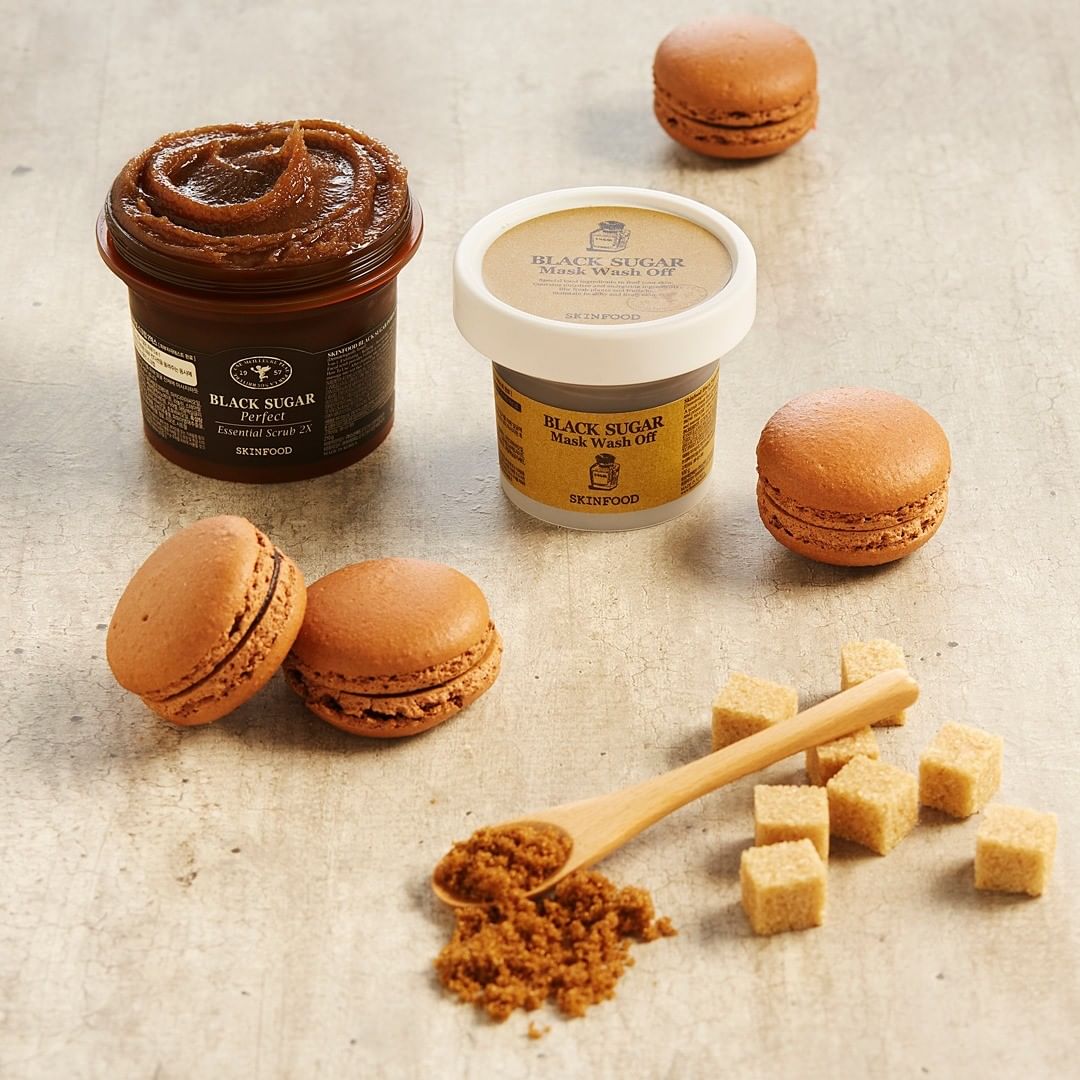 Courtesy of Korean Skincare Brand - SKINFOOD
Black sugar's not just a delicious addition to boba milk tea, but it also makes for a fantastic skin exfoliant. The SKINFOOD Black Sugar Mask Wash Off is a sweet treat for the skin that uses Brazilian black sugar granules to effectively exfoliate the skin, while Macadamia Seed Oil and Shea Butter restore nutrients and moisture. Clogged pores who? This scrub in particular pulls a double whammy: after exfoliation it can be left on the skin for 10-15 minutes as a moisturizing face mask, which is a major bonus in dry weather.
---
4. Sunscreen is still a must
Gone may be the blazing hot days, but not the need for sunsceen. After all, the sun doesn't completely disappear once the calendar deems it the season of fall. That being said, what worked for you during the summer might not be 100% effective in the face of cooler weather. Instead of mattifying formulations that cut shine, your skin might appreciate one that is more moisturizing.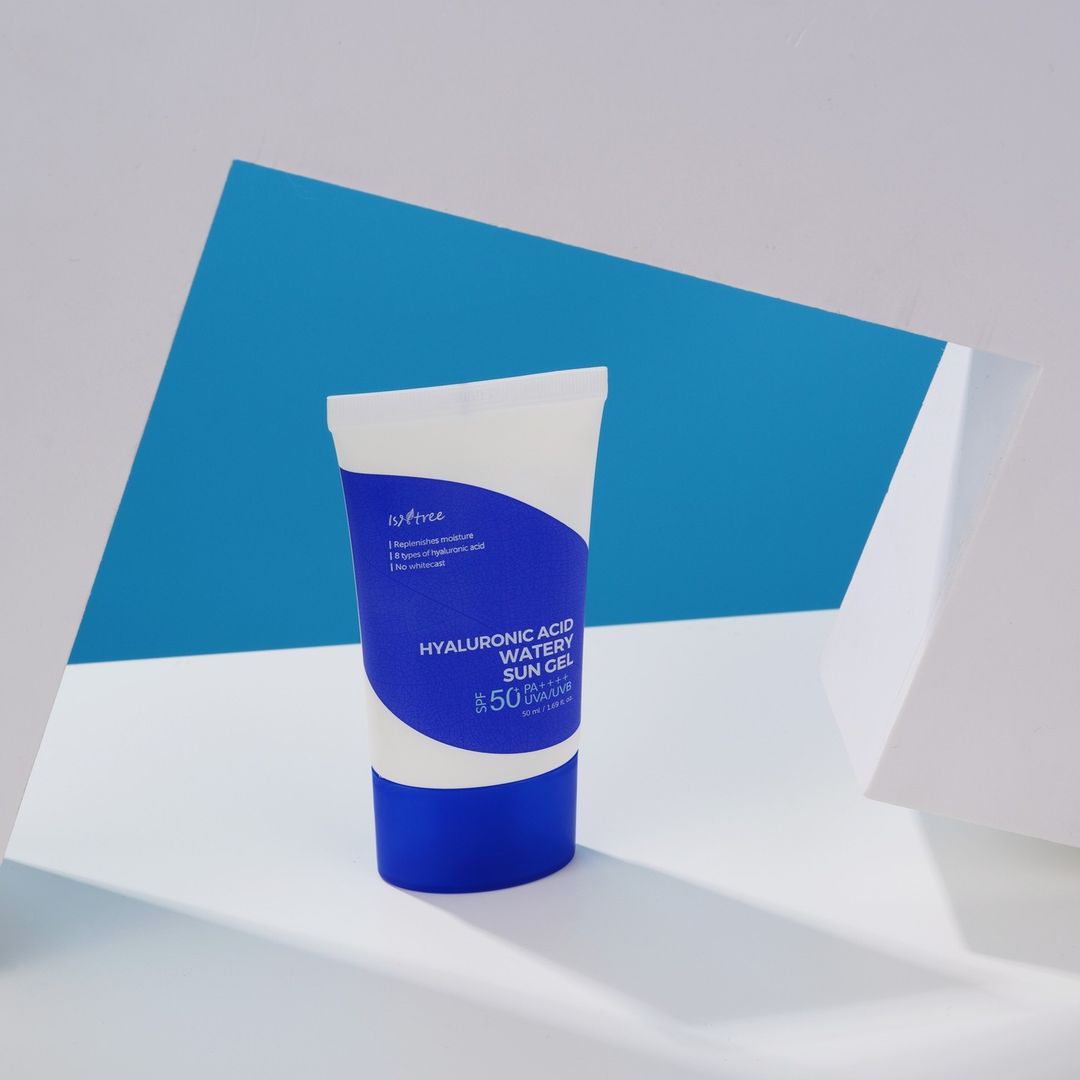 Courtesy of Korean Skincare Brand - Isntree
An SPF that is perfect for this time of year is the Isntree Hyaluronic Acid Watery Sun Gel SPF50+. Unless you've been living under a rock, you'll know that this sunscreen has amassed a cult following on Instagram, TikTok, and pretty much every other social media platform. What users (including yours truly!) enjoy so much about this particular SPF is its lightweight, white-cast free formula that also offers ample hydration, thanks to the 8 types of Hyaluronic Acid packed into all 50ml of product. If it wasn't impressive enough already, it also contains Ceramide, Centella Asiatica extract and Fig extract to soothe and further moisturize the skin.
---
5. Don't forget about body care
Your face is not the only skin you should be taking care of as we get into fall; your body deserves the same love and attention. The best way to do that is to incorporate a body moisturizer into your routine: you can apply this right out of the shower to trap existing moisture, as well as replenish any moisture loss and prevent dry skin.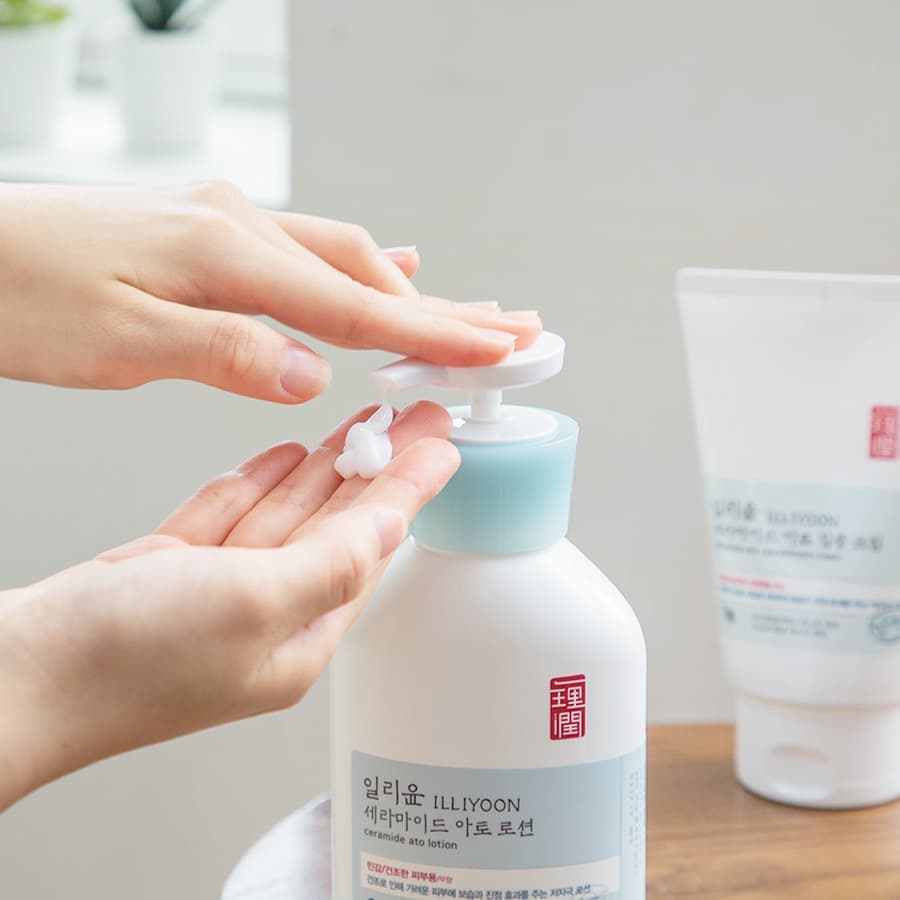 Courtesy of Korean Skincare Brand - ILLIYOON
Enter the ILLIYOON Ceramide Ato Lotion. This rich but never sticky moisturizer uses a patented Ceramide Skin Complex to fortify the skin barrier and hold the necessary moisture for your skin to stay soft and supple. It serves to soothe any itching aggravated bodies, and the formula is hypoallergenic and Dermatest certified, making it suitable for adults and babies alike. A gentle but efficacious body lotion, no wonder it's consistently 5-star rated.
Bonus tip: when cleansing the face or body, make sure to use lukewarm water. Icy water is less than ideal as the temperatures start to drop, but don't be too tempted to crank up the heat. Using hot water regularly on your skin, whether it's your face or body, will cause more moisture loss and drier skin.
---
With this guide in hand, you're ready to face the seasonal transition head-on! We can't wait to see you flaunt your glowing complexion this fall. Meet us on Instagram and Facebook to get more instant product updates and skincare tips!