Last time, we gave everyone a little sneak peek of our 2021 STYLEVANA Advent Calendar featuring some of the best nice-but-niche beauty treats to get you into the holiday spirit. This time we're finally giving you the FULL REVEAL in time for its official launch! From the best Korean skincare products to trending Korean makeup, take this as the perfect excuse to treat yourself or your loved ones to our very first exclusive Advent Calendar — the most luxurious holiday beauty collection packed with $400 worth of top-shelf favorites — and land yourself some real tried-and-tested MVPs!
---
STYLEVANA Exclusive
Advent Calendar 2021
Delightfully curated with STYLEVANA's bestselling skincare products and trending makeup products, this STYLEVANA Advent Calendar 2021 is the perfect holiday treasure trove that unites everything you need to spoil yourself (and perhaps your loved ones, too!). From cult-favorite skincare brands to cruelty-free options, this holiday Advent Calendar is the best way to help you discover a wealth of buzzy new launches and iconic classics, without having to invest a lot. If you're all for unwrapping a skincare or make-up surprise every day until Christmas, keep scrolling to see the rest of this holiday treat!
What you'll get:
Day 9: Sioris's Deep In A Barrier Cream (50ml) relieves and calms inflammation with green tea extract and centella asiatica extract while replenishes your skin overnight with organic citrus fruit water and tamanu oil for a youthful appearance.
Day 10: make p:rem's UV Defense Me. Calming Sun Cream (50ml) is a non-irritating, non-comedogenic physical sunscreen designed for easily irritated skin. Featuring a soothing combo of bamboo water + madecassoside, this 100% zinc-oxide (also, wow) sunscreen aces the skin-soothing department so you can protect your inflamed, sensitive skin on sunny days without worries.
Day 11: SKIN1004's Madagascar Centella Ampoule (100ml) packs a wonderful (and hefty) punch of Centella Asiatica extract — at a whopping 100% — from the untouched nature of Madagascar. This centella asiatica ampoule is designed for people with sensitive skin, skin with a weakened skin barrier or unbalanced water-oil ratio, and dehydrated skin. Its EWG green formula helps calm sensitive skin and repair skin barrier that is roughened by the external harmful environment.
Day 12: COSRX's Ultimate Nourishing Rice Overnight Spa Mask allows you to wake up with a renewed glow, thanks to the nourishing mix of 68% Rice Extract which helps provide intensive nourishment and deep miniaturization to make the skin clearer and softer.
Day 13: FRUDIA's My Orchard Hand Cream (30g) is a deliciously fruit-scented, high-nutrient hand cream powered by the brand's very own R Vita W™ technology to keep your hands pampered throughout the day.
Day 14: BEAUTY OF JOSEON's Ginseng Essence Water (150ml) is loaded with 80% Ginseng root water and a mighty ginseng complex to help prevent pigmentation and wrinkles caused by UV rays while boosting all-day hydration to further protect the skin from external stimuli.
Day 15: PETITFEE's Black Pearl & Gold Hydrogel Eye Patches (60pcs) are soaked in nutrient-rich essence containing black pearl and pure gold powder, betaine, rosewater and cypress water to help improve blood circulation and rejuvenate tired skin and dull undereye bags to reveal a brighter and healthier look.
Day 16: CLIO's Pro Eye Palette (Brown Choux) houses a combination of 10 matte and shimmery neutral shades that are perfect for doing both casual, everyday looks and bolder or smoky makeup. From a muted look to an amped-up smokey eye makeup, this foolproof eyeshadow palette helps you create a wide range of wearable eye looks this coming holiday season.
Day 17: CORINGCO's Peach Whipping Tone Up Cream (50ml) delivers a moisturizing, toned-up finish to brighten and even out your dull, uneven skin tone. This vitamin-rich moisturizer not only hydrates your skin but also revitalizes your skin's health to deliver a lit-from-within glow.
Day 18: Isntree's Green Tea Fresh Toner (200ml) features a blend skin-comforting ingredients, including 80% green tea extract from Jeju Island, hyaluronic acid + centella asiatica and other plant extracts, to soothe, control excess sebum and brighten your complexion.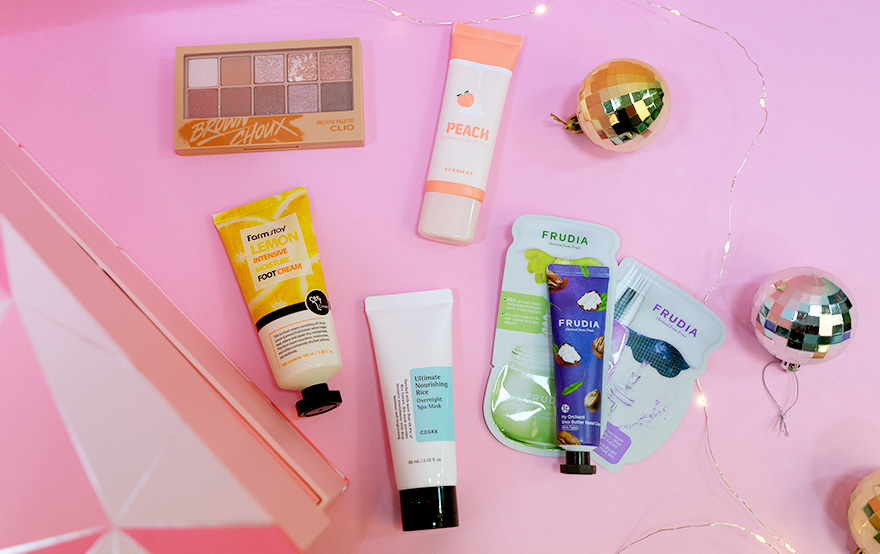 Day 19: iUNIK's Tea Tree Relief Serum (50ml) improves acne-prone skin and sensitive skin with a whopping 67% tea tree oil for the best skin-calming benefits and powerful relief.
Day 20: Farm Stay's Lemon Intensive Moisture Foot Cream helps soften the dry area of your foot and heel while delivering a refreshing citrus scent to lift your mood, thanks to the lemon extract.
Day 21: heimish's All Clean Balm (120ml) will evolve into an oil-like solution that melts into your pore to break down and emulsify your makeup and dirt, all thanks to the rich and nourishing formula featuring Shea Butter, Rose Extract, and Tea Tree Leaf Oil.
Day 22: 3CE's Velvet Lip Tint (Going Right) is a highly coveted lip tint with a sherbet-like texture that gently melts on the lips for a natural, smudge-proof tinge with a matte finish + excellent color playoff.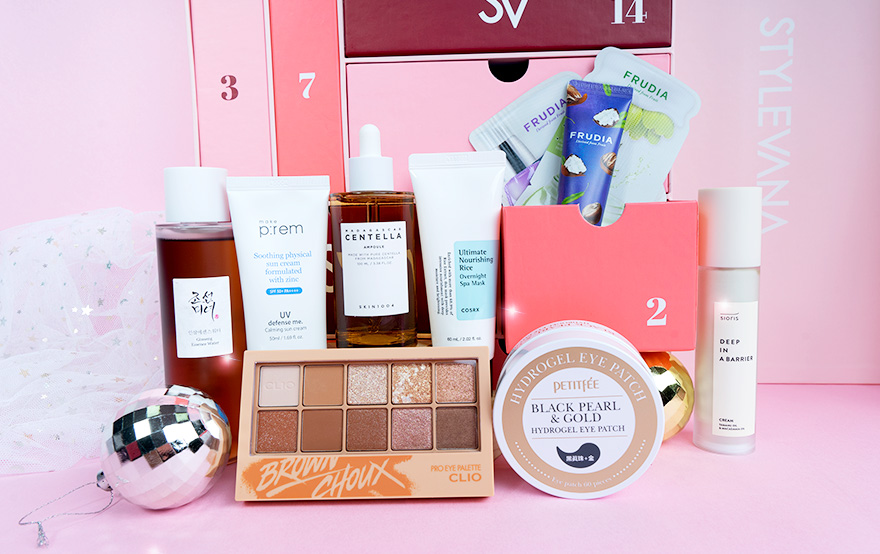 Day 23: beplain's Greenful pH-Balanced Cleansing Foam (Earth Day Limited Edition 80ml) is a gentle daily facial cleanser with 33% Mung bean extract that helps cleanse impurities while keeping the skin hydrated and comfortable.
Day 24: PURITO's Centella Green Level Eye Cream (30ml) combines 49% Centella Asiatica extract, Hyaluronic Acid + 4 types of peptides to take care of the delicate skin around eye areas. It helps refine the skin's texture and moisturizes and the skin while reducing the appearance of wrinkles and fine lines for a well-rested, youthful look.
---
Spot any of your favorite skincare products and trending makeup products? Check out the first part of the STYLEVANA Advent Calendar reveal HERE and join our Lucky Draw to earn a NEW ENTRY per PURCHASE for a chance to WIN this Advent Calendar! Don't miss out on our Instagram GIVEAWAY (check out this post for more details) and win yours before Oct 20! Follow us on Facebook to get more instant product updates and skincare tips!