Want to be an Ulzzang girl? This Korean makeup trend has been getting a lot of hype lately so if you want to be K-Beauty savvy like us, you might as well try the Ulzzang makeup yourself! But what is Ulzzang or the Ulzzang look to begin with? Ulzzang (pronounced as "uhl-jang") is a South Korean term meaning "best looking face," and getting the perfect Ulzzang look requires some simple makeup tricks. Here are some K-Beauty worthy tips and makeup products to help you get the perfect Korean Ulzzang look!
---
A glowy base makeup is what we're going for when it comes to the Korean Ulzzang look: the naturally dewy, luminous complexion that makes your skin look flawless. That's why a moisturizing foundation (a must-have for the dry season) + a concealer that fits your skin type is the perfect combo to create this look.
Courtesy of Stylevana Influencer kneewah from Youtube
Our team's current favorite Korean foundation is the moonshot Micro Settingfit Cushion EX SPF 50+, which is an upgrade from the previous Micro Settingfit Cushion edition in terms of long-wear power (48 hours), coverage, and sunscreen formula (SPF50+ PA++++). This moonshot cushion boasts a NEW feature which is the Aqua Fit formula, bringing a refreshing, cooling sensation to your face once you apply it to your face.
For concealers, make sure you're choosing the right texture and coverage for your skin type to achieve the seamless final touch for your base makeup. Read this Stylevana guide to learn HOW TO CHOOSE THE BEST CONCEALERS FOR EVERY SKIN TYPE.
Your Flawless Base Makeup Combo
---
Coral eyeshadow makeup is the best fit for fall season, and also the best shade to warm up your complexion. The Korean Ulzzang look is no exception. Add a wash of peachy shade on your eyelids to enliven your day makeup look with MEMEBOX's I'M MEME I'M Multi Cube Palette. This 4-in-1 eyeshadow palette features the perfect combination of autumnal hues to help you achieve the best Ulzzang makeup of the season. Use the same palette to add a flush to the apples of your cheeks!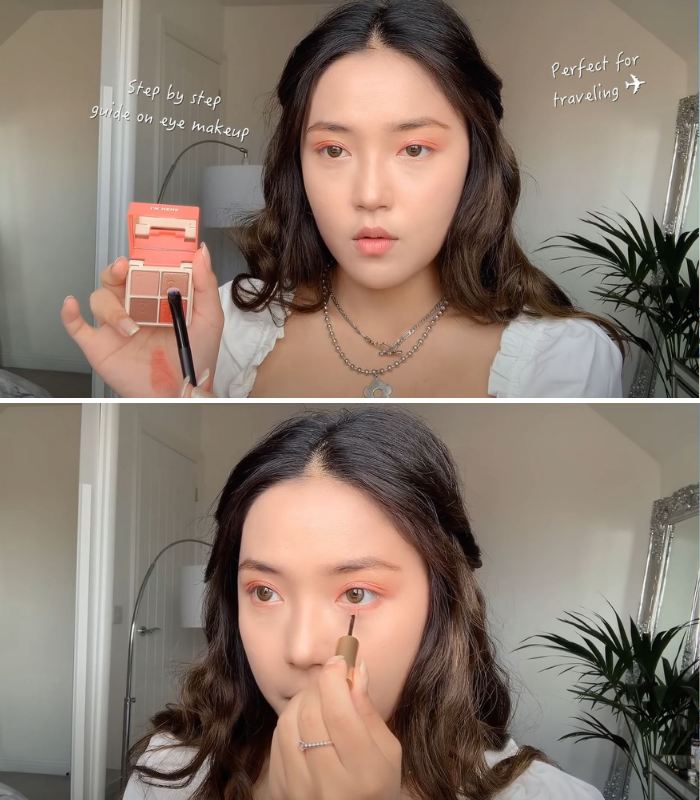 Courtesy of Stylevana Influencer kneewah from Youtube
Finish this coral eye makeup look with a mighty "Ulzzang" touch, aka the MACQUEEN's Jewel-Poten Eye Glitter to add extra sparkles wherever you go (like always). Think of eye glitter as the highlighter for your eyes, which will instantly bring definition to your eyes and brighten your whole Ulzzang look.
Faux eyelashes are also a must to give your Ulzzang eye makeup look a doll-eye allure. Our favorite MISSHA Secret Lash collection has different lengths and curls to add both volume and definition to make your eye makeup look.
Create Your Ulzzang Eye Makeup Look
---
One of the major makeup tricks we can spot from the Ulzzang makeup trend is the monochrome look that ties the eyeshadow, blush, and lipstick together. So for the Ulzzang lip makeup, we're going with Romand's Milk Tea Velvet Tint in shade Caramel Tea for a nice velvet finish. This fall lipstick shade is inspired by boba milk tea which brings a sweet, yummy uplift to your Ulzzang aesthetic.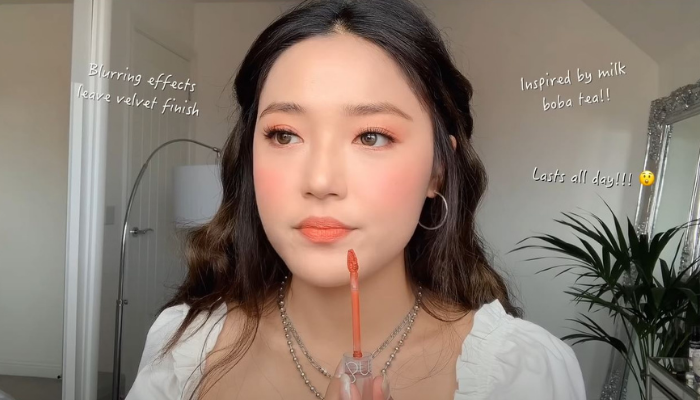 Courtesy of Stylevana Influencer kneewah from Youtube
Looking for a high-gloss lip look? Switch to Romand's Glasting Water Gloss in shade Sanho Crush for its lust-worthy shine. The subtle peach coral shade warms up your complexion with a kissable, glossy finish in just one swipe.
Best Ulzzang Lip Makeup Essentials
---
Ulzzang Meter: ✨✨✨✨✨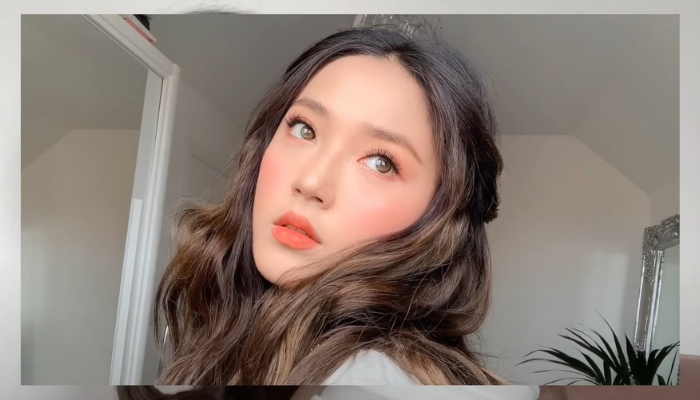 Courtesy of Stylevana Influencer kneewah from Youtube
Can't stop crushing over this Ulzzang look? Watch kneewah's FULL video on our Stylevana Youtube Channel to learn this Jisoo inspired Ulzzang makeup step by step! Did we mention you can now enjoy 10% OFF everything from Romand and moonshot? Splurge on your new beauty crushes now, your Ulzzang glow-up is waiting!