Halloween is slowly creeping up on us. Parties? Costumes? Spooky cocktails? Yes, bring us another round, please! While October is full of excitement, there are also tremendous pressure we feel to come up with the perfect Halloween costume and makeup and, of course, capture that enticing Instagram moment.
When we talk about the Halloween spirit in the K-pop world, we simply can't miss SM Entertainment's annual Halloween party — an incredible night of thrilling, impressive costumes. Let's relive the fun moments of how SM idols dressing up for the SMTOWN Wonderland party last year, and we've rounded up some of the tips and tricks to make your life a little easier come this year's Halloween night.
---
Halloween night calls for an impenetrable base to outsmart most of the ghostly characters — a much paler complexion than flesh and blood. When talking about lifeless makeup look, you may probably recall Red Velvet's Wendy and Seulgi dressing up as Toshio Saeki from the Grudge and an undying Gothic vampire last year.
Instead of applying the harsh-to-skin, hard-to-remove face paint on your skin, we suggest using a very fair foundation to achieve the same dreary look but without the frustrating aftermath. Believe us, clogging pores and allergic reactions will be far from fun to wake up to aside your candy stash on November 1st.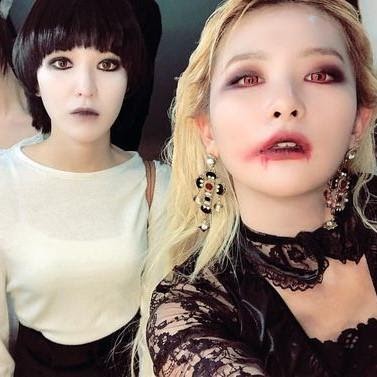 If you are looking for a paperwhite complexion, you may also try OUT RUN - Extreme Sun Stick in White — a much more skin-friendly alternative to the white face paint.
Once the base is done, set it with a translucent powder:
The Face Shop - Oil Clear Blotting Powder
innisfree - No Sebum Mineral Powder
Etude House - Zero Sebum Drying Powder
---
Eye makeups are the magical tools that let you explore your shadow side. Whether you're going as a haunting vampire, witch, ghoul, or zombie, Halloween allows you to play with eye makeup looks that are outside of your everyday realm. When it comes to eye makeup look for the Halloween night, we suggest warm-toned eyeshadow palettes that will complement your costume and prove useful for months or even years to come.
To achieve Super Junior Yesung's undead look, the key is to emphasize the sunken-in definition by swatching your eyelids with a red, pink, or purple-gradating brown eyeshadow.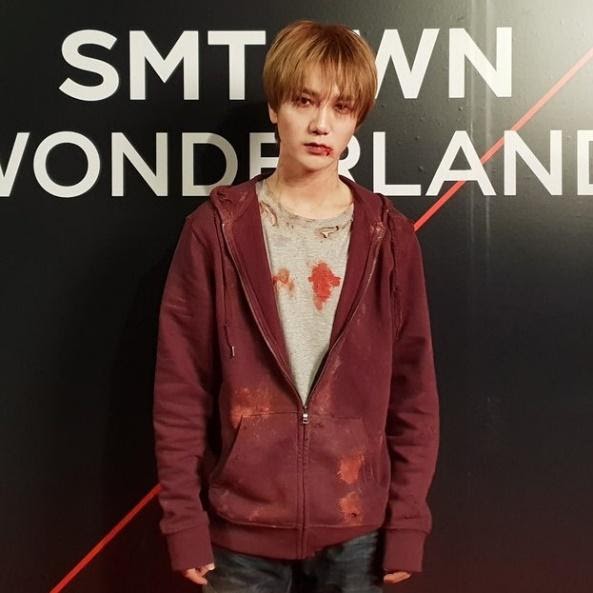 ---
Some of the best Halloween makeup looks have to do with the eyes, and the eyes alone; just like what Girls' Generation's Hyoyeon did last year. She had her eyes exaggerated with sharp black eyeliner, dripping with jet black tears, while keeping the rest of her face untouched. The eyeliner perfectly echoes Hyoyeon's all-black costumes and her gauzy veil for a cool, gloomy look. Don't limit yourself there. An eyeliner can also double as a face paint to draw on cat whiskers, zombie skin, or a soul-stirring grin to pull off plenty of shadowy looks.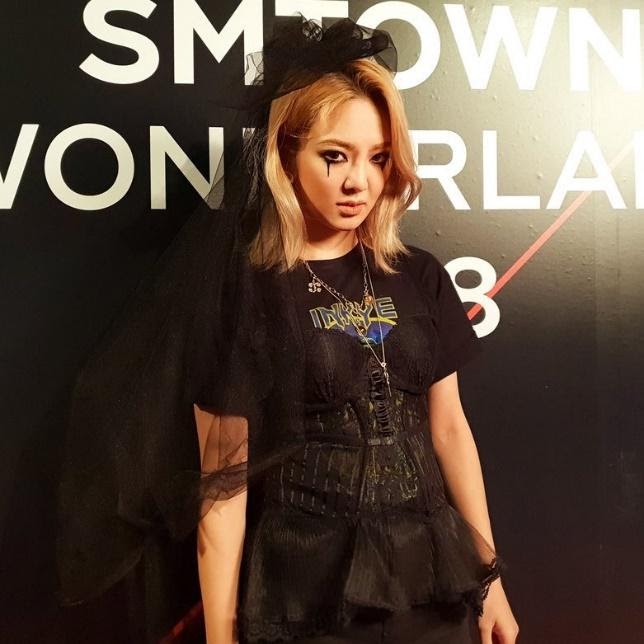 Should a hint of drama desired, dust some glitter across your eyelids, lips, and hairlines to lit up your look.
Holika Holika - Eye Metal Glitter
MISSHA - Modern Shadow (Glitter)
---
If you're the type of undeads who prefer their contour, look no further. Talking about contouring and shading, we have to say we're thrilled beyond words by Taeyeon's Annabelle makeup look last year. What makes Taeyeon's look so stunning is her effort on replicating the texture of the evil doll. To re-create the haunted doll's shaggy cheekbones and chiseled cheeks, you'll definitely need some contouring to achieve those deep-set creases. Simply blend the contour and highlighter to shape your face to your heart's desire.
---
The haunting Halloween spirit — be it vampires or zombies — may feel a little bit incomplete without some fake blood; simply follow how EXO's Suho did last year to create the creepy joker smile. (The Joker look will definitely be a hit again this Halloween with the recent remake, starring Joaquin Phoenix. So, don't miss out!)
Apply the vampy red lip tint as you normally would on your lips. Then, extend the smile by drawing from the corner of your lips upwards to your cheeks, slightly smudged to create a 'life-like' cut. What makes Korean lip tints a better alternative to other fake blood products on the market? It offers the perfect consistency but without the harmful-to-skin ingredients of store-bought fake blood.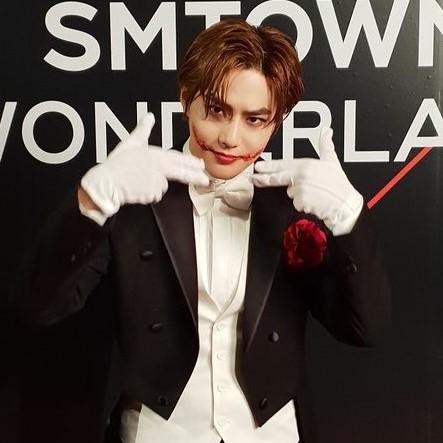 ---
Thanks to a wide variety of Japanese and Korean makeup products on the market, creating a flawless Halloween look is not as scary, difficult as in the old days. There is only one spooky aftermath left to be taken care of: the caking of heavy makeup after a long night of party, which can possibly clog pores and cause breakouts. Here Korean double cleansing come to save the day. The first step helps remove oil-based impurities such as makeup and product build-up while the second step cleanses water-soluble debris such as dirt and sweat for a refreshed, clear result.
Step 1:
BANILA CO - Clean It Zero Cleansing Balm
HolikaHolika - Seed Blossom Cleansing Oil
Step 2:
SENKA - Perfect Whip Cleansing Foam
NATUREREPUBLIC - Snail Solution Foam Cleanser
LANEIGE - Fresh Calming PH Balancing Cleanser
If your Halloween costume is calling for a more formidable vibe this year, you should definitely consider Maleficent. And for those who don't know, Maleficent: Mistress of Evil releases on October 18. Use the products suggested above to help you channel the power and grace of the all-time villain this Halloween.