Leave a little sparkle wherever you go, honey! Summer is the perfect time to breathe new life into your makeup routine, and for 2022, we live by this one simple rule: a little glitter goes a long way. If you're down to experiment with different ulzzang makeup looks just like us, get ready to kick the glitter mode into high gear this season and rock some selfie-worthy summer makeup looks with all kinds of shimmer and vibrant hues. Whether it's a cut crease look with ultra-shine glitter or a fresh take on the winged eyeliner look, we're all about making statements left and right in the summer season with the best glitter makeup trends! So keep scrolling to see the 5 must-know makeup tips that'll instantly elevate your glitter game and SHINE ON!
---
Cut Crease Glitter
Courtesy of Makeup Artist @nikki_makeup
Excuse us while we pick our jaws up off the floor, this "disco diva" glitter eyeshadow look is everything we need and more to get inspired for a sparkly look! If you haven't already hopped onto the cut crease eyeshadow trend, it's not too late! Take this as a sign to finally learn how to make your eyes pop by smearing glitter eyeshadow across your eyelids and, viola, there's your high-fashion moment! Re-create this glittering masterpiece with the 3CE Mini Multi Eye Colour Palette in Glitter Bomb as the eyeshadow base for some highly-pigmented colors, followed with a few dabs of the Holika Holika Eye Metal Glitter in shade #08 Honey Sparkling to add some extra "oomph" to this ulzzang makeup look!
---
High-Shine Cheeks on Fleek
Courtesy of Korean Makeup Brand - Unleashia
Summer 2022 is all about making a statement so how about holding your cheeks high (on shine) with a little glitter-highlighter magic? We're ringing in the Unleashia Glitterpedia Eye Palette in No3 All of Coral Pink to take our daytime makeup look to the next level. Apart from using it as your eyeshadow palette, you can use it as your glitter-highlighter compact to bring your cheeks to life. Pro tip: add a dash of coral from the gorgeous 9-pan palette on the cheeks to pass for blush and pile on with some champagne sparkles to tie the whole look together! We promise it looks even flashier in glitter formulations!
---
Winged Shimmer Eyeliner
Courtesy of Makeup Artist @amlmakeup
We love a winged-eyeliner look with a twist! Add a holographic feel to it by using a colored-eyeliner to draw a cut crease shape in the lid's crease, and top it off by pressing a glitter pigment on top, Your glitter can be whatever you like—whether it's fine particles, chunkier shimmering pieces, or a lightly infused gel that sparkles and shines. This summer we like to channel our inner celestial goddess with the help of the Unleashia Pretty Easy Glitter Stick in shade N6 Wee Hours and a coat of the Black Rouge Pearlvely I Glitter in shade G04 Starry Galaxy to make our eyes pop!
---
Brows on Glitz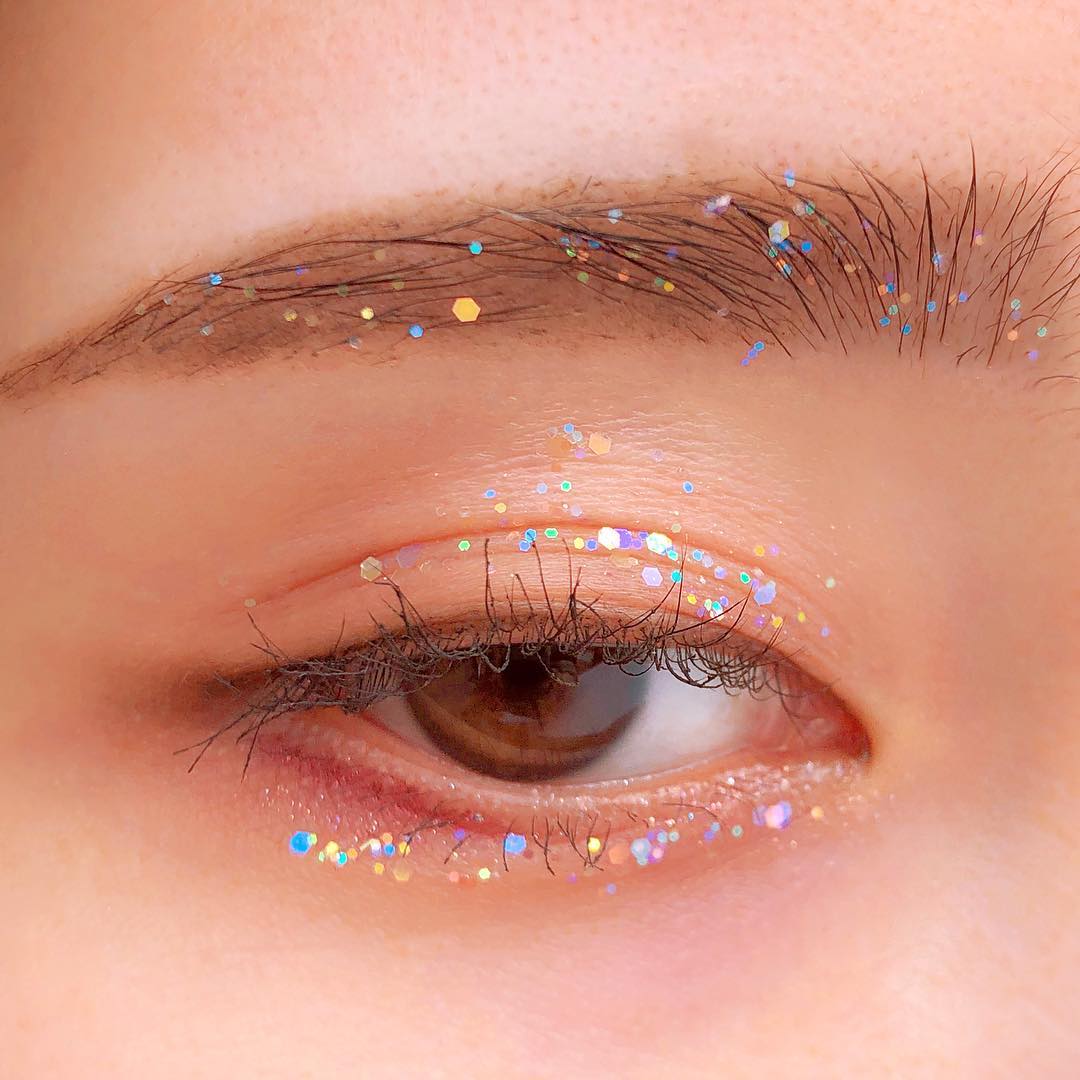 Courtesy of Korean Makeup Brand - Unleashia
For days when you still want to stay chic with glitter but keep the pigments down, you can try to cover your brows with confetti-like glitter gel as the finishing touch. Our go-to for this glorious makeup look is the Unleashia Get Loose Glitter Gel Mini Trio that will make your brows glisten and gleam in all the right ways. If you're going for some added dramas and details, just dab the glittery gels anywhere you like to customize your own festive look!
---
Lower-Lash Drama
Courtesy of Korean Makeup Brand - Twinkle Pop
Beautiful golden shimmery under-eye shadow adds a playful dimension to your glittery shadow look, and it also helps make your eyes look bigger and brighter. Achieve this effortless makeup look by simple using the Twinkle Pop Glittering Eye Stick in your under-eyes which allows the warm, uplifting glow to make your eyes pop. Its collection of pearlescent, champagne colored eye sticks offers a wide range of tones, all of which will naturally light up your eyes where the sun would hit. Wearing a soft blush and lip color can balance the look without taking any attention off the eyes.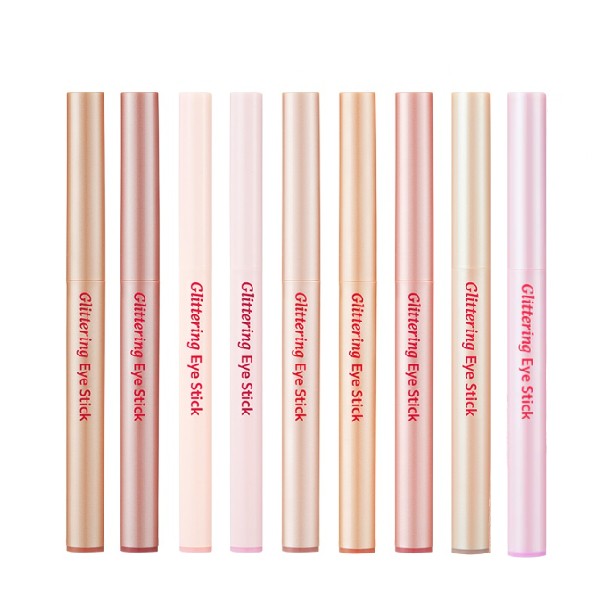 ---
Which glitter makeup look speaks to your vibe? Explore more Korean makeup brands and get your glitter eye makeup looks ready for all your fabulous days to come! Follow us on Instagram and Facebook to get more instant product updates and skincare tips!