Rosacea is one of the biggest sensitive skin struggles, and we've been receiving a lot of DMs and inquiries asking us about the best rosacea treatment and how to reduce the mind-boggling redness. So this time we thought we'd do a deep dive into one of the most talked about skin conditions - rosacea - in full measure. From the types of rosacea to the best rosacea treatment and skincare products, here's everything you need to know about this selfie-unfriendly skin condition so you can get it out of the way of your luminous glow.
---
What is rosacea?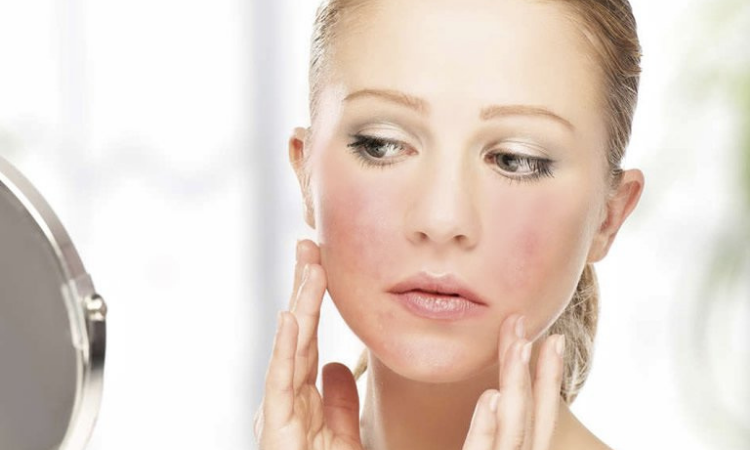 Rosacea is a common skin condition that affects targeted areas on the face involving nose, cheeks, forehead and chin. In most cases, rosacea or rosacea flare-up typically appears in the form of redness, pimples, and swelling as small, superficial blood vessels are dilated. There are several types of rosacea: ocular rosacea, inflammatory rosacea, and vascular rosacea. What causes rosacea or rosacea flare-up is a combination of genetic and environmental factors. Alcohol and sun exposure are also two of the most common rosacea triggers.
---
How to treat rosacea?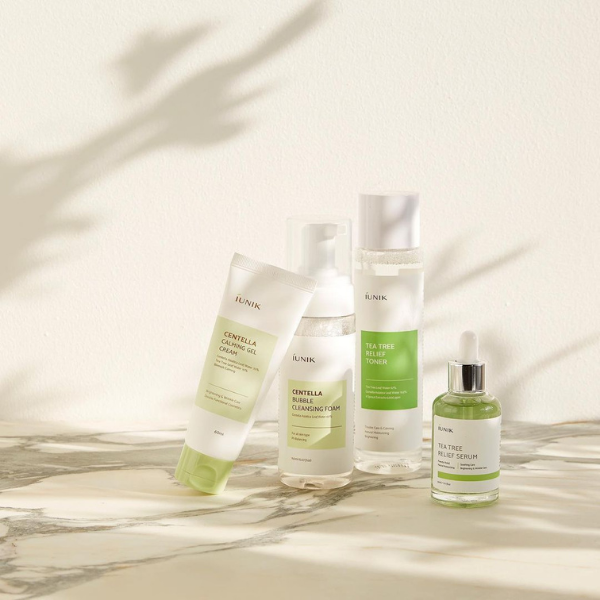 Courtesy of Korean Brand - iUNIK
Dealing with rosacea requires much more effort and research than dealing with any other types of skin conditions. But the main takeaway to getting the best rosacea treatment is finding a mild, soothing, and skin-softening formula in your topical skincare products that are free from irritants and alcohol. And the first No.? Identifying what ingredients work for your sensitive skin and what ingredients to avoid.
Ingredients to try: centella asiatica, green tea, snail mucin, aloe, honey/royal jelly/propolis and bamboo
Ingredients to avoid: alcohol, fragrance, menthol, peppermint, and eucalyptus oil
---
Best Rosacea Treatment with Korean Skincare
It's one thing to spend a fortune on medications to treat rosacea. But it's another to invest in the rosacea treatment when it comes to finding the right skincare products with the right ingredients to treat your rosacea skin AND keep the redness under control. From cleanser, toner, to sheet mask, here are the best products for rosacea you can use in your everyday skincare routine without worries.
No. 1
iUNIK - Centella Bubble Cleansing Foam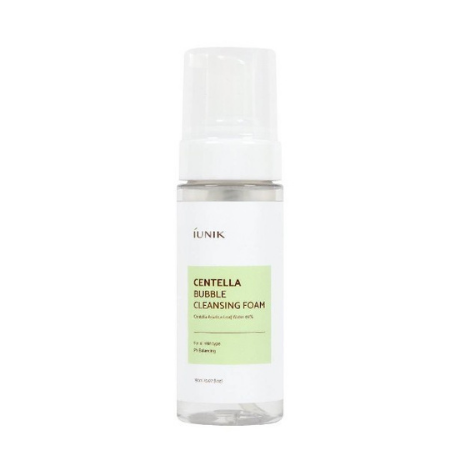 Courtesy of Korean Brand - iUNIK
iUNIK's Centella Bubble Cleansing Foam has a super gentle yet highly moisturizing formula that works best for hyper-reactive skin, especially those with rosacea symptoms. It is a multifunctioning cleansing foam formulated with 69% cica extract - one of the best calming ingredients for rosacea skin - that will keep your skin hydrated long after the cleansing step. If you're afraid the Korean double-cleansing step will be too stripping for rosacea skin, this iUNIK cleansing foam will definitely change your mind.
---
No. 2
PURITO - Centella Unscented Toner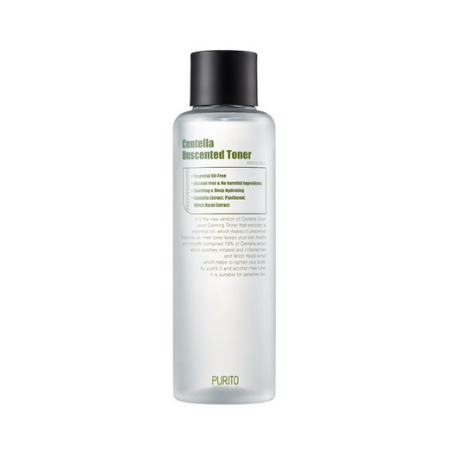 Courtesy of Korean Brand - PURITO
Some may say it's harder to find an alcohol-free, non-irritating toner than anything in the world, until they meet PURITO's Centella Unscented Toner that checks all the boxes. This PURITO toner is such a rarefind for obvious reasons: 1) it's packed with 10% centella asiatica, and 2) it's free from alcohol, essential oils, perservatives and all the other harsh chemicals that could potentially be your rosacea triggers. Not to mention the soothing and calming qualities that deliver a much-needed relief and comfort for your rosacea skin.
---
No. 3
Dr.Ceuracle - Tea Tree Purifine 95 Essence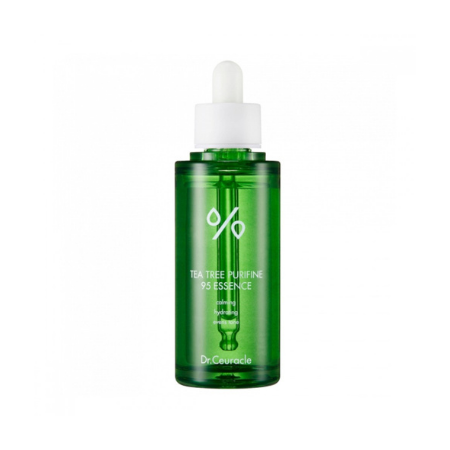 Courtesy of Korean Brand - Dr.Ceuracle
Yes, before you ask, Dr.Ceuracle's Tea Tree Purifine 95 Essence is as "pure" and "fine" as its name suggests - no question. Perfect for those who deal with highly reactive rosacea symptoms like redness and rash, thisDr.Ceuracle Tea Tree Essence features a whopping 95% tea tree extract to calm and soothe blemish-prone skin and also sensitive skin. The anti-inflammatory quality of this tea tree-packed Korean essence makes it a fan-favorite skin treatment for inflammatory rosacea.
---
No. 4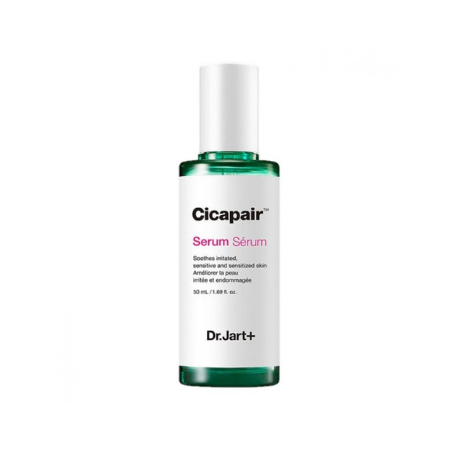 Courtesy of Korean Brand - Dr. Jart+
One of the biggest insecurities that come along with having rosacea skin is the redness. The culprit could be the amount of concealers or color-correcting products that we try to disguise the redness with but ironically make it even worse. But no worries, Dr. Jart+'s Cicapair Serum is a mighty serum that *actually* gets the job done for you, thanks to Dr. Jart+'s advanced technology as well as the centella asiatica complex + herbs complex. You can feel the water-spreading texture softly wrap your skin to help visibly reduce redness and promote a healthier complexion.
---
No. 5
Dear, Klairs - Midnight Blue Calming Cream
Courtesy of Korean Brand - Dear, Klairs
Many fellow rosacea-sufferers claim that Dear, Klairs's Midnight Blue Calming Cream has restored their trust in trying medication-free moisturizers because of its skin-soothing quality, and we now know why. Apart from the superhero ingredient centella asiatica, this rosacea-friendly moisturizer also features guaiazulene which is a powerful agent extracted from chamomile oil that works to help your irritated skin sleep better at night.
---
No. 6
Benton - Aloe Soothing Mask Pack
Courtesy of Korean Brand - Benton
For the days your rosacea flare-ups start to act up, Benton's Aloe Soothing Mask Pack is something your irritated skin will appreciate. This aloe vera face mask also features a lightweight, tencel fiber sheet that hugs your skin perfectly. Free from irritating skin care ingredients like fragrance, alcohol and PEG, this Benton face mask sheet is jam packed with more than 48% aloe vera and green tea to soothe, repair and revitalize your skin condition to achieve glowing skin.
---
Rosacea might seem like one heck of a problematic situation that sees no ends, but with the right rosacea treatments and skincare products you'll learn that it's worth the effort. The good news is you can now get the perfect skincare products at wallet-saving price at Stylevana! Visit our last #AskVana guide to learn how to treat hyperpigmentation based on your skin type.
Disclaimer: We strongly recommend anyone with rosacea skin conditions to seek professional advice from dermatologists and sort out which type of rosacea you're currently faced with so you can get the best targeted skin care products for the result you want.