Skin care may not be a subject taught in school (unfortunately), but there are ways you can still learn from it and even 'Ace' it, for example, start by asking skincare questions that concern your skin type and skin problems. We've collected some of the most commonly asked skincare questions from you over the last month, and we thought it would be useful to answer them all in one place. From acne treatment to anti-aging skincare products, consider this #AskVana series your ultimate cheatsheet to take your skincare game further!
---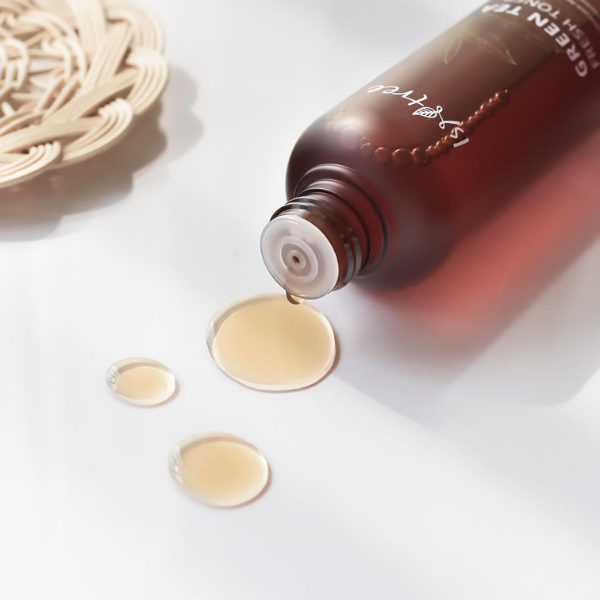 Courtesy of Korean Brand - Isntree
For a K-Beauty beginner, you need to first learn about these 3 basic skincare steps: cleanse, tone, and moisturize. Once you've got these 3 basic face care steps down, you can then slowly build your way up to more skincare steps - one skincare product at a time: spot treatment, sunscreen, exfoliator, serum, sheet mask, and more, depending on your skin conditions and skin concerns.
Basic Skincare Routine (Morning): Cleanser, toner, spot treatment (for blemished, acne-prone skin ), moisturizer, SPF sunscreen. Keep in mind: always wear sunscreen even when you're staying indoors or it's cloudy outside. Sun protection is an everyday task.
Basic Skincare Routine (Night): Double cleansing (oil cleanser + foam cleanser), toner, serum/ampoule/essence, spot treatment (for blemished, acne-prone skin ), eye cream , moisturizer.
Your K-Beauty Skincare Starter Pack
---
Treating acne and breakouts goes far beyond having a healthy diet and 8 hours of sleep - it's about picking the right skincare products for your everyday skincare routine. While there's no one-and-done solution to completely avoid acne and breakouts, here are some skincare tips that will help you slowly break the bad-skin cycle.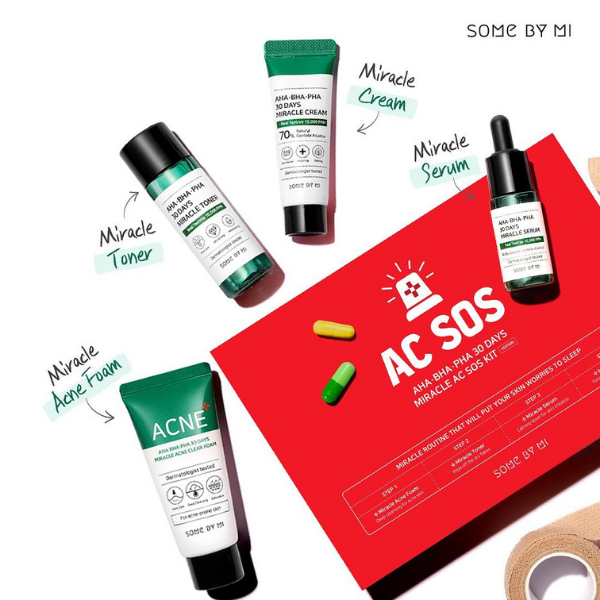 Courtesy of Korean Brand - SOME BY MI
First, you should look for acne-fighting ingredients when you shop for skincare products. AHA, BHA, PHA, and tea tree extract are some of the famous acne-fighting ingredients you'll find in most acne treatment skincare products: take it from SOME BY MI's AHA BHA PHA 30 Days Miracle series. This K-Beauty skincare lineup is known for helping control sebum production, smoothing skin texture and cleansing congested pores from deep within. Try the Korean brand's best selling AHA BHA PHA 30 Days Miracle Acne SOS Kit to get you started.
Chemical Exfoliation
You should also exfoliate on a regular basis— ideally 2 or 3 times a week for sensitive, acne-prone skin , and 1 or 2 times a week for normal skin type. It helps unclog your pores, remove dead skin cells, and achieve a deeper cleanse than your normal cleansing step. Adding a gentle chemical exfoliator like a peeling pad and peeling gel formulated with AHA BHA PHA to your skincare routine goes a long way in improving your acne skin conditions.
Physcial Exfoliation
Prefer physical exfoliation? Stay away from products that feature abrasive ingredients (e.g. walnut shells) in the face scrub formula as they might cause micro-tear and further irritate your skin. Instead, opt for gentle, water-soluble ingredients like Black Sugar for a more mild exfoliation. See our FULL review on SKINFOOD's Black Sugar cleansing line to pick your favorites exfoliators and face scrubs!
---
Before you try any at-home treatment or new skincare products on your acne scars , you should consult a dermatologist or aesthetician to determine the best skin treatment for your skin types and skin conditions.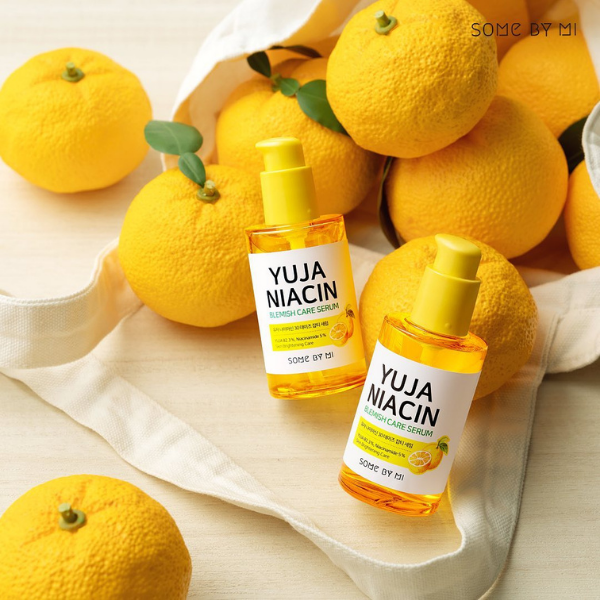 Courtesy of Korean Brand - SOME BY MI
Here is a list of skincare ingredients that are effective in reducing the appearance of acne scars and dark spots : AHA, Retinol, Salicylic Acid (BHA), and Vitamin C. Give Rohto Mentholatum's Rohto Melano CC Concentration Measures Essence a try if you're looking for a high-impact, effective solution to fade your acne-causing pigmentation including acne scars and dark spots. We also recommend using COSRX's Acne Pimple Master Patch to cover your blemished areas and acne scars when you're looking for a quick touch-up to perfectly hide your spots.
Best Skincare Products to Fade Acne Scars
---
A toner is considered the last cleansing step AND the first hydrating step that can prep the skin for the rest of your skincare routine . A well-formulated face toner should be gentle, non-irritating, and will effectively remove residue impurities while replenishing the skin with hydration and restoring the optimum pH level of your skin. Therefore, a good face toner should be alcohol-free, fragrance-free, and packed with hydrating ingredients like glycerin + hyaluronic acid, as well as soothing ingredients like centella asiatica in general. Check out our complete guide on how to add centella asiatica to your skincare routine here.
Best Toner For Your Skin Type
The efficacy of a face toner depends on its active ingredients, so understanding your skin type, and what your skin lacks and needs is the first step to picking the right toner that will deliver the results you want. Here are the ingredients to look for when choosing the best toner for your skin type—along with our top recommendations.
---
It's never too early to start your anti-aging regimen . Surely, you don't need to have an elaborate, hard-hitting skincare routine if you're ONLY in your 20s, which is why the best anti-aging skincare product to start with can be as simple as your daily sunscreen. Protecting your skin from sun damage at an early age will save you from doing all the damage control when you hit 30 and beyond. Our current favorite sunscreen (and also one of the best sellers) is Dear, Klairs' Soft Airy UV Essence (SPF50+ PA++++).
Ingredient wise, you can start considering adding ingredients like retinol, vitamin C, and AHA. But for more mature skin that could really use some reverse-aging tricks, your perfect skincare regimen should be lined up with ginseng, snail mucin, collagen, ceramide, niacinamide, and peptides. These ingredients are best for their protective properties which helps prevent moisture loss, promote skin cell growth, and smooth out fine lines and wrinkles to restore your youthful complexion.
We highly recommend Sulwhasoo's Timetreasure Invigorating Eye Cream as your go-to night-time essential to address aging concerns around your delicate eye area. It contains red ginseng and white ginseng saponins to invigorate the undereye area and reduce fine lines. See the full Sulwahsoo Timetreasure collection for more anti-aging treatment.
Best Anti-Aging Skincare Products
---
Got other burning skincare questions on your mind? Keep them coming – our DMs are always open. Let us know your skincare questions or personal recommendations via our inbox on Stylevana Instagram and Facebook page ! Good news is, all spot treatment products are now UP TO 30% OFF, as well as BRANDWIDE 10% OFF on top Korean brands like Pyunkang Yul , SOME BY MI, SCINIE, and MORE!