Beauty trends come and go, but some iconic makeup looks just stay with us forever. If you've been keeping up with us for the last year, we've dished on some of the hottest, most trend-setting makeup looks and styles inspired by Kpop girl groups, including BLACKPINK, Red Velvet, and TWICE. And whatever makeup look it may be, these Kpop girls are always impressing us with colorful dye jobs and glitzy makeup style that will make you want to steal their makeup kit and try it yourself. Now it's about time we celebrate and highlight these iconic and easy makeup looks ourselves and see what K Beauty makeup must-haves to look for!
---
BLACKPINK
"How You Like That": Gothic Princess Makeup Look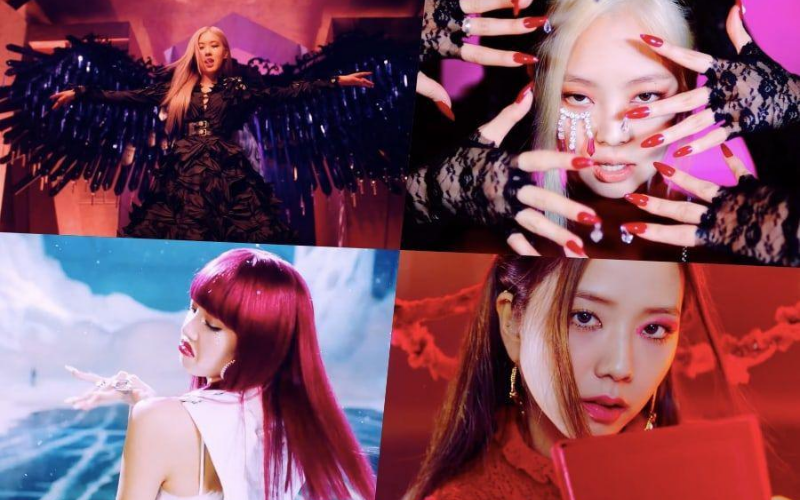 Kpop Girl Group BLACKPINK "How You Like That" MV by YG Entertainment 2020
With a record-high of 300 million views on YouTube, BLACKPINK's latest "How You Like That" MV is by far the most dramatic and luxed-up creation we've seen from the famous Kpop girl group. In the MV, BLACKPINK Jennie is spotted with a dazzling hair-dye transformation (which has now become the hottest hair trend in the world), pulling off a bleached-blonde-mix-black hairstyle. So if you're looking to cop this iconic look from Jennie, make sure you do a lot of hair-care treatment before and after the hair-dye job.
Apart from the hairstyle, each BLACKPINK member has her own buzzworthy makeup look all done with a Gothic twist—colored eyeliner. Their individual cinematic charm doesn't go unnoticed because of the color-rich, dramatic visual, thanks to the Gothic-inspired eye makeup look that volumizes with mascara and bold rouge hues like red and orange eyeshadow.
What You Need For BLACKPINK's "How You Like That" Makeup Look
---
Red Velvet
"Psycho": Sultry-Chic Makeup Look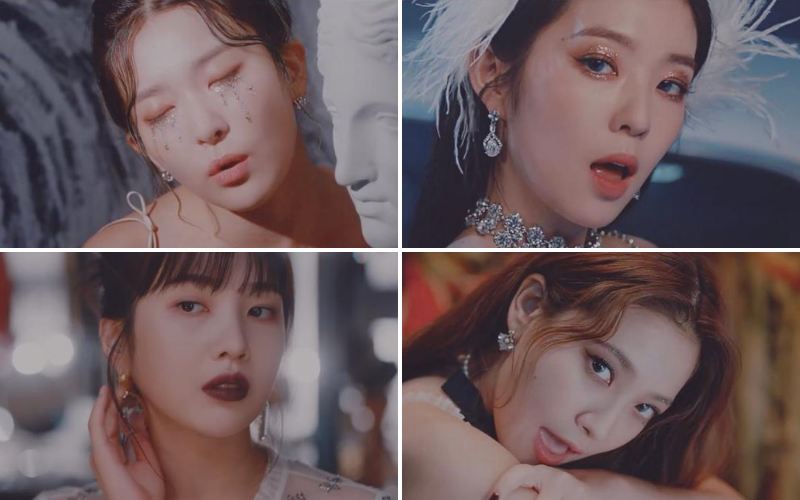 Kpop Girl Group Red Velvet "Psycho" MV by SMTown 2019
People are crowning Red Velvet as the Kpop Beauty Icon for their mesmerizing, sultry makeup looks in the "Psycho" MV, and we're not surprised. From dramatic eye makeup look. TWICE Nayeon and Tzuyu are the perfect example of how you should experiment with a monochrome makeup look gilded with glitter tears to the iconic feathery hairstyle.
Red Velvet's makeup looks throughout the "Psycho" MV show the perfect mix between natural makeup and dramatic one. Irene's full-on shimmer eye makeup look, for one, was a powerful play to show off the Kpop girl's sultry yet mystical side, while paired with rosy blush and lipstick. Another iconic makeup look from the "Psycho" MV is Joy's dramatic, dark lips that match harmoniously with her signature light-but-smokey eye makeup look.
What You Need For Red Velvet's "Psycho" Makeup Look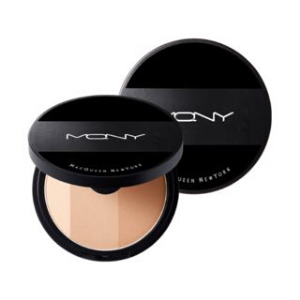 ---
GFriend
"Apple": Old Hollywood Glamour Makeup Look
Kpop Girl Group GFriend "Apple" MV featured in 2020 album "Song of the Sirens"
GFriend is reinventing themselves through their makeup looks in their "Apple" MV, which is featured in their 10th mini album "Song of the Sirens". The famous Kpop girl group is seen adding a touch of old-timey Hollywood glamour to their youthful aesthetic, which brings a whole new concept of maturity into their makeup look. The members of GFriend have traded their signature pastels for a more mystic makeup look featuring bold, dark, and solid shades on their eyebrows and lips using brow tint and lip tint.
To emphasize the "love at first bite" concept of the "Apple" MV, you can see the Kpop girls wearing all ranges of moody lipstick shades from a bold red lip to a peach coral one. The Kpop idols also explore their mystical appearance with shimmering eyeshadow glitters, and glowy base makeup to amp up the glamorous allure.
What You Need For GFriend's "Apple" Makeup Look
---
TWICE
"More & More": Summer Monochrome Makeup Look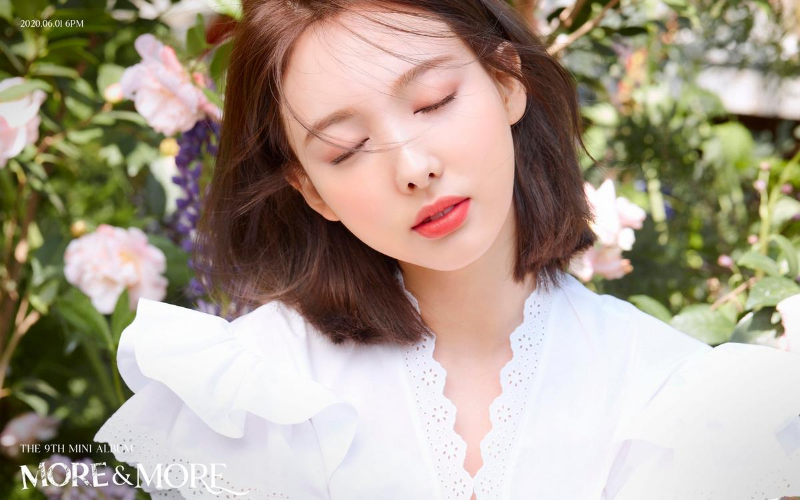 Kpop Girl Group TWICE "More & More" MV by JYP Entertainment 2020
We're seeing so many monochrome makeup looks from TWICE "More & More" MV and we're definitely stealing every single one for the perfect summer makeup look. TWICE Nayeon and Tzuyu are the perfect example of how you should experiment with a monochrome makeup look. The two signature soft-glam shades this summer go to pink and coral.
If you want to show off your charm like a summer muse, learn from TWICE Nayeon and take on a harmonious blend of coral and champagne shade for your eyeshadow look—also perfect for a slightly contoured eye makeup look. Complete this monochrome look with a matching blusher on the cheeks and a toned-up shade of coral for the lips to look extra vibrant and eye-catching.
What You Need For TWICE's "More & More" Makeup Look
---
Apink
"Dumhdurum": 80s Vintage Babe Makeup Look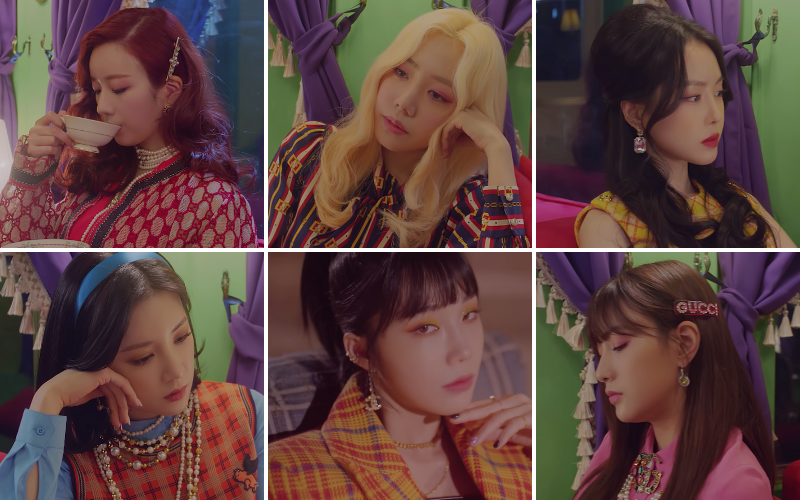 Kpop Girl Group Apink "Dumhdurum" MV by Play M Entertainment 2020
Who doesn't love a good throwback? Apink's chart-topper "Dumhdurum" is jam-packed with playful aesthetics inspired by the 80s, especially their technicolor, retro makeup looks. Each member of Apink is transformed into vintage babes with bold prints and patterns, but not so much for their makeup looks. Case in point: Think soft-glam with pops of color for eyeshadow and lips plus a bit of shading and highlighting.
From Eunj's mini cat-eye makeup look to Chorong's classic cherry matte lips, the Kpop girl group is championing different 80s beauty trends and redefining them with an orangish, earthy under-tone. For the final touch, these minimal, easy makeup looks are not complete without the statement-making vintage accessories like hair clips, eye-catching earrings and pearl necklaces.
What You Need For Apink's "Dumhdurum" Makeup Look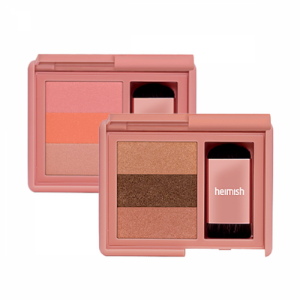 ---
Which Kpop girl group's iconic makeup look is going into your beauty lookbook? Stock up on your favorite K Beauty essentials with Stylevana's Eyeshadow & Palette SALE now - up to 40% OFF! Did we mention you can save up to 35% OFF on MACQUEEN too? Okay, I feel a beauty haul coming… With so many beauty products to sort out, why not do it the RIGHT way? Go follow our guide on how to make yourself an insta-worthy vanity this summer to step up your glam game! Till next time, lovelies!