TWICE has recently made a comeback with their eighth mini album — 'Feel Special' — and a music video for the title track of the same name. While Once (TWICE's fan club) from all over the world has already put the music video on loop, which recorded nearly 14.8 million views during the first 24 hours on YouTube, Team Stylevana takes a further step to look into nine instances for some fall lip makeup inspo. After all, TWICE's members are the modern-day princesses of the K-pop world and proven to have a huge influence on both fashion and beauty trends. Please allow the humble us to unofficially dub this phenomenon the 'TWICE Effect'.
While you are playing 'Feel Special' on your Spotify or Apple Music (or Melon, Naver, and Genie — believe us, we've so been there), read on to take notes of which lip colors TWICE has worn in the music video and how you can wear them in fall.
---
Look 1: Nayeon
Fuchsia Pink
Although the scene where Nayeon danced against bling and shimmers was obviously 'fancy' (no pun intended), her lip makeup here deserves extra recognition. Those of us with fair skin can be understandably fearful of ghastly pale look and an instant brighten up is always much wanted. If ever you needed that wow factor, a stroke of fiery fuchsia is your answer.
How Nayeon mastered the lip color? The key is: lining or blending a lighter shade of pink along the ridges of the lips to create an easy-to-wear, gradient effect.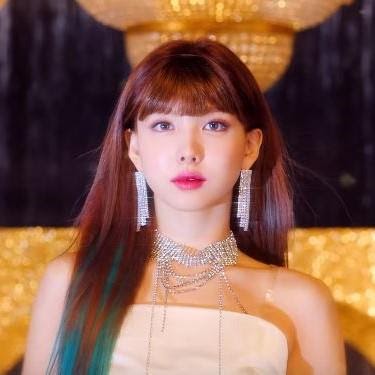 Time Stamp: 0:07 @ Feel Special Music Video
---
Look 2: Chaeyoung
Peony Pink
Take a moment to appreciate Chaeyoung's look at the scene where she was lying in a white plated room that felt almost futuristic. The white eyeliner took off upon her eyelids and fanned into a hint of pink shadow, matching with her Peony Pink lips. The Peony Pink is a pink hue with a light magenta undertone, just like the flower itself.
How Momo mastered the lip color? The best way to go about this trend is to apply your pink lipstick, then blot it with tissue to tamp down the color.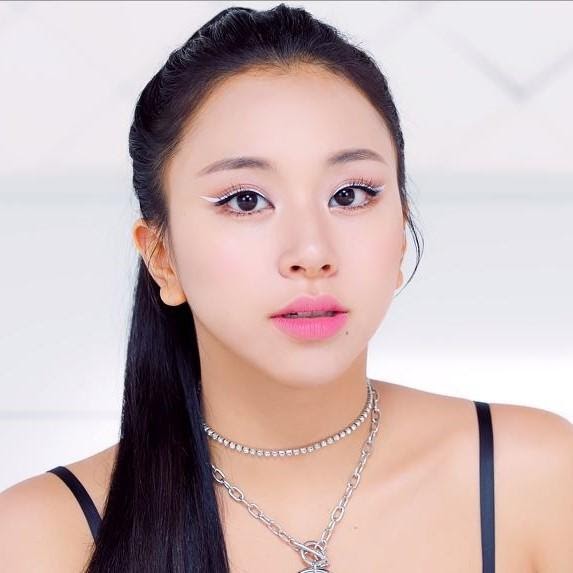 Time Stamp: 0:27 @ Feel Special Music Video
---
Look 3: Tzuyu
Blotted Red
Red lipsticks are a beauty staple, but one rouge iteration is as cool as it was alluring: rich, Blotted Red. Wearing a crown of wild flowers and an off-shoulder gown in the same vibrant floral motif, Tzuyu was spotted 'ruling' Blotted Red lips while staying in the same color family on the rest of the face — smokey eyes gradating in crimson.
How Tzuyu mastered the lip color? Wear the Blotted Red with the edges blurred by pressing a clean finger along the lip line (so it's not too sharp).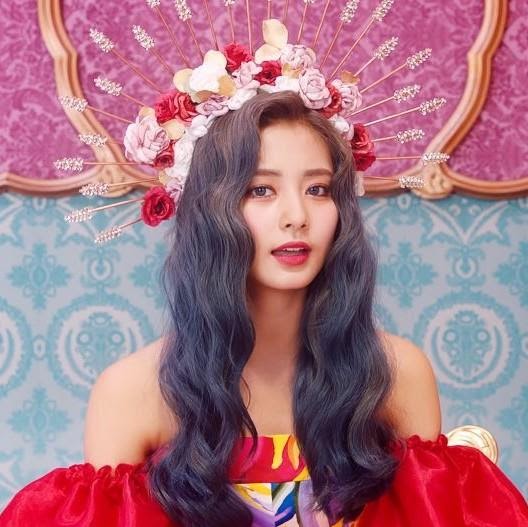 Time Stamp: 0:38 @ Feel Special Music Video
---
Look 4: Sana
Light Rose Pink
The no makeup, makeup trend is here to stay this season, but with a twist, the same can also be applied as a no lipstick, lipstick look. Sitting on the stair steps, Sana was spotted wearing a tint of Light Rose Pink on her lips, eyelids, and also her blonde hair to accentuate her bluish-gray contacts, which beautifully create an echoing effect with the blue light setting at the same time.
How Sana mastered the lip color? Sana wore the Light Rose Pink shade with the slightest hint of gloss for an end result to look like her lips are naturally plumped.
Time Stamp: 1:07 @ Feel Special Music Video
---
Look 5: Mina
Salmon Pink
Salmon Pink, tinted with a hint of orange undertone, is a safe bet to unify the entire lip hue while highlighting your natural lip color. See how Mina wore the Salmon Pink lip color in the music video. The pinky-salmon color stands out but naturally fits in at the same time to accentuate the glittering accents along her lash line and in her hair.
How Sana mastered the lip color? Instead of applying a solid wash of Salmon Pink on the lips, Mina wore it slightly smudged along the edges for a more natural finish.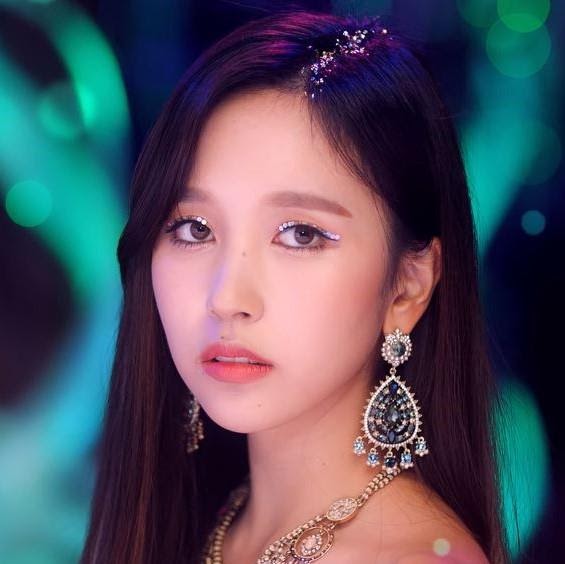 Time Stamp: 1:31 @ Feel Special Music Video
---
Look 6: Momo
Scarlet Red
Although Momo was standing at the back and dancing to the busy choreography at this very moment, beams of lights reflect against her complexion to emphasize the K-idols' obsession of dewy skin. While keeping the look natural for a no-makeup, makeup illusion, the Scarlet Red on her lips does not scream, 'Look at me' but rather gently brings out the depth of color in her lips.
How Momo mastered the lip color? She kept the rest of her face simple, allowing the Scarlet Red lips to draw focus.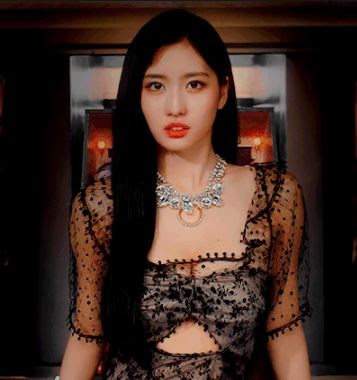 Time Stamp: 0:11 @ Feel Special Music Video
---
Look 7: Jeongyeon
Burgundy
Switching from summer to fall may somehow inspire a shift to darker lipsticks. While they won't keep you warm as the temperature drops, they do make you look 'hot'. Jeongyeon wore the Burgundy lip color paired with a matching ruby red necklace and lace top for a fiery look. The cool part of this deep red is that it gently softens along the edges to create a just-bite effect.
How Jeongyeon mastered the lip color? The key to nailing this fiery look without going down in flames is to keep the rest of your face soft, only drawing attention to the bold rouge.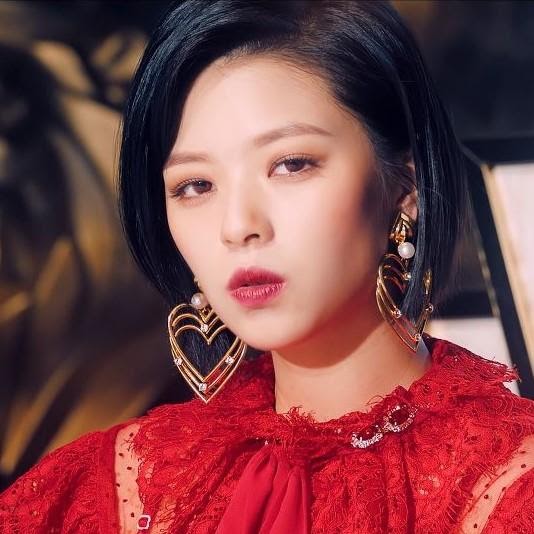 Time Stamp: 2:17 @ Feel Special Music Video
---
Look 8: Dahyun
Coral Pink
If you still remember The Pantone Color of 2019 (which is Living Coral), then there is no surprise Coral Pink is one of the lip colors that we will wear into Fall Winter. Don't worry if you don't have fair skin like Dahyun. Coral Pink has long been one of the most popular makeup colors since it's flattering and easy to wear, but it also complements bolder looks.
How Dahyun mastered the lip color? Dahyun is definitely not afraid to play with colors. She wore a glittered, electric blue eyeshadow to contrast the Coral Pink on her lips.
Time Stamp: 2:34 @ Feel Special Music Video
---
Look 9: Jihyo
Beige Pink
Neutral and almost-nude colors can be tricky. Don't worry, we've found the perfect iteration — Jihyo has offered us the answer, to be exact — Beige Pink. It offers a flattering wash of healthy-looking color without being chalky, which will almost look like your natural lips, but better. If you normally just wear lip balm or tinted lip balm, give this shade a try.
How Jihyo mastered the lip color? She wore the Beige Pink lips with a touch of bronzer to warm up the look and defined her eyes with strong lines.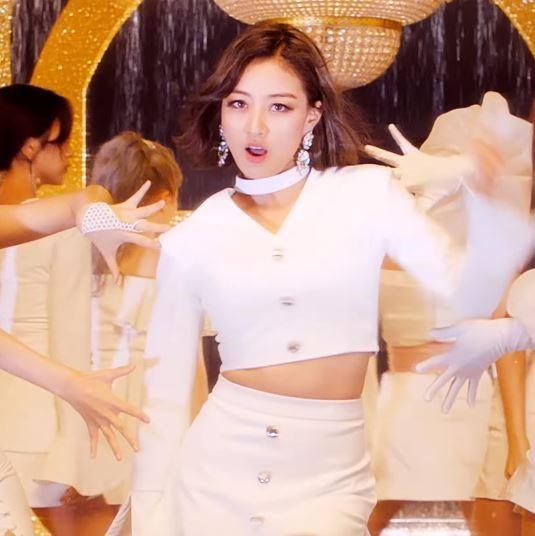 Time Stamp: 2:53 @ Feel Special Music Video
Lipsticks aren't just a makeup routine, but they are statement pieces that will bring out your confidence and style.
Sign up for VANA Newsletter and get your monthly dose of beauty tips, trends, and product recommendations sent straight to your inbox.