Over here at the Stylevana HQ, we're huge fans of a good skincare set. We like to think of them as specially tailored skincare routines where each step has been thought out and every product in the set works with one another harmoniously. It doesn't hurt that with skincare sets, we're paying more to save more while getting to benefit from the synergy of products. Whether you're picking out a skincare set to gift a loved one or stocking up for your own routine, you can't go wrong with a Stylevana skincare set. Read on to discover our top 10 skincare sets for the season that will elevate your skincare game and change your skin for the better.
---
No. 1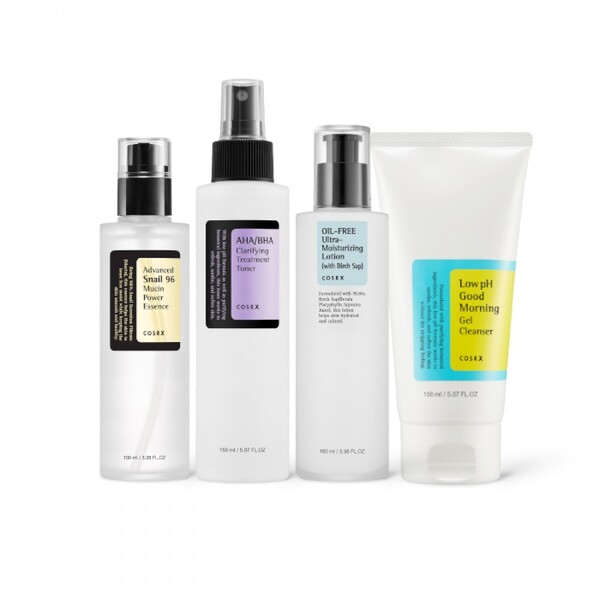 Courtesy of Korean Skincare Brand - COSRX
COSRX has been blowing up SkinTok and we're 100% here for this moment. The COSRX Skincare Heroes Set is a Stylevana exclusive that features the best and brightest of COSRX's lineup, including the top-rated Advanced Snail 96 Mucin Power Essence for hydrating and balancing skin that has sent skincare junkies into a justified frenzy. Whether you're a skincare novice or master, you'll fall in love with this pre-approve 4-piece routine that makes skin soft, glowy, and balanced.
---
No. 2
Stylevana - VANA Box - Spring In Your Step Routine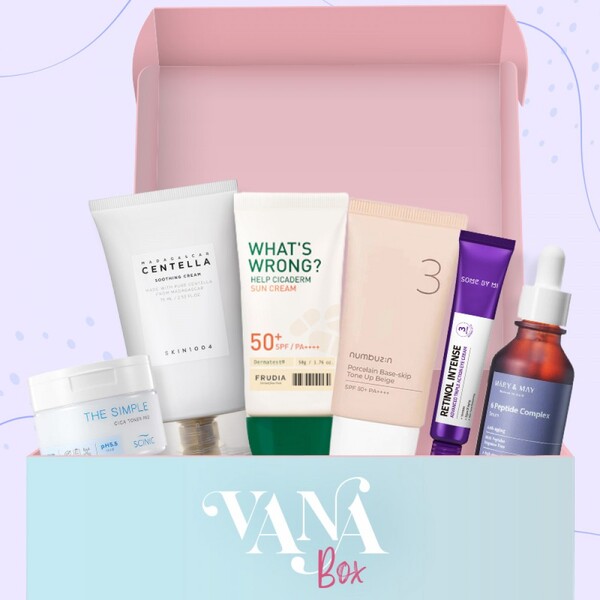 It wouldn't be a Top 10 list without a VANA Box feature. The Spring In Your Step VANA Box is our latest addition to the lineup, curated specifically to offer everything your complexion needs for a total spring reset. In it you'll find FRUDIA's brand new What's Wrong Help Cicaderm Sun Cream SPF50+ PA++++ for the ultimate UV protection, the lifting and firming SOME BY MI Retinol Intense Advanced Triple Action Eye Cream, and much more to get your skin healthy and shining.
---
No. 3
Round Lab - 1025 Dokdo Champion Kit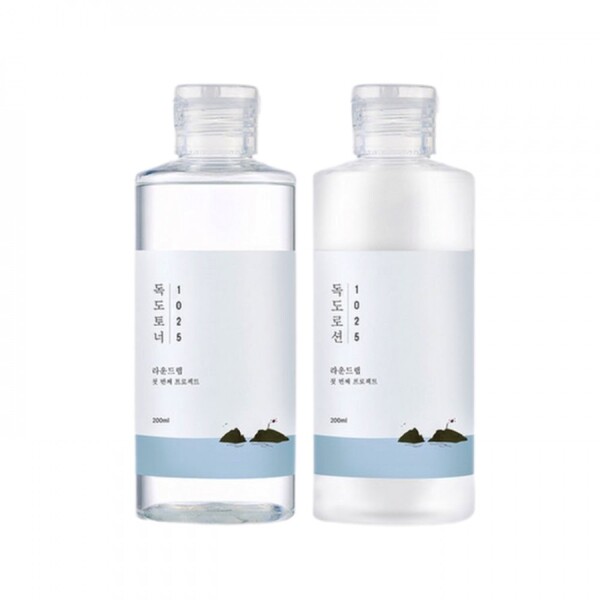 Courtesy of Korean Skincare Brand - Round Lab
Harness the soothing powers of Ulleungdo's deep sea water with the Round Lab 1025 Dokdo Champion Kit. This set includes the 1025 Dokdo Toner that won 1st place in the Korean Olive Young Awards, plus its matching toner; both items promote long-lasting moisture retention deep in the skin with 3 types of Hyaluronic Acid, Panthenol, and Sugarcane extract. The calming formulas address a myriad of skin concerns, like eczema, skin cell rejuvenation, and reducing signs of aging, and are suitable for all skin types including the most sensitive of skins.
---
No. 4
Dr.Ceuracle - Vegan Kombucha Tea Beginning Set
Courtesy of Korean Skincare Brand - Dr.Ceuracle
Kombucha makes for a tasty beverage, but did you know it has major benefits for the skin? Kombucha is a probiotic which maintains overall skin health by fighting off bad bacteria, and is the star ingredient in the Dr.Ceuracle Vegan Kombucha Tea Beginning Set. Comprising the brand's bestselling Vegan Kombucha Tea Essence and Gel Cream, this duo detoxifies impurities from tight, dry, and rough complexions, returning skin to a soft and supple state. It also strengthens the skin's immunity to make it more resilient against external aggressors.
---
No. 5
Axis-Y - Dark Spot Correcting Glow Serum x Mugwort Pore Clarifying Wash Off Pack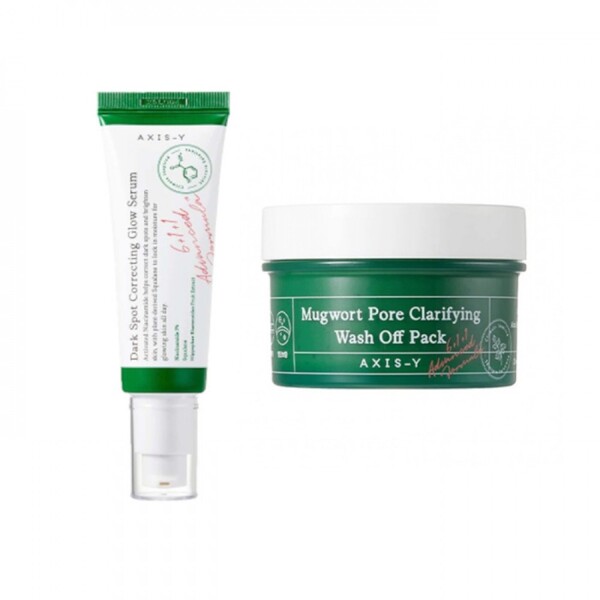 Courtesy of Korean Skincare Brand - Axis-Y
If a radiant, blemish-free complexion is your goal, the Axis-Y Dark Spot Correcting Glow Serum x Mugwort Pore Clarifying Wash Off Pack set is exactly what you need on your top shelf. The serum of the pair is formulated with Niacinamide and Rice Bran extract to boost skin glow, while the mask uses 61% Mugwort to clear the pores of impurities, soothe inflammation, and gently exfoliate away dead skin cells. Users rate both items 5 stars for radically brightening dark spots while keeping skin hydrated and plump.
---
No. 6
ONE THING - Sensitive Skin Set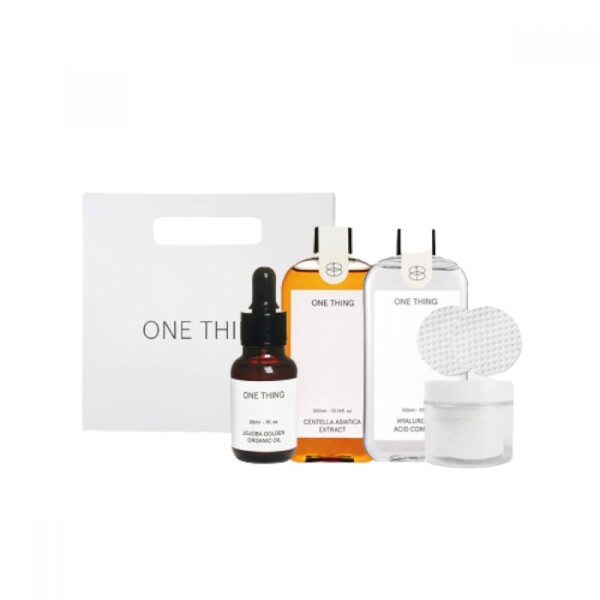 Courtesy of Korean Skincare Brand - ONE THING
The changing of the seasons can be a tumultuous time for your complexion as it adjusts to new weather, and it's not uncommon for skin to become more sensitive. The ONE THING Sensitive Skin Set was specially designed to treat sensitive skin, spotlighting 4 of the brand's formulas to quell inflammation and redness. In this complete 4-piece set you get the soothing Centella Asiatica Extract, hydrating Hyaluronic Acid Complex, nutrient-rich Jojoba Golden Organic Oil, and versatile Multi Big Pad that can be used to create your own mask pack with customized formulas.
---
No. 7
MISSHA - Time Revolution 5X Bestseller 2 Special Set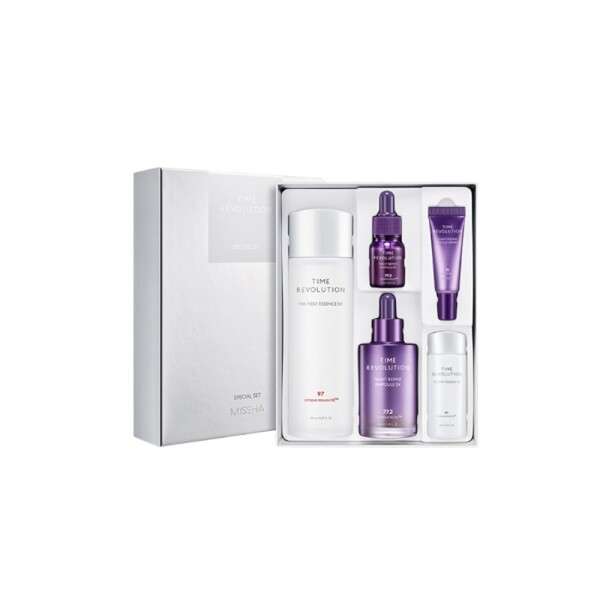 Courtesy of Korean Skincare Brand - MISSHA
Turn back the clock on your skin with the MISSHA Time Revolution 5X Bestseller 2 Special Set. Probiotics are at the forefront of this routine that visibly reduces signs of aging and improves skin elasticity. You get full sizes of the top-charting Time Revolution Night Repair Ampoule 5X (a K-beauty dupe for the Estee lauder Advanced Night Repair!) and Time Revolution The First Essence 5X, along with deluxe versions of the collection's essence, ampoule, and cream.
---
No. 8
WELLDERMA - Collagen Beauty Care Serum & Roller Set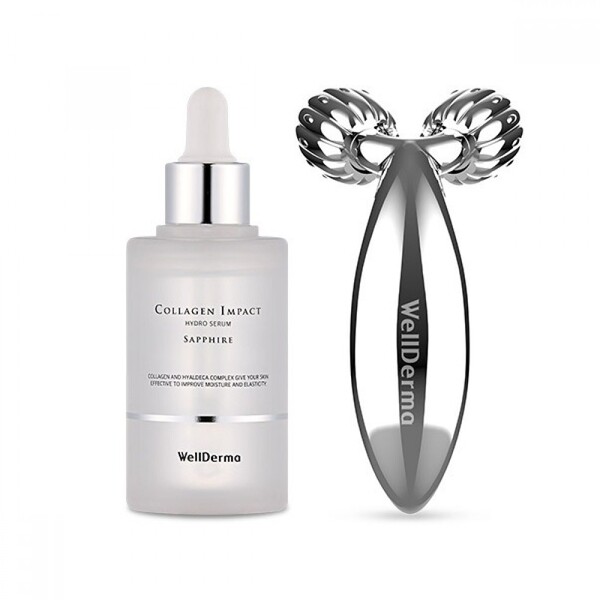 Courtesy of Korean Skincare Brand - WELLDERMA
Quality self care doesn't have to come at the expense of a high price or a whole afternoon occupied - the WELLDERMA Collagen Beauty Care Serum & Roller Set is the ultimate proof. This kit contains a highly moisturizing serum of low-molecular hydrolyzed Collagen that nourishes the complexion to enhance resilience and elasticity, and a face roller with ridged pumpkin-shaped heads to sculpt and lift the face. Use both items together for a 5 minute massage, and you'll see a noticeable difference in your natural contours and skin appearance.
---
No. 9
VANA Award 2022 Sunscreen Bundle Kit Set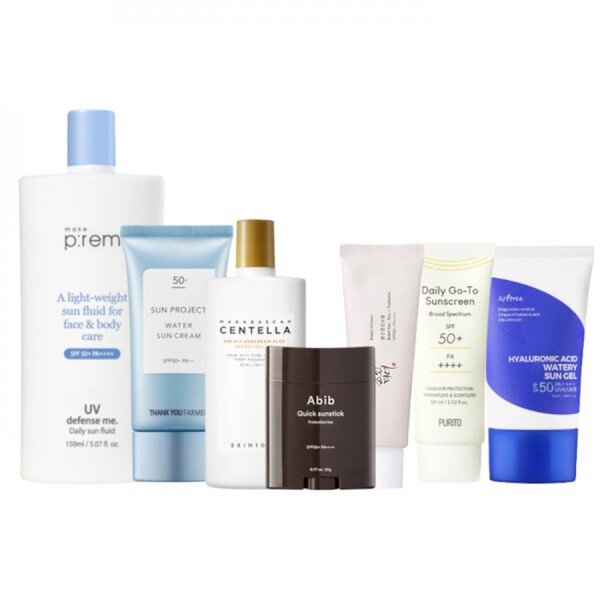 Sun care is a year-round top priority, and here to make your life a whole lot easier is the VANA Award 2022 Sunscreen Bundle Kit Set. Composed of 7 Skincare VANA Award winners and the hottest VANA Family-approved sunscreens from Isntree, SKIN1004 and more, shake up your SPF routine with a different formula every day, depending on your mood or skin condition. Splurge to save more with this set that offers great savings and will make you look forward to completing your daily sun care routine.
---
No. 10
Isntree x BONAJOUR - Green Tea Set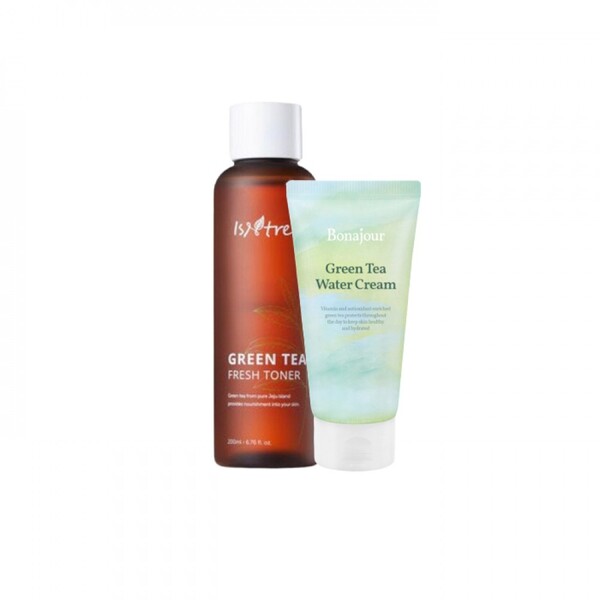 Refreshing, revitalizing, ultra quenching… these are just a few words that can be used to describe the Isntree x BONAJOUR Green Tea Set. Green Tea is an effective antioxidant that hydrates and soothes skin simultaneously, benefits that can be enjoyed from this tea-based toner and cream duo. The Isntree Green Tea Fresh Toner is formulated with Anti-Sebum P(HD) to control excess oil production, while the BONAJOUR Green Tea Water Cream highlights Peptides for maintaining a strong skin barrier for healthy skin.
---
Excited to pick out your skincare set? Get to shopping with a special *extra* discount that can be found on our homepage! Make sure you're following us on Instagram and Facebook, as well as keeping an eye on the VANA Blog, to make sure you receive all the latest news, promos and information!