We're creeping up to that time of the year again: Back to School season. You're setting your alarm clock for the early hours of the morning, instantly regretting it the moment it rings. At these times, we'd all love to grab a few more minutes of zzz's but we have to get ready for the day and look our best. No time? No problem. Your daily makeup routine can be done in a flash, and we've got the tips and products to prove it. Read on to discover our picks for speedy, simple makeup that will get you out the door in time, and additional pro tips for an immaculate makeup look!
---
No. 1
There's nothing worse than doing your makeup and it fading from your face throughout the day. That's why a lip tint is your go-to player: its long-lasting stain withstands food, drink, and the hustle and bustle of daily life. Given its staying power, it also makes for an excellent blush to bring life to the face. Monochromatic lips and cheeks are foolproof and make you look put-together, as if you spent more time than you actually did on your makeup.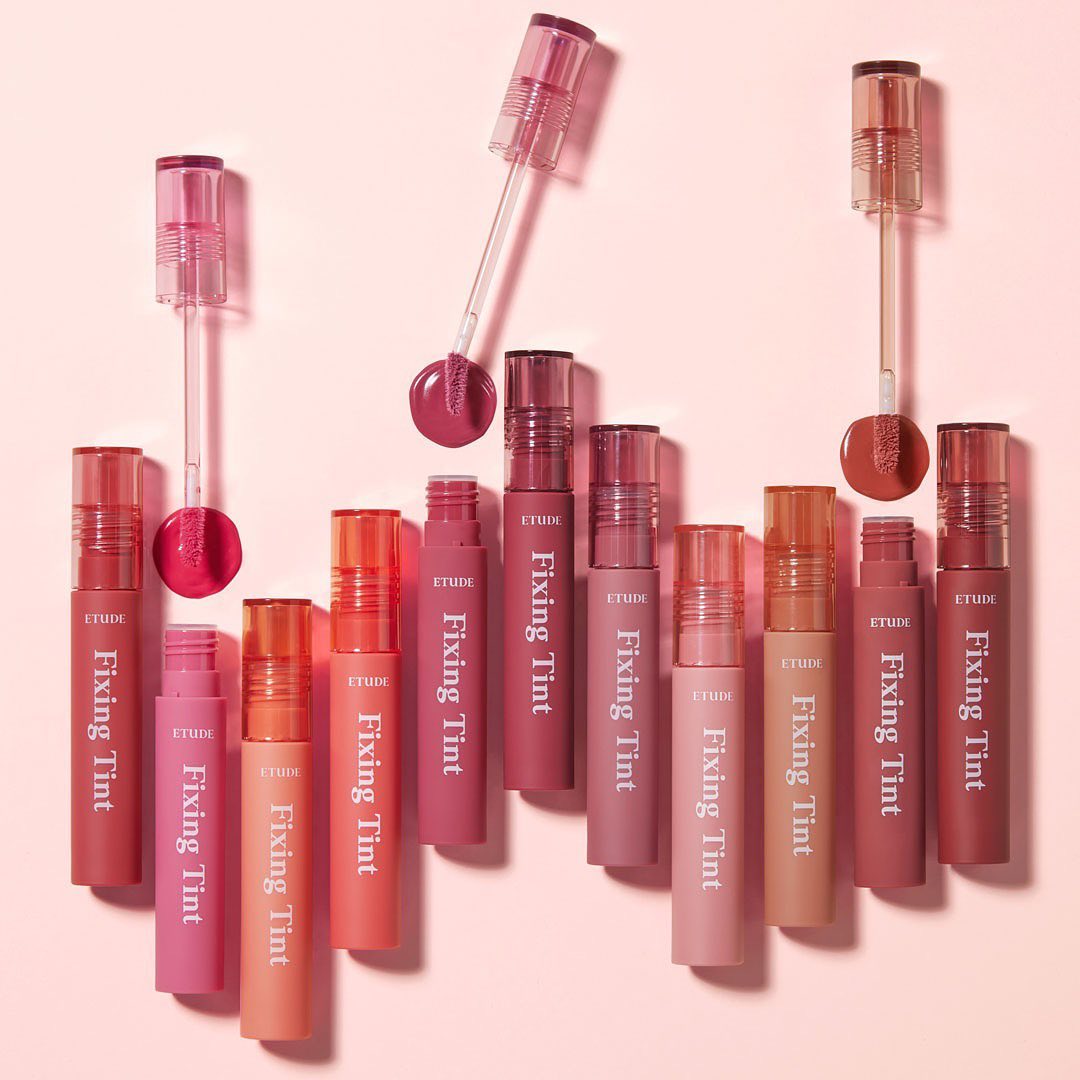 Courtesy of Korean Makeup Brand - Etude House
The Etude House Mask Proof Fixing Tint is at the top of our list, beloved by beauty influencers and makeup fanatics worldwide. A lightweight hydro-matte tint, it adheres to the lips without drying them out, providing long-lasting color for a polished pout and flush. Within this collection's wide range of shades are colors to suit every skin tone and undertones, so you're sure to find a shade that suits you.
Pro tip: apply the tint on your lips and cheeks with the applicator, and use your fingers to blend it out before it dries. Doing so will give an effortless blotted look to the lips. The warmth of your fingers will help blend your blush seamlessly into the cheeks.
---
No. 2
Accomplish a #wokeuplikethis glow with highlighter. Along with dewy skincare, highlighter is the way to go for a healthy, radiant appearance. It banishes skin dullness and disguises the fact that you mayyy have stayed up too late on Instagram (we can't blame you if you were on @stylevana_sv, though). Similarly, using highlighter as eyeshadow accentuates the eyes and awakens the face. A wash of sheen across the lids has an effortlessly ethereal quality, emphasis on the effortless. Adding light and dimension to the aforementioned areas is an easy way to bring life to the face with minimal effort.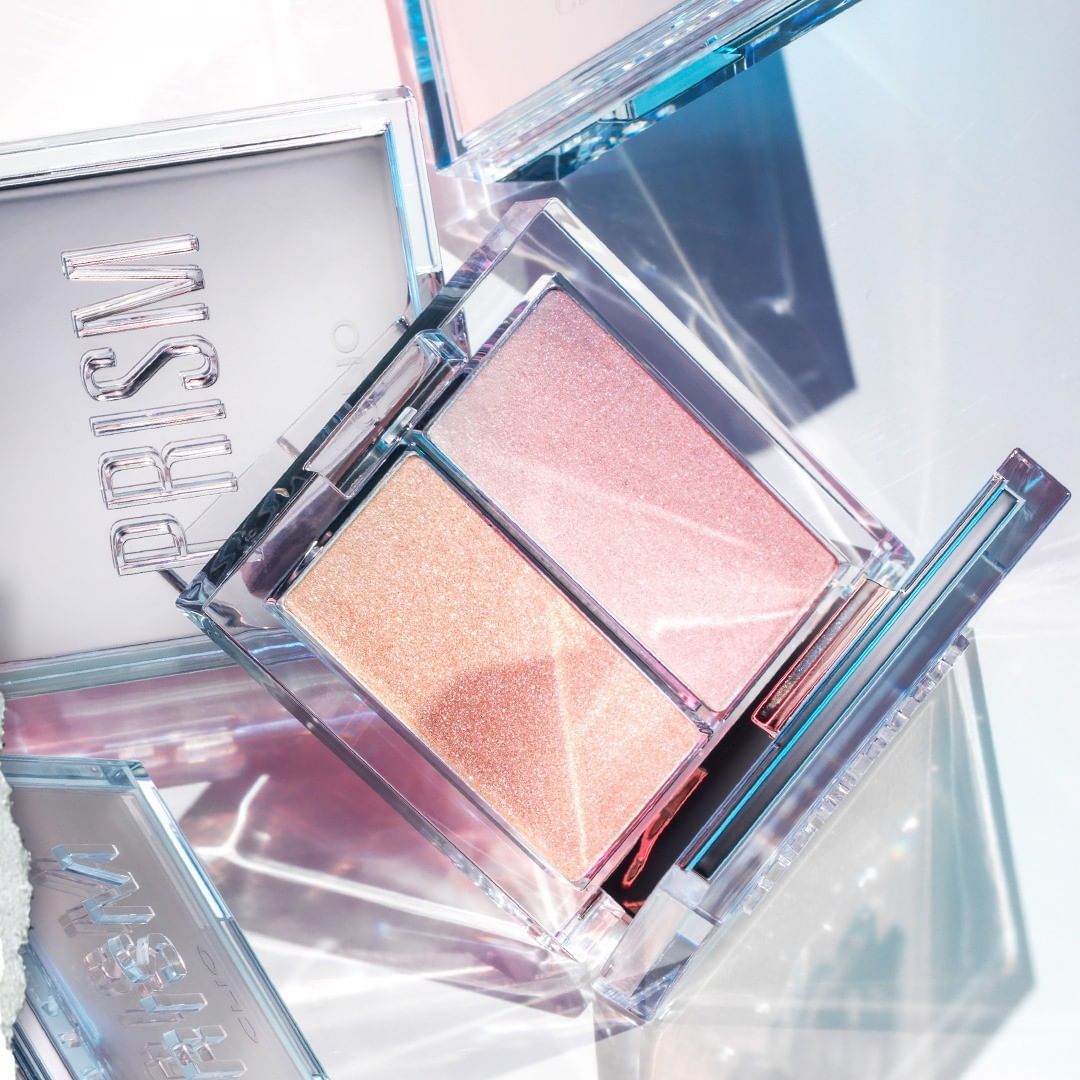 Courtesy of Korean Makeup Brand - CLIO
Up on stage is the CLIO Prism Highlighter Duo. Featuring two powder highlighter shades encompassed into one sleek compact, you have the option to use either shade, or a mix of the two for a third. Its coating pearl formula ensures it applies as smooth as a cream, but also adheres to the skin without fallout or creasing.
Pro tip: highlighter looks best when applied on the parts of the face where light will naturally hit. Think the tops of the cheekbones, the brow bone, the bridge and tip of the nose, and the chin. Furthermore, you can apply a small amount to the innter corners of the eyes for an extra *pop*.
---
No. 3
As makeup artists and beauty gurus will tell you, brows frame the face. A brow pencil is essential in creating those flawless arches that make or break your look. Just a little bit of filling-in of any sparse areas can transform your entire game. But did you know you can also use it to draw eyeliner? Brow pencils tend to have a softer finish than eyeliner does, so when looking fresh-faced is the goal, a brow pencil creates a liner that adds dimension to the eyes without looking overwhelming.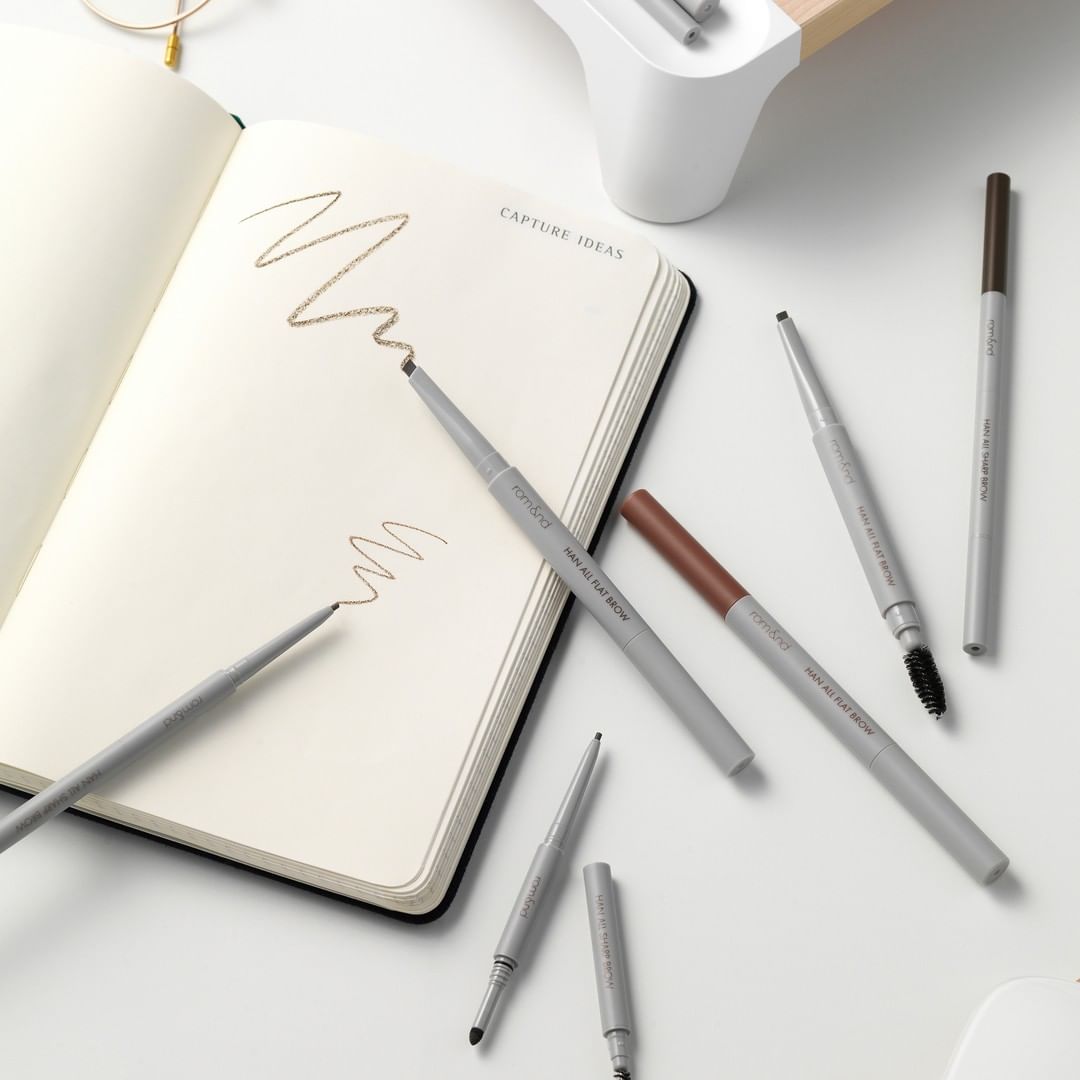 Courtesy of Korean Makeup Brand - Romand
We can't stop using the Romand Han All Sharp Brow. With a 1.5mm pencil tip, drawing natural, brow-like hair strokes has never been easier. The built-in brow powder fills in sparse areas with ease, due to its creamy texture, and everything blends together harmoniously with the attached spoolie. It doubles as a quick, smooth eyeliner in a pinch that opens up the eyes for a subtle, 'barely-there' look.
Pro tip: use your lower lash line as a guide to draw out your eyeliner. Following your natural eye shape will help you achieve a flattering liner, unique to your beautiful features.
---
No. 4
So *technically* speaking, lip balm is more skincare than makeup, but the glistening finish it gives makes it a fuss-free lip gloss for when you've got to bolt. Now, the skincare component really comes into play as lip balm takes over as your skin balm on the go. Dry elbows? Dehydrated cuticles? Your lip moisturizer has got that sorted.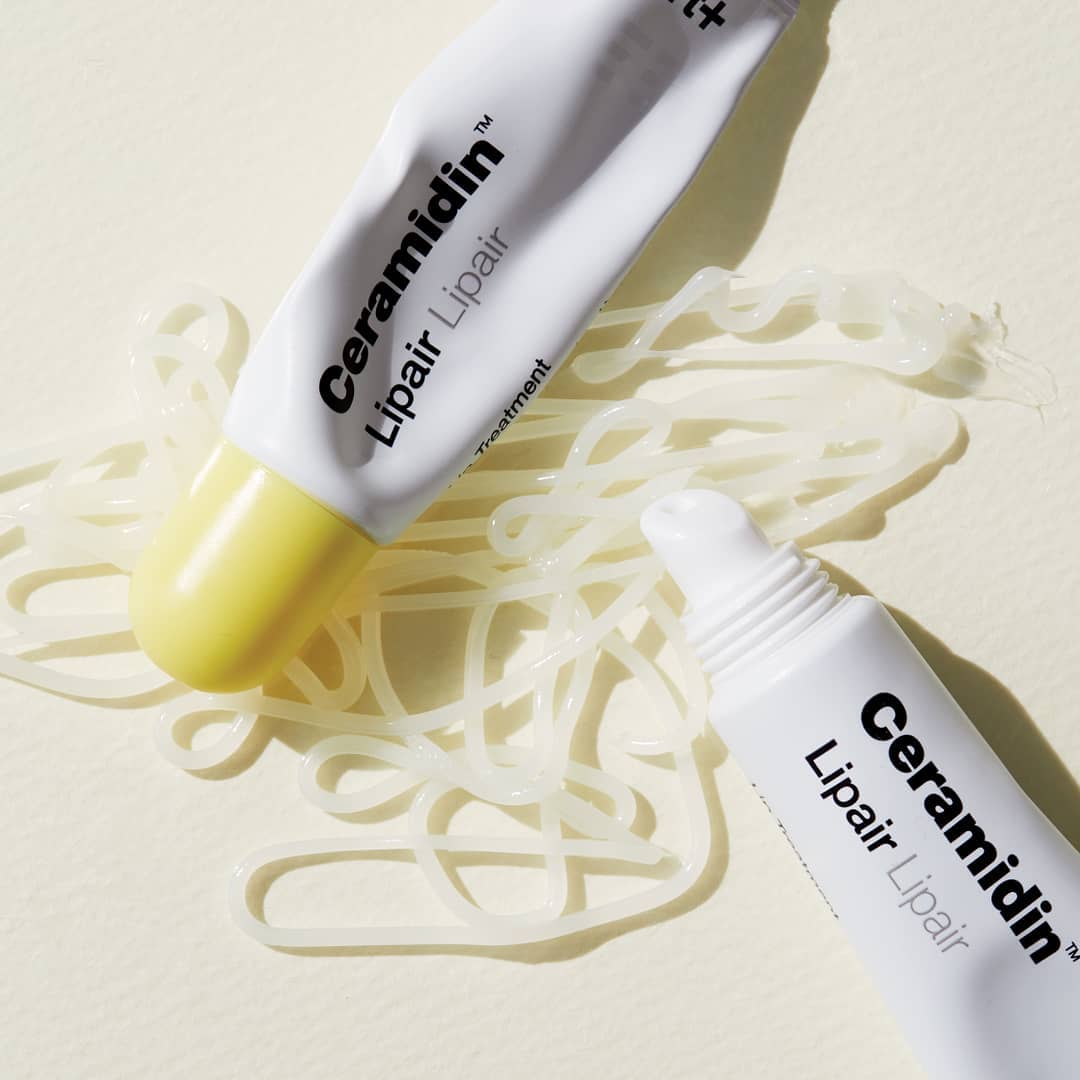 Courtesy of Korean Skincare Brand - Dr. Jart+
The Dr. Jart+ Ceramidin Lipair is a Ceramide-based treatment, which strengthens the skin barrier. It helps to retain moisture from other nourishing goodies on the ingredient lineup, including Hyaluronic Acid, Avocado Oil and Jojoba Seed Oil. Its gel texture prevents it from being sticky, and the squeeze tube allows you to dispense however much you need depending on your preference.
Pro tip: for a MLBB effect that will never go out of style, dab your preferred lip color onto the lips (re: lip tints) and layer a thin coat of lip balm on top à la Hailey Bieber. You'll have everyone wondering, wow, are those their natural lips?
---
No. 5
When everything's said and done, the last step is to set the face. You've put in the time to do your makeup, you might as well secure your handiwork. In the long run, you'll save time that would've been spent reapplying your makeup. A skin mist will set your look in place, fighting against external aggressors like humidity, oil and sweat. But that's not all! If your skin starts to feel tight or dry during the day, a mist is the perfect weightless pick-me-up. There are at least 10 reasons why a skin mist should be one of your staples, and using one won't even cut into your beauty sleep.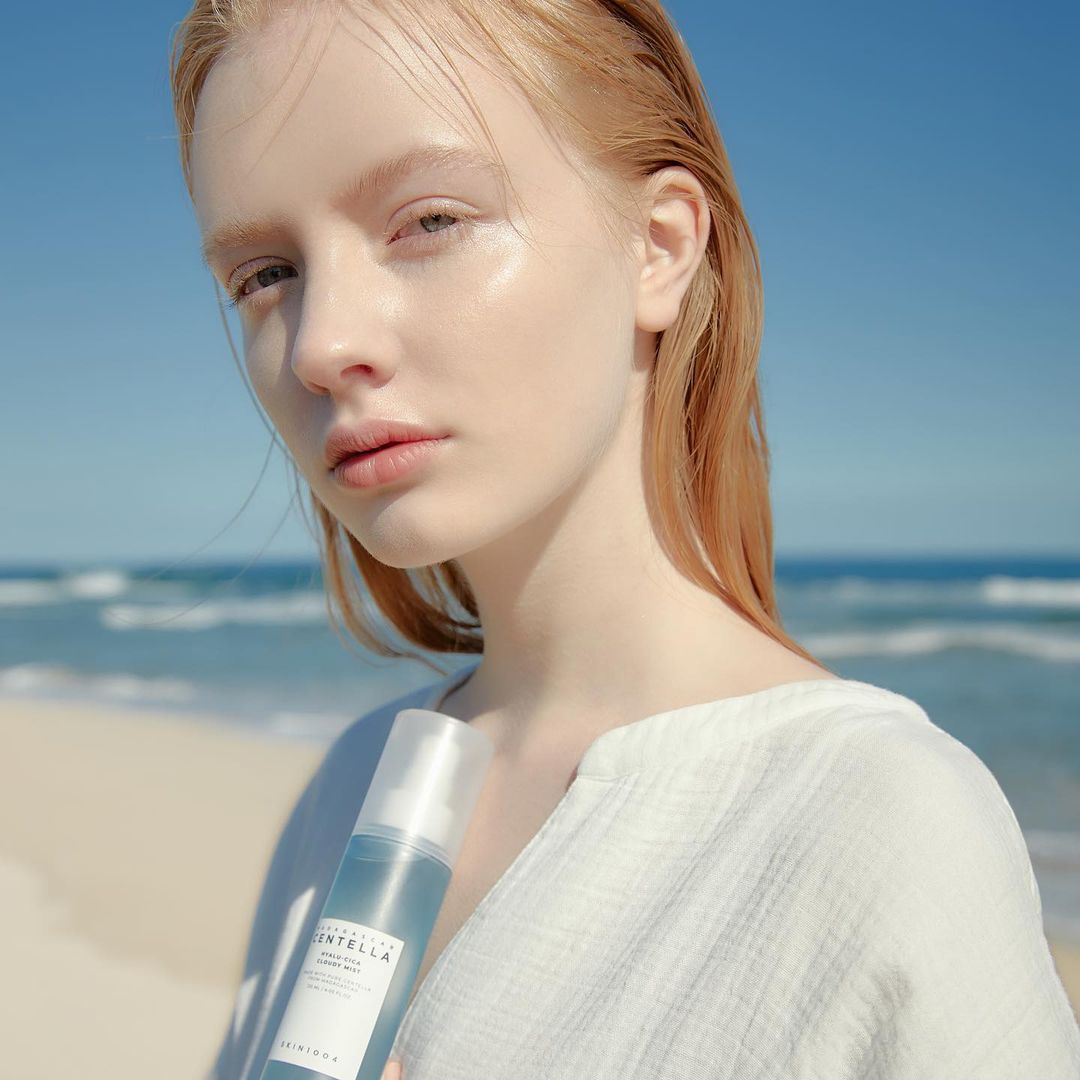 Courtesy of Korean Skincare Brand - SKIN1004
This is when the SKIN1004 Madagascar Centella Hyalu-Cica Cloud Mist comes out and shines. As the name suggests, it's an ultra-fine, cloud-like mist formulated with Hyaluronic Acid and Centella Asiatica. These two ingredients hydrate and plump the skin, allowing your makeup to stay on all day. It also contains Green Tea Leaf water that will give your skin a refreshing boost, as well as antioxidant protection and soothing comfort.
Pro tip: spritz your skin mist on in layers, waiting 5-10 seconds between each layer to ensure your skin has the chance to absorb everything.
---
Who can't resist a longer snooze? Incorporate these steps and items into your routine for easy daily makeup that will snag you a little extra time in bed AND get you ready for your first class or meeting of the day! Follow us on Instagram and Facebook to receive instant product updates, and skincare and beauty tips!