Three months into 2021 and we already know we can't be the only ones becoming a professional DIY nail artist with so much quarantine me-time on our hands. And with warmer spring finally knocking on our door, we are already dreaming up some of the coolest and chic-est spring nail art ideas and designes to try in the coming months. From the biggest nail art trends to easy-to-do nail ideas with embellished press-on nails and multi-colored nail polish, here are 10 super-easy but equally amazing nail art ideas to spice up your Instagram feed.
---
1. Split Screen
Courtesy of Instagram (@laurenladnier)
Can't decide on a single color? Wear them all! The split screen nails is the latest nail art trend that every minimalist wants to try. Don't worry, NUSVAN's Water-Based Health Two-Colour Peelable Nail Polish makes it easy for you as each nail polish comes with two impeccably well-matched, complementing shades for your spring nails. All you have to do is find your own favorite vibrant colors to enliven the whole spring nail look!
---
2. The Skittles Manicure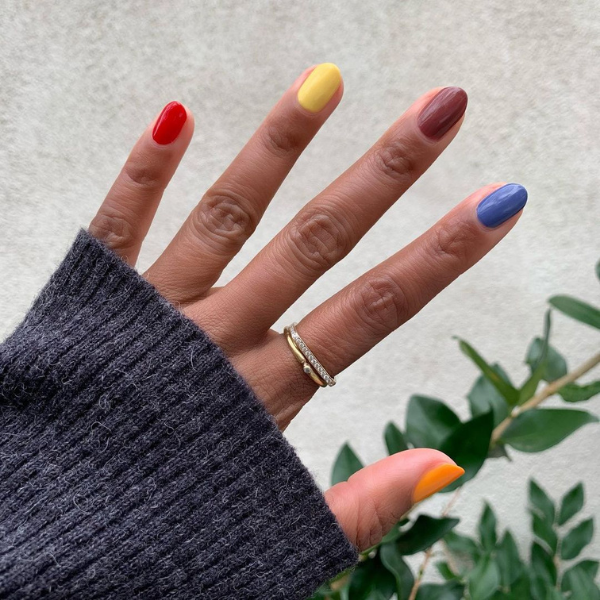 Courtesy of Instagram (@themaniclub)
These Skittles-inspired shades are just so chic, so modern and so yummy! The trick? Just use mainly the primary colors - red, yellow, blue - with a hint of brown to keep it fun but at the same time sophisticated. We love how DAYCELL's Princess Pink Color Nail Polish comes with a set of vibrant colors that make this nail art look so effortless and easy. If you want to spice things up a bit, take this nail art look to the next level with simple line-graphic art to add your own artistic twist!
---
3. Dreamy Emerald Green
Courtesy of Makeup Brand - Dashing Diva
Jewel tones are IN, and emerald green is the one jewel shade we should all be eyeing for this spring season. Mimicing the color of nature with a subtle veneer, Dashing Diva's Magic Press Super Slim Fit Green Shine is a dream package for emerald green lover as it comes with sparkly finish and matte finish to turn your spring nail art into something a bit more done up and luxurious.
---
4. Pink Parade
Courtesy of Instagram (@mytownhouseuk)
For spring we have this gradient pink number in a haze of blush, rose, coral and strawberry pink. Not only is it pretty, but it's easy to recreate at home. The Face Shop's Magic Press Super Slim Fit (Coral Ending) is packed with the perfect coral-gradient press-on nails to help you turn this girly-chic nail art idea into reality. This super-simple (yet no less stunning) manicure is another great nail art ideas for beginner.
---
5. Pastel Floral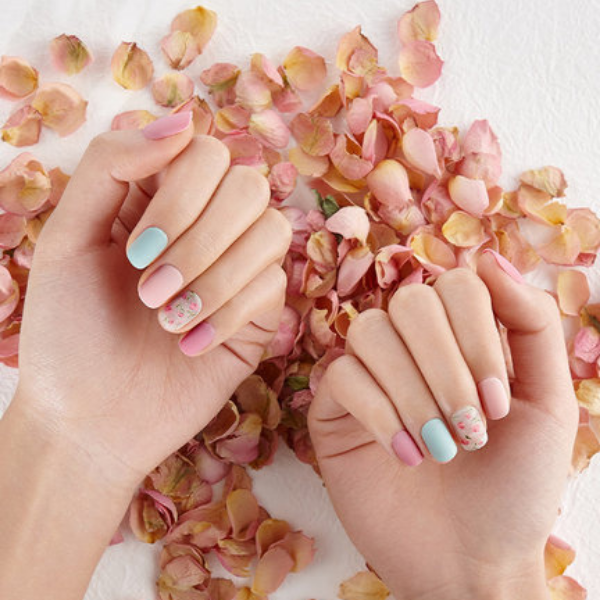 Courtesy of Korean Brand - MISSHA
Nothing reminds us more of spring than a pretty wash of pastel colors and floral prints. Think girly pink, baby blue and floral prints to resonate with the blossom and bloom of spring. To DIY this look, simply use MISSHA's Dashing Diva Magic Press Super Slim Fit (MDR603 Delight Pink) to create your own soft-nail glam to fully embrace the spring aesthetic.
---
6. Smiley Face Nails
Courtesy of Instagram (@thehangedit)
After Dua Lipa and Harry Styles, smiley face nails have taken a life of its own to become one of the most fun nail art trends to try in spring - nay, in 2021. This whimsical print adds a cute and unique touch to your spring ensemble and, thanks to The Saem's Nail Wear Art Gel Sticker, this spring nail art look will definitely bring a smile to your face.
---
7. Hearty-Tipped French
Classic french tips with a hearty twist, WE LOVE. Valentine's Day might be over but that doesn't mean we couldn't wear our heart on our sleeves, or in this case, on our fingertips. Wear Dashing Diva's Magic Press Super Slim Fit Love Letter so you can show some love to those lovely digits any time you want.
---
8. Neon Crush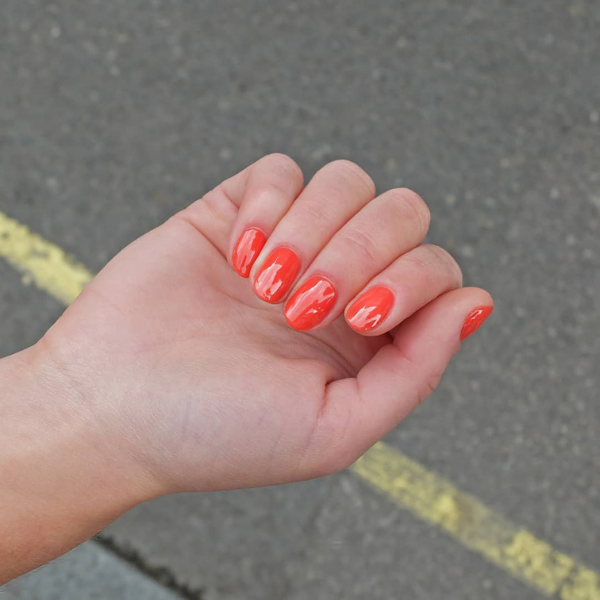 Courtesy of Instagram (@mytownhouseuk)
Neon nails are obviously making a comeback this season. And truth be told, neon has always been the *zing* of everything. Whether it's neon red, neon yellow, or neon green, neon nails will definitely be a head-turner this spring. Although you might think neon belongs in the summer, Kiss New York's Press & Go My Muse makes the perfect case for fervent nail art supporters like you as it comes with a wide range of neon colors for you the choose from.
---
9. Neutral Nails
Courtesy of Instagram (@buzz_nail.art)
Sometimes, neutral nails make just as much of a statement as any other nails. If you're a minimalist looking for a cool neutral nail art idea to pull off this spring, try Dashing Diva's Magic Press Black Smudge (Long) for a cool mix of greige (gray + beige), prints, and edgy black to ace the nail art game.
---
10. Checkerboard Nails
Didn't you get the memo? All the cool girls are rocking the checkerboard nails this spring. We blame it on the The Queen's Gambit hype. But if you're not doing the classic black-and-white version, consider toning it down with a brown-hued checkered patterns with MISSHA's Dashing Diva Magic Press Super Slim Fit (MDR594SS Pretty Gingham) which offers a bit of an avant-garde, vintage allure to your spring look.
---
Finally "nailed" down the best nail art look already? Explore our wide range of press on nails and nail polish to make your next DIY manicure more fun and exciting!