The 16-episode K-drama Crash Landing on You may have ended its run, but that doesn't stop people – myself included, obviously – from obsessing over every iconic "BinJin" moment in the drama. Apart from the amazing on-screen chemistry that has everyone swooning, Son Ye Jin's fashion styles on the show are also causing a lot of buzz on the internet lately. So, if you're looking for ideas to revamp your personal style or switching gears for your Spring closet, let me walk you through Son Ye Jin's 5 most iconic outfits that have "crash-landed" on my fashion radar and you can start from there!
---
Outfit #1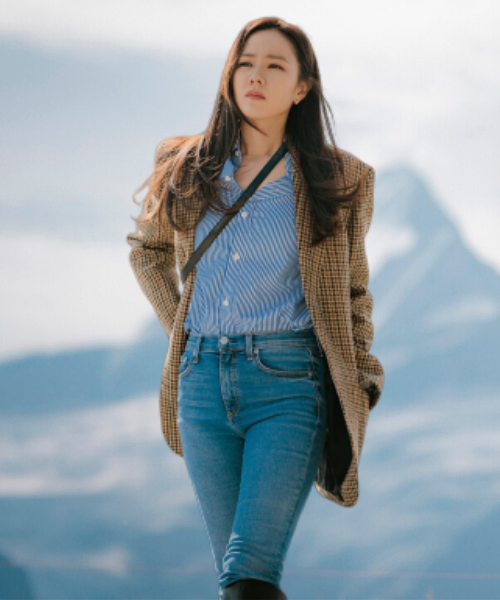 Casual-luxe Denim
Setting aside her usual elegant, regal look in Crash Landin on You, Son Ye Jin's casual-luxe style is equal part iconic and effortless for an everyday edit.
Notice how she pairs her blazer with a pinstriped shirt underneath, channeling a "business lady" impression that is slightly toned down by her skinny jeans.
This faux denim-on-denim ensemble, enhanced by the two-tone illusion of her blue shirt and denim blue jeans, is a clever touch to create a casual appeal even with a blazer on.
STYLEVANA's Tip:
Versatile with a downtown edge, denim lends an off-duty appeal to any business formal attire look. It is also a great wardrobe staple for the picnic season because denim-blue always looks good with grass-green. So, pack yours for your spring closet now!
Shop you style essentials: Denim Jeans + Pinstriped Shirt + Blazer
---
Outfit #2
Versatile Turtleneck
High-necks and turtlenecks are one of Son Ye Jin's signature fashion items in Crash Landing on You, so it's only fair to introduce one of her turtleneck looks here.
In the iconic "bicycle" scene, Son Ye Jin is seen wearing her signature turtleneck with a floral dress that shows off her feminine allure. She completes the whole feminine ensemble with a pastel pink cardigan for a softened, girly appeal.
Wearing a full-length silhouette like this will make your figure look more streamlined and well-proportioned.
STYLEVANA's Tip:
Cozy and versatile, a turtleneck can double as a plain top or a high-neck "under slip" for a low-cut maxi dress that you'd usually wear during the summer season. Now you can wear all your pretty summer dresses during the colder season.
Shop your style essentials: Pastel Cardigan + Turtleneck + Summer Dress
---
Outfit #3
Tonal Dressing
Color-coordinating your collectives can be a bold move but it can easily be a signature style if it's done right.
Son Ye Jin's yellow outfit is definitely one of the best scene-stealers in the drama, with all her vibrant edit bringing a pop of color on a gloomy day.
Keep in mind, unless you're committed to changing your everyday style into a tonal dressing, you should save this all-over bright-colored look for a special occasion like a themed party.
STYLEVANA's Tip:
The subtle variation of colors is highly encouraged for tonal dressing. Mix up dark and light tones of the same hue for your collectives to bring a visual uplift to your ensemble.
Shop your style essential: Yellow Collectives
---
Outfit #4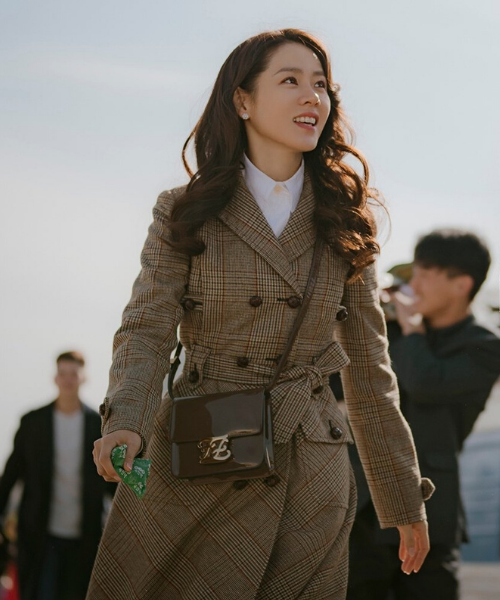 Belted Trench Coat
A transitional season staple, the trench coat is one of the most versatile fashion items anyone can have in their closet.
Learning from Son Ye Jin's trench coat edit in Crash Landing on You, you'll be impressed by how much this one staple has to offer.
Be it patterned or tonal-veneered, a trench coat embodies a vintage, retro aesthetic that also adds a sophisticated dimension to even the most basic ensemble. That's why Son Ye Jin always looks so chic and put together with a trench coat on.
STYLEVANA's Tip:
Layer the trench coat over your basic essentials, like a shirt or blouse. Then, tie your belt to create a flattering customizable silhouette with a distinguished waist-line.
Shop your style essential: Belted Trench Coat
---
Outfit #5
Puff Sleeve Maxi Dress
Out of all the feminine looks Son Ye Jin has pulled off, this one really made an impression on me.
Cloaked in a beautiful floral print in a warm-toned colorway, this maxi dress really captures Son Ye Jin's delicate, feminine charm. Sartorial details like ruffles and puff sleeves lend a goddess allure to her appearance, which is a good way to win a guy's heart (or Won Bin's heart, in this case).
Wear a flowy, ruffle dress like this to a picnic date and indulge in a "love at first sight" moment on the prairie with your loved one.
STYLEVANA's Tip:
Pick a beige to a nude-toned dress that matches best with your skin tone. This will draw less distraction and more attention to look as a whole.
Shop your style essential: Ruffle Puff Sleeve Dress
---
And there you go. Which outfit is your favorite? If you still can't get over this drama, maybe a fashion haul will help! Don't worry, we're having a selected fashion sale to make things easier for you. Pick your favorite outfit at Chuu and Dearest to save up to 50% OFF now!