Despite K-pop idols' jam-packed schedule, continuous lack of sleep, and their heavy makeup on stage, they seem to manage to appear perfect on any occasion, especially their oh-so-enviable cream skin. We know many of you may wonder if K-pop idols like TWICE, Red Velvet and BLACKPINK members are genetically blessed with blemish-free, clear skin; in fact, they are putting more time (and more steps) into taking care of their skin than we can imagine.
Wanna know their cream skin skincare secrets? Keep scrolling to learn what products (and what steps) you should add to your everyday routine from our beloved K-pop idols!
---
Kim Chungha
Cream Skin Recipe: Cleansers + Sheet Masks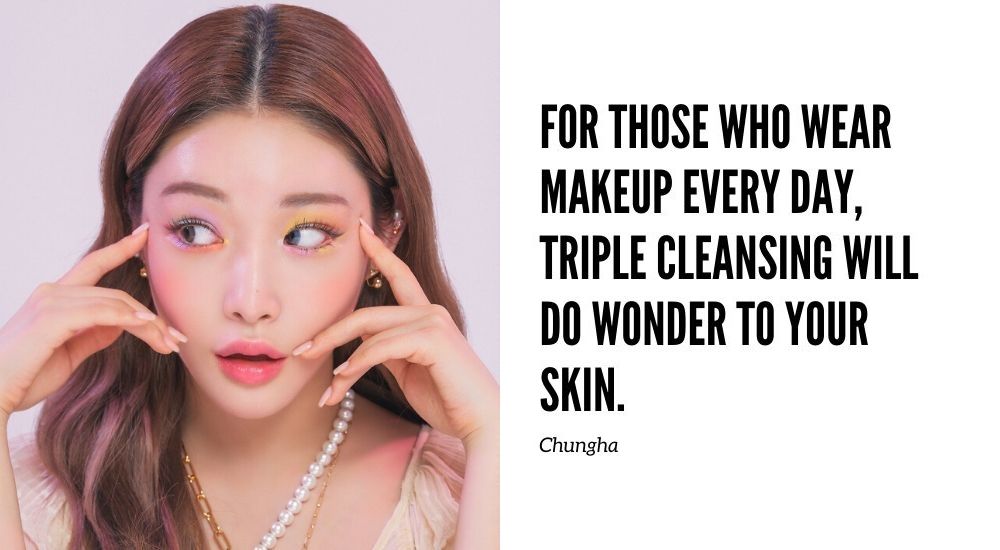 Cleansing is vital to Chungha's Korean skincare routine. The soloist believes that your skin has to be washed thoroughly to prepare for the goodies that follow. Instead of the Korean double cleansing method, she goes one step further to "triple cleanse." First, Hwiyoung removes her eye makeup. Then, she uses an oil cleanser to wash off any leftover makeup. Last, she finishes her three-step process with a foam cleanser. After putting on toner, essence, and moisturizer, she pampers herself with a soothing sheet mask. Learn Chungha's routine to give your skin some well-deserved TLC.
Add these cleansers and masks to your routine to get your cream skin:
---
Hwiyoung @ SF9
Cream Skin Recipe: Toners + Moisturizers
If you've seen his "Good Guy" live performance, you'll know him for his mega-talented charm and also his milky, soft skin. SF9's member Hwiyoung has shared his skincare tips with his fans that he actually never dries off his skin after double-cleansing. Instead, Hwiyoung applies toner and moisturizer on his washed, wet face to keep his skin hydrated and also prevent irritation. So, next time try not to rub your face with your towel after cleansing. Just layer your toner and moisturizer on top.
Try these toners and moisturizers to make your cream skin come true:
---
Tiffany @ SNSD
Cream Skin Recipe: Chemical Exfoliators
Once a SONE, always a SONE.
Our forever K-pop queen Girls' Generation is perfect in every way (obviously), and their flawless cream skin is no exception. Known for being a skincare guru, SNSD's Tiffany has shared that she uses chemical exfoliants instead of scrubs. And instead of sticking to one chemical exfoliator, she cycles a handful of them to keep her skin smooth and radiant.
Some of the popular Korean chemical exfoliants are AHAs, BHAs, and PHAs. Our tips? Never exfoliate more than two times a week as it may cause irritation, which is the last thing you'd want for your cream skin.
Steal Tiffany's cream skin with these skin-loving exfoliators:
---
Now that you've learnt from the best, it's time for you to make your cream skin dream come true. And lucky for you, STYLEVANA is currently offering some of the best skincare deals. Check out the amazing skincare collection from TONYMOLY, Etude House, iUNIK, PURITO, and SOME BY MI for jaw-dropping discounts and FREE samples!
Creating your own cream skin recipe has never looked so easy, am I right?