Last month we talked about which 5 best beauty swaps you should make this summer to upgrade your skin care routine, so I thought to myself: Why not revamp your makeup routine as well? From base makeup like primer and foundation, to eyeshadow palette and lipstick, we're switching lanes to making your makeup closet look the most summer-ready as ever. So grab your beauty bag, and consider this your checklist to see what summer beauty swaps you should make this season!
---
Summer Beauty Swap #1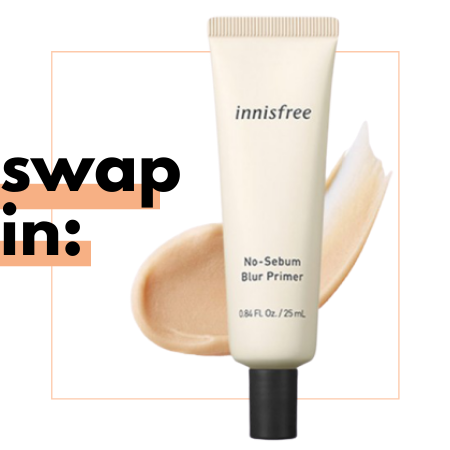 Courtesy of K Beauty Brand - innisfree
A little summer makeup tip for any first-timer who thinks a makeup routine should start with foundation: Primer always goes first, BEFORE any base makeup. For a more long-lasting makeup look in the hot season, primer is the "pre-game" essential to prep your face after your daily skin care and make it look makeup-ready for what's to come, like foundation, BB cream or CC cream.
ALSO READ: 9 Best Selling Foundations, Primers & BB Creams for Oily Skin 2020
— We recommend innisfree's No Sebum Blur Primer to prep your face for a shine-free, long-lasting summer makeup look. This must-try makeup primer from innisfree features a sebum-control formula that keeps your oily skin in check while setting your base makeup on a mattifying note. With Jeju green complex, natural mint and minerals, this K Beauty makeup primer not only helps blur your pores, refines your skin tone with a bit of color-correction, but also manages to balance the oil and moisture of your skin so your face will be a smooth and flawless canvas to start with.
---
Summer Beauty Swap #2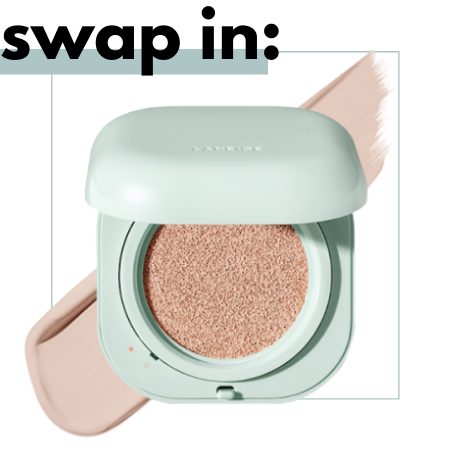 Courtesy of K Beauty Brand - LANEIGE
There are two things you should look for in a summer foundation cushion: 1) Offers lightweight and natural coverage, and 2) has SPF formula. The best foundation cushion to use in summer is the one that will curb your oily skin from acting up during the heat, and one that will settle comfortably on your skin without caking up. Go for a matte foundation cushion for your summer makeup routine to stay shine-free throughout the day.
ALSO READ: 12 Best Trending Summer Beauty Products to Add to Your 2020 Wish List - Editor's Picks
— We recommend LANEIGE's Neo Cushion Matte to be your perfect summer makeup essential. The best thing about this buzzworthy summer beauty product from LANEIGE is its minty, macaron-mix-pastel aesthetic in a cube-like casing (basically the size of an airpod case) which makes it extra portable for summer outings. Not to mention its lightweight, mattifying foundation formula with SPF 42 that creates a flawless complexion in one single layer for a shine-free summer makeup look. Sounds like a dream package, right?
---
Summer Beauty Swap #3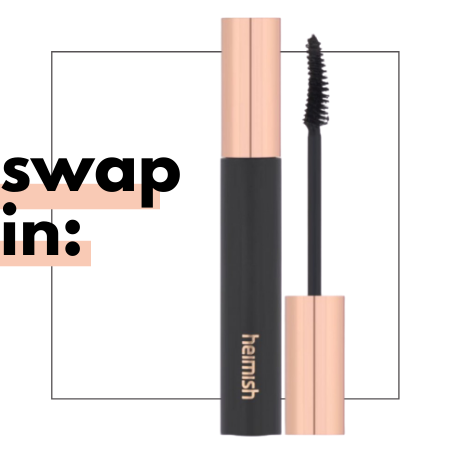 Courtesy of K Beauty Brand - heimish
Sweats and unexpected downpour are the two biggest enemies you will face during the humid summer season. The solution is to fix yourself up with a good smudge-proof, waterproof mascara that your summer makeup look can depend its life on. That way your lashes will stay perfectly coated and curled, no matter the weather.
— We recommend heimish's Dailism Smudge Stop Mascara to be your go-to mascara for summer. This K Beauty mascara from heimish s a cult-favorite among lash lovers for its intensity, creaminess, clump-free buildability, and blackness. Not to mention its smudge-proof formula that makes your lashes stay perfect all day long without flaking or appearing clumpy. Want to achieve that volumizing eye look? This summer cutie will definitely get you there.
---
Summer Beauty Swap #4
Two-Toned Coral Peach Eyeshadow Palette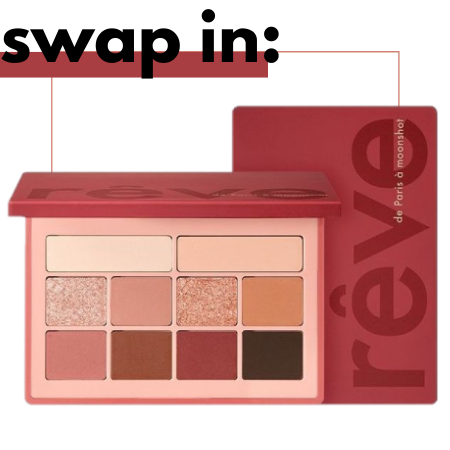 Courtesy of K Beauty Brand - moonshot
Haven't you heard? Peaches are IN for summer (not agriculturally, just makeup trend-wise). The summer beauty "it" look is all about vibrant colors that warm up and enliven your complexion, which is why coral-peach eye shadow has been popping up in a lot of K Beauty palettes this summer season. Go for the perfect monochrome look with a coral-peach eye shadow palette (and don't forget to add a touch of eye glitter too) if you want to step up your glam game this summer!
ALSO READ: K-Pop Beauty Radar: Cosmic Girls' 4 Most Iconic Eye Makeup Looks in "Butterfly" MV
— We recommend using moonshot's Rêve de Paris Eyeshadow Palette aka Blackpink Lisa's favorite pick for her glamorous-chic eye makeup look. If you want to embody a Parisian allure this summer, try this K Beauty eyeshadow palette for some French-inspired shades that are tender and elegant. The luxed-up packaging of this eyeshadow palette is already a love-at-first-sight, not to mention the smooth, buttery pigments ranging from burgundy, peach, and coral hues.
---
Summer Beauty Swap #5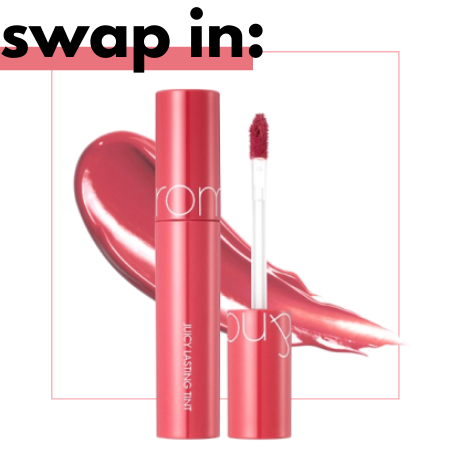 Courtesy of K Beauty Brand – Romand
Ready to make "gloss is boss" your beauty catchphrase this summer? Because it seems like glossy, high-shine lips are the ultimate trendsetter this season. If we're already going matte for foundation and primer, add lip gloss to your summer beauty arsenal for a little extra shine to your lips!
— We recommend using Romand's Juicy Lasting Tint if you want to achieve a high-gloss rouge look. Featuring many sought-after lipstick shades, the Romand Juicy Lasting Tint collection warms up your summer complexion with a kissable, glossy finish in just one swipe. Expect intense pigmentation and great color payoff that will leave your summer lips plump and shiny.
---
Which summer beauty swaps have you made so far? Primers, foundation, or lipstick? Oh, speaking of lipsticks, Stylevana is celebrating National Lipstick Day with not one, not two, but FOUR FREE GIFTS for anyone who shop over $75—just use code [LIPS2020] to get yours! Feel like refreshing your summer beauty squad? Enjoy brandwide 20% OFF on K Beauty brands like moonshot, Peach C, CLIO, peripera and MORE! Explore the Stylevana makeup collection and find your next add-to-cart favorites now!