EXO-L, we know you have been waiting for so long! EXO's leader Suho is going to have his solo debut on March 30, 2020 with his mini-album Self-Portrait. With EXO's busy schedule and constant travels for overseas events and concerts, we're always curious about how Suho and of course all the other EXO members maintain their flawless skin. While we're longing for Suho's solo debut, read on and try some of the EXO members' skincare tips.
---
EXO Baekhyun
Baekhyun's dewy skin is definitely a dream that every girl wants to live. We've delved deep to find out what's in Baekhyun's skincare regimen; in one of his interviews, he listed toner, lotion, and moisturizer as his consistent rotation (I would admit that is a much simpler routine than most of ours). But he did mention the key to his skincare regimen is Korean double-cleansing. On top of that, he also said that if he washed his face too many times, he would get skin troubles. So in Baekhyun's conclusion, two times are just about right.
STYLEVANA's Skin Care Tip for DOUBLE CLEANSING:
If you want to master the Korean double cleansing like a pro, start with an oil-based cleanser, like innisfree's Apple Seed Cleansing Oil, to massage and remove all dirt from the skin surface. Follow with a water-based cleanser or cleansing foam, like make p:rem's Safe me. Relief moisture cleansing foam, to break down toxins from deep within your skin with a thorough cleanse.
Master the Korean double cleansing method with these cleansers:
---
EXO Chanyeol
Soothing and Moisturizing Steps
With all the makeup EXO is wearing on stage, it feels right that the first step of their skincare routines is washing off the makeup. But what's next? Chanyeol once shared in an interview that no matter how tired he is, he never misses doing these two steps after removing makeup — toner and moisturizer.
Toner can benefit all types of skin by removing whatever remains on your face, balancing your skin and boosting the absorption of products in the subsequent steps. And moisturizer is the perfect companion to lock down all the goodies that you've applied to your skin. Next time, no matter how tired you are, don't miss out on these two powerful steps in your skincare regimen.
STYLEVANA's Skin Care Tip for TONING and MOISTURIZING:
Picking the right toner is crucial for keeping your skin in check. Try a sensitive-skin friendly one, like SOME BY MI's mega-hit bestseller AHA.BHA.PHA 30 Days Miracle Toner (UP TO 30% OFF NOW - woohoo), to soothe and tone your skin with calming tea tree extract. Follow it up with a high-functioning moisturizer, like COSRX's Advanced Snail 92 All in One Cream, as an impressive reparative solution to recharge your skin for the day.
Get yourself the perfect toner and moisturizer:
---
EXO Xiumin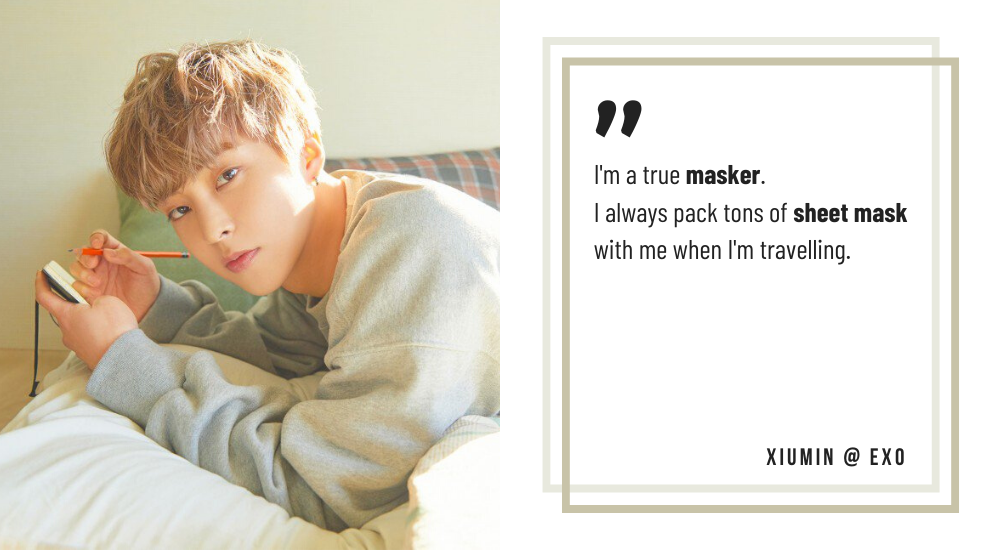 If you're true fans of EXO, then you'll remember the hot skincare issue created by Xiumin on MBC reality show It's Dangerous Outside the Blankets. The skin care products used by Xiumin on the show have become fast sellers and sold out soon after the show aired. Today we're not talking about a specific Korean skincare product or brand but an important step of Xiumin's skincare routine — masking.
On the show, the EXO member demonstrates he is a true supporter of masking by pulling out a stack of sheet masks from his luggage. Find that right mask for your skin concern now with our guide — Best K-Beauty Face Masks to Solve Your Skin Problems and stock up!
STYLEVANA's Skin Care Tip for MASKING:
For a quick pampering session, we recommend Dr. Jart's Soothing Hydra Solution Mask if your dry skin is in dire need of some intense hydration. But if you're willing to spare some extra time every night for a fun bubbly mask routine, definitely try PUREDERM's Deep Purifying Black O2 Bubble Mask with a good 10% deal for a nice detox.
Pick these Korean face masks for your next self-care night:
---
EXO Suho
EXO had been the official endorsement models for K-Beauty label NATURE REPUBLIC for 8 years since 2013 until recently. While they were endorsing the brand, they had shared some of their favorite ingredients in skincare and one would be Suho's love for green tea-infused products. No wonder why the K-pop group leader always looks flawless on and off stage; green tea is a famous ingredient in the Korean skincare world for being effective against acne and a powerful antioxidant.
If you're suffering from similar skin concerns, follow Suho's suggestion and incorporate some refreshing green tea skincare products into your skincare routine.
STYLEVANA's Skin Care Tip for GREEN TEA LOVERS:
Consider TONYMOLY's bestselling Chok Chok Green Tea Watery Cream your must-try if you are into all things green tea. This anti-inflammatory watery cream helps calm your irritated skin within minutes. Feel like something's missing? Add a green tea infused essence, like TOSOWOONG's Green Tea Eco Brightening Essence (don't miss out on its 30% OFF brandwide offer), to your daily routine for a refreshing boost.
Shop these K-Beauty gems for a skin-loving green tea indulgence:
---
Try out EXO's skincare tips now and stock up your Korean skincare products. In honor of STYLEVANA's Anniversary Celebration this week, you can save UP TO 15% OFF for order $99+ now! Don't forget to check out the LATEST K-Beauty Hits arrived on our shelf with 20% OFF! Sounds like a pretty good deal, right? Now go pamper yourself and get flawless skin while you're listening to Suho's solo album Self-Portrait and practicing social distancing at home.