Warning, itchy subject ahead… Yes, today we'll be talking about bugs, bacteria, and skin, which might sound like a goosebumps-inducing combination but there's been a lot of buzz surrounding it - probiotic skin care - and the effectiveness of it. The rise of this beauty trend shines light on how good bugs and good bacteria help boost skin renewal, regulate skin pH level and strengthen skin barrier. So if you haven't heard of it, here's everything you need to know about probiotic skin care and how it works for your skin together with our recommended list of best probiotic skin care products.
---
What are probiotics? Are they good for skin?
You may know probiotics from yoghurts, kombucha, or the daily supplements that usually treat digestive problems, but turns out probiotics also play a role in promoting skin health. In fact, probiotics are live bacteria - what people call "the good guys" - that help balance the amount of bacteria in and on your body while fighting off the bad ones. The main duty of probiotics is to benefit the host from gut to skin so it's not surprising to see probiotics skin care products nowadays to help treat certain skin conditions.
---
How do probiotics work in skin care?
It shouldn't come as a surprise that our skin is covered in bacteria, good and bad. To make sure we're keeping our skin flora balanced with healthy bacteria, we can count on probiotics skin care products, especially topical probiotic skin care, to flex their abilities in promoting skin renewal, regulating skin pH level, and most importantly, strengthening skin barrier.
Courtesy of Korean Brand - ILLIYOON
Aside from the above skin benefits, topical probiotic skin care products are also known for their calming effects on the skin by delivering an influx of good bacteria to help cells grow and flourish. Studies have also shown that probiotic skin care can also serve as anti-inflammatory treatment for skin conditions like eczema and rosacea, as well as sun damage as it helps fight off free radicals to keep your skin protected day and night.
---
Best Probiotic Skin Care Products
Probiotic ingredients in skin care including lactobacillus (or lactococcus ferment lysate which includes lactic acid) and bifidobacterium (or bifida ferment lysate) are some of the most commonly used ingredients found in daily skincare products. So chances are you might've already been using a probiotic skin care product or keeping one on your shelf. From face masks, moisturizers, to serums and ampoules, here are the best probiotic skin care products according to different skin types and skin conditions.
Probiotic Skin Care for Sensitive Skin
The last thing we want for sensitive skin is a hard-hitting formula that could trigger skin sensitivity. Although a probiotic skin care product might sound like a heavy-lifter who is ready to fight, you can consider MISSHA's Time Revolution The First Treatment Essence Rx the perfect remedy that does just right for your sensitive skin. Featuring probiotic ingredient Bifida ferment lysate, this MISSHA bestseller has gone through a double-fermentation process (one in warm temperature and the other cool) to produce high-quality enzymes designed to improve skin tone and texture while keeping your skin hydrated and elastic.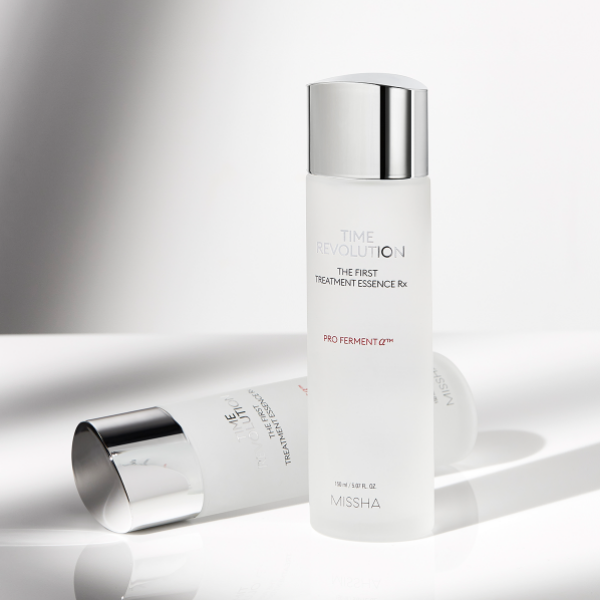 Courtesy of Korean Brand - MISSHA
We also recommend Dr. Jart+'s Vital Hydra Solution Biome series, featuring the signature Vital Hydra Solution Essence and Water Cream, which helps to restore sensitive skin and strengthen skin's moisture barrier, thanks to the brand's very own patented probiotic Jartbiome technology + its triple hyaluronic acid complex.
---
Probiotic Skin Care for Dry Skin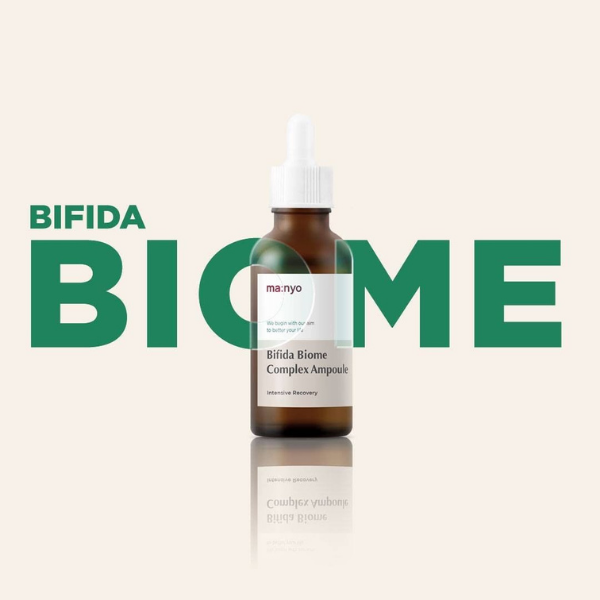 Courtesy of Korean Brand - Ma:nyo
For those who have perpetual dry skin, probiotic skin care products help balance your skin's microflora and improve skin's natural hydration while protecting skin's moisture barrier. Pair your daily moisturizer with Ma:nyo's Bifida Biome Complex Ampoule for an added layer of hydration so your dry skin can feel properly moisturized. This face ampoule is powered by a team of all-star probiotic ingredients including Bifida ferment lysate, Bifida ferment filtrate, Lactobacillus ferment lysate, and Lactococcus ferment lysate to power-boost your hydration game just in time for the winter season.
When it comes to a moisture boost, make sure to add Mamonde's First Energy Serum to your winter skincare routine. Your dry skin will appreciate the ultra-nourishing serum formula enriched with flower aged vinegar + lactobacillus ferments from honeysuckle.
---
Probiotic Skin Care for Damaged Skin
The best way to recover your damaged skin is to boost the skin's natural barrier against external aggressors and environmental stressors while preventing moisture loss. Simple speaking, a dose of topical probiotic skin care products like SCINIC's Probiotics Barrier Cream serve as the perfect shield to protect your skin from further damage.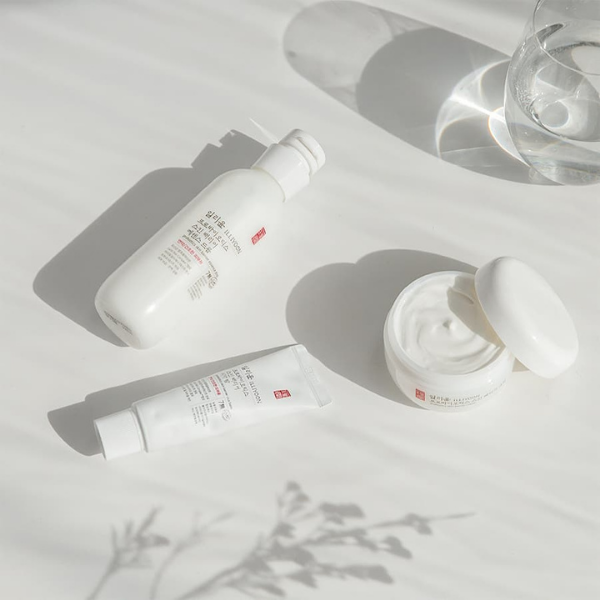 Courtesy of Korean Brand - ILLIYOON
One of our team's favorite is ILLIYOON's Probiotics Skin Barrier Cica Balm, which is the best probiotic skin care product to heal and repair damaged skin while delivering antioxidant and anti-redness results, thanks to the Madecassoside, Asiatic Acid, and Panax Ginseng Root Water formulation. You can switch to the Probiotics Skin Barrier Cream on the days when your skin feels better and less troubled.
---
Probiotic Skin Care for Acne Skin
Probiotic skincare is a promising way to treat acne-prone skin, thanks to its calming and pH balancing properties, especially with probiotic ingredient lactobacillus. Look for probiotic skin care products that are teamed with green tea which is a healthy, natural ingredient that will help curb your acne breakouts.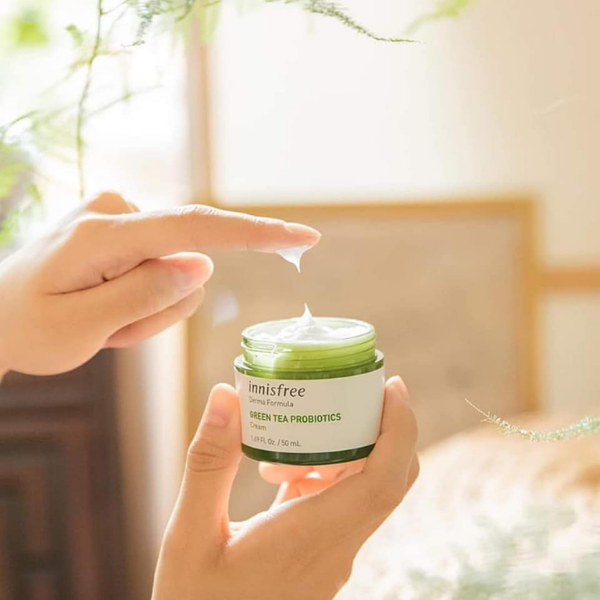 Courtesy of Korean Brand - innisfree
We highly recommend the innisfree Derma Formula Green Tea Probiotics Cream, which is a deeply nourishing probiotic moisturizer featuring fermented green tea and lactic acid to calm acne skin or any irritation. But if you're looking to restore the post-breakout glow?
Try the MECHNIKOV'S Probiotics Formula Radiance Cream from Holika Holika for a hefty dose of probiotic goodness, aka the Quattro Biome™. This probiotic skin care product is inspired by Mechnikov, the father of Lactobacillus therapy, and contains highly oxygenated water which helps revive your acne-prone skin with our most-loved ingredients like niacinamide, allantoin, hyaluronic acid and rice.
---
Probiotic Skin Care for Anti-Aging
Topical probiotics skin care products help improve skin's moisture absorption and ward off the signs of aging with lasting results. Formulated with superprobiotics + 11-type peptide specialized for skin conditions like aging skin, NEOGEN Dermalogy's Probiotics Youth Repair Cream is a multi-restoring and skin-firming moisturizer that will energize your skin to support a youthful looking complexion. Pick up the NEOGEN Dermalogy Probiotics Nutrition Edition if you're ready to commit to a full-course probiotic skin care lineup for daily upkeep.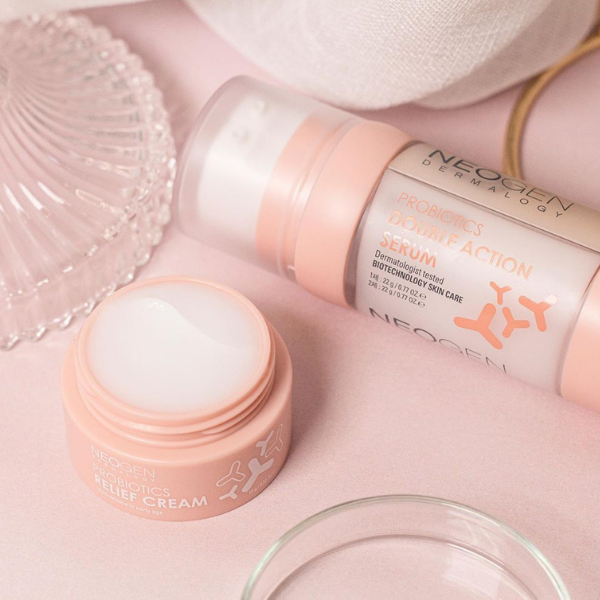 Courtesy of Korean Brand - NEOGEN Dermalogy
If you're looking for a night repair maintenance, MISSHA's Time Revolution Night Repair Probio Ampoule Cream will be the perfect addition to your nighttime skin care routine. Consider it the amped-up version for MISSHA's Time Revolution Night Repair Probio Ampoule, which is powered by probiotics to repair wrinkles and restore your skin's elasticity overnight.
---
See? Probiotic skin care isn't as complicated as it seems. So if stronger, more balanced skin is your ultimate goal, you should definitely invest in a probiotic-powered skincare routine to help speed up the process. Lucky for you, you can now ENJOY UP TO 60% OFF on probiotic skin care products from ILLIYOON, Dr. Jart+, innisfree and MISSHA. Don't miss out!