Dark circles got you down? You may have been spending too much time staring at a screen or not getting enough sleep, leading to those dreaded panda eyes. While other actions are needed to solve the underlying concern, makeup, specifically concealer, is one way to address the appearance of your undereyes. Take this as your start-to-finish guide on how to conceal those dark circles and make your concealer last all day long. We break down everything you need to know, including prepping the skin, the tools to use, how to find your concealer shade and more. Just start scrolling to get the expert tips.
---
1. Base Prep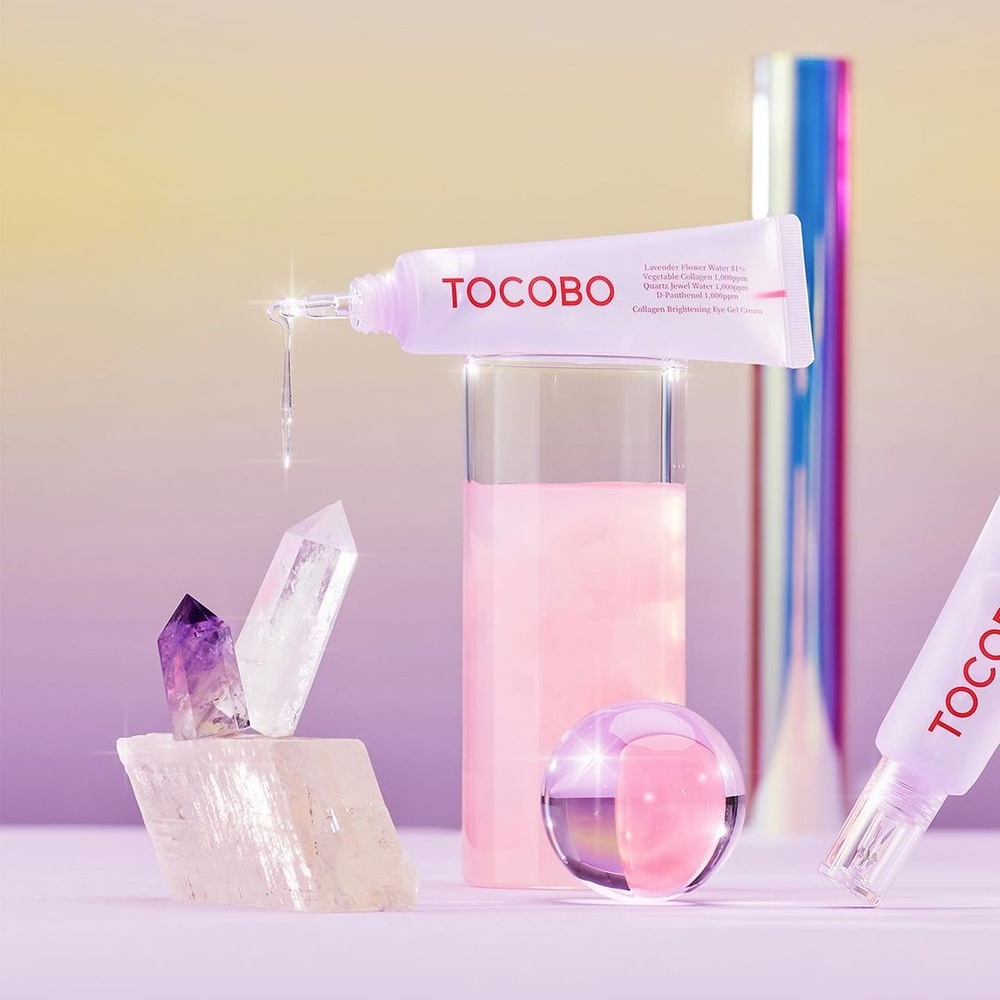 Courtesy of Korean Skincare Brand - TOCOBO
With any makeup that you do, skin prep is key to making it look better and last longer. The TOCOBO Collagen Brightening Eye Gel Cream hydrates the eyes with its Lavender Flower Water and vegetable Collagen-enriched formula, strengthening the moisture barrier and reducing fine lines around the eyes. If you struggle with concealer creasing easily, consider layering on an eye primer on your undereyes; not only does it smooth out the eyelid, but it also creates a smooth base for your concealer and is made for use around the eyes. A grain-sized dollop of CANMAKE's Lasting Multi Eyebase WP will secure your concealer in place and diminish flaking.
We Recommend
---
2. Color Correcting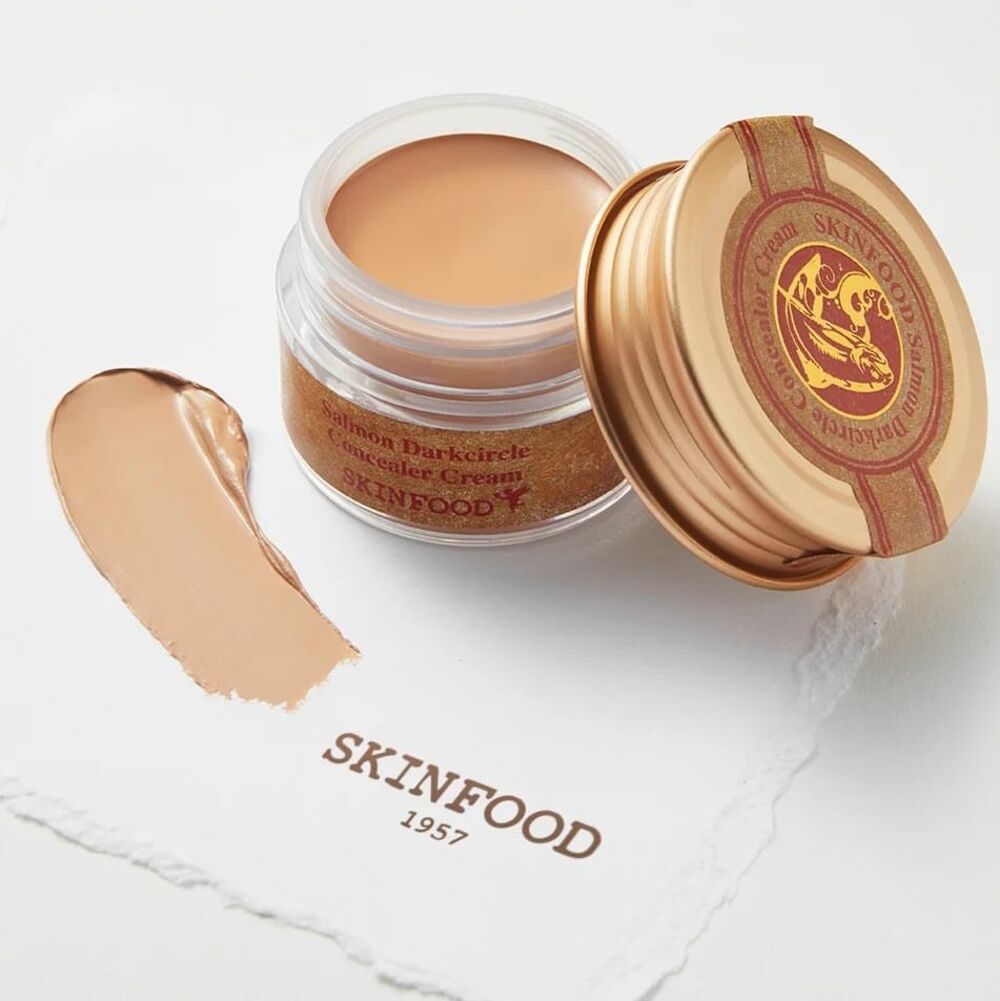 Courtesy of Korean Skincare Brand - SKINFOOD
Dark circles can be a menace, but the good news is that they are a menace that can be tackled with a little bit of color correcting. A mini lesson in color theory: using a color that's opposite another on the color wheel will neutralize the tone. If we apply this to dark circles, using a peachy corrector on the area will cancel out blue or purple tones. Color correcting is useful because even with the highest coverage of concealers, dark circles can still peek through and applying thick layers of concealer will just result in caking and creasing. Apply a thin layer of the SKINFOOD Salmon Darkcircle Concealer Cream or The Saem's Cover Perfection Tip Concealer in Peach Beige to neutralize panda eyes before concealing. You'll appreciate the light layers underneath the eyes that don't cake up throughout the day.
We Recommend
---
3. Choose Your Texture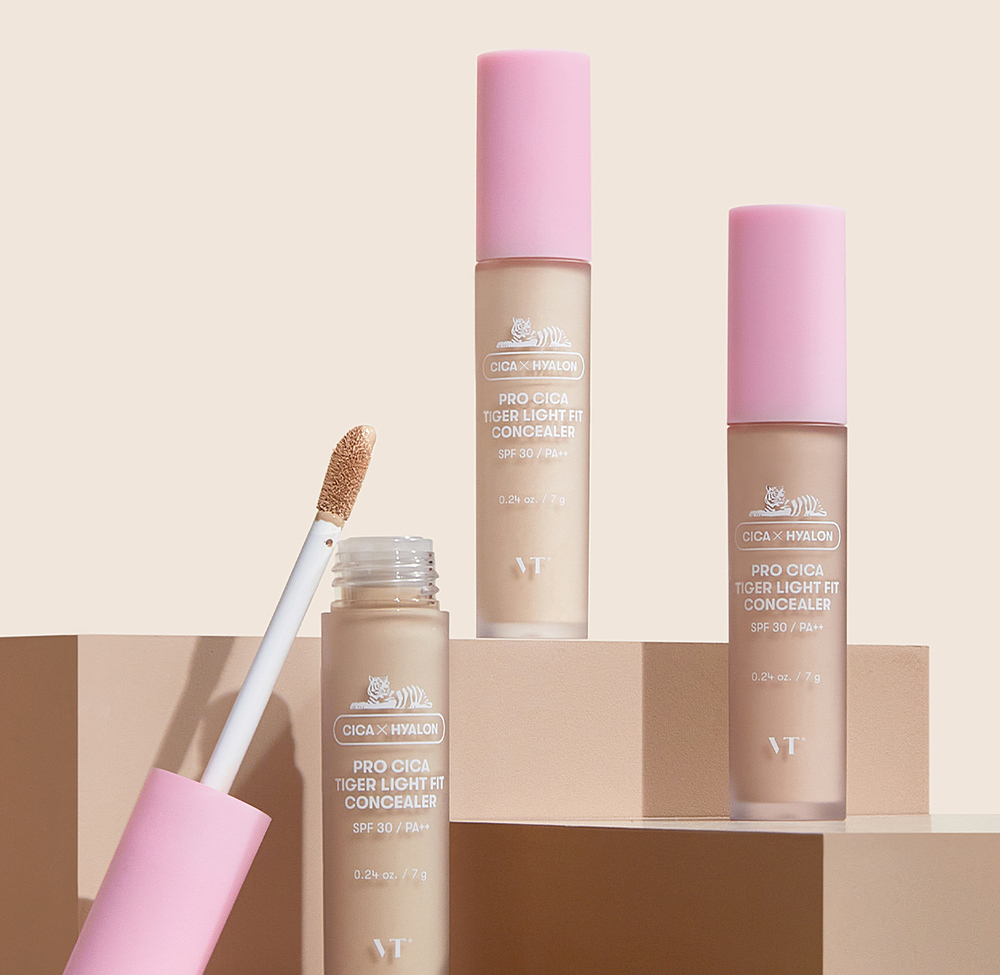 Courtesy of Korean Skincare Brand - VT
Different concealer textures will provide different benefits and suit different skin types. Take the classic liquid concealer - like the VT Pro Cica Tiger Light Fit Concealer - for instance: it provides lighter coverage and is well suited for normal to dry skin types, as the liquid consistency tends to emphasize dryness less. On the other hand, a cream concealer like The Saem's Cover Perfection Pot Concealer offers higher coverage and has a drier texture that oily or acne-prone skin types will prefer.
That being said, if you have dry skin but want more coverage, you can still go for a cream concealer; you might just want to prep the skin beforehand (re: skin prep) to make the concealer last longer. For oily skin users going for a liquid concealer, you may want to use more powder to set the product and make it more durable.
We Recommend
---
4. Tools
Courtesy of Korean Skincare Brand - SKINFOOD
To blend your concealer seamlessly, you'll want to select the right tool for you. Using your fingers is one option as the heat from your fingertips can help meld the product into the skin. If you don't prefer using your hands, the MissLady Foundation & Concealer Brush Set includes a concealer brush with dense bristles, fashioned to resemble the touch and feel of a fingertip. A third option is to opt for a sponge. What makes the SKINFOOD Wedge Puff Sponge so handy is that it features cut edges to get right under the eye, getting you that immaculate blend.
We Recommend
---
5. Concealer Shades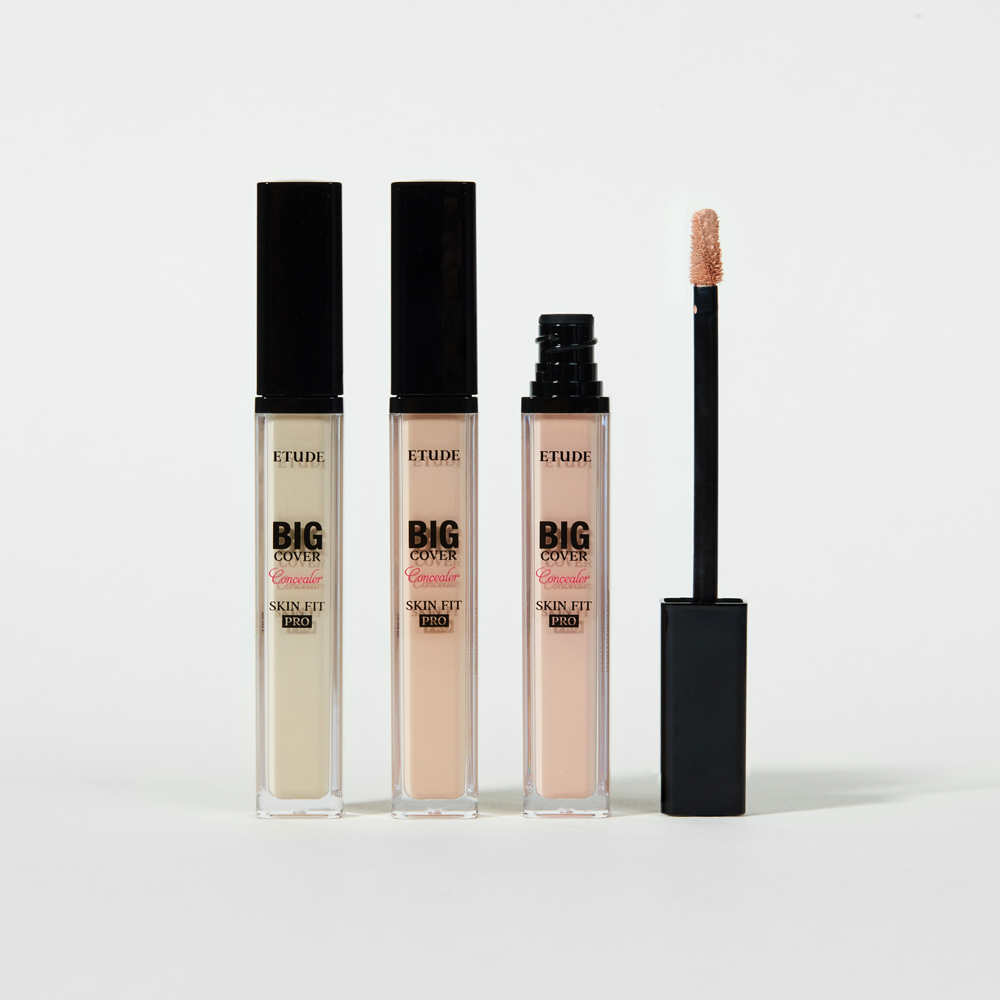 Courtesy of Korean Makeup Brand - Etude House
You've chosen your texture, you've selected your tool, now comes the part of deciding your concealer shade. A concealer of your skin tone, i.e. the color of the rest of your face, will even out the overall complexion, emphasizing a natural appearance. If you want to awaken the face and draw attention away from darkness under the eyes, choose a concealer one or two shades lighter than your skin tone. This brightens up the complexion and masks the fact that you may not have gotten your full 8 hours of sleep - don't worry, it happens to the best of us.
We Recommend
---
6. Ready.. Get Set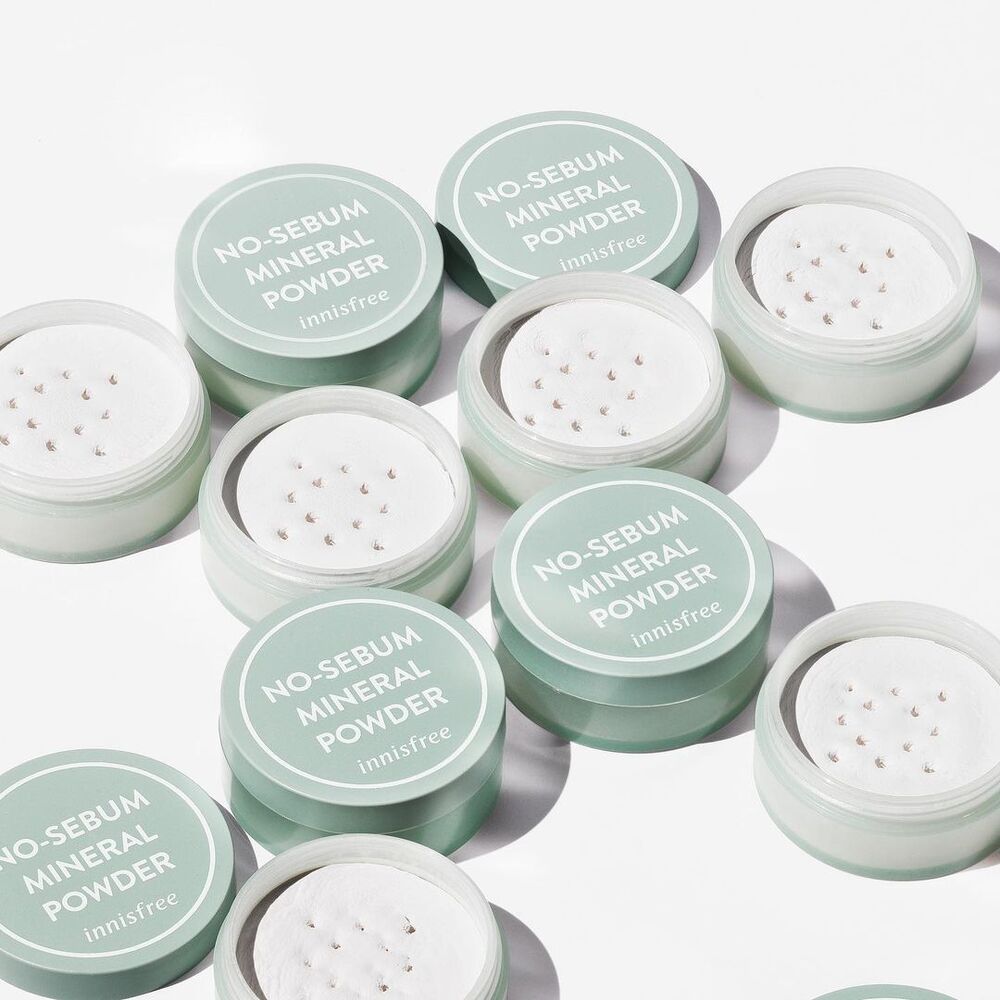 Courtesy of Korean Skincare Brand - innisfree
After blending your concealer out to perfection, now comes the time to set it in place. Whether you're going for a loose powder like the innisfree No Sebum Mineral Powder , or powder pact like the Romand Better Than Finish, start with a light layer of powder. More often than not, this is enough to set concealer while avoiding cakiness or excessive dryness. Too much powder and you can emphasize fine lines, dry skin, or skin texture. If your skin leans more oily, you can add a few dabs more if needed.
We Recommend
---
With these concealer tips under your belt, you're on your way to leveling up your makeup skills and becoming a concealer master! Make sure you're following us on Instagram and Facebook, as well as keeping an eye on the VANA Blog, so you receive all the latest news, promos and information!