How to choose the right concealer
The key to any makeup look is a strong base. If your goal is flawless complexion and coverage, concealer is going to be the most important step in the process. It can combat common skin concerns like aging, dark circles and spots, blemishes and uneven skin tones.
The problem is, if you use the wrong type or shade for your skin, it can draw attention to the areas you are trying to disguise. I know, right? Not what you were going for. Fear not, this guide will help you understand the right consistency, color and application for your goals.
The three main types of concealers are stick concealers, cream concealers and liquid concealers. All are great for different skins concerns, and best used to a specific purpose. It's worth investing in a few concealers instead of putting the same one under your eyes, over your blemishes and on your dark circles!
If you're wondering whether you should use a creamy liquid concealer or a stick concealer, think first about what you are trying to achieve in terms of coverage, and next what your skin type is. If you have a dry complexion, it's better not to use a liquid concealer since that could over-emphasize the dryness. As with any makeup, its best to prime and moisturize your face before any makeup application. And remember, SPF is important, even in the winter!
Types of Concealers
Best for normal/combination skin. Great because you can use it in buildable layers, meaning you don't need to overdo it with this. If you have sensitive skin, this could be the best choice for you. Stick concealers are the best for spot corrections and small blemishes, since you get a lot of coverage for a little bit of product. Not recommended for oily completions. Stick concealers are best suited for combinations skin types.
Recommendation:MISSHA - Cover Maestro Stick Concealer
Liquid concealer: The most versatile of the concealer family. It can be used on almost any skin type, expect very dry, since it can make dryness more emphasized. You can build the coverage in layers, from light coverage to full coverage, so it is the best concealer for dark circles and redness. Liquid concealer is also the best concealer for oily skin types.
Recommendation:The Saem - Cover Perfection Tip Concealer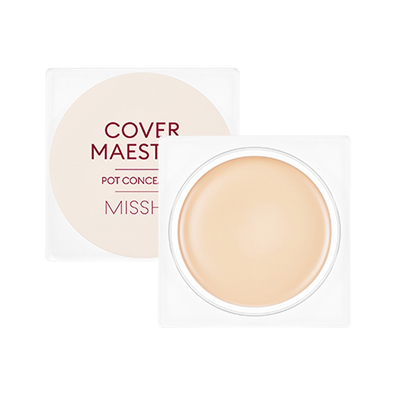 Cream concealer: These offer a little more texture than the other types of concealers and can be more hydrating for dry skin. You get the best of both worlds here, with the ability to brighten the under-eye, but you can also do small spot corrections with a cream. That's why we recommend cream concealers as the best concealer for dry skin. However, if you have acne-prone skin, try to find an oil-free version and one without comedogenics.
Recommendation: MISSHA - Cover Maestro Pot Concealer
One thing to note, if you are looking for the best concealers for acne-prone skin, go with a stick or a cream concealer. These allow you to use a small amount of product, therefore not smothering blemishes and letting them breath. Make sure you keep your concealer clean! We can't emphasize this enough. You can use a sanitizing spray (same as you do on your brushes and sponges) to kill off any bacteria.
---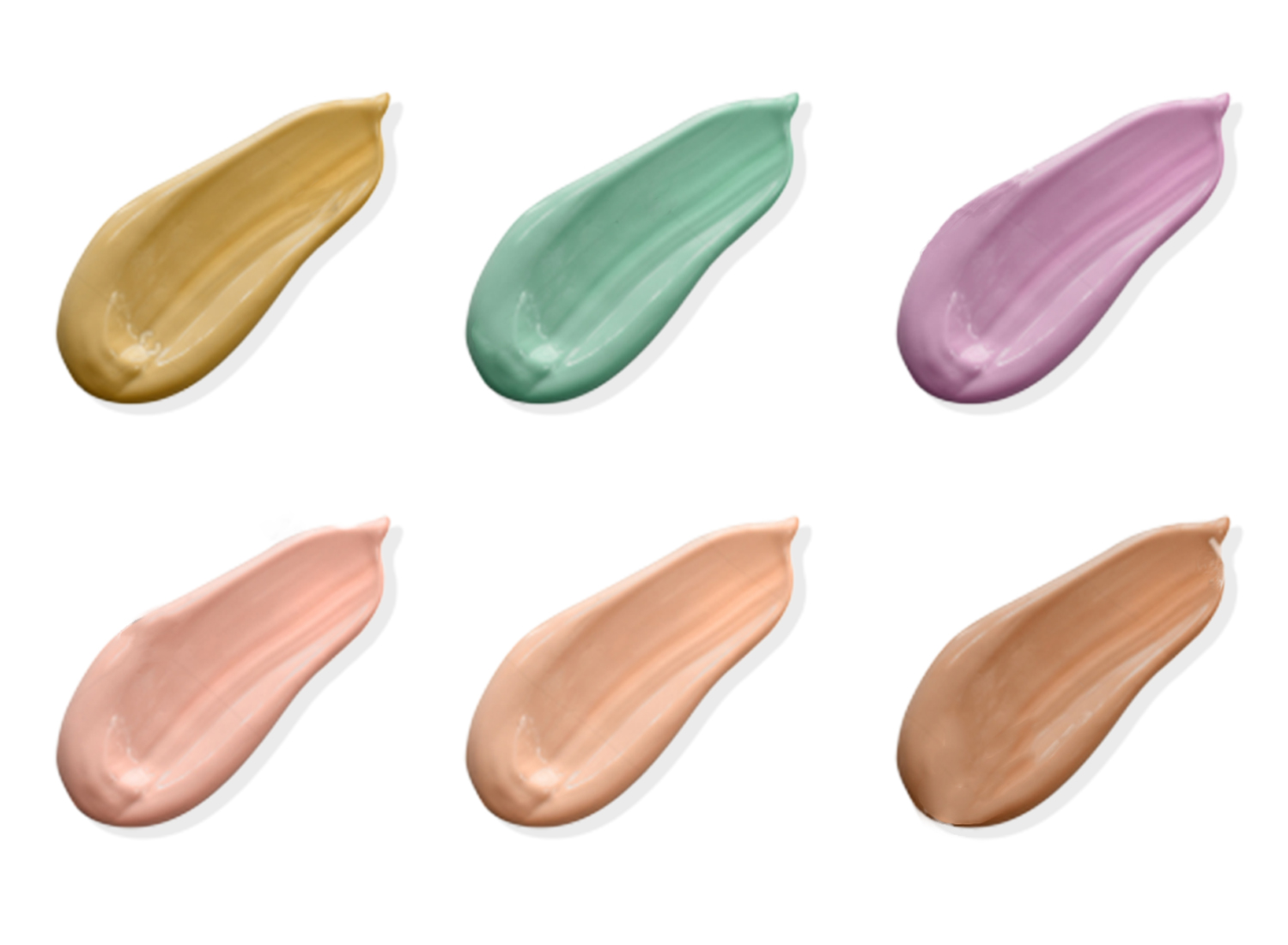 Our basic guide to choosing a concealer color is to keep it simple. Think about your natural skin tone and understand your undertones. An easy way to do this is to look at the veins on your wrist. If they are green, you have warm undertones, if they are blue, you have cool undertones. In between? You have neutral undertones, which means you can use products with any undertone.
Using color correction really isn't that scary. The basic premise is to correct a color concern with tones from the opposite side of the color wheel. For example, if you have deep dark circles under your eyes, you wouldn't want to only choose a concealer that was just lighter than your natural skin tone. If you do that, your under-eyes might just end up looking light blue. You would want to choose an orange/yellow undertone concealer to combat the blue/purple tones of dark circles. The warmness of the orangey tones will help offset the coolness of the blueish colors.
When trying to correct redness, you should use a green undertone concealer. You can even use a green pigment stick, which will help offset the redness! Obviously, don't over–apply here. Make sure you blend!
Not everyone was born with even and glowy complexion, but with correctors you can certainly achieve! Check out some of the hot items:
---
How to apply concealer
Apply concealer after foundation. Always. That way, you are only concealing what is left after the coverage of your foundation.
Don't spread your concealer, dab it. This is especially important with blemishes, so you don't just drag it around and risk damage/scaring. With the under-eye, you should dab in gentle, fast paced motions, to avoid pulling the tender skin which could cause wrinkling in the future. We are all about preserving our skin naturally!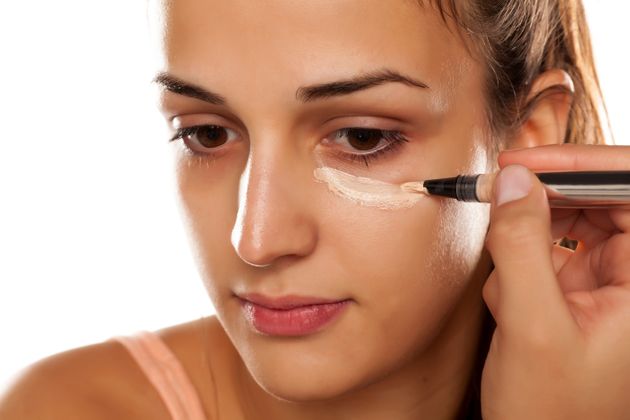 If you're wondering how to cover dark circles, our little trick is to make sure to get the inner part of your eye, near your nose, since that's the darkest part of our face. You can even add a little highlighter here for extra brightening.
Also, did you know you can use concealer as a primer for different makeup application? Well, now you do! You can use a light layer of concealer to prime your eyes for eye shadow application, especially if you need it to last all day. This will help your shadow stay in place. If you are going for a bold lipstick look, you can also prime your lips with concealer to neutralize your natural lip color.
Another way you can be versatile with your concealer is to use it as a highlighter. If your shade is one shade lighter than your natural skin tone, you can use it to provide a subtle, natural highlight for places like just underneath your eyebrows.
As with all makeup application, make sure you apply it in natural light. Artificial yellow light will make everything look smoother, but when you go into outside you will be in for a rude awakening. Less is more!
To diminish the flaws on face for the perfect canvas, check out some of the hot-sellers:
Now you've known how to choose the perfect concealer for yourself. Only one step left to the most gorgeous makeup looks! Pick amazing K-beauty items with our Black Friday Sale and save up to 80%!