Quick question: are you sure the way you wear your sunscreen is "makeup-ready"? Well, slathering on SPF seems simple enough but there's a mini lesson that comes with making it last with makeup. In case you missed the memo, there are different logics of layering your sunscreen with makeup, depending on the sunscreen's formula, texture and finish. Sounds complex? Don't worry, we've got the low-down for you! Whether it's applying your daily SPF in the morning or midday touch-ups, here are the general rules of layering your sunscreen with makeup to let your skin glow all day long!
---
For Sun Cream, Milk, or Serum:
I think we can all agree that dewy skin is always the end goal here, and sunscreens that come with a creamy or milky texture (or in an even more lightweight serum form) are an elite breed that goes well with dewy makeup. So when it comes to keeping your complexion looking radiant while totally protected from sun exposure, you should make sure to do the following: for chemical sunscreen it should go as SPF, moisturizer, and then makeup. For physical sunscreen (one that has a filter like zinc oxide or titanium dioxide), it should be moisturizers, SPF, and then makeup.
Shiseido - Anessa Perfect UV Sunscreen Skincare Milk
Courtesy of Japanese Skincare Brand - Shiseido
This Shiseido Anessa Perfect UV Sunscreen Skincare Milk is one of the most hype-worthy waterproof hybrid sunscreens on the rise. You can wear it before or after your moisturizer and followed by makeup as the last step. Since this lightweight, milky-textured zinc oxide sunscreen is formulated with Camellia Sinensis Seed Extract and Glycerin, it keeps your skin hydrated and protected from harmful UV rays at the same time. This Cosmopolitan Best of the Best Beauty Award winner is also sweat- and water-resistant for up to 80 minutes, so it provides top-notch sun protection during workouts, beach outings, and everything in between.
Logically, Skin - Professional Sun Block SPF50+ PA++++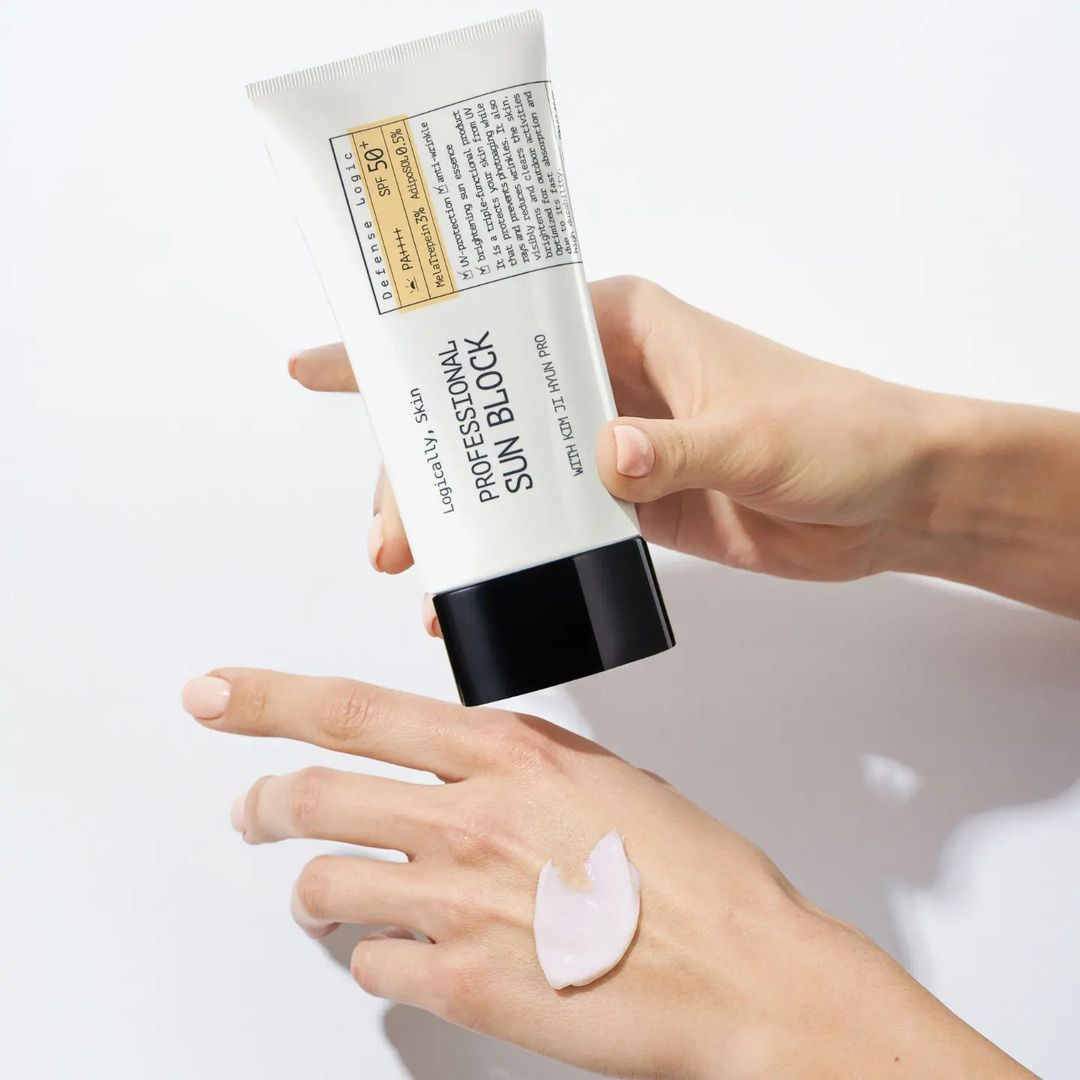 Courtesy of Korean Skincare Brand - Logically, Skin
Known for its powerful mineral protection thanks to the zinc oxide formula, this Logically, Skin Professional Sun Block works great as a makeup base, which you apply AFTER your moisturizer and BEFORE your makeup. Made with niacinamide + glycerin, this physical sunscreen focuses on skin moisturization for dry skin type and helping skin's oil-moisture balance, while doing a wonderful job on providing a broad SPF50+ sun protection to help your melanin-rich skin prevent sunburn and sun damage. It feels equally refreshing as it is cooling on the skin which is perfect to apply on summer days.
Goodal - Green Tangerine Vita-C Dark Spot Care Sun Serum SPF50+ PA++++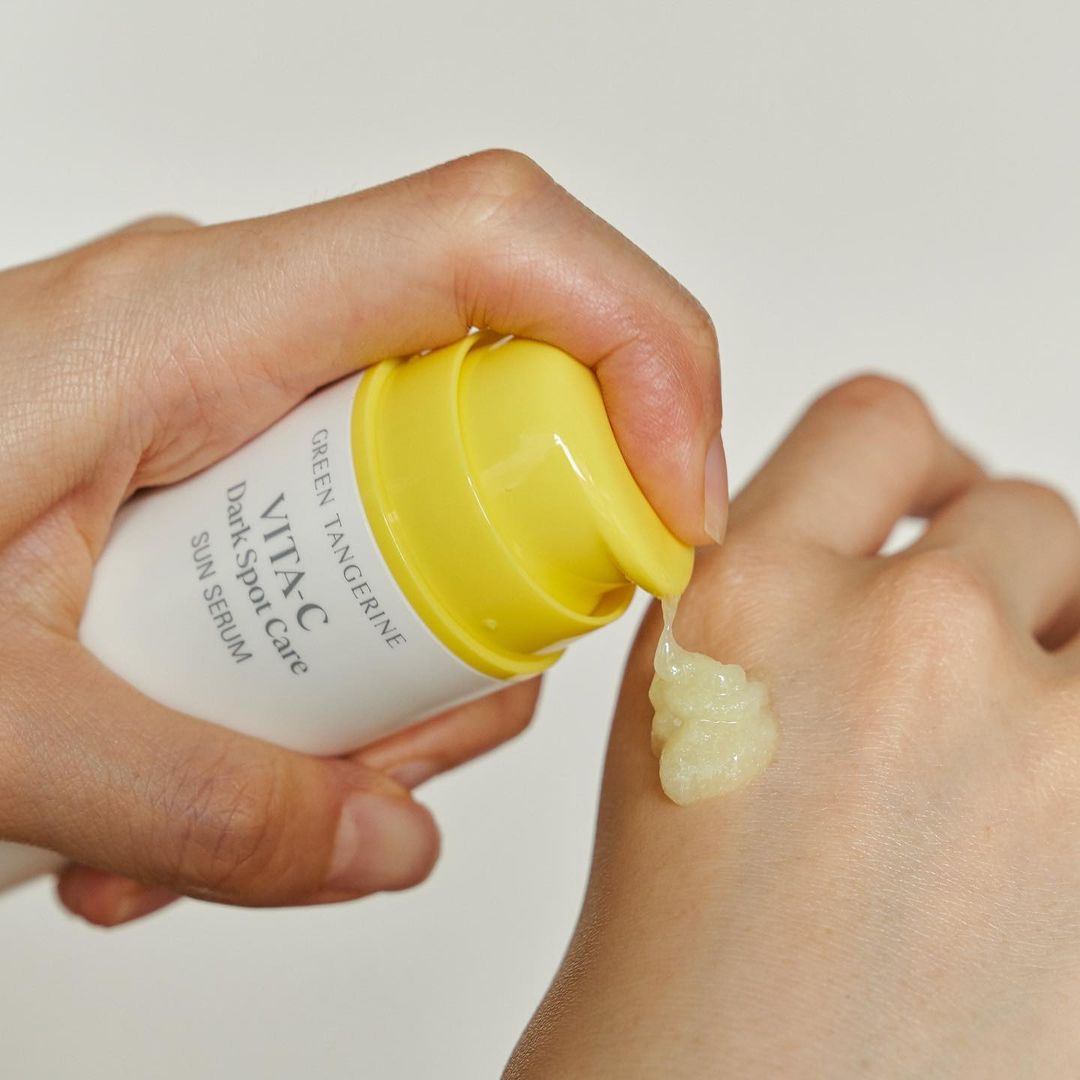 Courtesy of Korean Skincare Brand - Goodal
If you're working with a sunscreen serum like our current fan-favorite Goodal Green Tangerine Vita-C Dark Spot Care Sun Serum which is a chemical sunscreen, just smear it across the face BEFORE your moisturizer and makeup then you're all set. Its refreshing, lightweight texture not only makes it a joy to layer with your day makeup but—thanks to the brightening ingredients like niacinamide, green tangerine extract and Vitamin C—also helps fade out dark spots on top of SPF50+ sun protection.
---
For Sun Sticks:
We love an easy-to-apply, on-the-go sun stick that can fit inside our makeup bag and follow us everywhere. Apart from being an everyday daytime staple in our morning skincare routine, some sun sticks are also perfect to apply over makeup for residue-less touch-ups when it's time to re-up your SPF in the middle of the day! Reapply every 2 hours, remember?
Isntree - Hyaluronic Acid Airy Sun Stick SPF50+ PA++++
Courtesy of Korean Skincare Brand - Isntree
Some sunscreen sticks can be too thick and waxy to apply over makeup, but the lightweight Isntree Hyaluronic Acid Airy Sun Stick is perfect for retouches over makeup because it doesn't leave behind a residue. Besides, this sunscreen features moisturizing agents, aka 8 types of hyaluronic acid, as well as niacinamide to replenish your skin with intense hydration on every skin layers while keeping your skin well protected from harmful UV rays.
---
For Powder Sunscreen:
We don't give enough credit to powder sunscreen for the wonderful job that it does for oily skin. Not only does it have the added benefits of setting your makeup and sopping up excess oil, the finely-milled powders help provide extra coverage and a delicate matte finish to your day look. So if you're using a powder sunscreen, make sure to dust it on over your makeup as the last step.
O HUI - Day Shield Sun Powder SPF50+ PA+++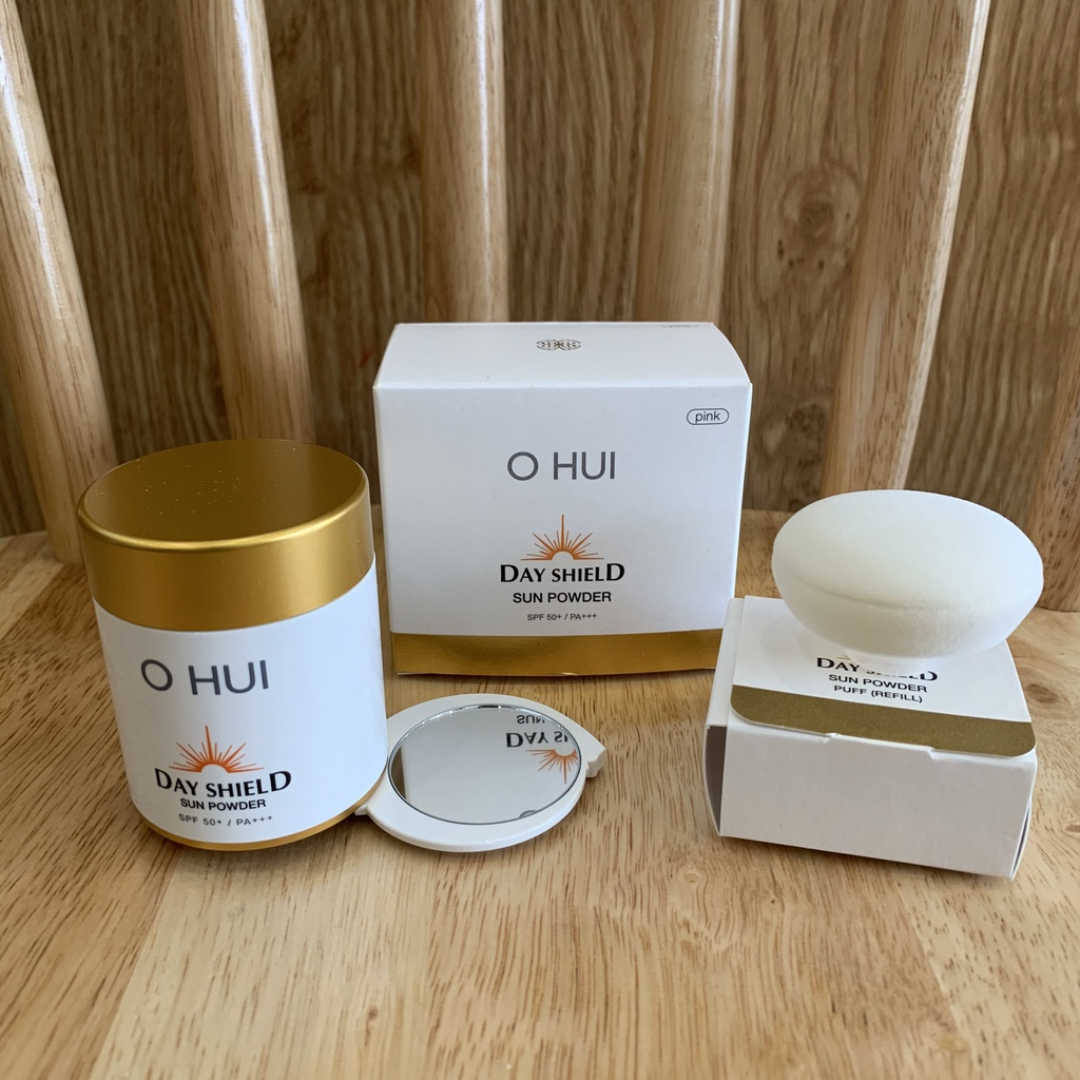 Courtesy of Korean Skincare Brand - O HUI
We've found a love match for those with oily skin in the form of the O HUI Day Shield Sun Powder SPF50+ PA+++. Formulated with powerful SPF 50+ PA+++ sun protection, this holy grail just goes on seamlessly over makeup and doesn't feel cake-y, making it super easy to maintain sun protection throughout the day in case you need to reapply.
---
Bottom line is: always start your day off with ample amount of sunscreen to keep your skin protected from sun exposure to achieve the lit-from-within healthy glow that no amount of makeup can replace! Follow us on Instagram and Facebook to get more instant product updates and skincare tips!