The best drizzle on your yogurt, in your tea, and on your pancakes — we are talking about honey. But did you know honey is also great for your skin and hair? You may have hesitations about using honey in your face care, hair care, and even your lip care routine, but hear us out, honey skincare product features antibacterial, antioxidant, and healing properties that can possibly fight off acne-causing bacteria, calm irritated skin, and brighten your complexion. In honor of World Bee Day, we're unveiling more honey benefits and some of our team's favorite honey beauty products that your shelf will love. Keep scrolling to see how you can use honey to keep your skin, hair and lip happy!
---
Benefits of Honey on the Skin
Honey (rich in sugar) is a natural, potent humectant, allowing it to retain moisture, hydrate, and plump skin from deep within. The enzymes and probiotics in honey skincare products work together enabling them to be easily absorbed into skin while gently conditioning and exfoliating at the same time.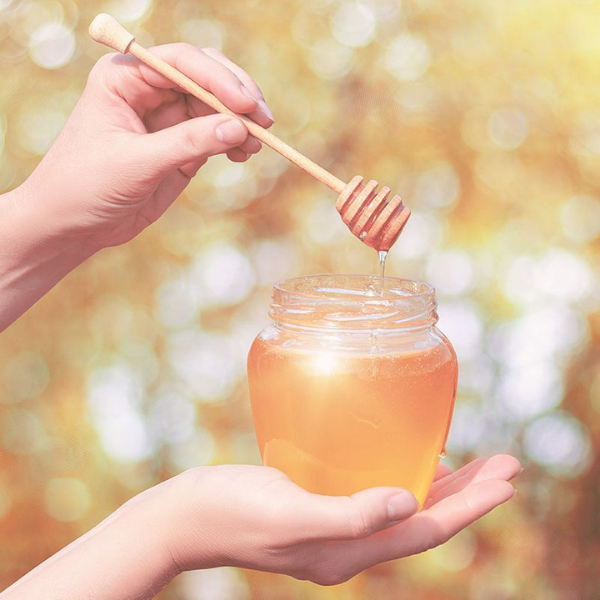 Courtesy of Korean Skincare Brand - I'm From
A natural powerhouse ingredient for all things beauty, honey is commonly used for face, hair and lips. Here are the major benefits of honey you should take note of:
Antibacterial properties to prevent and treat acne

Full of antioxidants for anti-aging

Extremely hydrating and moisturizing for dry skin type

Heals and nourishes damaged skin

Boosts collagen production

Removes dead skin cells to leave you with a radiant glow
---
Is it safe to apply honey on face every day?
With continued use of honey and beeswax extracts in your skincare routine over time, you will observe improvement on your skin conditions; your skin will look radiant, glowing, and soft to touch. So yes, it's safe and healthy to use honey in your skincare routine every day as long as the honey skincare product is gentle and suits your skin type without being too overbearing.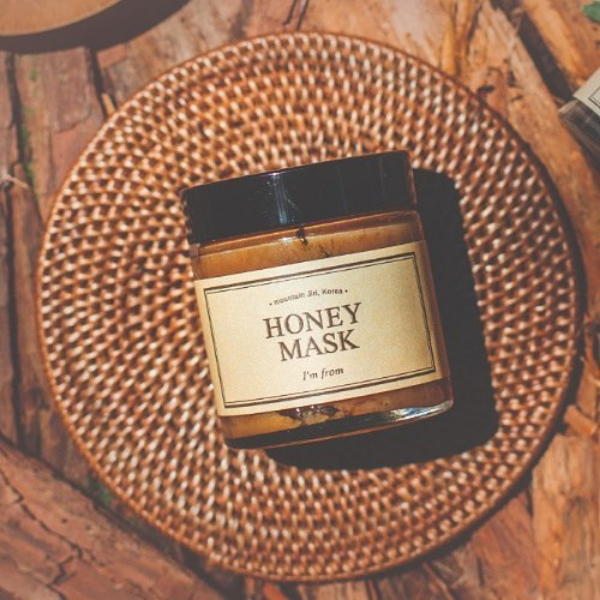 Courtesy of Korean Skincare Brand - I'm From
Our recent K-Beauty favorite I'm From Honey Mask is a great treat for skin that needs just as much a detox as a hydration boost. This premium wash-off mask is extra gentle and nourishing and does not strip the skin like most wash-off treatments. Made with 38.7% natural honey from Mountain Jiri in Korea, this 10-minute Honey Mask combines propolis, bee venom and jojoba seed to deliver gentle pore-care while hydrating and nourishing your skin to keep it soft and supple.
---
Will honey help get rid of acne?
The antioxidant properties of honey nourish damaged skin, speeding up the healing process of scars while making sure less of a scar is left behind. With the added bonus of anti-inflammation and anti-bacterial properties, honey also acts as a natural antiseptic to inhibit scar formation while stimulating tissue regeneration to gradually lighten acne scars. If you have a blemish-prone skin type, you should definitely give honey-infused skincare products a try.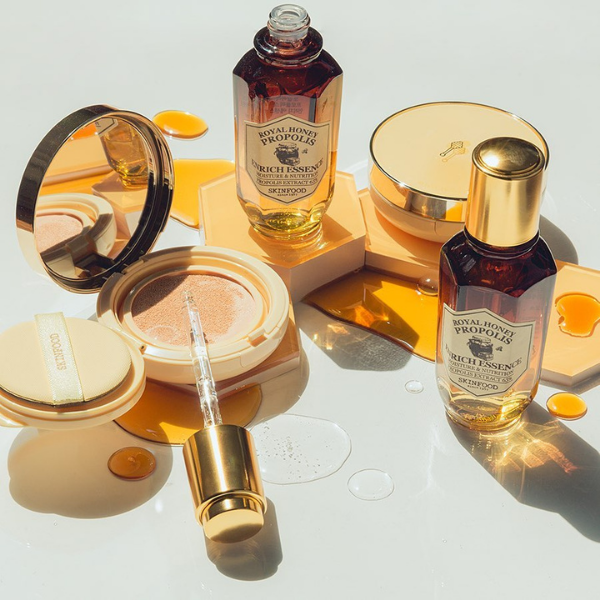 Courtesy of Korean Skincare Brand - SKINFOOD
We highly recommend SKINFOOD's Royal Honey Propolis Enrich Essence. This nutrition-packed essence does a great job in healing and reviving your damaged skin with a much-needed layer of protection containing 63% black bee propolis extract, 10% royal jelly extract, and 10% black honey extract. If you want to strengthen your skin barrier after your breakout cycle, this honey essence will get the job done. You can also team it with the SKINFOOD Royal Honey Propolis Essence Cushion SPF45 PA++ for some lightweight, natural coverage when you do your day makeup on your blemish prone skin.
Best Honey Skincare for Acne Skin
---
Read this, if you have sensitive skin.
The antibacterial, anti-inflammatory, and moisture-retaining properties of honey make it super soothing on irritated skin. Besides, honey also creates an osmotic effect on the skin by drawing out excess fluid to help reduce inflammation, plus honey is perfect for any skin type.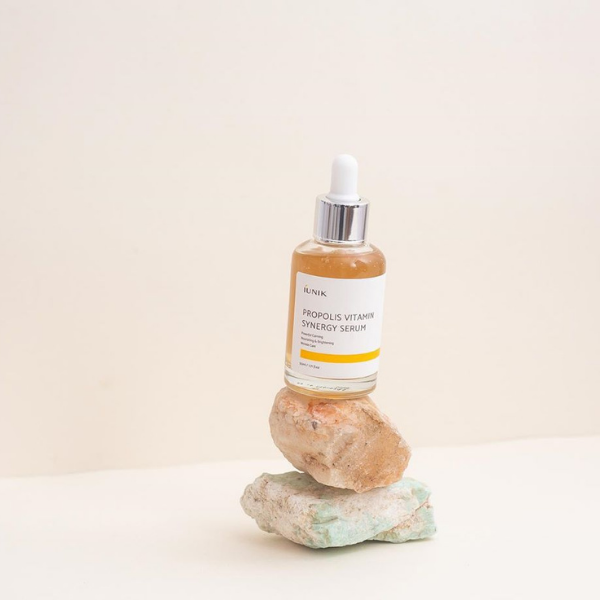 Courtesy of Korean Skincare Brand - iUNIK (Source: @studioai_)
That's why, applying honey skincare like iUNIK's Propolis Vitamin Synergy Serum on your irritated skin area helps create a viscous barrier on the surface to prevent further infections that might try to make their way into the affected area to make the irritation worse. On days when your sensitive skin gets a bit moody and needs some TLC, just add a few drops of iUNIK's Propolis Vitamin Synergy Serum to calm it down right on the spot.
Best Honey Skincare For Sensitive Skin Type
---
Lip care with honey
TBH, just the sweet taste of honey makes it a joy to use it on the lips. Honey is naturally nourishing and is great for healing damaged skin, that's why honey lip care products are the perfect fix for dry chapped lips, especially during the dry season.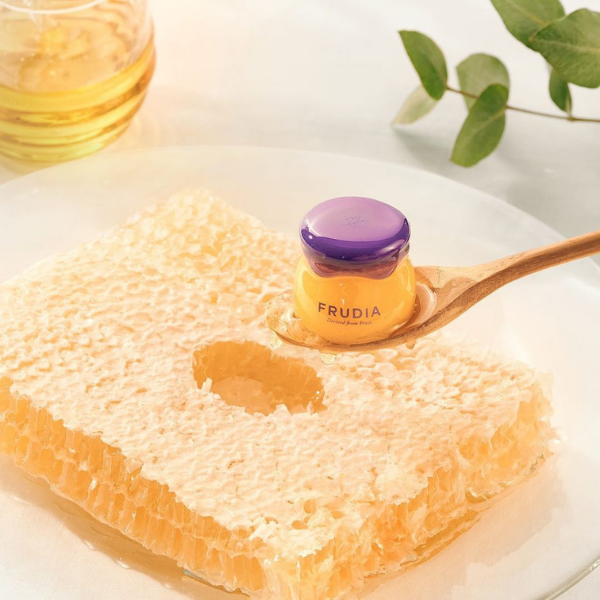 Courtesy of Korean Skincare Brand - FRUDIA
Give your lips some HLC (honey loving care) with the FRUDIA Blueberry Hydrating Honey Lip Balm to get smooth, plump lips. This ultra-moisturizing lip balm is enriched with honey + blueberry extracts to hydrate and protect your delicate lips all day long. It also contains vegan collagen which helps create a plumped lips instantly.
---
Why honey is good for your hair too...
Apart from improving your skin conditions, many people use honey for hair growth. Honey is used as a treatment for wound healing because of its ability to promote cell growth, that's why honey benefits also extend to your hair. Rich in vitamins, minerals, proteins with antioxidant properties, it should not be a surprise that honey hair care product can also be used for nourishing, conditioning and improving the health of your hair, especially those with perpetually dry scalp and split ends.
Consider adding the PUREDERM Honey Vital Radiance Hair Mask to your weekly (or daily) routine if you want a great fix for your damaged hair resulted from colouring, bleaching and permanent wave products. This honey hair mask is packed with a team of nourishing ingredients including honey, grapefruit, sweet almond + shea butter. Not to mention the richly textured creamy mask that is highly moisturizing for dry hair and is great for scalp care, which will help slowly restore the healthy shine to your hair.
---
Just remember these 3 major beauty buzzwords when you search for the best honey skincare: Honey, Bee and Propolis. Follow us on Instagram and Facebook to get more instant product updates and skincare tips!