Any beauty lover on social media will have come across Douyin makeup, whether it's shown up on their FYP or Pinterest Explore. This makeup phenomenon exploded onto the scene and captured everyone's attention with its unique style and techniques, being the source of inspiration for many a YouTube tutorial and going-out looks. Today, we're breaking down exactly what Douyin makeup is, the specific techniques to master when creating a Douyin look of your own, and what products you need in your collection to get the look picture-perfect. Just keep scrolling to enter the world of whimsical glitter and fairy-like wonder.
---
What is Douyin makeup?
Douyin is a short-form video social media platform originating from China - think Chinese TikTok. From there grew the world of Douyin makeup, a style of soft, ethereal makeup incorporating delicate glitter placement, flushed cheeks, clustered lashes, and more unique features. The style was initially designed to flatter East Asian facial features but as it amassed a worldwide fanbase, users took up Douyin makeup and made it their own. The original sentiment remains: Douyin makeup is for you to enhance your natural beauty and highlight your own features.
Down below we collate the key elements of Douyin makeup that you'll want to check off your list as you're recreating the makeup style, plus the make essentials that will help you get the look.
---
1. Velvet Skin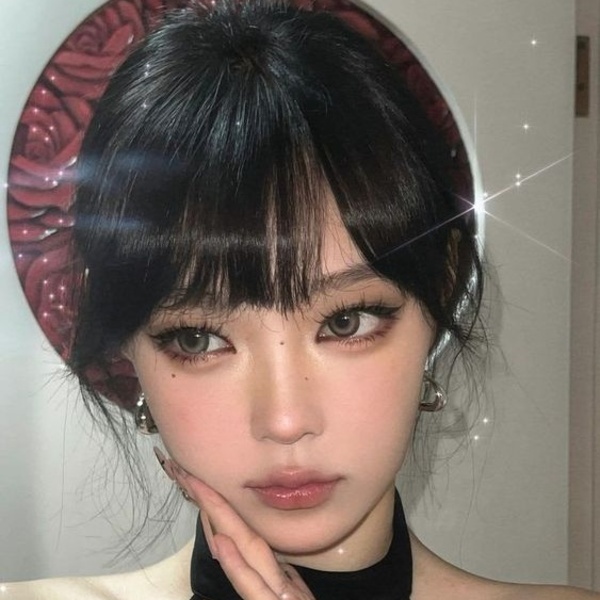 The typical Douyin base consists of soft-matte, velvety skin that contrasts against other elements of the look. The purpose of the base is to even out the skin tone and conceal all blemishes, allowing the glitter and glassy lips to truly shine. For a flawless look, the Unleashia Satin Wear Healthy Green Cushion and CLIO Kill Cover The New Founwear Cushion SPF50+ PA+++ offer longwearing thin formulas with natural finishes that don't cake or crease.
---
2. Nose Bridge Blush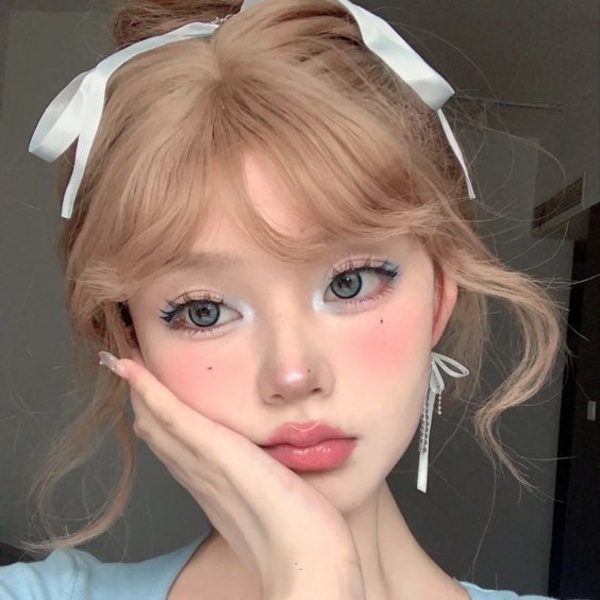 Blush placement for this style of makeup is quite strategic. It's often applied on the front of the face rather than wrapping the cheekbones and application is controlled as opposed to a generous sweeping. For this look, take your blush - we recommend the Holika Holika Jelly Dough Blusher or Unleashia Sisua Butter Waffle Dough Blusher - and blend it on the apples of the cheeks and across the nose bridge. This creates an innocent, youthful vibe that goes well with the overall ethereal energy of Douyin makeup.
---
3. Monochromatic Makeup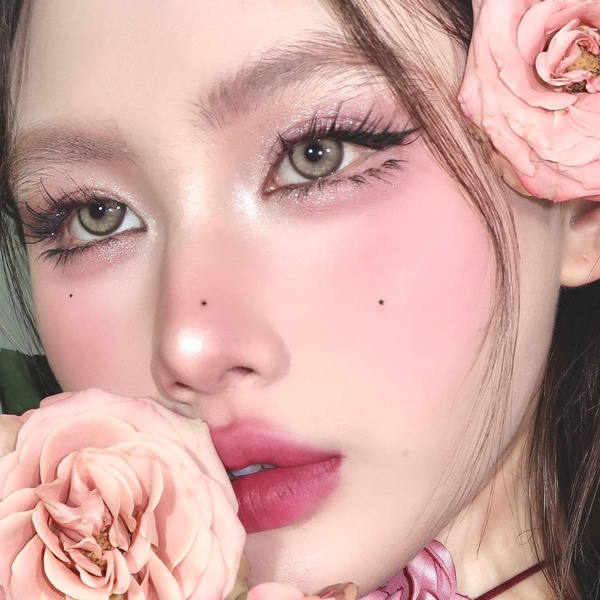 Monochromatic color schemes often appear in Douyin makeup and sticking to one can create a cohesive, polished look. The easiest way to achieve a monochromatic look is to reach for a multi-use palette that includes eye and cheek shades that stem from the same color family, offering pigments that complement each other. The MEMEBOX I'm MEME Color Pattern Palette and Amuse Vegan Face All Palette both consist of eyeshadows and cheek powders that belong to a particular color scheme, making it easy to create full-face looks.
---
4. Glitter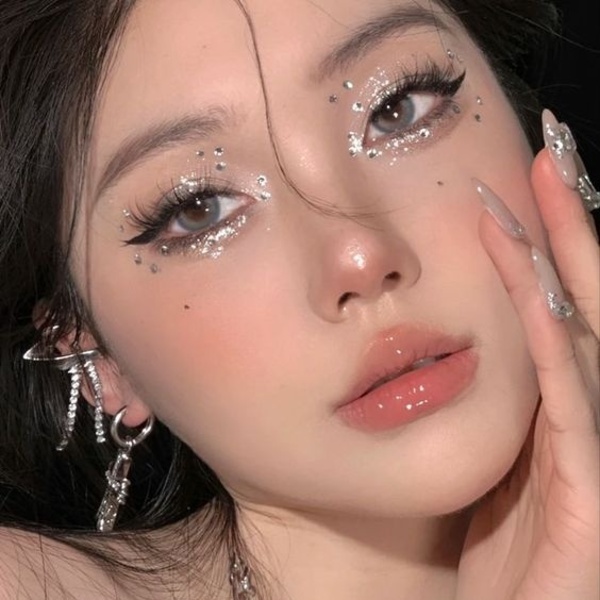 Glitter is an integral part of the Douyin makeup look: search up any look by your favorite creator and you'll likely find glitter featured on the eyes or used as a highlighter. With the Unleashia Get Loose Glitter Gel Mini, you can tap the glitter onto the eyelids and brow bone to make glitter the focal point of your look. Another way of incorporating some shine is using the Romand Twinkle Pen Liner and sketching out a curve above the crease of the eye for a more subtle but still striking highlight.
---
5. Sharp Eyeliner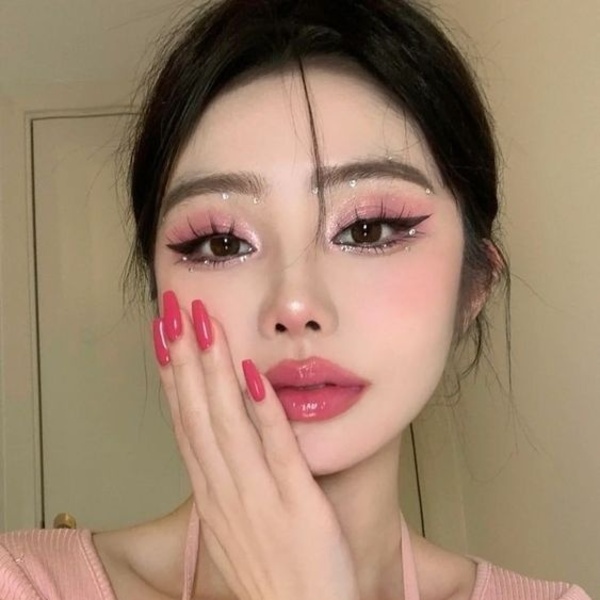 Whether the Douyin girlies are sporting a minimal wing or more graphic eyeliner look, you'll always notice that their liner is razor sharp. Use a fine-tip eyeliner - the CLIO Superproof Pen Liner and MERZY The First Pen Eyeliner are some of our fans' favorites - for sharpness and definition. Don't feel shy to reach for the cotton buds and micellar water if you mess up; makeup is all for the fun of it and we've all been there. When the liner is looking snatched, you're good to go.
---
6. Manhua Lashes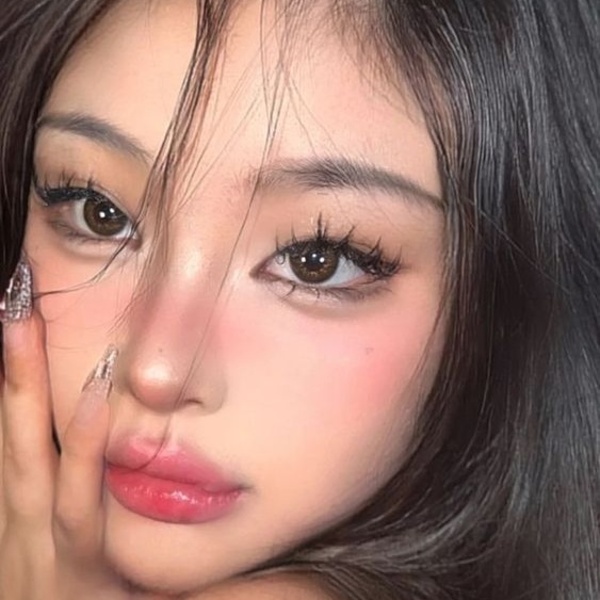 That spiky lash look worn by many of the Douying makeup lovers is known as manhua, or manga, lashes. They're easily identifiable by the piece-y clumped lashes that make you look like a character straight from a comic book, and just as easy to recreate. The look relies on individual lash clusters, rather than full strip lashes, so that you can customize the placement and flatter your own eye shape. Take the CORINGCO Toktok-Hara Bold Eyelash and glue clusters onto the lash line, starting from the inner corner and evenly distributing them outwards. Blend your natural lashes with the falsies using the heimish Dailism Smudge Stop Mascara for a seamless look.
---
7. Glass Lips
Douyin lips can go both ways, but we're leaning into the glassy sheen of a glossed lip. Swipe on the Romand Glasting Water Tint to coat the lips with long-lasting, vibrant pigmentation and a mirror-like glaze. To further elevate the shine factor, the peripera Ink Glasting Lip Gloss delivers a comfortable lacquer that smooths over lip lines and enhances lip plumpness.
---
Stock up on these Douyin makeup essentials and you're ready to rock your next selfie or party! Make sure you're following us on Instagram and Facebook, as well as keeping an eye on the VANA Blog, so you receive all the latest news, promos and information!