Are you struggling with uneven, bumpy skin texture? Don't worry, you're not alone. Uneven skin texture is one of the most common skin conditions, especially on dry skin type, when dry season rolls around. That's when you know you need to make some tweaks to your skincare routine with result-driven Korean skincare products that will help restore a smoother, softer complexion. So read on to find out the 5 things you need to do to fix uneven skin texture this season!
---
1. Exfoliate 2-3 times a week.
Essentially, regular exfoliation is the key to preventing the build-up of dead skin cells and keeping the pores on your skin clear. As textured and bumpy skin on face can be a result of dead skin cells building up, exfoliating will help to clear these away and restore a more even skin texture. Using an exfoliating face wash, such as the BEAUTY OF JOSEON Apricot Blossom Peeling Gel, will help to thoroughly remove dead skin cells with ease, whilst caring for skin and refining your skin texture.
BEAUTY OF JOSEON - Apricot Blossom Peeling Gel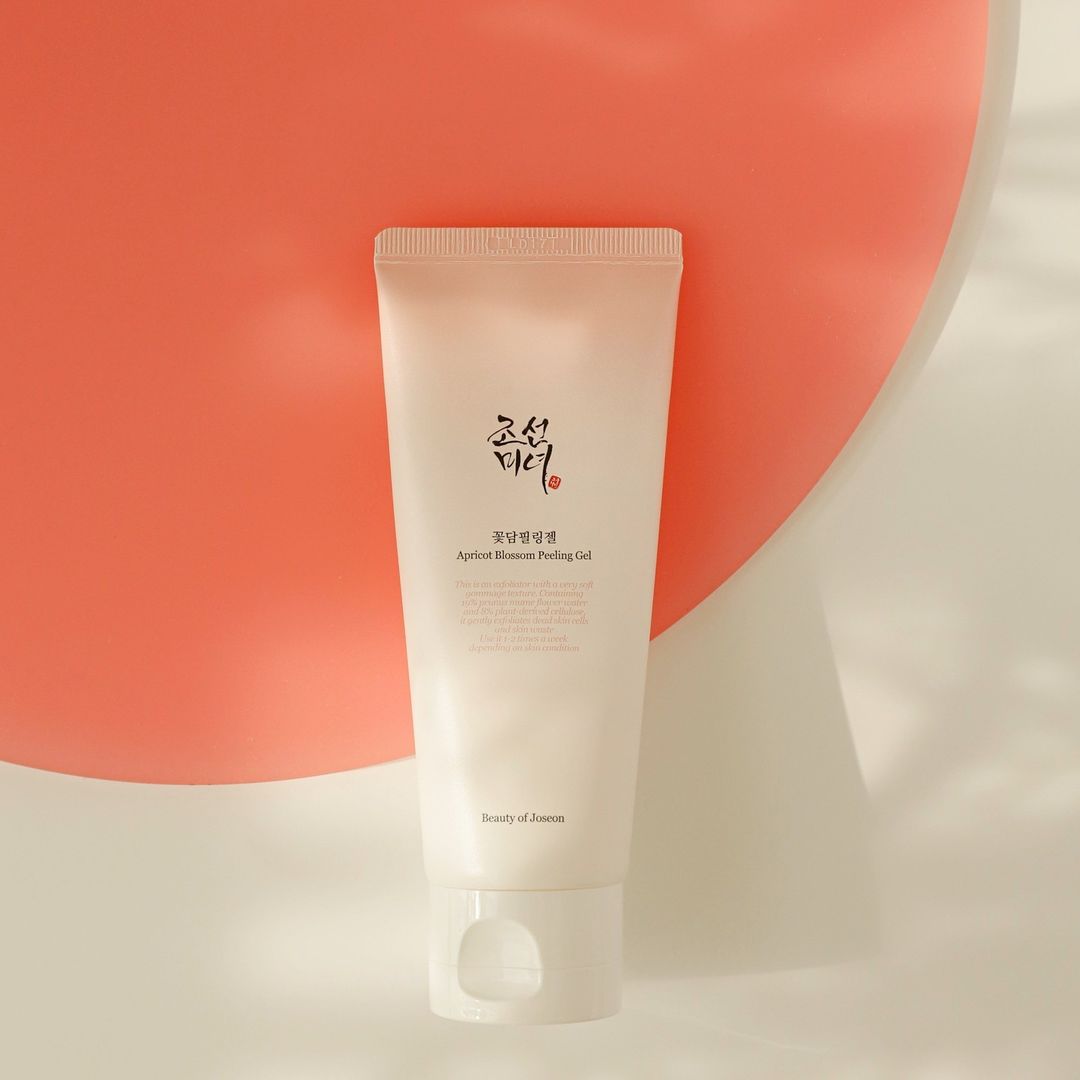 Courtesy of Korean Skincare Brand - BEAUTY OF JOSEON
Keep in mind, some textured skin is prone to irritation and sensitivity so it's better to go for a mild exfoliation formula like the BEAUTY OF JOSEON Apricot Blossom Peeling Gel. This best selling peeling gel is a gentle and mild gomage-type exfoliator formulated with naturally derived Hanbang ingredients including apricot flower and fruit extract, apple fruit extract and prunus salicina fruit extract. It does more than removing dead skin cell, it deliveres a brighter glowing complexion that will transform your tired, lacklustre skin into the coveted Korean glass skin of your dream.
---
2. Apply sunscreen every day.
If there's one thing we preach, it's wearing sunscreen all year around, rain or shine. According to dermatologist, textured skin or an uneven skin texture can quite often be caused by sun damage. That's why wearing sunscreen every day plays an important role in helping you protect your skin from sun damage or other oxidative skin damage that will cause uneven skin texure.
SKIN1004 - Madagascar Centella Hyalu-Cica Water-Fit Sun Serum SPF50 PA++++
Courtesy of Korean Skincare Brand - SKIN1004
Streamline your daytime skincare routine with this lightweight, moisturizing SKIN1004 Madagascar Centella Hyalu-Cica Water-Fit Sun Serum to prevent and slowly improve your textured skin. This chemical sunscreen that blocks UV rays, while simultaneously hydrating the skin. Combining Centella Asiatica Extract + Hyaluronic Acids, this SPF simultaneously heals and hydrates your skin while leaving a skin-smoothing, dewy finish. The UV-blocking formula, coupled with a strong SPF50 spectrum, shields every inch of your face so you can get through a sunny day without worries!
---
3. Add vitamin C or other antioxidants to your routine.
Vitamin C is a powerful antioxidant that helps your skin fight off oxidative damages caused by free radicals from sun exposure and pollution, which can lead to damaged, uneven skin texture. Apart from its most well-known skin brightening power, vitamin C acts as a cofactor for enzymes that are essential for collagen synthesis and helps slow down cellular aging. In the world of K-Beauty, you will most likely find vitamin C serums to be the #1 hottie on the radar, followed by vitamin C moisturizers, toners, and face mask sheets.
SKIN&LAB - Vitamin C Brightening Serum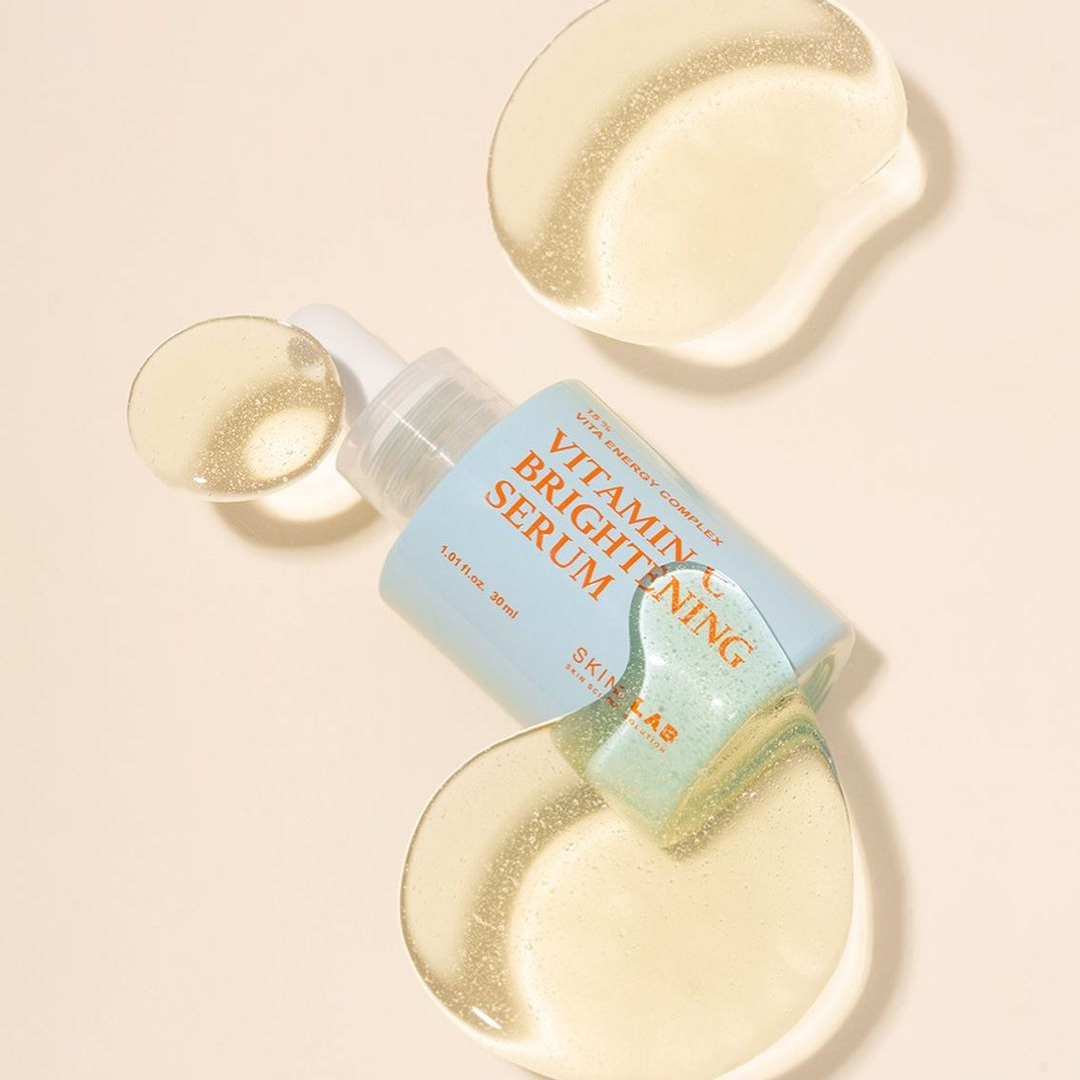 Courtesy of Korean Skincare Brand - SKIN&LAB
This SKIN&LAB Vitamin C Brightening Serum is one of the best essential oil-free Vitamin C serums to nourish your sensitive skin while bringing you a brighter, more even skin tone and smoother skin texture, thanks to a whopping 16 vitamin blends with Vitamin C being the all-star ingredient in this skincare product. This skin-boosting serum contains vitamin bubble capsules that will help reveal a visibly brighter complexion after consistent usage.
*Vitamin C skincare products are generally safe for daily use. However, do not use it in high concentration, especially if mixed with other acids, as it can be irritating to the skin.
---
4. Use a facial oil to control excess sebum.
With the dry seasons coming up, prepare your dry skin and stay ahead of flaking, textured skin by adding facial oils to your everyday skincare routine to stay moisturized. Although it might sound a bit counterintuitive to control oil by adding oil, the fact is the more you strip away natural oils, the more your body will produce to compensate. So to control excess sebum and prevent clogged pores from turning into uneven skin texture, start using facial oils to "smooth" things out!
Haruharu WONDER - Black Rice Facial Oil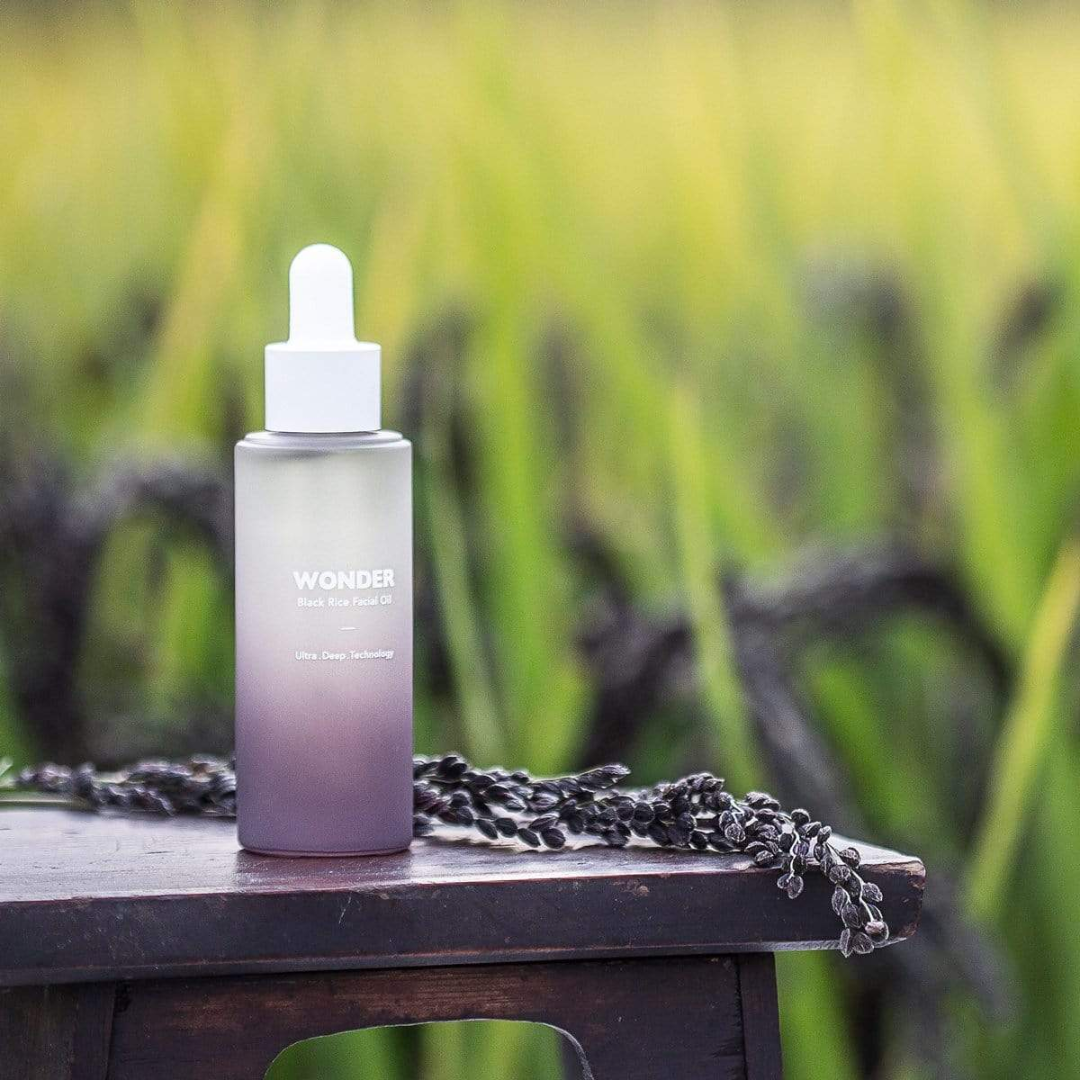 Courtesy of Korean Skincare Brand - Haruharu WONDER
Black rice is touted for its healing and antioxidative power, and Haruharu WONDER's take — the Black Rice Facial Oil — is among our all-time favorites. What's in the bottle is a nourishing blend of black rice bran oil, Jojoba, sweet almond, sunflower seed + lavender oil to further smooth skin texture, promote elasticity and soothe irritations. For super dry season, you can mix it with a cream, essence or even foundation for an extra layer of glow to achieve a more radiant complexion in the dry seasons.
---
5. Boost collagen production in your skin.
Most known for its anti-aging duties, collagen actually has a lot of other long-term skin benefits that you'll be impressed with. For one, the lack of collagen can be the main contributor to textured skin. And news flash, the collagen production in your skin starts slowing down in your mid-20s so try to keep your skin plumped, firm and elastic with the help of some collagen-boosting skincare products.
9wishes - Ultimate Collagen Ampule Serum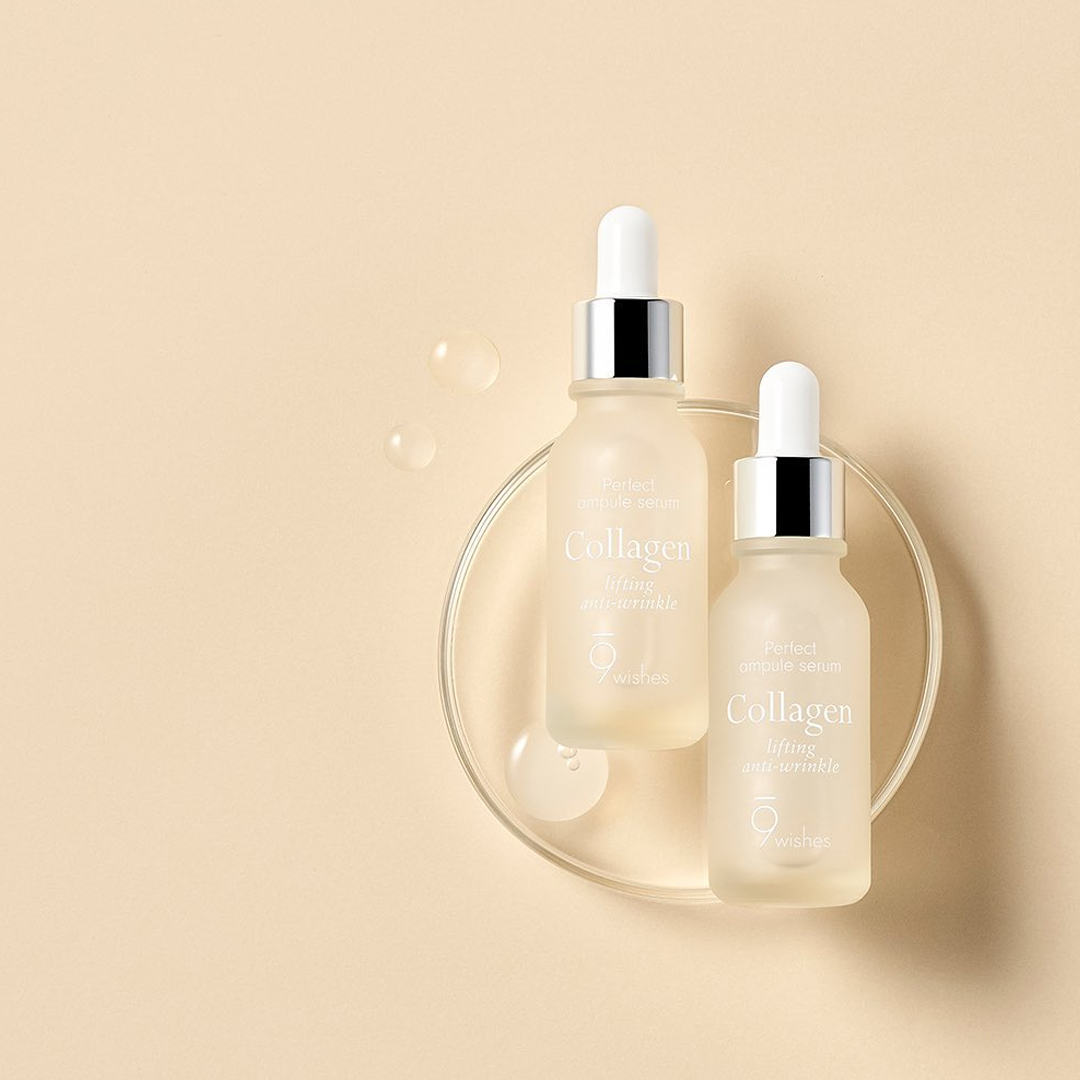 Courtesy of Korean Skincare Brand - 9wishes
The 9wishes Ultimate Collagen Ampule Serum is formulated with 30% of hydrolyzed collagen and 42% of sea water to improve skin texture, firm skin and minimize fine lines. How to incorporate this serum into your skincare routine? Use this collagen serum on a cleansed face both day and night, and massage the serum over the entire face in light outward movement with gentle patting for better absorption.
---
Ready to improve your skin texture for smoother, softer skin? Save these tips and stock up on all these skincare products to streamline your fall skincare routine ASAP! Follow us on Instagram and Facebook to get more instant product updates and skincare tips!