With their first English album All About Luv released in February, MONSTA X has announced their comeback with mini album FANTASIA X to be released today - yay!. And one more good news, Monbebes. Starship Entertainment has confirmed that MONSTA X member Jooheon will join the team for this comeback after a brief hiatus to seek mental rest. Having the six MONSTA X members releasing their 'works of art' teaser images one by one, we've looked into their interviews to round up some skin care tips and beauty favorites of the group.
---
MONSTA X Jooheon
Double Cleansing is the essential first step.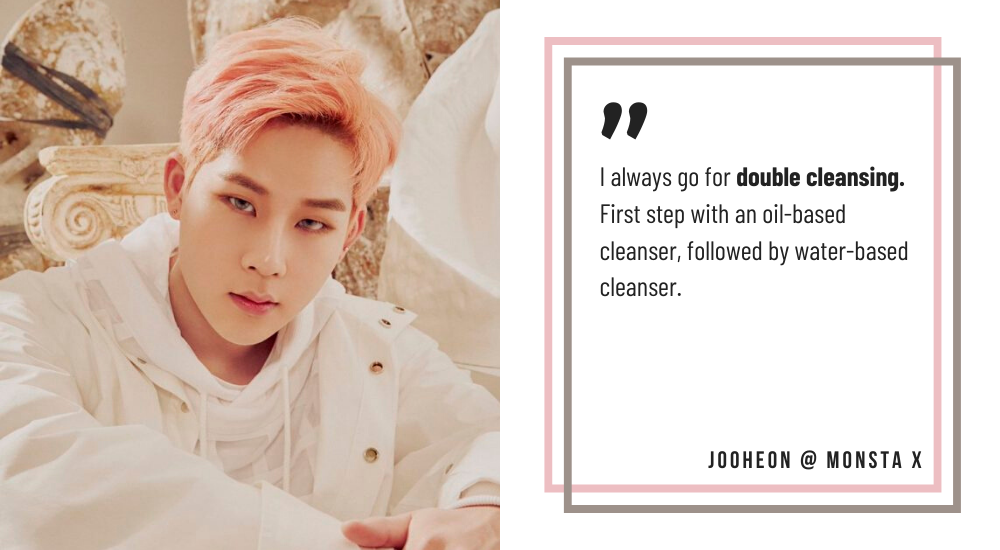 When it comes to beauty routines,MONSTA X member Jooheon knows his game and generously enough to share his go-to skin care steps with us and of course all Monbebes. To get the Korean dewy skin, remember to drink a lot of water like MONSTA X Jooheon but also don't forget to wash your face. If you're skincare-savvy enough (just like us), you must have heard about the Korean double cleansing.
STYLEVANA's Skin Care Tips for DOUBLE CLEANSING:
Step one is to kick off your cleansing routine with an oil-based cleanser, like PURITO's From Green Cleansing Oil, to melt away all the makeup, SPF and excess sebum on your skin. Step two is to use a water-based cleanser, like Shiseido's Senka Perfect Whip Cleansing Foam, to remove grime like sweat, dirt and pollutants. Consider choosing a cleanser with AHAs, BHAs, PHAs and cica in it to power up your routine with some blemish-combating benefits for MONSTA X Jooheon's clear skin.
---
MONSTA X Hyungwon
Moisturizer is my go-to skincare.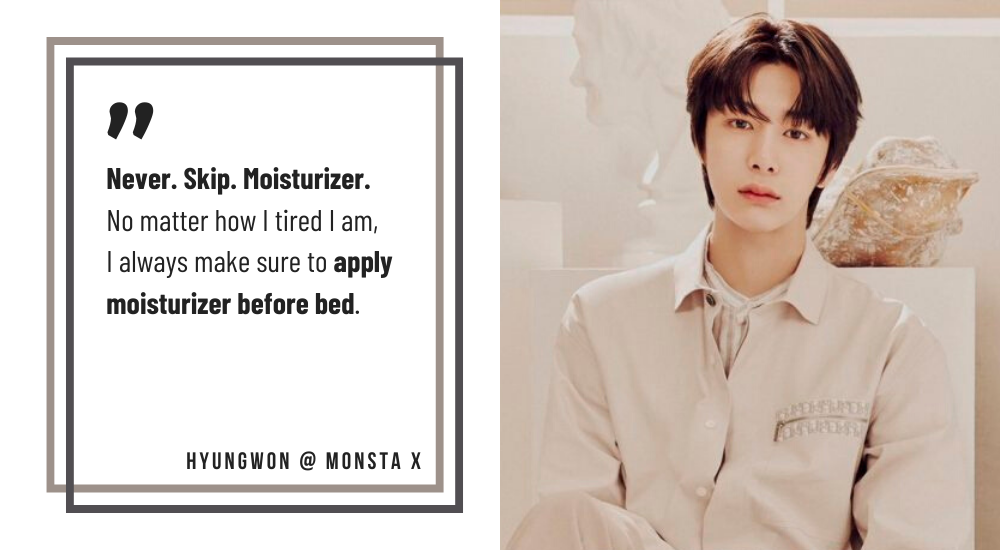 Another skincare product that MONSTA X member Hyungwon can't praise enough is moisturizer. Moisturizer is usually the last step of any skincare regimen, the final product to lock in all the goodies you've applied to your skin. Ceramide and Propolis are the stars for the sensitive skin type; snail mucin and ginseng are perfect for creating deep hydration for the dry skin type; hyaluronic acid and aloe vera are especially good for moisturizing the oily skin type.
STYLEVANA's Skin Care Tips for Blemish-Prone Skin:
Get yourself a moisturizer that is formulated with Centella asiatica, like iUNIK's Centella Calming Gel Cream, to get MONSTA X Hyungwon's clear skin; or AHA, BHA, and PHA as this skincare combo gently removes the dead skin cells so the other ingredients can penetrate well to instil moisture.
---
MONSTA X Minhyuk
Find out your best ingredients.
It's not just about the products you choose to expand your skincare regimen with; MONSTA X Minhyuk shares his philosophy of getting the Korean glass skin (or some people say chok chok skin). He suggests Monbebes to find out which ingredients work for you and which one doesn't to get clear, smooth skin like MONSTA X Minhyuk.
STYLEVANA's Skin Care Tips:
Hyaluronic acid, vitamin E and ceramides are excellent for hydration, which penetrate the skin quite well and help lock in moisture. AHAs, BHAs, and PHAs are chemical exfoliants that help clear pores, prevent blemishes and slough away dead cells on the skin's surface for clear skin, so give SOME BY MI's AHA.BHA.PHA 30 Days Miracle Toner a go if you want clear skin like MONSTA X Minhyuk. Centella asiatica and tea tree are the best spot treatments to fight acne.
---
MONSTA X I.M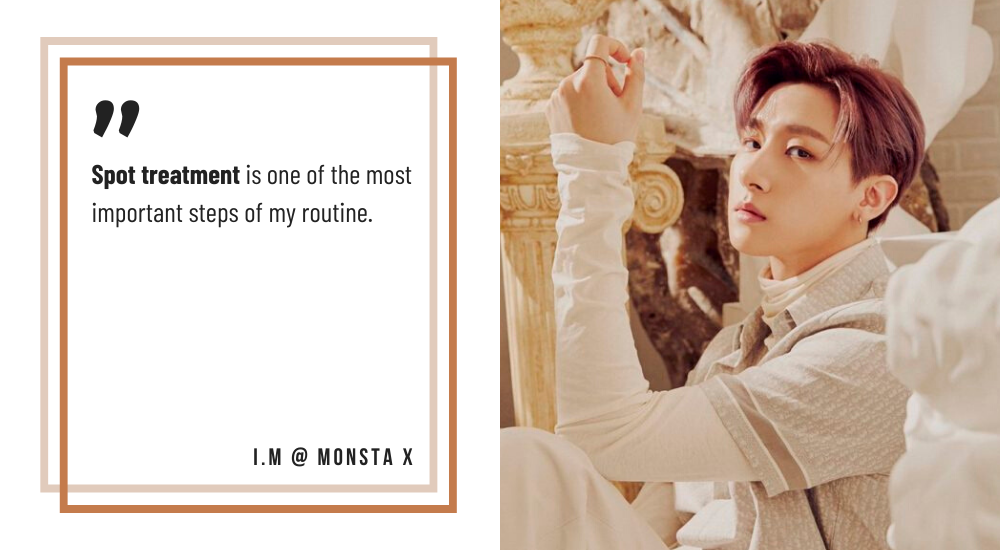 If you're a K-beauty fan, then you'll be familiar with the 5 or 10-step Korean skincare routine. MONSTA X member I.M also adopts an extensive skincare regimen – cleansing, toner, essence, serum, moisturizer and also eye cream. One more step that we can't stress enough would be spot treatment, which is one of the most important steps in MONSTA X I.M's skin care routine.
STYLEVANA's Skin Care Tips:
Common ingredients for an effective spot treatment are tea tree, AHAs, BHAs, and PHAs. Spot treatment usually comes into the Korean beauty routine as an extra step to address different kinds of acne; be it blackhead, whitehead, inflammatory acne or hormonal acne. Out of all spot treatment, COSRX's Acne Pimple Master Patch has always been Stylevana team's all-time favorite.
---
While you're waiting for MONSTA X to come back and probably staying at home most of the time, take reference from the MONSTA X members and refresh your skincare routine to get the Korean chok chok skin for your next Zoom, Facetime or Skype call. Check out our Acne Spot Treatment Sale to get a life-saving spot treatment product with up to 50% OFF! Browse more K-Beauty and J-Beauty gems at Stylevana's Skincare Must-haves Collection including COSRX, Sulwhasoo, SK-II and Shiseido with 10% OFF right now! Want more K-pop idol beauty inspo? Sure, go pick your signature lip color with ITZY's heimish lip look right now!